Your Monthly Forecast
All the latest monthly forecasts, organized by sign.
Age of Aquarius
Susan Miller's astrological predictions for a new century.
Current Trends
Find out the planetary trends that might be influencing you today.
---
Aries (March 21 - April 19)
Your April Horoscope by Susan Miller
April belongs to you, dear Aries, and life feels sweet. Venus will move into your sign on April 5 to April 29, giving you the competitive edge in having some of the most compelling good luck, great style, and the magnetism you need to do well in the dating scene. If you are attached, you too will get plenty of attention from the one you love. Venus only comes to your sign once a year, so this is good news.

Mars, your ruler, is in Sagittarius, a sign that blends beautifully with Aries, so with Mars supporting your Sun and Venus, you can't lose. On April 12, Mars and Venus will be in ideal harmony in what is called a trine position, making that day, a Tuesday, quite divine for you. Mars, however, will go retrograde soon, on April 17, so work hard to get important decisions and actions done early in the month, well in advance of April 17. Mars will retrograde until June 28, and this piece of news is important to you, dear Aries, because Mars is your ruling planet, the planet that has the job of protecting you. Mars will go retrograde this month, which means he will begin to...
To view a forecast, select a sign from the menu below and click on Go.
---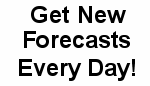 Click here to get your daily forecast
direct to your email or PC.

Hosted by: