Your Monthly Forecast
All the latest monthly forecasts, organized by sign.
Age of Aquarius
Susan Miller's astrological predictions for a new century.
Current Trends
Find out the planetary trends that might be influencing you today.
---
Aries (March 21 - April 19)
Your June Horoscope by Susan Miller
June is a solidly strong month with enough sweet aspects to keep you happy. The month starts out on June 2 with a big full moon in Sagittarius, 14 degrees, big as a pizza pie in the sky. This full moon will arrive with a glittering beam from good fortune planet Jupiter in Leo (now at close to 17 degrees), and within range of a very upbeat Uranus in Aries (now at 19 degrees). Uranus rules surprises, so there's a good chance you'll receive sweet news out of the blue at this time. You may travel far and wide, possibly spontaneously, or be arriving home after a long trip to a foreign country. Full moons bring closure, so you may now wind up an exciting creative project or be given the approval to start one, possibly involving a publishing or a broadcasting assignment.

If you have initiated a legal case, whether to seek justice on a matter important to you or to register a patent or trademark, you'd likely get the final verdict or key papers of authority at this time. If you are working on an immigration matter, you will finish up actions concerning citizenship, a passport, green card, or visa. If you have applied to attend college in the next semester, you would be wrapping up plans to go or to graduate. All these areas are exciting parts of life, so chances are, you will like the results of this full moon. Your sister or brother (or possibly cousin) may come to visit you, or you may visit her, or you may be...
To view a forecast, select a sign from the menu below and click on Go.
---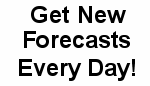 Click here to get your daily forecast
direct to your email or PC.


Fluffy Down Bedding,
Comforters and Pillows
Hosted by: