Your Monthly Forecast
All the latest monthly forecasts, organized by sign.
Age of Aquarius
Susan Miller's astrological predictions for a new century.
Current Trends
Find out the planetary trends that might be influencing you today.
---
Capricorn (December 22 - January 19)
Your April Horoscope by Susan Miller
You have a greater than usual emphasis on home and family in April. If you are hiding under your desk, covering your ears and shouting, "I can't think about this anymore! I have had enough emphasis on property, home, and family to last me five years!" I agree. Before you freak out, you have lots of help at this new moon, so stay with me. I realize that many Capricorns have been on the move, and some have moved house or apartments more than once in recent years. That can require a lot of adjustment and be stressful, especially for a sign that likes to stay put by putting down stakes. Most Capricorns have moved due to changes or opportunities in career.

Let's look at April in detail. Before we get to the very important new moon that will trigger so much of this trend, I want to point out that you have a super day coming up in April's first week, prior to the new moon. That day will be April 5, when the Sun will work with your ruling planet, Saturn, to provide comforting stability to a financial situation. You might have a job interview to discuss compensation and benefits, or you might hear good news about a sale or commission that you will soon receive. I say that you will benefit financially on April 5 because the Sun rules your solar eighth house of money, and on this day the news about money will make you feel settled and cozy. Alternatively, this day may bring good news about your home, a mortgage or property refinancing plan, or money that you will inherit or be...
To view a forecast, select a sign from the menu below and click on Go.
---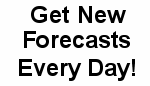 Click here to get your daily forecast
direct to your email or PC.

Hosted by: