Your Monthly Forecast
All the latest monthly forecasts, organized by sign.
Age of Aquarius
Susan Miller's astrological predictions for a new century.
Current Trends
Find out the planetary trends that might be influencing you today.
---
Capricorn (December 22 - January 19)
Your July Horoscope by Susan Miller
With four heavenly bodies gathering on July 4 in your marriage and partnership sector - including the new moon in Cancer 13 degrees, the Sun, Venus, and Mercury, all in the home and family sign of Cancer - you will be getting ready to make a commitment to someone who is important to you. You may be getting engaged or married now, or you might be planning to take on a business partner, agent, manager, writing partner, or other collaborator to help you get ahead in your career. If you are already married, you can draw up an exciting goal that you will work on with your marriage partner.

I love this new moon for several reasons. Neptune will be in Pisces and send shimmering vibrations to the new moon and her entourage in Cancer. Your partner will inspire you, and if you need to travel for any reason, you will find the trip has an uplifting and motivating effect on you. You may be going on a honeymoon, going on a trip with some of your friends, or visiting a friend who has a vacation house overlooking the sea, and she will be fluffing her pillows in...
To view a forecast, select a sign from the menu below and click on Go.
---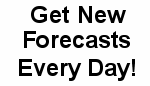 Click here to get your daily forecast
direct to your email or PC.

Hosted by: