Your Monthly Forecast
All the latest monthly forecasts, organized by sign.
Age of Aquarius
Susan Miller's astrological predictions for a new century.
Current Trends
Find out the planetary trends that might be influencing you today.
---
Capricorn (December 22 - January 19)
Your April Horoscope by Susan Miller
This month you will have your hands full. You apparently have much going on in your home life AND your career, and at times you may wonder which area to give your full attention first. Fortunately, as a Capricorn, you are always cool no matter what pressure is put on you, for you remain logical, objective, and always rooted in reality. In fact, when there is a natural disaster somewhere in the world, the Capricorns and Virgos are the ones chosen to come in first, to organize the rescue effort, for these two earth signs rarely panic. People around you admire you, for they know you can handle almost any situation with grace.

We have a major eclipse on April 4. It's a full moon total lunar eclipse in Libra, 14 degrees. That eclipse could bring enormous attention to your career, as the moon will be the most highly elevated planet in your chart. This means your work will come to the attention of many, including highly influential executives. This new attention you are about to get may extend your fame those outside your industry. This is very exciting, but the course of events this month will be...
To view a forecast, select a sign from the menu below and click on Go.
---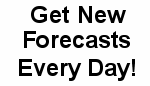 Click here to get your daily forecast
direct to your email or PC.


Fluffy Down Bedding,
Comforters and Pillows
Hosted by: