Your Monthly Forecast
All the latest monthly forecasts, organized by sign.
Age of Aquarius
Susan Miller's astrological predictions for a new century.
Current Trends
Find out the planetary trends that might be influencing you today.
---
Pisces (February 19 - March 20)
Your August Horoscope by Susan Miller
August will be a magical, enchanting month for you, dear Pisces. You are a tender, empathetic sign, and when you fall in love, you fall deeply. You are capable of swimming to the bottom of the sea of love, and this may be one of those points in your life that love is all you hoped it to be, the kind of love you see in the movies or read about in novels. August will mark an important turning point, where love turns from lighthearted to serious, and you may notice a yearning for commitment. You may now draw up plans for marriage, even if you have hesitated to embrace the subject in the past.

Male or female, you are about to experience a depth of love that may be completely new to you, and it will lead you on an emotional journey toward building a warm and loving closeness that you've never known, or if you have, not enjoyed in a long time. Very simply, Pisces will have the finest marriage aspects of any sign, and this is a trend that will continue more than a year from now. If you are single and not dating, you will begin to meet what your mother would describe as "marriage material." That is, a person of substance who might help you get over your fear of marriage, if you have one - the idea of breaking up would be too painful to imagine because that would be...
To view a forecast, select a sign from the menu below and click on Go.
---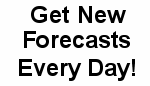 Click here to get your daily forecast
direct to your email or PC.


Fluffy Down Bedding,
Comforters and Pillows
Hosted by: