Your Monthly Forecast
All the latest monthly forecasts, organized by sign.
Age of Aquarius
Susan Miller's astrological predictions for a new century.
Current Trends
Find out the planetary trends that might be influencing you today.
---
Sagittarius (November 22 - December 21)
Your April Horoscope by Susan Miller
This month, you will turn your attention to your personal life. You've been consumed with work, and with Mars just entering your assignment sector, business will continue to be brisk. If you are self-employed, you won't lack new assignments, but you will also have more time for your private life. Happily, the main emphasis for most of the month will switch to your personal life, centering on love, romance, and fun, and seeing your creativity blossom to new levels.

We have an eclipse on April 4 that will take many by surprise, because Uranus, the planet of unexpected developments, will be found at an almost exact 180-degree opposition to that full moon lunar eclipse, at 14 degrees Libra. This eclipse will put the emphasis on a certain female friendship in your life. (No, this is certainly would not point to a romantic attachment, but a platonic friendship.) The person in question seems to be a woman. Often when a total eclipse of the moon shows up, sometimes the person in question is "eclipsed out" of your daily life in some way. Your friend may move away, perhaps to take a new job or get married, and you may feel sentimental, knowing the friendship may never be quite the same in the future because...
To view a forecast, select a sign from the menu below and click on Go.
---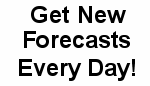 Click here to get your daily forecast
direct to your email or PC.


Fluffy Down Bedding,
Comforters and Pillows
Hosted by: