Cancer Forecast for August 2014
By Susan Miller
A big part of this month will center on money, but unlike years past, the news should be exciting and positive. August appears to be all blue skies, with not a cloud in sight. Last month's new moon in Leo on July 26 is still fresh and strong, and will work hard to help you during the first ten days of this month. That new moon lit your solar second house of earned income, so it is imperative that you ask for a raise quickly, during the first week of August, before the energy of that new moon fades away.
If you have been interviewing for a new position, you may have come to the point in talks when salary come up. Don't force the issue - timing is everything in the interview process - but IF the topic of salary comes up, first, find out what the employer wants to give you. Do not be the first to name a price. If the offer is not enough, gently suggest a salary close to what you were expecting. Hopefully the gap between what you were expecting and what you were offered will not be too wide. No matter - this month you can be quite persuasive in presenting your case for more.
Remember, when it comes to money, you are highly favored now. If you are self-employed, you may now feel comfortable raising your rates and also be successful in bringing in more lucrative new business. If you are an actor and negotiating a fee for your next movie, you will have a better feel for what you will be able to negotiate than your agent. Be sure you and your agent huddle before she or he goes in for the deal - you both need to be on the same page.
An absolutely fantastic set of days for seeing more income will be August 8, and also August 15-18. Uranus in your house of fame and honors will contact the Sun in your house of income on August 8, and suddenly you are the buzz in the industry. Later Venus in your second house of earned income will be in sync with Uranus too, ensuring MORE money comes to you. Dear Cancer, this again puts a direct link between your rising status and your compensation - wow! If the news turns out not to be quite that dramatic because you are young and still in need of experience, I still feel you will be very pleased with news of the day, both in terms of your glowing reputation and your ability to increase your cash flow.
It is also possible you will be ready to spend quite a bit of money for something you've been saving up to buy, such as a computer, or to put a large down payment on a car or house. You will be thinking big, and with Jupiter conjunct that new moon, you may feel that although the price is steep, you have found a bargain. Indeed, I see that you may be paying a lot more than you anticipated, but that any purchase you make in early August would represent solid value.
If you read my last month's forecast, in July, I had mentioned the need for you to act quickly to find ways to raise your income, as a new moon is always strongest on the day it appears and in the week that follows right after it. After that, the new moon gently loses strength with each passing day, until, nearly two weeks later, that new moon's energy is completely spent. You can always re-read my last month's forecast by scrolling down here, and seeing the link to the previous month below the Dates to Note, just above my PS (post script of announcements).
Assuming you are now reading your August report at the very start of August, you still have time to increase your income, so gather up your courage and think about all the ways you have contributed to the company's profits. Confidently present the reasons why you feel your raise is justified. That new moon of July 26 was superb, for it arrived conjunct Jupiter, giver of gifts and luck, and that earns my vote for best new moon of the year. If ever you had a perfect time to ask for more money, it's now. I feel you will be able to negotiate even more money than you assume you can.
Money will again be the topic of conversation at the full moon in Aquarius, 18 degrees, on August 10, plus or minus four days. This time, the type of funds you will be discussing will be different from the salary questions that were likely to come up in early August. Earlier, your house of personal funds was being lit up; now you will be discussing what I call "other people's money."
What is other people's money? Those types of funds would include bank loans, lines of credit, taxes, mortgage or refinancing plans, child support, inheritance, bonus, commission, and insurance payout, or you may come to the answer for a final divorce settlement, and these are just some examples. Funds from this area tend to come in to you in one large lump sum. You seem to be discussing one of these areas mid-month. Also covered are the rates you pay the telephone company for your cell phone or the cable people for your Internet access. You can try for a better deal now too.
Sometimes money comes in during a full moon period like this one, and other times money flows out, say, to cover a credit card or tax payment, as two examples. If you are self-employed, one client may go bankrupt and not pay you, so you always have to be ready for that. (That's why you always need to do credit checks ahead of time, and ask for a deposit in advance if the good or services you will provide are expensive.)
If you owe money at the full moon, Saturn will be in hard angle to the full moon, so it may be that you already know a payment is due, and there'll be no getting around that deadline. The person you will be dealing with will be a stickler for following rules, so don't even try to negotiate a later due date. Instead, knowing this date is coming up, if you are in a tight situation, you will have two weeks to figure out how you will cover this debt. Keep smiling, however, for you do have the very best outlook for making excellent money in the weeks ahead.
In the last week of August, see if you can take time off to travel on a short trip. The new moon in Virgo, 2 degrees, on August 25 will be superb for a jaunt into the countryside. You could use a breather - this could be your chance to take time off. If you intend to drive, make sure you have good directions, and add an old-fashioned paper map to your glove compartment, as your GPS may lead you astray. I say this because Neptune will oppose the new moon and Sun, and that could cause confusion when driving. Get weather reports too, and stay out of fog or sand storms, where visibility will drop to zero. You may be concerned about childcare, whether you want to go alone with your mate or bring them, but a little research should help you find the answer. If your spouse or sweetheart cannot go because of work obligations, and you do have the time, go with a friend or family member. You need the time away - don't let it slip by.
Your brother and sister will figure prominently in this new moon, so you may be visiting your sibling's vacation house or you may go on a trip with your sibling. There is a chance of that, but that's not definite. (If you say, "I can never go on a trip with my sister - we never get along!" don't worry - this is only one possibility.) Your sis may call up and suggest you plan something special for your parents, such as a reunion of relatives, and may ask you to pitch in by being part of the phone tree she's creating, to get the word out.
If you don't want to take time off to travel, this new moon, August 25, might be useful on other fronts. It may bring you a contract to negotiate, as your solar third house rules agreements and contracts of all kinds. The ruler of this new moon is Mercury, and at the time of this new moon, Mercury will be in friendly angle to Saturn. This indicates any terms you agree to at the end of August would be in place a very long time, possibly forever.
Communication projects will rule at this time, so this would also be an ideal time to begin writing a book or novel, or to launch an advertising or publicity campaign. You might also want to print stationery for personal or professional use, or design a new logo for your business if self-employed. It may be time to redo your social media page, work on building a new Website, or put together a team to help you build an app.
If your birthday falls on June 23, plus or minus five days, you will feel the effects of this full moon the most. The same is true if you have a natal planet at 2 degrees Cancer, or Cancer rising at 2 degrees - in both cases, allow for a plus or minus four degrees.
Romantically, you've had Saturn in your house of true love since October 2012. Saturn teaches us lessons, but also tests our resolve. You may have fallen in love with someone who is still technically married, and hopefully that person will follow through on a divorce. Or, you may be smitten with someone who lives in a distant location in a city far from yours. If your sweetheart is truly available, he or she may still talk a lot about a former love, for getting over the past relationship is proving to be hard for your sweetheart. (Of course, that's never flattering to have to hear about a former love, and so you may be pulling your hair out comforting your new sweetheart while you wait for wounds to heal.)
There are many possible examples that I could have given you, but I think you get the idea. Some sort of obstacle has come up that you have had to deal with, and it seems to be taking a lot of time and patience before you will see a resolution. You probably are not even sure the problem CAN be fixed, but you seem willing to give this relationship more time.
If you are married, you may have delayed starting your family because of economic reasons, or because you have had problems conceiving. (These are just two examples of many possibilities.) Saturn will remain in this part of your chart only until December 23, 2014, when it will speed into Sagittarius. By June 14, 2015, next year, due to Saturn's impending retrograde motion, Saturn will retrograde back to Scorpio and your solar fifth house of love and children for a brief period, only from June 14 to September 17, 2015. At the end of those three months, you will be done with Saturn in Scorpio until the year 2041. I feel you will resolve the situation you are dealing with in love by time this year (2014) is out.
Last month, Mars entered the same part of your chart, your fifth house of true love and children, to stay until September 13, 2014, and may allow you to create some movement to your situation.
One day that will be very positive for love and matters related to pregnancy and children will be when Mars and Pluto will be in perfect sync, August 15. I feel this will be a wonder day, but I should mention that with Pluto being the planet of obsession, and being based in your house of love, you may say this day was awful. I am not sure how this could happen, but with Pluto, your lover could be quite inflexible. Hopefully you both want the same things. I will still put my money on this day being terrific and so positive that it may help you find a breakthrough to greater closeness. I would love to know how this works out for you.
Following along on treating August 15 as very positive, do something to improve your love relationship on this date. If you are ready to see a doctor about in vitro fertility treatments, make an appointment with your fertility specialist on August 15 or actually schedule your treatment for then, if your cycle works with that date. If you are single and frustrated that your current love keeps thinking about a past love, plan a beautiful romantic dinner out for that evening.
On August 25, when Mars conjoins Saturn in your fifth house of true love, you may have a talk, but you may feel a bit unsure of what to do about the topic that comes up. Mars will urge you to take assertive action, while Saturn will ask you to do just the opposite and take the more cautious conservative route. Saturn will win this conflict, as Saturn is the slower moving planet. See how you feel. The new moon also falls on that day, so you will find all the right words to articulate your deepest feelings. Sometimes you need a day like this to get in sync with the one you love.
---
Summary
The past twelve months have brought exceptional access to many people, some with considerable power and influence. Jupiter, the giver of gifts and luck, visited Cancer from June 2013 to July 2014. During that time, you likely were very busy, setting new projects in place. Now you will begin to see the fruits of your labors. Think back to all the fresh starts you made during the past twelve months. Profits you see in the coming twelve months - and especially this month - will relate directly to the actions you took during that earlier period that you just finished. While not all your projects that you seeded will flourish, several will, and in a very big way and will pay you dividends not just now, but for the coming decade or more.
Jupiter's move out of Cancer and into Leo last month has initiated this new trend. It is an exciting one. You will have to do your part by speaking up for the compensation you feel you are due. As it has been said, power is never given - it has to be seized. The coming twelve months, while Jupiter remains with you until August 2015, you will find it easier than usual to see your bank account grow in a substantial way. Life will not always be this bright financially, so you must be determined to take advantage of all the goodness life has to offer you while the Sun shines. Continue to nurture the projects that you started last year, and be confident you can make them grow into a big success.
Although most of the goodness will be directed to your earned income sector, you will also have financial good fortune from your eighth house of other people's money too. That house rules commissions, inheritance, court or divorce settlement, royalty, and sale of property, and will be another area of possible gain. While you will have an entire year of abundance, early August will be especially profitable, for the coming weeks will be fueled by the new moon of July 26 last month. This month your negotiations and actions will have clout, and you've likely built such good momentum that the force will be with you - make the most of this. The full moon of August 10 is likely to bring one vital financial transaction to a grand conclusion. Venus, often associated with profit as well as love, will be in your financial house from August 12 to September 5, just another indication of how brightly your fortunes shine - Venus brings gold coins with her, so you'll likely have some funds to add a few luxuries to your life too.
A great day to sign paperwork for any financial deal would be August 1 or 2, when Mercury (contracts) and Jupiter (profit, expansion, and appreciation) will join to make your venture a vital one if you use this day.
Good news may arrive on August 8, a potentially big day for sudden infusion of cash (or the promise of a check soon), thanks to a very active Uranus, planet of surprise, in talks with the Sun and Mercury, both in your house of salary. News would be sudden and unexpected, and your career is about to zoom upward. It's a sterling day.
Love may be remarkably bright on August 15, when Mars and Pluto will combine to create tenderness, passion, and possible commitment. These are planets known to run in the extreme, however, so fair warning - you may instead wind up arguing because you may feel your partner is taking too strong a stance, and may even feel pushed in a corner. Indeed, if things are not passionate, you might write to tell me when the day is over that you did not see eye-to-eye on anything. When it comes to a close romantic relationship, this will be one of those days that could turn out your very best or worst ever! Still, I am banking on "best day ever" so let's be optimistic.
The last week of August is a popular time to travel, and the new moon August 25 will act like a fairy godmother to get you the right opportunity to leave town. That new moon will also give you the means to go. You may not even have planned a getaway, but you may get an offer that is so sweet and enticing that you cannot refuse it. You may be concerned about the need for childcare, but perhaps you can hire a mother's helper at your destination - ask the hotel. If single, you may be frustrated by your sweetheart's work obligations and inability to go with you, but if so, don't let that stop the fun. Go anyway, with friends or a sibling.
---
Dates to Note: CANCER
Most important dates for love, meetings, or actions: August 2, 3, 4, 7, 8, 11, 12, 15, 16-17, 20, 21, 30, and 31.
Your outlook for financial gain will be sensational all year but doubly so this month, thanks to the recent move of Jupiter to Leo and many layers of supportive planetary activity. August 2 and 8 will bring outstanding monetary opportunities, and by the full moon, August 10 you may buy, sell, purchase, or refine investments.
If negotiating a divorce, or a major deal at work, talks will come to conclusion within four days of August 10, with a surprising, happy result. Concern over a child may cause you to dip into your bank account to help that child.
Venus will help provide extra income-earning opportunities for you from August 12 until September 6. It will be a stellar time to work hard to rake in cash.
Thanks to a meeting of Venus and Jupiter on August 18, again money news will glitter for you, for surely it's due to be a banner day. Lots of work assignments are likely to come in now.
On August 15, Mars will conjoin Pluto, two planets that govern and link your houses of love and marriage. The result will either be sublime happiness or frightful disagreement. Only you know which way things are likely to go. Don't let anyone manipulate you.
Travel over the new moon August 25 plus two weeks. You will likely go to a nearby location and thoroughly enjoy being in a new setting. If your partner cannot break free from work to go with you, ask a friend or your sister to go with you instead.
P.S. for August 2014
SUSAN MILLER'S APPEARANCES for August 2014
Susan Miller Event in Southampton, Long Island
Meet Susan Miller for a fun meet and greet
Bring questions!
Saturday, August 9, 2014 - this weekend
11 AM - 7 PM
No ticket fee
Sequin Southampton
20 Jobs Lane
Southampton, Long Island NY
Store: 631.353.3137
---
FREE Washington Post Worldwide Chat
Wednesday, August 13 at NOON EDT New York with Susan Miller
Use this link to submit your questions: http://wapo.st/1y71o22
When posing your question, please list your first name and sign, and your rising sign too if you know it. Ask your question in a way that would appeal to the widest possible audience of readers of your sign with questions similar to yours. This will increase your chances of having your question chosen.
---
Astrology Zone Coming to TV! More news in weeks to come!
Newsflash: I am very pleased to announce that I am developing the Astrology Zone TV show with Paul Duddridge and TV4, and we plan to be on air from November 2014.
I am being secretive here, but I will say I will be back in Hollywood in September to start work on the show. Viewers in America and in international countries will be able to view it in English. You will get more news as it comes!
---
Android, Samsung Users! IPhone users!
Your new free app will be ready to launch in approximately 10 days. Stay tuned! We have been working on this all year! If you have my old Astrology Zone Premier, it will no longer work soon. You will have to download the brand new app and design - we think you will be dazzled by the look of my new app, as it is completely different. Like the iPhone, you can choose between the free and the subscriber version. On Android and Samsung, you can subscribe for $4.99 for one month if you like, to check out all the new features.
IPhone users will get a completely new interface and beautiful design, too, not only for your iPhone but for all iPad sizes and shapes, including the iPad Mini. If you already downloaded my free version or have a subscription on iPhone, you need do nothing. Just update your app - no extra charge! I made my list of all design corrections today with my dear account person at Phunware who came to New York City to see me in person. The coders are now working their magic! The launch will be approximately one week after the Android and Samsung users get theirs. It will fit most modern Apple formats, including your new iPhone 6 due out in early September. Stay tuned for my announcements on Twitter and FaceBook.
I don't want to divulge the new and improved features of my new app yet, but I will say all versions for all these operating systems will look similar, with no more black background, and a sleek design. In the future, your app will be specially sized to fit the display of the device you are viewing on - this is new, and we know you wanted us to do that for you.
---
"OUTLOOK for the Second Half 2014 by Susan Miller" is now available:
In Print $4.99 plus shipping via USPS with tracking. Total under $10.00. One and two copies same shipping charge. https://www.americadirectbook.com/outlook2014
Digital PDF: $5.00 https://www.americadirectbook.com/outlook2014pdf
Amazon's Kindle: http://amzn.to/1lE7a8t
Barnes & Noble Nook: http://bit.ly/Uec9D3
---
The Year Ahead 2014 Astrological Calendar
By Susan Miller
My Year Ahead 2014 collectible calendar is now $9.99 (at a 45% discount, from original price $17.99) plus shipping, any applicable tax
Calendars are used to mark time, but have you ever had a calendar that helped you use your time productively? My new Year Ahead 2014 Calendar can do just that. I write every word myself in this stunning calendar with original fine art by socialite, author, and fine artist Gloria Vanderbilt, mother of newsman Anderson Cooper, and great grandchild of railroad entrepreneur Cornelius Vanderbilt. (Grand Central Station was originally her great grandfather's business headquarters.)
Gloria Vanderbilt, now almost 90 years young, licensed the reproduction rights to her critically acclaimed artwork to Susan Miller who self-published her calendar. The inks are rich, the paper heavy, glossy, and snow white, allowing Gloria's paintings to jump off the page. Each month, from January 2014 through the extra bonus month, January 2015, is found an inspirational quote from Gloria, centering on her philosophy of living life fully and creatively. With fourteen of Gloria's paintings, this calendar will soon become a collector's edition and will not be reprinted when stocks are gone.
Aside from having happy, vibrant art to look at all year, The Year Ahead 2014 calendar has many other uses, unlike any you have had in a calendar before. On every important day of each month I list the aspect and what it means, in easy to understand laymen's language. This means the next time you are about to make an important appointment, and the VIP asks you, "Do you want to come in Monday or Thursday?" you can say you will consult your calendar and know immediately the day to choose.
In a year like 2014, where sparkling aspects will stand side by side difficult ones, this calendar will not be a luxury but a necessity.
Also included in the calendar are:
- All the start and end dates of the retrograde planets in 2014,
- Detailed discussion of the new and full moons (new!)
- The date when planets move into new signs (and how long they will be in that sign), all listed on the same day entry
- The planetary aspects of the four eclipses due in 2014, and explanation of what each eclipse will bring.
No more surprises! Be in the know about upcoming events, so that you can plan your biggest initiations. This calendar is a "must" to keep with you all year, and is available here, from Susan's publisher, but not in bookstores or other retailers. Get it now, while you can: $9.99 plus tax and shipping. We ship to all nations of the world: http://bit.ly/186zM0i
---
MY PERSONAL CUSTOM HOROSCOPE BOOKS
WRITTEN BY SUSAN MILLER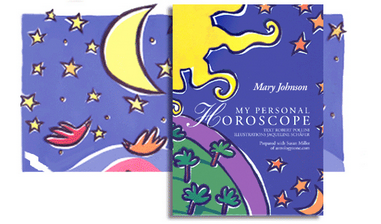 Looking for unique gifts for the summer months? - Choose from My Personal Horoscope for Adults or for Babies, or for a Relationship, the Two of Us.
Have an entire book written by Susan Miller, which runs approximately 65 pages, about your natal horoscope. Get to know your rising sign (also called the ascendant) as well as the placement of each of your planets, and what it all means. Susan's natal chart for babies centers on the talents and gifts of the little child. Order today and you will have your book within two-and-a-half weeks.
Two weeks on average from order receipt to delivery to any US destinations. One week longer elsewhere.
Also PDF option available for destinations overseas where delivery tracking of printed books is prohibitively expensive.
My Personal Horoscope Custom Natal Chart Book $49.99 plus shipping / tax
For more information call Susan's publisher, Arthur Heydendael 914.271.3640 ext 14 or click here:
http://www.americadirectbook.com/Customized_Books
---
A New Service: WiFive.us
Don't we all love a bargain?
We all want to know about the deals being offered nearby in our neighborhoods to save money. I found a way when a brilliant entrepreneur, Luis Sanchez, came to see me to show me he had developed a way of seeing all the various deal-of the-day websites that are featuring discounts on food, entertainment, boutiques, and other establishments, all in one click. Traveling? All you need to do is enter the zip code of your new neighborhood as you travel each day and you can see the deals that may be just across the street from your hotel.
The company is called Wifive.us and is ready to use today. It is a New York-based startup with a location-based search engine that gives you access to thousands of local online deals in a single site.
For now, Wifive.us is only available in the United States. It covers most of the deals and services you would see from various sources (Groupon, Amazon, Google deals, and so forth) all at once, so you don't have to go from site to site to find a deal that appeals to you, as Luis would humorously say, "until your head hurts." There is no registration necessary, and no useless emails to stuff your inbox each day.
Just type your address or ZIP code and get the deals you want when you want them. You pull in your information, which is far better than having many emails pushed to you. Try it and like the service on Facebook!
A word about the web address of WiFive.us
You may be wondering, what exactly is .US?
You might have thought the domain ending .us would only be only for government agencies and schools, but since 2002, individuals, businesses, churches, and non-profits have adopted .US web addresses to make their mark on the Internet. The .US is a new domain ending.
Just remember the name of the new service that no doubt you will be using quite a bit: pronounced as "wi-five-dot-us" otherwise seen as: http://www.wifive.us
---
Live Overseas? Or, don't have an iPhone, Android, or Samsung Galaxy?
Get all 12 of my daily horoscopes each day by email or pick yours up each day on special password-protected site.
To plan ahead, receive several daily horoscopes in advance!
By subscribing to DailyAstrologyZone you will receive a week of horoscopes inside your cell phone and / or computer. This means if you have a BlackBerry or feature flip phone, you can still get my daily horoscopes as long as your device accepts email. You will also have the option of accessing your daily horoscopes from a website online, from anywhere, any time, through a password-protected site for members only, or receiving all 12 signs my email each day.
For more information: http://www.dailyastrologyzone.com
To view a forecast, select a sign from the menu below and click on Go.