My beautiful Year Ahead 2014 Astrological Calendar with Gloria Vanderbilt's fine art will make you more productive and happier! DISCOUNTED NOW AT $12.99 (reduced 27% from $17.99). See all aspects on the day they happen with clear explanation for the layman reader. With my calendar, you have no more surprises - you will know what's coming months ahead of time!
Progress on The Year Ahead 2014 book: I am trying to write the book, and each chapter has become large. I want you to have detail. Please bear with me. It is coming!
Make sure you upgrade to my new iPhone app at the Apple App Store as my previous one for iPhone (Astrology Zone Premier) ended service Nov. 12, 2013. My new one is called: Susan Miller's AstrologyZone Daily Horoscope FREE! You will have the option to subscribe for longer, detailed content INSIDE the app once you download. See prices. One example: $12.99 for three months.
Android and Samsung : Get my app Astrology Zone Premier in your app store.
Do you live overseas or don't have a smart phone? Subscribe to my same daily horoscopes, get all 12 each day, that are the same used for my smart phone apps at http://www.DailyAstrologyzone.com
New! Spanish speaking friends, read my mirror site to Astrology Zone ALL in Spanish: go to: http://www.astrologyzone.com/spanish
Do you want to lose weight in 2014? Order daily gourmet meals, prepared with all farm fresh food. Chefs Diet (www.chefsdiet.com) sets the gold standard. Thanks to new shipping technology, Chefs Diet ships to any city in America. To get a great introductory discount, call secret toll free number just for Astrology Zone readers: # 800.585.1329. You MUST speak to Michael McDonnell. Use code: Susan Miller, to get your discount. For menus, photos: http://www.chefsdiet.com
Gemini Forecast for February 2014
By Susan Miller
Late last month, on January 30, a beautiful new moon in Aquarius (11 degrees) appeared, and it was and still is to be a special one for you, dear Gemini. That new moon is just about to shower you with opportunity and open up your life in ways you've not seen in months. Stay alert, for lots of news will come to you during the first eleven days of February, and some of your very best will appear in the first week.
This new moon may have you traveling to a distant city where you will make the acquaintance of many friendly people. An air ticket is likely to be your hands now, as you read this, or will be soon, and that's an exciting prospect for a Gemini. The trip you take during the first part of February is sure to be productive and broadening. If you feel you were a bit bored with life, you won't be in February, and I feel news will work to support all your interests.
That new moon may bring you a surprise opportunity from someone many miles away, possibly from the opposite coast of your country or from abroad, and may cause you to consider options that never occurred to you, or that you never imagined would ever be presented to you. It is all very exciting, for the element of surprise and spontaneity will be very strong, as Uranus, planet of all things unexpected, will have a dominant role in that new moon. You'll need to move on a dime, but who would be better to do that than an adaptable, flexible, quick-witted Gemini?
You will be hungry for stimulation and may also be on a quest to change your life in a substantial, upbeat, yet practical way, perhaps by starting with small, manageable steps. The idea of starting a new chapter is intriguing for you now, and it's the right time to think about what that might entail. You will be meeting with people from very different walks of life in February and one person (or more) may offer you options for you to explore. Last month brought discussions about money, taxes, savings, and spending, while you are always interested in making more money, the emphasis on money was a little too strong. You seemed to have settled those discussions, for now at least, and you are ready to move forward on more interesting decisions.
In February, you will have the chance to focus on intellectual matters and new creative concepts. You will be very imaginative now, too, so keep a notebook with you at all times, because ideas concerning all realms of your life will strike like lightning bolts during the day and night. If you can't travel, you may be signing up for classes at the university or focused on completing your thesis. Your horizons are opening up, dear Gemini, and it all could be very thrilling. You will have to be part of this trend, so be ready to probe what is possible for you. Much of what happens this month will be related to things you already put in motion.
Many Gemini work communications as authors, reporters, writers, anchors or TV/ radio hosts, or as editors, publicists, advertising specialist and copywriters, marketing experts, social media mavens, translators, software designers and coders, or in travel or telecommunications. All these areas will brighten up for you and be areas where you shine. There will be other areas, too - I just listed a few to get you thinking of where you would like yours to emanate. This new moon will be a breath of fresh air for you, dear Gemini.
The court system is also covered by the ninth house, which will be so lit up for you. If you were considering legal action, start to mobilize to file a case with the courts soon by huddling with your lawyer. It is also possible you may hear back on an action you started a long time ago that is finally ready to go to trial. Conversely, a legal action may be delayed, but if so, let it, and don't fight it - let nature take its course. If you want to file for a trademark, patent, or copyright, do so in early March. If you already did file, you may hear back now, in February, about that application.
The problem with February is that your ruler, Mercury, will be retrograde February 6 to 28. This means you can talk over plans and see all facets of the deal, but do not seal anything quite yet. The conditions around you, especially in regard to professional matters, are about to shift dramatically, but the tricky part is that you won't see any signs that this may happen. The world around you will appear as though it is quite stable and solid. That won't be true, so walk slowly, testing every step. Negotiations you make now may have to be renegotiated after the retrograde is over, either immediately or a year from now, so in the meantime, to drag things out a little, ask a lot of questions, prepare for glitches, and when they come up, remind yourself that delays will benefit you. Also, we have two eclipses in April, so take your time. Until those eclipses have spoken, you won't quite know where you stand.
You may discover other benefits to having Mercury retrograde. You may go back to an earlier project that had been put aside and be overjoyed to see it come to life again. You will likely be in touch with at least one person from your past and discover a reason to find one another again. You may feel that you can do another project with each other in the future, or you may find your old pal has advice and encouragement for you.
If you are hoping to get a visa, passport, or green card matter settled, put in your application immediately, before Mercury begins to retrograde on February 6. The red tape you encounter may be maddening, but there will be little you can do but wait. If it is urgent you get this matter settled fast, then hire an expeditor whose job it is to rapidly shepherd this kind of paperwork through various governmental bureaucratic channels.
Since early December, action planet Mars has been touring your fifth house of love and creativity. Mars has made you a creative dynamo these days, and you should continue to stretch for more difficult, sophisticated, and intricate projects, or else look for something a little off the beaten path that would refresh you and add excitement.
Mars in compatible Libra has also stirred up your desire to find love, but Mars is currently slowing down in speed in February, getting ready to go retrograde next month, from March 1 to May 19. As you move forward, you will do best to review the past, to see patterns you've had in your romantic history, and decide whether you'd like to change in your approach to love. Mars sometimes causes strife in its effort to get you to look closer at your relationship, so if that should happen, it is up to you to decide if you'd like to talk things through or leave.
If you want to try for reconciliation with a past love, this is the right time to do it, especially in March through most of May when Mars will be retrograde. Any retrograde planet will urge you to you think back, reconsider, and to possibly reenergize a past situation. Venus is still in Capricorn, and that is not the best place to generate love for a single Gemini. Still, as the year progresses, conditions will improve, so keep your chin up. Valentine's Day should be great for in-love Gemini, for it will be in Leo, a warmhearted fire sign that blends perfectly with your air-sign Sun. You may even receive an expensive gift on this day.
Valentine's Day will fall on Friday, February 14, and coincide with a tender a full moon in Leo, 26 degrees, a sign that will be divinely compatible with yours. Mars will be in ideal angle to the Sun in your house of long-distance travel, and the full moon will light your third house of happy, quick travel. February month appears to be very much about travel, and you may be planning to go away for a romantic weekend with your sweetheart / spouse to a charming inn of luxury in a sumptuous countryside.
On the same day, February 14 or in the four days surrounding this full moon, either coming before or after, you may give an important talk or appearance, hand in a manuscript or important document, or give an interview in the press. Full moons finish things, so you may be finishing up a different communication project.
Lots will be going on around you at the time, and this will invigorate and excite you. You may be asked to sign a contract, as the house where so much action will take place also rules contracts, but I urge you NOT to sign until you have moved away from February as Mercury retrograde is not a time to sign any important papers, nor to give your verbal agreement to anything special.
The end of February will bring you your most exciting moments. On February 28, Mercury will go direct and release the pent-up energy of the month. Projects and relationships will begin to flow smoothly again.
On the very same day, February 28 / March 1, we have another new moon (the second of the month, somewhat rare - January 30 was the first, and it will be strong for the first half of the month). This time it will be in Pisces, 11 degrees. This new moon will open wide a heavy iron gate that has remained stubbornly shut to you. It will then fly open and you may receive an offer to interview for a prestigious new position, promote a new business idea, or have a chance to get greater recognition. If you are self-employed, events will bring attention to your name and the fine work you have done, and the fuss about you will help you ascend to an even more esteemed position in your industry.
Here is another twist to that new moon that should make you very happy to hear! You will have enormous support from a high level, influential authority figure, thanks to Jupiter's ideal angle to the Sun. Jupiter is currently in your second house of earned income, so you will have a chance to make quite a bit of money from what is being offered to you. Keep in mind that a new moon is just a beginning, so talks will continue and may go as long as to September, but the important point to consider is that the topic will come up at the very end of February or early March.
An interesting element here is that Neptune will be conjunct the Sun on February 28 too, as well as with the new moon in Pisces, and the Sun, new moon, and Neptune (images and right brain activity) will be positioned at the very tip-top of your chart (ruling your reputation), so this suggests that Neptune will see to it that your face will be "out there" and very recognized by your adoring pubic. Your face may appear on the Internet, television, in the movies, on photographs, or be transmitted through artwork or illustration. You may receive an award, or be asked to judge a panel, or be in the morning papers because your company has issued a press release on you. This will happen because you will be enjoying success for past efforts, and it is time to find way to showcase your talents.
If your birthday falls on May 31 or June 1, plus or minus five days, you will get a double dip of luck from the new moon of January 30 that is still strong in early February. Similarly, if you have Gemini rising, or a planet in Gemini, Libra, or Aquarius 11 degrees (or within five degrees), you will see benefits, too. Be sure to jot down what happens on your calendar or diary.
This sounds like a great month, dear Gemini, and one you will find as delicious as ice cream. Eat it all up with a spoon! Next month will be exciting too, so this is just the beginning.
---
Summary
Pack your bags, dear Gemini, for you'll be heading to the airport almost the minute the month opens. The elegant new moon, January 30, that occurred last month, will be exerting a very strong influence in the first two weeks of February, coaxing you to push back the walls of your life's boundaries. You want to see more of what the world has to offer and this month, you can. In addition to travel, you will focus your attention on communication, and that's your forte, Gemini. Your talent for speaking, writing, editing of words or film, or streamlining software will bring you ways to shine in the realm of publishing, broadcasting, telecommunication, software, public relations, advertising, marketing, or sales.
Mercury will be retrograde from February 6 to 28, always important for Gemini to know about and track, for Mercury rules your sign. You seem to feel the slowdowns that Mercury retrograde brings more than most. Be careful to check the work for accuracy on every level, for Mercury can cause you to rush or be forgetful, letting errors go by unnoticed - until later when it will be harder to get inside the work to fix it. Keep track of your glasses, cell phone, iPad, and other items, as you will easily become distracted and lose things if you are not deliberate about checking you have everything with you before you move to the next activity.
At the full moon, February 14, you seem to be wrapping up all the communication-oriented activities of the month, and if you've had a short business trip to take, you will likely be heading home.
February 14 is also Valentine's Day, and this year, it will be considerably sweeter than most. Happily, this tender full moon is in Leo, the sign of luxurious fun, so you may be taking another trip, this time with your one-and-only, to a sumptuous setting. You may want to book a room in a charming inn deep in a forest, complete with fireplace, for just the two of you. You could not imagine anything more romantic.
If you are single, Mars' long trek through your most romantic sector, to stay until the end of July, will be a blessing to you. Also, Venus has been retrograde but now has changed over to speedy direct motion on January 31. That's good news too, for Venus governs your house of true love. In February, you may overemphasize the physical side of a new relationship - make sure you don't. As a Gemini, the part of someone you find sexiest is usually your partner's intellect, wit, and sense of humor. Take time to talk and to get to know one another first - there is no rush.
Mars will go retrograde March 1 to May 19, a time to think back, not forward. If you hope to rekindle a past relationship, you can - decide how you will approach that person now so you can be ready next month.
The month will end with an amazing cosmic event, a very special new moon, February 28, in Pisces, likely to bring sensational opportunity for your career. It is likely you will get lots of attention and applause for past work well done. This new moon will open a door to new professional opportunity to start in early March, and you may be stunned by how exciting your new options will be as they are rolled out for you. This will be your best moment in 2014 to be searching for a new position. With Neptune so highly elevated in your horoscope, you may be doing a television appearance or be in the news in other media.
Music, art, dance, painting, poetry, film, and photography will all be areas of exceptional possible success. Your screenplay may be optioned, or your novel soon to be sold to a publisher. On this same day, the Sun, ruling authority figures, and Jupiter, the great planet of gifts and luck, will be in divine alignment, suggesting whatever you are involved with at this time, you'll be paid a handsome sum or negotiate an excellent salary - and in a month this special, hearing that more compensation will soon come to you will just be the icing on the cake.
---
Dates to Note for GEMINI
Most romantic dates, and can be used for other purposes too (these are good days for you): February 2, 3, 7, 8, 13, 14, 22 (maybe) 26, and 28.
Mercury will be retrograde February 6 to February 28.
Travel may be on the agenda the moment February dawns, and if you go, you'll travel far, by jet.
Another trip is likely to come up at the full moon, February 14, and this time, it won't be for business. Book a romantic weekend to a bed and breakfast within driving distance of home. Valentine's Day this year looks luxurious.
If you are asked to sign a contract, if you are not ready to do so in February's first days, February 1 to 5, hold off until Mercury is out of retrograde in March.
On or near February 28, you may be on television or interviewed in the press.
Your career is about to bring exciting news, thanks to the new moon, February 28 and the days that follow. Be ready to interview!
Mars is moving though Libra, and at times, making love divine, and at other times, will be stirring things up between you and your lover (or with your child). Mars is helping you see your significant other in daylight. Have faith that all this can draw you closer. If you see something you don't like, you can part before you are too deeply involved.
P.S. for February 2014
SUSAN MILLER'S APPEARANCES for February 2014
NEW YORK CITY
Thursday, February 13, 2014 at 6:00 - 8:00 PM
***
CANCELED

Due To Snow Storm! ***
(Will reschedule in the spring)
La Perla Lingerie
434 West Broadway, between Prince and Spring
New York NY
Please RSVP
Please join me for music, delicious treats!
I will answer your questions.
The Italian company, La Perla, makes the most beautiful lingerie in the world.
You must come see and celebrate Valentine's Day with me.
---
NEW YORK CITY
FRIDAY, FEBRUARY 14, 2014 6:00 to 9:00 PM
THE EMPIRE HOTEL
I will be hosting a "BFF VALENTINE'S DAY PARTY!" at the Empire Hotel Lobby Bar
Don't be alone on Valentine's Day - bring your best friends forever (BFF)
and let's have fun and talk about love. I will get you ready for 2014! Bring questions!
The Empire Hotel
44 West 63rd Street
New York NY 10023
No tickets necessary. Free admission, pay for just the drinks you'd like.
List to be capped at 100 guests, so please, you MUST send a RSVP to be let in. Write to BFFparty@EmpireHotelNYC.com
Want to stay over at the hotel? Go to www.empirehotelNYC.com and type promo code "BFF" for a special promotional offer.
---
The Year Ahead 2014 Astrological Calendar
By Susan Miller
$17.99 plus shipping, any applicable tax
Calendars are used to mark time, but have you ever had a calendar that helped you use your time productively? My new Year Ahead 2014 Calendar can do just that. I write every word myself in this stunning calendar with original fine art by socialite, author, and fine artist Gloria Vanderbilt, mother of newsman Anderson Cooper, and great grandchild of railroad entrepreneur Cornelius Vanderbilt. (Grand Central Station was originally her great grandfather's business headquarters.)
Gloria Vanderbilt, now almost 90 years young, licensed the reproduction rights to her critically acclaimed artwork to Susan Miller who self-published her calendar. The inks are rich, the paper heavy, glossy, and snow white, allowing Gloria's paintings to jump off the page. Each month, from January 2014 though the extra bonus month, January 2015, is found an inspirational quote from Gloria, centering on her philosophy of living life fully and creatively. With fourteen of Gloria's paintings, this calendar will soon become a collector's edition and will not be reprinted when stocks are gone.
Aside from having happy, vibrant art to look at all year, The Year Ahead 2014 calendar has many other uses, unlike any you have had in a calendar before. On every important day of each month I list the aspect and what it means, in easy to understand laymen's language. This means the next time you are about to make an important appointment, and the VIP asks you, "Do you want to come in Monday or Thursday?" you can say you will consult your calendar, and know immediately the day to choose.
In a year like 2014, where sparkling aspects will stand side by side difficult ones, this calendar will not be a luxury but a necessity.
Also included in the calendar are:
- All the start and end dates of the retrograde planets in 2014,
- Detailed discussion of the new and full moons (new!)
- The date when planets move into new signs (and how long they will be in that sign), all listed on the same day entry
- The planetary aspects of the four eclipses due in 2014, and explanation of what each eclipse will bring.
No more surprises! Be in the know about upcoming events, so that you can plan your biggest initiations. This calendar is a "must" to keep with you all year, and is available here, from Susan's publisher, but not in bookstores or other retailers. Get it now, while you can: $17.99 plus tax and shipping. We ship to all nations of the world: http://bit.ly/186zM0i
---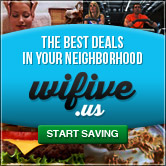 A New Service: WiFive.us
Don't we all love a bargain?
In December, when each of us are busy and shopping for gifts, we all want to know about the deals being offered nearby in our neighborhoods to save money. I found a way when a brilliant entrepreneur, Luis Sanchez, came to see me to show me he had developed a way of seeing all the various deal-of the-day websites that are featuring discounts on food, entertainment, boutiques, and other establishments, all in one click. Traveling? All you need to do is enter the zip code of your new neighborhood as you travel each day and you can see the deals that may be just across the street from your hotel.
The company is called Wifive.us and is ready to use today. It is a New York-based startup with a location-based search engine that gives you access to thousands of local online deals in a single site.
For now, Wifive.us is only available in the United States. It covers most of deals services you would see from various sources, (Groupon, Amazon, Google deals, and so forth), all at once, so you don't have to go from site to site to find a deal that appeals to you, as Luis would humorously say, "until your head hurts." There is no registration necessary, and no useless emails to stuff your inbox each day.
Just type your address or ZIP code and get the deals you want when you want them. You pull in your information, which is far better than having many emails pushed to you. Try it and like the service on Facebook!
A word about the web address of Wifive.us
You may be wondering, what exactly is .US?
You might have thought the domain ending .us would only be only for government agencies and schools, but since 2002, individuals, businesses, churches, and non-profits have adopted .us web addresses to make their mark on the Internet. The .US is a new domain ending.
Just remember the name of the new service that no doubt you will be using quite a bit: pronounced as "wi-five-dot-us" otherwise seen as:
---
Goodbye to My Former iPhone App on November 12,
Hello to My New One:
"Susan Miller's AstrologyZone Daily Horoscope FREE!"
Download today!
To sum up, Astrology Zone Premier will no longer be supported starting November 12, so you might want to download my free version of "Susan Miller's AstrologyZone Daily Horoscope FREE!" today. (Searching simply for Susan Miller or Astrology Zone should bring the app up immediately.)
My former app, Astrology Zone Premier will not automatically change over to the new free app, so you will have to download my new app. Once you have it, you can decide soon if you would like to upgrade to the version you've come to know and love by looking inside the app and buying the subscription inside the app. If you do so soon, you will avoid any disruption in service. If you should have to reload and reinstall your app, you will not lose your subscription as long at you responded to Apple's dialog box asking you to register immediately. If you don't register, if you should lose your phone or need to reinstall your app, you won't be able to do so. Be sure to register your app!
If you have any questions or need help, you can write to Jennifer@Phunware.com and engineer Jennifer will be happy to help you.
---
Live Overseas?
Or, don't have an iPhone, Android or Samsung Galaxy?
Subscribe to DailyAstrologyZone.com
Get all 12 of my daily horoscopes each day by email!
By subscribing, you will receive a week of horoscopes inside your cell phone and / or computer. This means if you have a Blackberry or feature flip phone, you can still get my daily horoscopes as long as your device accepts email. You will also have the option of accessing your daily horoscopes from a website on line, from anywhere, any time, through a password-protected site for members only.
Android and Samsung users have Astrology Zone Premier to enjoy a little longer; we are writing code for your Android and Samsung cell phones, and for you, we are making an app similar to the one for iPhone.
For more information: http://www.dailyastrologyzone.com
---
Welcome Chefs Diet as a Sponsor of Astrology Zone!
Think of Going on a Diet? Try Chefs Diet, Meals to Your Door
Get the Special Introductory Discount Only for Astrology Zone Readers! Call 800.585.1329 ask for Michael McDonnell ONLY and use code word: Susan Miller
If you have been reading my column for a while, you know I am very picky about which companies I endorse. If you want to lose weight, I feel this is the easiest, most fun way to do it. Each day Chefs Diet will deliver farm fresh, healthy foods to your door. In the past it used to be that only those living in New York City and Los Angeles had this option, but now, through new shipping technology, UPS and FedEx have been working with Chefs Diets to find ways to ship and still keep your food as fresh as it was when it left the Chefs Diet kitchens. I simply cannot get over how delicious and carefully prepared these meals are day after day. Meals won't repeat for 90 days so you will love the variety!
You will get three meals a day, with breakfast and dinner a hot meal, and lunch a cold one for convenience. You will also get two satisfying snacks. Best of all, you can change your menu if you see something on the program you'd like to change by very simply logging on to your account and choosing a different meal from the pull down menu. If you have special dietary needs, you can choose the right program for you from the options on the Chefs Diet website. I am NOT diabetic, but I saw that that the diabetic menu had lots of protein to keep me feeling peppy from dawn to the wee hours of the morning. (If you are on social media, you see I often post in the middle of the night - a writer's work is never done.) I love knowing that if I just eat the food given to me each day I will lose weight. There is no thinking, no shopping, no weighing foods or adding points - so easy!
Television producers have told me they rely on Chefs Diets when an actor, male or female, needs to lose weight for a role. It was through that comment of a top producer that I originally found this great company.
Of course, you should always check with your doctor before starting any new dietary program.
For your special discount, call Michael McDonnell (and it MUST be Michael) at 800.585.1329 and you must also mention my name, Susan Miller. You will be given a special introductory discount for a week of meals, so you can see how delicious they are! You will love Chefs Diet! Many famous actors that you see in the movies have these.
I am on the program now because two years ago I broke my femur and had to lie very still until my leg healed. I could not opt to have the femur operated on due to my body's proclivity to bleed excessively in my left leg. (I have already had 40 transfusions in my life.) My leg took a year to recover. During that time it was impossible not to gain a bit of weight (I was bed-bound and could barely move an inch). Now, on the Chefs Diet program, I love being able to fit in my smaller clothes!
Have a look at the Chefs Diet website, http://www.ChefsDiet.com
Call Michael McDonnell at 800.585.1329 to make 2014 your year to look sleek and sexy. Mention me, code word: Susan Miller, and you will be on your way!
To view a forecast, select a sign from the menu below and click on Go.