See Susan Miller's new Astrology Zone 30-minute streaming TV Show! For now, it will be seen once a month and will not duplicate any information you get on Susan's site - the broadcast will provide fresh, new material. For more info, see Susan's note to you found here, in the PS (post script) directly below your sign's summary and the dates to note. Express your ideas about Susan's new show in social media - we will be reading your comments. The show will not be seen yet on Susan's smart phone apps (stay tuned) but instead here on your computer or tablet. Please tell your friends to have a look!


Astrology Zone with Susan Miller for April 2015 from Television Four on Vimeo.



---

Last month I showed you the surprise I had for you, special animated videos called Glamourscopes that I had done with Conde Nast Entertainment (CNE). Each sign's video runs a little under three minutes. The animators illustrated my words with visuals in a very original and imaginative way, so most people think the videos are especially cute. You told us you loved the videos, but said in a loud and clear way, "We want them longer!"

We listened! Here is the short version of Glamourscopes:

http://bit.ly/1yPzZEF

and the NEW Extended Cut version of Glamourscopes (not duplicating the short forecasts of Glamourscopes above):

http://bit.ly/15nk8m5

Each sign's video has new material, there is no duplication of information that you will get. Don't miss these! Listen for your Sun sign and your rising sign as both are equal in importance.

---

Your long monthly forecast by Susan Miller is found directly below this letter.

An Important Message about My New TV Show from Susan Miller

Dear Reader,

I want to thank you for your kind words for my TV show. Trust that all your comments are read, so please keep sending them. It is early days of my show, but with your feedback, the show can only get bigger and better. We want to make the show more interactive in the coming months so that we will be able to address some of your specific questions that we find coming up as typical of many readers. We do have ideas!

The show will now be available 10 days before the start of every new month. So, for example, we are posting the April show on March 20. If you would like to see that April broadcast, we will charge $1.99 for the show, and you will never see commercials.

If you would rather not pay the $1.99 for the new show as it comes available, you will have an option to see it for free if you are willing to wait a few weeks. If you are willing to wait for the following month, say, April 16, for example, to view April, you will have free access through the end of the month and in all the shows we archive. Then, by April 20, the new show will be posted to give you the option to see May 2015, for $1.99. So you do have the chance to stream from the middle of every month at no cost. As said, April's show will be available free from April 16 onward.

Astrology Zone and my normal long monthly horoscopes will always remain free as they always have every month for the past nineteen years on the Internet. We will not overlap material from my website to my new TV show - viewing the TV show will give you special insight and detail on the coming month and also help you get much more from the information you are already familiar with getting from me on Astrology Zone each month.

I hope to teach you a few handy skills that will give you an ah-ha moment that will allow you to understand how astrology works and how you can harness that information for your own purposes to achieve your goals and enjoy a brighter, happier life!

I am so excited about this project and hope you are too! I am weaving my material with clarity and love - and listening to every suggestion you have had for us! Thank you, dear reader!

Sincerely,

Susan Miller


---
Libra Horoscope for February 2015
By Susan Miller
At long last, you are about to have fun, dear Libra. You have been through quite a series of challenges, but this month will allow you to put aside all those concerns, exhale, and enjoy all that the universe has for you. The world will be your oyster, so be determined to unshackle yourself from all those responsibilities you handle so well from day to day to allow for time just for you.
The month starts out with a bang. The full moon in 15 degrees of Leo on February 3 will be made just for you. Lighting your house of friends, people, events, hopes, and wishes, it seems almost certain that you will have a fabulous dress-up event to attend within four days of February 3. It appears you will be among many smiling faces. You may be invited to a wedding, birthday party, charity benefit, major sporting event, conference, trade show, or other large event, but whatever the reason for the gathering, it will be beautifully appointed and flattering to be among the A-list guests. You will have the possibility of making new contacts, and possibly a new friend, so there's so much to be gained. Friends tend to bring more gatherings, more friends, and the possibility for meeting a new romantic interest.
A full moon in Leo will always bring a touch of luxury too, so the event you will be invited to is one not to be missed. Jupiter will conjoin this full moon, so if you are invited to a party, or if you give one, no expense will be spared. It will be truly fit for a prince or princess. Uranus will be beautifully angled to this full moon too, indicating that whatever transpires will be unexpected - thrillingly so. You may not expect this invitation, or you may not expect what happens once you go, but it's due to be all in good fun. If you would instead like to take a vacation with your one-and-only, do, as this month is just made for kicking back and relaxing. If you do travel, it looks like you can find a four-or-five star restaurant at a bargain deal.
This same full moon may bring a long-held dream to fruition, for it does light that fairy tale part of the chart that points to your hopes and wishes. Something spiritual or material that you've wanted a very long time, and might have even wondered if ever come would come to you, may come through now to you, dear Libra.
If your birthday falls on October 8, plus or minus five days, you will be directly in line for a double dip of pleasure. The mathematic points of the full moon will match up perfectly to your natal sun. If you were not born near October 8, and you have your natal chart, see if you have any natal planets within five degrees of 15 degrees of Aries, Gemini, Leo, Libra, Sagittarius, or Aquarius, for that planet will receive a cornucopia of goodies too. Scribble quick notes afterward about what happens in your life - that's how you can compile solid research on your own chart.
For more information on how you can have your natal chart done by me, go to SusanMillerMyPersonalHoroscope.com. Thanks to print on demand technology, I can write a 65+ page book explaining your chart. It takes two weeks to receive, and I write this book for you and only you. You only have one natal chart in life, so you need only do your chart once. You will need your precise time of birth as per your birth certificate that you can usually get from a municipality in the capital of your state or country. If you cannot get it, I would use sunrise as the time, and you would at least know where all your planets were on the date of your birth. Now, back to my discussion on February!
The new moon on February 18 in Aquarius 29 degrees, 59 minutes will also cook up reasons for you to have fun - and bring you more romance too. This will be the second of six super moons this year, simply meaning that this moon will be closer to earth than most moons, heightening your intuition and instincts. This new moon is not perfect, in that Saturn will be in hard angle to this new moon, so you may have work or other obligations that may stand in the way of your going out, a frustrating situation. See if you can find a way, dear Libra. You need more fun in your life.
The fifth house also rules creative and artistic efforts, so if you are artistic, this new moon February 18 may help you get a project off the ground by being approved and funded. This would be a good month to show your work to influential people. All new moons open up ten days of energy, although the energy is always strongest on the days clustered near the new moon, after it appears.
If your birthday falls on October 22 or within five days of this date, this new moon will speak directly to you. Alternatively, if you have a natal planet within five degrees of 29 degrees in Aries, Gemini, Leo, Libra, Sagittarius, or Aquarius, you too will benefit from the new opportunities that will soon emerge.
This new moon February 18 is only one tiny minute away from Pisces, making it unusually cusp-y. This means your work life will become busier and perhaps more demanding in coming weeks. You may get a new project approved and if so, the possibilities for adding your creative touch will be plentiful, for Neptune (creativity, vision), Venus (aesthetics), and Mars (action and energy) will make it so. Your office life will be hectic from the start of February, as indicated by the presence of Mars in this area of your chart since last month.
Cupid will be working hard for you, dear Libra, because lo and behold, Mars and Venus will both enter your opposite sign of Aries on February 19 and 20, respectively. Aries rules your committed partnership and marriage house, indicating your partner will start to become a big focus for you in weeks ahead, all the way through March.
The most exciting part of this will occur over the weekend of February 21-22, when Mars will embrace his lover Venus in Aries, in the evening star studded sky. This is a gorgeous aspect, because these two cosmic lover planets will meet in your serious relationship house bodes so well for breathtaking romance.
Indeed, Valentine's Day may come a little late - February 21-22 - but if so, that's no matter! It's so wonderful that it comes! Venus and Mars love being together but because they have different orbits and different jobs to complete in the universe, all they can hope for is to gaze at one another from afar. Now, in a rare conjunction, Venus and Mars will finally be together and set off a magnificent display of fireworks. When these two planets conjoin, their job is to set off great chemistry between two people - wonderful!
Actually, you have such strong romantic aspects that you may have a glorious Valentine's Day too (my runner-up date for you for great romance this month). Uranus, the planet of surprise, is, and has been, residing in your committed partnership house and will be in ideal angle to good fortune Jupiter, an aspect that is slowly building to peak next month on March 3. To take advantage, let your partner plan Valentine's Day for you, dear Libra. Plans your partner makes are likely to be more exciting than anything you could possibly dream up. If you both are serious about building a future together, you may get engaged or wed on this magical day for lovers.
If you are not dating anyone special, this is still a good time for you. Go out with friends. I once heard of a great idea for singles. A friend gathered together 10 great single girls and 10 equally interesting single guys and gave a dinner party. No one knew one another, so the evening was filled with mystery and discovery. Everyone had fun. See if you'd like to give a party like that!
Also, dear single Libra, you may become smitten with someone you meet in the office. This person would be on your level and possibly working on the creative team.
Mercury has been retrograde since January 21 but will go direct on February 11. Mercury is currently in Aquarius, in your true love sector. This suggests if you are still in love with someone from your past, you might want to make a move in the first three weeks of February to see if you can reconcile. Try lunch - see what happens.
You have so much to look forward to in February!
---
Summary
As the month opens, friends will be angels. Within days of the full moon of February 3, you will have a beautiful event to attend that could well become the A-list party of the year that you'll long remember. Uranus will be directly involved with this full moon, so the event itself, or what transpires when you go, will come as a complete - and happy - surprise. Jupiter, the benefic planet, will conjoin this full moon, making it the finest full moon of 2015, brimming with luxury and a feeling of being supremely pampered. In attendance at this event will be accomplished people you know, and some you don't, and you'll have an opportunity to make new friends. If you are not going to a party, then it appears a close friend will go great lengths to help you on a matter that has stymied you. You will be quite touched and encouraged by her gesture.
Single Libras may catch the eye of a new romantic partner at a social event, or in the workplace. (In the latter case, you would be attracted to someone who works on a level similar to yours.) This spark will go off just after the new moon appears on February 18. If you will be working on a creative project, Cupid will work doubly hard for you, for your new love interest seems likely to be part of a creative team and may stand out as the person with the brilliant ideas. Alternatively, with Mercury retrograde until February 11 in your house of true love, if you are carrying a torch for a former lover, you may make moves to see if you can reconcile. Or, if you are single and dating someone new but feel the pace of the relationship has moved too fast, you can now slow things down to give you time to get to know your partner better.
If you are committed in an established relationship, you may have found that over the past three years you have had a number of ups and downs. Happily, this month brings smooth sailing and a double heaping of passion. You seem to know that you need to spend quality time together, and the second half of the month would be when to schedule it. Plan something to do that is unabashedly romantic over the glamorous weekend of February 21-22 when Venus will embrace her lover Mars in the heavens.
Venus loves to be with Mars, but rarely is, so take full advantage of this weekend, for sparks of love will fly. Venus rules your sign, so while everyone will enjoy this meeting of Venus and Mars, you will benefit more than most. Best of all, lucky you, of all houses for Venus and Mars to rendezvous in, they will meet in Aries in your relationship sector. If you want to bring a wonderful jolt of passion to an all-too-predictable relationship, this will be your weekend to cook up your plan.
Your office life will become very active in the last two weeks of February. Indeed, with five heavenly bodies crowded into your workaday sector, you should be seeing a rush of new assignments. Neptune, the planet of creativity, is among that gang of planets, so you can expect to have plenty of room to add your stamp of creativity. Don't be shy to offer ideas to management, the team, and the client.
---
Dates to Note for Libra
You will brim with ideas when Uranus contacts the Sun in a friendly way on February 2.
You will likely go to an important gathering within four days of the full moon, February 3. This is going to be the best, most luxurious full moon of 2015, so take seriously any invitations you get, and go! Also, something dearly important to you that you've waited a long time to see may now be in your hands, as the house of hopes and wishes will be looped into this fabulous aspect.
Mercury has been retrograde since January 21 but will turn direct February 11. Say goodbye to frustrating delays and redo's. The good side of Mercury retrograde, however, is that you may be able to make a go of a former relationship - get in contact if you still love that person.
The new moon February 18 may amp up your love life even more in the week that follows its appearance. Make an effort to leave the office at a decent hour.
Work projects will come to you at a steady pace, and it will be clear you are valued and needed on the job.
Mars will enter your commitment / marriage sector on February 19, and Venus will enter the same house on February 20. This bodes so well for happy interactions with your partner this month.
Your two most romantic dates of the month are February 14, Valentine's Day, and even better, February 21-22. All dates fall on the weekend, lucky you.
February 21-22 is truly remarkable, for Venus and Mars will make a rare conjunction in your house of marriage and commitment. Many Libras will get engaged and set the date to wed.
P.S. for February 2015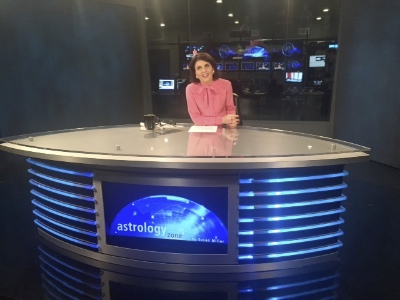 Proudly Announcing the Debut of my NEW TV Show!
I have been holding a secret for months, and now I can show you what I have been doing! For many years, I have had the dream of having my own TV show and over the past years have had many talks with production companies. Suddenly all the pieces of my plan started to fall into place last summer when I met British executive producer, Paul Duddridge. In December, I filmed four shows in Hollywood for upcoming shows, on a set and music designed just for me. It was an exciting experience, for I got to see the thundering, overwhelming talent of the people who work in the entertainment industry in Los Angeles.
My show runs approximately 30 minutes and for now will appear once a month as a streaming program on the Internet. I wanted to be sure my readers outside the US could access it. It will run off my site now, but also from other streaming sources that I am not yet able to divulge. Why am I unveiling my show when Mercury is still retrograde? I had done a pilot for my show with a very esteemed production company several years ago (it was very different from the one that I am doing here). The timing of an astrology show was off, but now it was the right time to debut all that I learned, and all I had envisioned to give you, my dear readers, now viewers!
In the show, I will explain points about astrology in an easy to understand way. Nothing on Astrology Zone will be duplicated on my TV show - all the material on the broadcast will be fresh and new and add to your understanding of the planetary aspects as well as news that will come up that you can use. My aim is to help you understand how astrology works, and how you can harness this ancient art yourself to make your dreams come true.
My show is new, so it is still a work in progress. We are looking forward to hearing your comments so that we might integrate some of your ideas into the format.
Tell me how you feel on my social media accounts, on Twitter @AstrologyZone and on Facebook "Susan Miller." I will be reading all your comments!
Here it is!
Link:
---
Announcing the NEW, Extended Cut Glamourscopes Videos!
Last month I showed you the surprise I had for you, special animated videos called Glamourscopes that I had done with Conde Nast Entertainment (CNE) on a forecast for The Year Ahead 2015. Each sign's video runs a little under three minutes. The animators illustrated my words with visuals in a very original and imaginative way, so most people think the videos are especially cute. You told us you loved the videos, but said in a loud and clear way, "We want them longer!"
To CNE's credit, they immediately went back into the film I had already done for the original videos to see if they could create longer ones. I had originally taped for three hours per sign in various ways to help the animators do their work, so there was plenty of material for CNE to sort through. CNE designed new, longer, seven-minute videos that did not duplicate any of the material I had given you on the first, shorter, three-minute versions.
Called the NEW Extended Cut Glamourscopes, you are telling us that you love these even more. Don't miss them! In these Glamourscopes, I give you plenty of dates, so you will want to click on the links below to hear all the advice I have for you, dear reader! Remember to listen to your Sun sign and rising sign - both!
Shorter Glamourscopes: http://bit.ly/1yPzZEF
Extended Cut Glamourscope: http://bit.ly/15nk8m5
---
Fashionistas! Designers! This article I wrote for The Coveteur is for you!
This week, the esteemed Coveteur website asked me to write a thorough style forecast for 2015 for each of the signs. It was a delicious assignment, and one I could not pass up!
Here is the link to my very long article! Please do tell your friends about it!
Scroll down when you arrive at the page and you will instantly see my piece.
You will also note a story about my daughter Chrissie Miller, under my story, under the headline, "You may also like..."
---
SUSAN MILLER'S APPEARANCES for February 2015
LOS ANGELES
SATURDAY, FEBRURY 7, 2015
MY ANNUAL KEYNOTE at the CONSCIOUS LIFE EXPO
Saturday, February 7, 2015, Noon TO 1:30 PM
LAX Hilton Hotel - Go to the La Jolla Room
5711 Century Boulevard
Los Angeles, CA 90045
The Expo is based in the LAX airport for ease of access, and is quite a beautiful, comfortable, and affordable hotel.
Find out about the Planetary Trends/Forecasts/Eclipses for 2015!
Astrologer Susan Miller will discuss what lies ahead for all the zodiac signs. In this workshop you will discover:
Find out what to expect in your personal life and career.
Learn all about four major eclipses of 2015 in Aries-Libra and Virgo-Pisces and how they will affect your sign even if you are not one of these signs.
Find out about the major move of Saturn out of Scorpio, where it has been for over two years and into Sagittarius, and what that means for you.
Learn how to plan for the upcoming Venus retrograde from July 25 to September 5, 2015.
Discover how you can use the coming positive trends to your advantage and how to prepare for any possible challenges.
In this informative, fun-filled, entertaining, and interactive workshop, Susan will allow ample time for audience questions and comments.
An Expo Day Press ($25 Advance/$30 Door) allows free access to all the lectures, 3 Exhibit Halls, live music and the Conscious Life Film Festival. Additional ticket required for Susan Miller Workshop ($25 Advance/$35 at Door.)
To get into Susan Miller?s Keynote Talk on the Year Ahead 2015:
http://www.consciouslifeexpo.com/-2015-workshops/susan-miller.html
ENTIRE EXPO INFO:
February 6, 7, 8, 2015
Post Conference Seminars - February 9, 2015
Contact: 1-800-367-5777
Visit website: www.consciouslifeexpo.com
---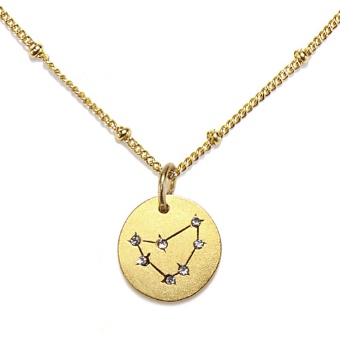 Check Out the Star Map Collection by Sequin
Last March, when I was still well, I was invited by Sequin executive women to look at an idea their talented New York City Sequin Design Studio had for a collection of pendants with an astrological theme. I immediately fell in love with the various astrological pendants, and they asked me to check to make sure all the designs and keyword descriptions of the signs to be used on their site were astrologically correct. I made a few changes to the keywords, but my involvement was very minimal. (Everyone, it seems, at Sequin reads Astrology Zone!) I love the quality of these beautiful pieces. Many girls layer several of these necklaces, using various lengths, and that's a great look too.
The pendants are all made in America and handcrafted by artisans using material components from around the world, and are so well priced that I feel they will fly out of their inventory. These necklaces are gorgeous. They are made of 22K gold-plated brass with antique finish and crystal details. I was impressed with the lovely chain that the pendants come with too, as it is tangle-proof and delicately made to look beautiful when worn. Whenever I wear my necklaces, I get so many compliments.
These necklaces make great gifts, and also would be a beautiful addition to your accessory wardrobe. I quickly chose those necklaces as part of my favorite things to give for holiday gifts, or for a friend's birthday. Imagine how surprised I was that Oprah had chosen this Sequin Star Map Collection as a part of her "favorite things" in her December issue! I was so happy for my new friends at Sequin and the incredible success of this new line of jewelry. It seems Oprah and I think alike!
Your necklace will arrive in a pretty gift box, perfect for gift giving. Remember to think ahead for upcoming birthdays and Valentine's Day - I know these necklaces are going fast!
Seen here is only one example of the Sequin Star Map Collection of pendants, so click through to see the entire range of jewelry, using this link:
http://www.sequin-nyc.com/collections/star-maps?ref=susanmiller
---
My New Apps for Android, Samsung Galaxy, and iPhone are Ready to Download!
Last January, Phunware met with me and we set out to design a completely new app for AstrologyZone readers. We have a free version and an optional paid subscription version for Google's Android and Samsung Galaxy, just like the iPhone readers experienced approximately a year ago.
My new app has a completely new, sleeker design and many new features. You will still have a free daily horoscope, or if you prefer to subscribe, a much longer daily horoscope. The long version is the one most readers prefer. The new applications work with iOS 7.0+ and Android OS 4.0+. If you are already a subscriber to my app on your iPhone, the new design will just slide in to replace the old design when you updated your app. If you have a Samsung Galaxy smart phone, you use the Android operating system, so you will get the new design too. The bugs in the iPhone are all fixed, no more signing in each time you check your forecast, and the tools section for subscribers, the prettiest section, is working flawlessly now. Android/ Samsung Galaxy were bug-free from day one, so go get my app in either one of our retailers, Google Play or Apple App Store, depending on your smart phone type. Search: "Susan Miller."
A feature of my new apps is that each app will automatically expand or shrink to fit your other devices, whether iPad or tablet, or any size smart phone you choose, large screen or small. These newly designed applications have kept screen real estate in mind, allowing users with phones or tablets to get a fully optimized experience for their device screen size. The iPhone 6 is now out, and my app will beautifully translate to that new screen size as well. Keep in mind that you are purchasing a subscription to my app from Apple or Google as retailers, not from us at Astrology Zone. I get a commission on the purchase price of the subscription you buy.
Whether you choose the free version of my app or choose to subscribe to the premium version, either way you will still always have your monthly Astrology Zone report on your phone, and my previous month's report as well. You can check all twelve signs of the daily or monthly horoscopes too by simply going to the home screen and choosing a different sign. The new apps will list my appearances too, but so far, I have no appearances on my schedule, but that might change in time, and if it does, you will be able to see where I will be immediately. Until now, only readers who went to their computers online would know in what city I would have new events. You can also see my Twitter feed on your mobile device too. The designs for Android and iOS are consistent; you get the same visual design and features for either application.
I would appreciate you taking the time to review my app, for I will read all your comments. I am grateful that sales of the premium subscription are so strong, for this allows me to keep Astrology Zone free. Thank you for your support and understanding while I recover from my illness.
---
Live Overseas? Or, don't have an iPhone, Android, or Samsung Galaxy?
Get all 12 of my daily horoscopes each day by email or pick yours up each day on special password-protected site.
To plan ahead, receive several daily horoscopes in advance!
By subscribing to DailyAstrologyZone you will receive a week of horoscopes inside your cell phone and / or computer. This means if you have a BlackBerry or feature flip phone, you can still get my daily horoscopes as long as your device accepts email. You will also have the option of accessing your daily horoscopes from a website online, from anywhere, any time, through a password-protected site for members only, or receiving all 12 signs my email each day.
For more information: http://www.dailyastrologyzone.com
---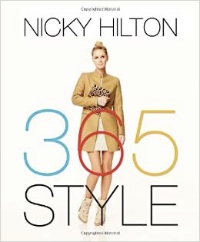 A New and Important Book on Fashion and Style:
"365 Style" by Nicky Hilton
Wow! Amazon tells me you bought SO many copies of Nicky Hilton's book in November!
I love Nicky's book too! Here is my review in case you missed it last month!
There are many books on the market on fashion and style, and I admit, I have bought many of them. In this new book, Nicky Hilton, designer, author, entrepreneur, daughter of Rick and Kathy Hilton, and sister of Paris, has created a completely original, honest, and remarkably wise book on style. It comes complete with many color photographs, and in it Nicky shows you ways you can upgrade your own fashion style from good to style icon level. The goal is to sharpen your personal style by looking within, not by copying someone else's style. Nicky gets you started by showing you some of her favorite style icons, but only to get you thinking. She gives many stories and examples from her own life, and she makes you enthusiastic about going through your own wardrobe to find ways to amp it up. The title of the book refers to Nicky's suggestion that you consider 3 aspects of your lifestyle, and choose 6 staple items of clothing and 5 essential accessories. Doing that will instantly get you a stylish starting point.
Nicky has attended all the fabulous fashion shows in New York, Paris, Milan, and more in her young years, but her advice is down to earth and certainly does not require you have a trust fund. Just the opposite, her tone is one of a best friend going through your closet and handing you advice that is at times funny but always wise. Certainly a lot of what Nicky says makes you think. In one chapter, she advises, "Always dress like you are going to meet your worst enemy" (i.e, bumping into the ex-boyfriend who betrayed you, or the mean girl in high school who made your freshman year a terror.) Nicky gives many examples of her own life and shows how running into that old boyfriend looking like a million because she had taken just a little extra time with her appearance on the way to meet girlfriends for a casual Mexican dinner gave her a happy boost during that unexpected nano-second on-the-street encounter.
With each page, you will rethink your own wardrobe and habits, and occasionally Nicky will casually toss out the very advice you needed most. When it happens, you will feel like you were hit by a thunderbolt. I enjoyed her advice about dressing for a first date, meeting his parents, and more, and all along she gives you many vignettes that allow you to see her own lifestyle. Those peeks into her own life allow you to understand why she has the authority and experience in her early thirties to write this wonderful jewel of a book.
She has advice on such things as:
The $30 wardrobe item you can't live without.

The one closet accessory that keeps everything organized at all times.

Five must-have wardrobe items, all affordable.

How to pack a suitcase like a jet-setter.
I feel you will enjoy this book and get much from it. Just click here to order your copy:
http://amzn.to/1qE6BzC
---
MY PERSONAL CUSTOM HOROSCOPE BOOKS
WRITTEN BY SUSAN MILLER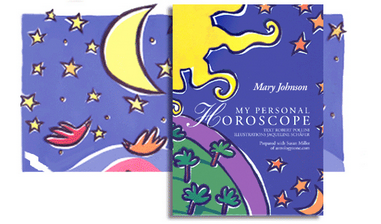 Looking for unique gifts for the coming holidays? - Choose from My Personal Horoscope for Adults or for Babies (Baby Boy light blue cover or Baby Girl pink cover), or for a Relationship, the Two of Us.
Two weeks on average from order receipt to delivery to any US destinations. One week longer elsewhere.
Also PDF option available for destinations overseas where delivery tracking of printed books is prohibitively expensive. The content is same as the print edition with its full-color illustrations by Jacqueline Schafer. The PDF delivers within 7 days on average.
My Personal Horoscope Custom Natal Chart Book $54.99 plus shipping / tax
For more information call Susan's publisher, Arthur Heydendael 914.271.3640 ext 14 or click here:
http://www.americadirectbook.com/Customized_Books
To view a forecast, select a sign from the menu below and click on Go.