My beautiful Year Ahead 2014 Astrological Calendar with Gloria Vanderbilt's fine art will make you more productive and happier! DISCOUNTED NOW AT $12.99 (reduced 27% from $17.99). See all aspects on the day they happen with clear explanation for the layman reader. With my calendar, you have no more surprises - you will know what's coming months ahead of time!
Progress on The Year Ahead 2014 book: I am trying to write the book, and each chapter has become large. I want you to have detail. Please bear with me. It is coming!
Make sure you upgrade to my new iPhone app at the Apple App Store as my previous one for iPhone (Astrology Zone Premier) ended service Nov. 12, 2013. My new one is called: Susan Miller's AstrologyZone Daily Horoscope FREE! You will have the option to subscribe for longer, detailed content INSIDE the app once you download. See prices. One example: $12.99 for three months.
Android and Samsung : Get my app Astrology Zone Premier in your app store.
Do you live overseas or don't have a smart phone? Subscribe to my same daily horoscopes, get all 12 each day, that are the same used for my smart phone apps at http://www.DailyAstrologyzone.com
New! Spanish speaking friends, read my mirror site to Astrology Zone ALL in Spanish: go to: http://www.astrologyzone.com/spanish
Do you want to lose weight in 2014? Order daily gourmet meals, prepared with all farm fresh food. Chefs Diet (www.chefsdiet.com) sets the gold standard. Thanks to new shipping technology, Chefs Diet ships to any city in America. To get a great introductory discount, call secret toll free number just for Astrology Zone readers: # 800.585.1329. You MUST speak to Michael McDonnell. Use code: Susan Miller, to get your discount. For menus, photos: http://www.chefsdiet.com
Scorpio Forecast for February 2014
By Susan Miller
As you begin February, you seem to be thinking about your living situation. You may have tried to make changes to your home for several weeks or months, to no avail. Now, the new moon in Aquarius that appeared just two days prior to the start of this month, on January 30, will still be strong in the first half of February and help you find solid answers you'll like. What is most exiting is that Uranus, planet of completely unexpected developments, will be beautifully angled to the new moon, indicating you will have an element of luck on your side when it comes to home and family matters. When you hear of a breakthrough, news will come very suddenly, straight out of the blue, so you will have to mobilize quickly and be decisive.
Your career appears to be an important element in any decision you may be making in regard to your plans for housing. This is indicated by the placement of Uranus in your workaday sector, controlling your home area. You may have to temporarily relocate due to a special assignment, or you may decide to make a permanent move, perhaps because you feel your commute is too long or that you'd like to live closer to a parent or your sister / brother. It does not matter the reason - the point is, you will have outstanding favor at this new moon and your work may be driving the need to make a change.
There is one little glitch this month, in that Mercury will be retrograde in your home sector from February 6 to 28. This planet of thinking, reasoning, and communication will be weak, and therefore you may encounter delays or unexpected snags in your effort to find a place to live. Something you assume is a "sure thing" may fall through. The house you were ready to buy, sell, or rent may be snatched away at the last minute. You cannot count your chickens before they hatch this month, so monitor every detail to make sure nothing goes wrong. Even with diligence, things go awry anyway, but we do the very best we can. Mercury retrograde brings a volatile atmosphere, but on the other hand, you do have an element of luck from Uranus, so finding golden opportunities will not be impossible. Cast a wide net to uncover as many opportunities as you can, then choose among the best.
I would not want you to sign contracts or important papers in February, not even in the days February 1- 5, prior to the date Mercury turns retrograde. You are now in a slowdown period - we always feel the retrograde prior to the day it turns. Wait until Mercury is done retrograding for best luck, after February 28, in March. If you schedule repairs, a thorough cleaning, or reorganization, you will be doing the precise thing that Mercury hopes you will do. It's also a great time to choose a paint color and have your living room or bedroom painted and refreshed.
If you are renovating, you may have to move out for a few weeks during the time the workers are putting in your new kitchen or bath. Be sure to tell the contractor not to incur costs without informing you in writing of what those costs will be so that you can sign off on those extra expenses. Often when workers are in your house, they discover a problem that has to be fixed before they can continue, and for that, you will be grateful. Finding flaws in plumbing or electrical wiring will actually save you many troubles later.
Hold off on buying furniture this month, too. You can browse stores, but put in your order on February 28 or March 1. Furniture is expensive, even when it is on sale, and because it is tricky to return, if I were you, I would play it safe and order selections in March. If you purchased in January and are due for a delivery in February, see if you can get it delivered in March instead. If that is not possible, you need to be home to inspect the furniture, for once the deliveryman leaves, you will have signed off on having received your furniture in perfect condition. If you find damage later, it will be much harder for you to prove it arrived that way. (You might have a friend or relative there, too - two heads are often better than one at spotting things.)
If your parent needs help, the new moon in early February will bring breakthrough options too. Perhaps your mother will be moving to a warm climate and would like you to help her pack up her things. Or, maybe your father needs a checkup and needs you to accompany him to the doctor. Or, if your parents are not ill and not moving, you may be playing host to one or both of your parents who will stay in your guest room. Alternatively, with so much emphasis on the home in early February, you may decide to host friends at your home, or even give a party there, a great idea.
Valentine's Day will come this month, so of course you are interested in your prospects for love! This year this day for lovers coincides with a full moon in Leo on February 14, at 26 degrees. This will be a spectacular day, coming on Friday night, for Mars will be in fine position to the full moon, boosting passion and ardor in the evening hours, just perfect for lovers.
Mars will have an ideal angle to the Sun too on February 14, which is significant because Mars rules Scorpio. Interestingly, by the full moon, Mars will have reached 26 degrees Libra - in perfect angle to the transiting Sun. By the time Mars goes just a little farther, 29 degrees 59 minutes, it would have normally gone into Scorpio, giving you enormous power and energy. However, Mars will not quite get that far, and instead back off in retrograde on March 1 until May 19. (During that phase it will be harder for you to make headway on many fronts, as your ruler will be in a weakened state.)
Before you reach March 1, however, Mars will travel to 27 degrees 32 minutes, which is an out-of-sign conjunction to your sign. That means Mars will be close enough to Scorpio that he can practically touch your sign. Mars's proximity will give you presence, clout, incredible charm, and charisma, especially if you were born at the very beginning of your sign, from October 23-26. I could not resist telling you that!
All Scorpios will regain control by late July, when Mars finally enters Scorpio to stay for six delicious weeks, and that will be the first time in two years you will have had that favor. In the meantime, the end of this month will be quite special, assuming you are an early Scorpio or have Scorpio rising 0 to 3 degrees.
The full moon February 14 will bring professional accolades and solid reasons for celebration because the full moon will appear the highest point of your chart, your solar tenth house of fame, honors, and awards. Something career-oriented is reaching an end point or fabulous culmination. I feel you will get good news - perhaps incredibly positive publicity, or will hear back that you have been chosen for a top position. I cannot see all that is in your chart, but I do know that this full moon will be a defining moment in your career timeline, and that the fine aspects associated with it will bring you a boost either now (likely) or later - either way, news about your career should have you dancing on the tables.
This all happens on Valentine's Day, and so besides any festivities you have on your agenda for that evening, your career will be the dominant theme. How nice to have something great to talk about with your one-and-only! This full moon, February 14, will be in Leo, urging you to celebrate on a grand scale. The champagne will flow, and the restaurant you or your partner chooses will be one you always wanted to try - this is a special occasion establishment, for sure. You might ALSO decide to book a charming bed and breakfast inn over the ensuing weekend for a highly romantic time for the two of you, February 15-16. That's a great idea. Venus is in your short-distance travel sector, making sure you enjoy yourself to the hilt.
In truth, the new moon on February 28 will bring on such dazzling romance that it will be equal to or even more exciting than Valentine's Day! If you are single and looking for love, you must circulate on and in the days that quickly follow this new moon. Neptune will be conjunct that new moon and help spin a dream of an episode, something you may not see until early March. No matter - the dream is about to become a reality, dear Scorpio.
This new moon is simply divine, for the new moon will receive shimmering beams from Jupiter, from your house of long-distance travel. If you are attached, consider going away together. If single, you may you meet someone special in the days that follow this new moon.
On the same day, February 28, Jupiter will send a communication on your behalf to the mighty Sun, and certainly this is a link between two major players of the solar system. The Sun rules your profession and reputation, so this day should be a "10" on your professional scale. Give a presentation, meet with a VIP to ask for a favor, or schedule a key interview. This day will dazzle on so many levels if you work in publishing, broadcasting, Internet, academia (or sell to the college market), or work with the courts or legal field. Scorpios working in creative fields will also do exceptionally well, for Neptune will be very close to the Sun and bring all sorts of ideas that will fall from your mind all around you, and when they do, will shine more brilliantly than diamonds.
If you hope for a baby, but have had difficulty in conception, you might want to see a fertility expert or adoption agency on February 28. This is a sterling day in so many ways, so make the most of it.
If your birthday falls on November 2, plus or minus five days, you will benefit the most from this new moon. Or, if you have Scorpio rising, or have a natal planet in Scorpio, Pisces, or Cancer at 10 degrees plus or minus give degrees, you too will be walking on air at month's end.
In truth, however, Scorpios of ALL birthdays will have so much to celebrate this month! Enjoy it, dear Scorpio!
---
Summary
As the month opens, your home and all the decisions you need to make there will be on your mind. A new moon just occurred a few days prior to the start of February, on January 30, and will help you find new and very viable options to improve your living space. Whether you need a new apartment, new furniture, or a different roommate, that recent new moon that appeared at the end of last month will create all sorts of opportunities you'll want to jump on immediately in the first half of February. You won't have much time as Uranus, planet of unexpected events, will partner with this new moon, so you will need to make decisions on the fly. If you are decisive, you can do very well this month.
Be ready for a big moment near February 14, when the full moon in Leo will likely bring you big career success that will thrill you. This full moon will bring closure, so you may take a new position, or get great applause and publicity for work well done. You may be interviewed in the press, say, on television, be asked to give an important speech, or be invited to be a judge on a panel. Your profile will be very high in February (especially mid-month), and many people will know your name. Mars, one of your two rulers, will work hard for you from behind the scenes, so you may not actually know that you have massive support across the board, from peers and higher ups as well, and all will cheer you on.
With so much career excitement mid-month, Valentine's Day - and time for love - will come later. Ironically, you will have the best romantic new moon of the year on February 28, and it will be quite an enchanting one as well. It will receive golden beams of Jupiter, the giver of gifts, luck, and happiness, orbiting in perfect angle to the Sun and moon from your house of long-distance travel. This would be a divine time to take a trip with the person you love. If you are not with someone, you will have a superb opportunity to meet someone new, especially if you travel.
The same aspect, specifically, Jupiter's impending meeting with the Sun, can help your career in a stunningly positive way too, on or very close to February 28. This is because the Sun rules your solar tenth house of professional interests and reputation, and will be receiving very powerful vibrations from Jupiter. This is a rare vibration, and certainly the best aspect of the entire first quarter of 2014. Circle February 28 in gold and make sure you schedule a presentation or interview for your wonder day.
Furthermore, certain professions will receive a double dip of luck at this point, when VIPs will look so kindly at you. If you are creative and are paid to come up with ideas, you will find getting approvals easier than ever on this date. If you work in publishing, broadcasting or a legal profession, or if your product is aimed at college students or to people abroad, February 28 (and the four days surrounding this date) may prove memorable and doubly exciting for you.
---
Dates to Note for SCORPIO
Most romantic dates, and can be used for other purposes too (these are good days for you): February 1, 5, 10, 11, 14, 15, 16, 20, 21, 23, and 28.
Mercury will be retrograde February 6 to February 28.
Your living situation (house, apartment) will now improve and become settled, after new options arise as a result of the January 30 new moon. That new moon will exert strong energy through the first half of February. Leave no stone unturned.
Do not interview on February 11 when a VIP may be tired, cranky, and overworked - and hard on you.
Your career may bring big, exciting news as a result of the full moon, February 14, plus four days. (May hear as early as February 12).
Your love life will take off in a big way after the new moon appears, February 28, plus two weeks. This will be the most important point of 2014 to find love. Conception of a baby is also favored on this day and in the days that follow. Creatively, you will be on a roll.
More exceptional career news should arrive February 28 as a result of the Sun and Jupiter in perfect sync.
P.S. for February 2014
SUSAN MILLER'S APPEARANCES for February 2014
NEW YORK CITY
Thursday, February 13, 2014 at 6:00 - 8:00 PM
***
CANCELED

Due To Snow Storm! ***
(Will reschedule in the spring)
La Perla Lingerie
434 West Broadway, between Prince and Spring
New York NY
Please RSVP
Please join me for music, delicious treats!
I will answer your questions.
The Italian company, La Perla, makes the most beautiful lingerie in the world.
You must come see and celebrate Valentine's Day with me.
---
NEW YORK CITY
FRIDAY, FEBRUARY 14, 2014 6:00 to 9:00 PM
THE EMPIRE HOTEL
I will be hosting a "BFF VALENTINE'S DAY PARTY!" at the Empire Hotel Lobby Bar
Don't be alone on Valentine's Day - bring your best friends forever (BFF)
and let's have fun and talk about love. I will get you ready for 2014! Bring questions!
The Empire Hotel
44 West 63rd Street
New York NY 10023
No tickets necessary. Free admission, pay for just the drinks you'd like.
List to be capped at 100 guests, so please, you MUST send a RSVP to be let in. Write to BFFparty@EmpireHotelNYC.com
Want to stay over at the hotel? Go to www.empirehotelNYC.com and type promo code "BFF" for a special promotional offer.
---
The Year Ahead 2014 Astrological Calendar
By Susan Miller
$17.99 plus shipping, any applicable tax
Calendars are used to mark time, but have you ever had a calendar that helped you use your time productively? My new Year Ahead 2014 Calendar can do just that. I write every word myself in this stunning calendar with original fine art by socialite, author, and fine artist Gloria Vanderbilt, mother of newsman Anderson Cooper, and great grandchild of railroad entrepreneur Cornelius Vanderbilt. (Grand Central Station was originally her great grandfather's business headquarters.)
Gloria Vanderbilt, now almost 90 years young, licensed the reproduction rights to her critically acclaimed artwork to Susan Miller who self-published her calendar. The inks are rich, the paper heavy, glossy, and snow white, allowing Gloria's paintings to jump off the page. Each month, from January 2014 though the extra bonus month, January 2015, is found an inspirational quote from Gloria, centering on her philosophy of living life fully and creatively. With fourteen of Gloria's paintings, this calendar will soon become a collector's edition and will not be reprinted when stocks are gone.
Aside from having happy, vibrant art to look at all year, The Year Ahead 2014 calendar has many other uses, unlike any you have had in a calendar before. On every important day of each month I list the aspect and what it means, in easy to understand laymen's language. This means the next time you are about to make an important appointment, and the VIP asks you, "Do you want to come in Monday or Thursday?" you can say you will consult your calendar, and know immediately the day to choose.
In a year like 2014, where sparkling aspects will stand side by side difficult ones, this calendar will not be a luxury but a necessity.
Also included in the calendar are:
- All the start and end dates of the retrograde planets in 2014,
- Detailed discussion of the new and full moons (new!)
- The date when planets move into new signs (and how long they will be in that sign), all listed on the same day entry
- The planetary aspects of the four eclipses due in 2014, and explanation of what each eclipse will bring.
No more surprises! Be in the know about upcoming events, so that you can plan your biggest initiations. This calendar is a "must" to keep with you all year, and is available here, from Susan's publisher, but not in bookstores or other retailers. Get it now, while you can: $17.99 plus tax and shipping. We ship to all nations of the world: http://bit.ly/186zM0i
---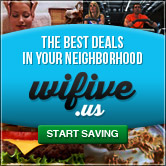 A New Service: WiFive.us
Don't we all love a bargain?
In December, when each of us are busy and shopping for gifts, we all want to know about the deals being offered nearby in our neighborhoods to save money. I found a way when a brilliant entrepreneur, Luis Sanchez, came to see me to show me he had developed a way of seeing all the various deal-of the-day websites that are featuring discounts on food, entertainment, boutiques, and other establishments, all in one click. Traveling? All you need to do is enter the zip code of your new neighborhood as you travel each day and you can see the deals that may be just across the street from your hotel.
The company is called Wifive.us and is ready to use today. It is a New York-based startup with a location-based search engine that gives you access to thousands of local online deals in a single site.
For now, Wifive.us is only available in the United States. It covers most of deals services you would see from various sources, (Groupon, Amazon, Google deals, and so forth), all at once, so you don't have to go from site to site to find a deal that appeals to you, as Luis would humorously say, "until your head hurts." There is no registration necessary, and no useless emails to stuff your inbox each day.
Just type your address or ZIP code and get the deals you want when you want them. You pull in your information, which is far better than having many emails pushed to you. Try it and like the service on Facebook!
A word about the web address of Wifive.us
You may be wondering, what exactly is .US?
You might have thought the domain ending .us would only be only for government agencies and schools, but since 2002, individuals, businesses, churches, and non-profits have adopted .us web addresses to make their mark on the Internet. The .US is a new domain ending.
Just remember the name of the new service that no doubt you will be using quite a bit: pronounced as "wi-five-dot-us" otherwise seen as:
---
Goodbye to My Former iPhone App on November 12,
Hello to My New One:
"Susan Miller's AstrologyZone Daily Horoscope FREE!"
Download today!
To sum up, Astrology Zone Premier will no longer be supported starting November 12, so you might want to download my free version of "Susan Miller's AstrologyZone Daily Horoscope FREE!" today. (Searching simply for Susan Miller or Astrology Zone should bring the app up immediately.)
My former app, Astrology Zone Premier will not automatically change over to the new free app, so you will have to download my new app. Once you have it, you can decide soon if you would like to upgrade to the version you've come to know and love by looking inside the app and buying the subscription inside the app. If you do so soon, you will avoid any disruption in service. If you should have to reload and reinstall your app, you will not lose your subscription as long at you responded to Apple's dialog box asking you to register immediately. If you don't register, if you should lose your phone or need to reinstall your app, you won't be able to do so. Be sure to register your app!
If you have any questions or need help, you can write to Jennifer@Phunware.com and engineer Jennifer will be happy to help you.
---
Live Overseas?
Or, don't have an iPhone, Android or Samsung Galaxy?
Subscribe to DailyAstrologyZone.com
Get all 12 of my daily horoscopes each day by email!
By subscribing, you will receive a week of horoscopes inside your cell phone and / or computer. This means if you have a Blackberry or feature flip phone, you can still get my daily horoscopes as long as your device accepts email. You will also have the option of accessing your daily horoscopes from a website on line, from anywhere, any time, through a password-protected site for members only.
Android and Samsung users have Astrology Zone Premier to enjoy a little longer; we are writing code for your Android and Samsung cell phones, and for you, we are making an app similar to the one for iPhone.
For more information: http://www.dailyastrologyzone.com
---
Welcome Chefs Diet as a Sponsor of Astrology Zone!
Think of Going on a Diet? Try Chefs Diet, Meals to Your Door
Get the Special Introductory Discount Only for Astrology Zone Readers! Call 800.585.1329 ask for Michael McDonnell ONLY and use code word: Susan Miller
If you have been reading my column for a while, you know I am very picky about which companies I endorse. If you want to lose weight, I feel this is the easiest, most fun way to do it. Each day Chefs Diet will deliver farm fresh, healthy foods to your door. In the past it used to be that only those living in New York City and Los Angeles had this option, but now, through new shipping technology, UPS and FedEx have been working with Chefs Diets to find ways to ship and still keep your food as fresh as it was when it left the Chefs Diet kitchens. I simply cannot get over how delicious and carefully prepared these meals are day after day. Meals won't repeat for 90 days so you will love the variety!
You will get three meals a day, with breakfast and dinner a hot meal, and lunch a cold one for convenience. You will also get two satisfying snacks. Best of all, you can change your menu if you see something on the program you'd like to change by very simply logging on to your account and choosing a different meal from the pull down menu. If you have special dietary needs, you can choose the right program for you from the options on the Chefs Diet website. I am NOT diabetic, but I saw that that the diabetic menu had lots of protein to keep me feeling peppy from dawn to the wee hours of the morning. (If you are on social media, you see I often post in the middle of the night - a writer's work is never done.) I love knowing that if I just eat the food given to me each day I will lose weight. There is no thinking, no shopping, no weighing foods or adding points - so easy!
Television producers have told me they rely on Chefs Diets when an actor, male or female, needs to lose weight for a role. It was through that comment of a top producer that I originally found this great company.
Of course, you should always check with your doctor before starting any new dietary program.
For your special discount, call Michael McDonnell (and it MUST be Michael) at 800.585.1329 and you must also mention my name, Susan Miller. You will be given a special introductory discount for a week of meals, so you can see how delicious they are! You will love Chefs Diet! Many famous actors that you see in the movies have these.
I am on the program now because two years ago I broke my femur and had to lie very still until my leg healed. I could not opt to have the femur operated on due to my body's proclivity to bleed excessively in my left leg. (I have already had 40 transfusions in my life.) My leg took a year to recover. During that time it was impossible not to gain a bit of weight (I was bed-bound and could barely move an inch). Now, on the Chefs Diet program, I love being able to fit in my smaller clothes!
Have a look at the Chefs Diet website, http://www.ChefsDiet.com
Call Michael McDonnell at 800.585.1329 to make 2014 your year to look sleek and sexy. Mention me, code word: Susan Miller, and you will be on your way!
To view a forecast, select a sign from the menu below and click on Go.