See Susan Miller's new Astrology Zone 30-minute streaming TV Show, debuting February 1! For now, it will be seen once a month and will not duplicate any information you get on Susan's site - the broadcast will provide fresh, new material. For more info, see Susan's note to you found here, in the PS (post script) directly below your sign's summary and the dates to note. Express your ideas about Susan's new show in social media - we will be reading your comments. The show will not be seen yet on Susan's smart phone apps (stay tuned) but instead here on your computer or tablet. Please tell your friends to have a look!



Astrology Zone with Susan Miller for February 2015 from Television Four on Vimeo.



---


Last month I showed you the surprise I had for you, special animated videos called Glamourscopes that I had done with Conde Nast Entertainment (CNE). Each sign's video runs a little under three minutes. The animators illustrated my words with visuals in a very original and imaginative way, so most people think the videos are especially cute. You told us you loved the videos, but said in a loud and clear way, "We want them longer!"

We listened! Here is the short version of Glamourscopes:

http://bit.ly/1yPzZEF

and the NEW Extended Cut version of Glamourscopes:

http://bit.ly/15nk8m5

Each sign's video has new material, there is no duplication of information that you will get. Don't miss these! Listen for your Sun sign and your rising sign as both are equal in importance.
Scorpio Horoscope for January 2015
By Susan Miller
You seem to have traveled quite a distance over the December holiday, or, if you could not go away, you may have hosted others in your home (or hometown). The holidays seem to have exhausted you, but somehow you found a way to connect with your family, and no doubt they were very appreciative that you made such an effort to be with them. You have been very focused on your physical living space, and also in terms of your relationship with your parents, and this focus will be a big trend that will continue in January and February too. What is interesting is that the focus here will be due to different transiting aspects, each coming at various points in these two coming months. Each aspect will express itself in its own way, but the focus will be the same - on your home and family.
You and I will examine this trend, but first, we need to discuss the angry full moon, January 4, to light your house of long-distance travel and include events taking place far from your home base. This full moon is a little witch. She won't be getting along with Uranus in your house of health and work projects, and she won't get along with Pluto either. At work, unusual and unpredictable events may take place, such as if your assistant announces he is quitting in the middle of a project, or an assignment is showing signs of going over budget and generally speeding off the rails. Or, it may be that you simply don't feel well, and you don't need to be feeling weak and tired when you have so much to do.
Pluto will come to you in terms of a self-centered, very powerful VIP at work, or authority figure in your family, who will refuse to integrate your opinions into his thinking. He will want you to "do things my way, or (take) the highway." At this point, don't kick the hornet's nest. Keep low key and be determined not voice any controversial opinions. As a matter of fact, you may say something very mild, but in the atmosphere of this emotional full moon in Cancer 15 degrees, things may escalate quickly into a meltdown. This would not be the time to take a trip, but it appears you may have to get on a plane and do so anyway. If you do have to travel quickly, it appears to be an urgent trip with a crisis at the destination.
Alternatively, you may hear news about your in-laws, or about a situation that is reaching critical mass overseas. You may have problems on your university campus, perhaps with one of the staff there, or with a publishing or broadcasting project. A legal matter could bring unexpected twists and turns, all troublesome. One of these areas (not all, thank goodness) may come up for attention very fast. You will need to stay on your toes.
Fortunately, a full moon in Cancer gets along well with your Scorpio Sun, especially if your birthday falls on November 7, plus or minus four days. If you were born at this time of the month, you will find ways to make this full moon work for you. The same is true if your rising sign is Scorpio at approximately 15 degrees, or if you have a natal planet within five degrees of that degree in the signs of Cancer, Scorpio, or Pisces.
Until January 12, Mars, your alternate ruling planet, will still be in Aquarius and keep you thinking about your physical home, other property you may own or hope to buy, or a member of your family. As I mentioned earlier, last month you likely began to think about your family and that will continue this month. Last month would have been a hard month to move house or renovate, with the holiday and all, but life isn't always logical. The universe sends aspects when it wants to send them, certainly not when it is convenient.
You may have had to move (or will move in the first three months of 2015, due to a job opportunity in another city, because your lease is up, or because you are getting married and your spouse needs to be in another city. You may be looking at vacation homes to rent or buy, and early January would be the time to investigate. There are nearly limitless possibilities. Or, it may be that you have to take care of an urgent repair. If your roommate is leaving, you will have to interview replacements flat mates, or if sales are being offered at your favorite furniture or linen stores, you may want to take advantage of bargains. If your concern is instead over one of your parents, you may be checking in quite a bit to see how your parent is doing, and may need to take an active role in your parent's care.
If you will be out shopping for goods for your home, go on January 13, when Venus in Aquarius will be in ideal angle to Uranus, planet of serendipity. This lovely will also work for you if you are hunting for a new rental or home to buy - Venus will make sure you love the space you find. If you have to choose fabrics, paint chips, kitchen tops, and so forth, go out on January 13, when your choices will stand the test of time. January 14 would be another good day to be out looking at your choices, as Mercury, ruling buying and selling, negotiating and bargaining cleverly, will be in great angle to Uranus, planet of surprise.
When Mars' leaves Aquarius and stops its emphasis on your home and family, the new moon January 20, will come in to carry the banner for this new moon will be in Aquarius, 0 degrees. This new moon will be a joy - nothing like the angry full moon in January's first week - and will give you an even greater opportunity to make strides in your home and family in the ten days that follow. Saturn will be beautifully angled to this new moon, suggesting that once you make a decision about your home, you will feel very settled and secure, and you will likely live with your decision a very long time.
Mercury will go retrograde in your home sector from January 21 to February 11, not a time to spend a great deal of money on furniture, electronics, a mattress, or other important item for your home. If you hope to sell property, don't count your chickens before they hatch, because something may go wrong with the buyer at the last minute. (The bank may not grant the buyer a mortgage, for example, or the buyer may ask for all sorts of extras you never put in the deal.) Things will proceed slowly, and there's wisdom in rushing things, so just be resigned to deal with the delays that Mercury brings as best you can until it regulates after February 11.
You will feel things gradually slow down as early as January 6 as you move to the day Mercury turns retrograde, January 21. Perhaps the universe is trying to teach us patience and that few things in life can be expected to zoom forward in a straight line to success. We need to tweak things all along the way. Browse, make selections, but buy things in the second half of February for best results. I happen to love February 26.
In your career, you will find good news will arrive January 23, when Saturn, the planet that rules your house of agreements, will signal the mighty Sun, ruler of your house of honors, awards, achievement, and fame. Saturn will be at a very comforting angle to the Sun, so if you do take a job at this time, you will stay quite a while. If you are working, you may have a special victory to report - all good news.
January 30 will be a special day for you too, when the awesome power of your inner strength will become very apparent to you. Mars and Pluto, your two rulers, will be in perfect sync, and you'll feel like Superman, able to leap tall buildings in a single bound. If you are ill, you may see a turnaround on this day.
Finally, let's talk about love, for good news is moving into your chart on that score too. On January 12, Mars will move into Pisces and light your house of romance and fun until February 19. Mars is your ruler, so while everyone will enjoy the energy Mars brings in the various parts of their horoscope, you will enjoy Mars more, as Mars is your ruler. That means Mars is weighted more heavily for you than for others. When Mars enters a house, he is capable of helping you start an entirely new two-year cycle, so you will need to do your part by circulating and being willing to meet new people, some of whom may be outside your type. This trend, to be started by Mars, will pick up enormous steam in March.
The March 20 solar eclipse will be very much part of the romantic trend that is starting up now, and all the news is positive. Start to get your wardrobe in gear, dear Scorpio. You will be stepping out quite a bit, and you will want to look your best.
---
Summary
As you begin January, you appear to be returning from a distant city, but having problems on the trip. You may have gone on your trip to complete a goal, but if so, nothing will seem to go right within four days of January 4, the full moon. If you didn't travel to work, then you might hit many weather delays, so bring your devices to the airport to keep occupied. If asked to sign a contract, call your lawyer first, and do not sign on this full moon. Difficult aspects from Pluto (force) and Uranus (unpredictable events) make your long-term outlook a rocky one. Wait to sign on January 12, 13, or 14, and only after your lawyer says you are ready to do so.
Your home appears to be a big focus for you. Mars, your ruler, will be bringing out the mini Martha in you from January 1 to 12. You may be collecting swatches, paint and kitchen counter samples, and cutting articles out of home decor magazines. Your best days to go browsing spaces and for finding options in any area of home design will be January 13, 14, and January 27, (but January 27 has Mercury retrograde, so put off making final decisions). By the new moon January 20, you will be able to make your plans a reality.
Sign the contractor's agreement mid-month, well before the new moon arrives January 20 and prior to the date when Mercury will go retrograde in your home sector, January 21 to February 11. When drawing up your budget for your home improvements or moving expenses, allow a reasonable margin for possible overages, for those are likely to come up during Mercury retrograde periods. If you hope to move house, this will be your best time of the year to look at spaces, for the new moon January 20 is supportive and has comforting aspects from Saturn, suggesting you will remain at your new home a long time.
As busy as you will be in January (and you will be that, for sure) you will have lots of room to enjoy love too. Your ruler, Mars, will visit Pisces, your ideal placement, from January 12 to February 19, kicking off the very best phase you've had in two years to find love or to celebrate the love you already have found. Like anything else, you will have to have an open heart for love and not be distracted by other elements in your life. Happily, Mars will keep you focused so that when the friendly solar eclipse in Pisces comes by on March 20, you will be ready. That eclipse will be powerfully supportive, and could be life changing in importance when it comes to helping you build a warm and close bond with the right person.
In January, Mars will work to get everything in place so that you will be in the perfect frame of mind to welcome your enchanting period. If you have not found your "true north," you may in the first quarter of 2015. If you are attached, you may be ready to have a baby. Your private, emotional life is about to become quite close, warm, and possibly quite dazzling, so don't question this trend; just drink it in. Have fun updating your looks - improving your outer "package" will make everything sync into place when Cupid shows up to help you.
---
Dates to Note for Scorpio:
The full moon of January 4 is troublesome and will be felt a full four to five days after it appears. You may have to take a quick trip, as an urgent situation may be taking place at a distance from you. A cranky and powerful VIP or authority figure in your family (signified by Pluto) will make things more difficult than necessary. Unpredictable events at work in regard to a project will also make you tense.
January 13 and 14 would be ideal days to go shopping or browsing for things for the home.
Mars in Aquarius will keep your focus on home and family until January 12, but then the glorious new moon, January 20 in Aquarius, will extend your focus throughout the month. Changes you make now can be in place for years.
Mercury will be retrograde from January 21 to February 11. Do not buy any electronic, appliance, or machine with moving parts, such as a car, when Mercury is retrograde.
Mars will light your house of true love from January 12 to February 19 - wonderful! Get ready to meet your one true love.
A great career day will be January 23, when the Sun and Saturn will work flawlessly together.
You will feel strong and powerful on January 30 when Mars and Pluto join forces in a friendly way to help you do something you assume would be difficult to pull off.
P.S. for January 2015
A Surprise for You, from Me! Happy New Year 2015!
See my 12 "Glamourscope Videos" by Sign for a Look at Your Year Ahead 2015!
Here is your Year Ahead 2015, all 12 signs about 3 minutes each in length. Make sure you click on your rising sign as well, for it is as equally as important as your Sun sign (you would have had to have your chart done in order to know your rising sign).
http://thescene.com/glamour/series/glamourscopes-with-susan-miller
Dear Readers,
Each year you have begged me to do a series of videos where I could share information about the year ahead for each sign of the zodiac. I wanted quite badly to do them, but I also wanted them to have beautiful production values, be completely unique, and be presented in an imaginative way. That was a tall order, which is why it has taken me so long to actually film videos. This is my first time!
My chance to do these beautiful videos came up when Conde Nast Entertainment (CNE) came to me with a proposal and a promise: we can help you in your quest, and you will adore the results! CNE told me that they would animate my words to illustrate my points in a compelling way. The CNE idea was so creative that I jumped at the chance to be part of this amazing project.
The team was large, and included the CNE team and the team from one of New York City's best animation houses. When I was on set, I learned to speak in such a way to allow the animators ease and accuracy in editing. We did each forecast in many different ways, in case the animators had to go back in to pull information. During the process, the animation editors and CNE executives were gradually learning about astrology, and I was learning about how such a complex and creative endeavor would fit together, piece by piece. This is a fascinating process!
The final results are adorable, sometimes funny, sometimes serious, and always accurate and informative. I know you will love these videos, and that you will want to share the links with friends and family. Each sign's video runs 4 minutes. Be sure to view your Sun sign forecast, and also the one for your rising sign if you know it. (You would have had to have had your natal chart cast by precise minute of birth to know your rising sign.) Both the Sun sign and the rising sign are exactly equal in importance, so both would be relevant to know when looking at your year ahead. In the videos you will see I give precise dates, so you may want to write them down. Of course, you can run the videos many times, and they will always be free to view.
---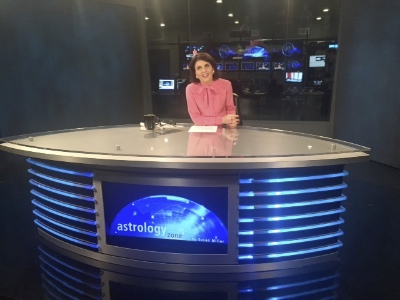 My Second Surprise for You!
Astrology Zone is Coming to Television!
I can only tell you the tiniest details, as I promised not to announce too much until I debut my new TV show on February 1. You will see it no matter where you live in the world, and all you need to do is come here, and you will get further instructions.
Here is a picture of the set, taken by an assistant with an iPhone. If you follow me on Twitter (@AstrologyZone) or Facebook ("Susan Miller"), you were among the very first to see this picture of my set, built just for me. We use real movie film (not video), and our production is done in Hollywood, California. Having my own show is the culmination of a long-held dream, so of course I am very excited!
I can give you only one little hint: my new TV show will not duplicate what you will have already read on Astrology Zone - all the material I will present will be fresh and new. It's my aim to help you get much more from your monthly forecasts. Come back next month when I will reveal all!
---
SUSAN MILLER'S APPEARANCES in 2015
Susan has no appearances in January.
---
LOS ANGELES CA:
SATURDAY, FEBRURY 7, 2015
MY ANNUAL KEYNOTE at the CONSCIOUS LIFE EXPO
Saturday, February 7, 2015, Noon TO 1:30 PM
La Jolla Room
LAX Hilton Hotel
(The Expo is based in the LAX airport for ease of access, and is quite a beautiful, comfortable, and affordable hotel. The hotel's interior was designed by a Feng Shui master. Special hotel rates for Expo attendees.)
5711 Century Boulevard
Los Angeles, CA 90045
Find out about the Planetary Trends/Forecasts/Eclipses for 2015!
Legendary Astrologer, Susan Miller dissects illuminating aspects about what lies ahead for all the zodiac signs. In this workshop you will discover:
What to expect in your personal life and career.

Learn all about four major eclipses of 2015 in Aries-Libra and Virgo-Pisces and how they will affect your sign even if you are not one of these signs.

Find out about the major move of Saturn out of Scorpio, where it?s been for over two years and into Sagittarius, and what that means for you.

Learn how to plan for the upcoming Venus retrograde from July 25 to September 5, 2015.

Discover how you can use the coming positive trends to your advantage and how to prepare for any possible challenges.
In this informative, fun-filled, entertaining, and interactive workshop, Susan will allow ample time for audience questions and comments.
Saturday Day Pass required plus workshop ticket
Day Pass: If bought in advance: $20. At the door, later: $25
Plus you would need a ticket to get into my speech, $25.00 if bought in advance, or $35 at the door.
Advanced ticket purchase for Susan Miller workshop talk: $25
http://www.consciouslifeexpo.com/-2015-workshops/susan-miller.html
Remember, you need to buy a Day Pass, besides the advance $25 ticket to hear me speak.
ENTIRE EXPO INFO:
February 6, 7, 8, 2015
Post Conference Seminars - February 9, 2015
Contact: 1-800-367-5777
Visit website: www.consciouslifeexpo.com
---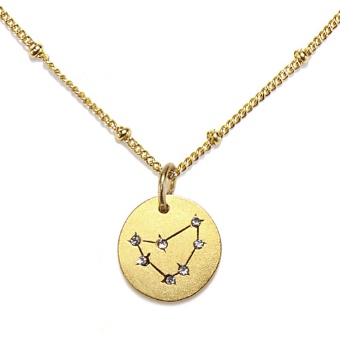 Check Out the Star Map Collection by Sequin
Last March, when I was still well, I was invited by Sequin executive women to look at an idea their talented New York City Sequin Design Studio had for a collection of pendants with an astrological theme. I immediately fell in love with the various astrological pendants, and they asked me to check to make sure all the designs and keyword descriptions of the signs to be used on their site were astrologically correct. I made a few changes to the keywords, but my involvement was very minimal. (Everyone, it seems, at Sequin reads Astrology Zone!) I love the quality of these beautiful pieces. Many girls layer several of these necklaces, using various lengths, and that's a great look too.
The pendants are all made in America and handcrafted by artisans using material components from around the world, and are so well priced that I feel they will fly out of their inventory. These necklaces are gorgeous. They are made of 22K gold-plated brass with antique finish and crystal details. I was impressed with the lovely chain that the pendants come with too, as it is tangle-proof and delicately made to look beautiful when worn. Whenever I wear my necklaces, I get so many compliments.
These necklaces make great gifts, and also would be a beautiful addition to your accessory wardrobe. I quickly chose those necklaces as part of my favorite things to give for holiday gifts, or for a friend's birthday. Imagine how surprised I was that Oprah had chosen this Sequin Star Map Collection as a part of her "favorite things" in her December issue! I was so happy for my new friends at Sequin and the incredible success of this new line of jewelry. It seems Oprah and I think alike!
If you order by December 15, you will get your gift by Christmas. Readers living overseas, please order by December 10 to allow extra time for shipping. Your necklace will arrive in a pretty gift box, perfect for gift giving. Remember to think ahead for upcoming birthdays and Valentine's Day - I know these necklaces are going fast!
Seen here is only one example of the Sequin Star Map Collection of pendants, so click through to see the entire range of jewelry, using this link:
http://www.sequin-nyc.com/collections/star-maps?ref=susanmiller
---
My New Apps for Android, Samsung Galaxy, and iPhone are Ready to Download!
Last January, Phunware met with me and we set out to design a completely new app for AstrologyZone readers. We have a free version and an optional paid subscription version for Google's Android and Samsung Galaxy, just like the iPhone readers experienced approximately a year ago.
My new app has a completely new, sleeker design and many new features. You will still have a free daily horoscope, or if you prefer to subscribe, a much longer daily horoscope. The long version is the one most readers prefer. The new applications work with iOS 7.0+ and Android OS 4.0+. If you are already a subscriber to my app on your iPhone, the new design will just slide in to replace the old design when you updated your app. If you have a Samsung Galaxy smart phone, you use the Android operating system, so you will get the new design too. The bugs in the iPhone are all fixed, no more signing in each time you check your forecast, and the tools section for subscribers, the prettiest section, is working flawlessly now. Android/ Samsung Galaxy were bug-free from day one, so go get my app in either one of our retailers, Google Play or Apple App Store, depending on your smart phone type. Search: "Susan Miller."
A feature of my new apps is that each app will automatically expand or shrink to fit your other devices, whether iPad or tablet, or any size smart phone you choose, large screen or small. These newly designed applications have kept screen real estate in mind, allowing users with phones or tablets to get a fully optimized experience for their device screen size. The iPhone 6 is now out, and my app will beautifully translate to that new screen size as well. Keep in mind that you are purchasing a subscription to my app from Apple or Google as retailers, not from us at Astrology Zone. I get a commission on the purchase price of the subscription you buy.
Whether you choose the free version of my app or choose to subscribe to the premium version, either way you will still always have your monthly Astrology Zone report on your phone, and my previous month's report as well. You can check all twelve signs of the daily or monthly horoscopes too by simply going to the home screen and choosing a different sign. The new apps will list my appearances too, but so far, I have no appearances on my schedule, but that might change in time, and if it does, you will be able to see where I will be immediately. Until now, only readers who went to their computers online would know in what city I would have new events. You can also see my Twitter feed on your mobile device too. The designs for Android and iOS are consistent; you get the same visual design and features for either application.
I would appreciate you taking the time to review my app, for I will read all your comments. I am grateful that sales of the premium subscription are so strong, for this allows me to keep Astrology Zone free. Thank you for your support and understanding while I recover from my illness.
---
Live Overseas? Or, don't have an iPhone, Android, or Samsung Galaxy?
Get all 12 of my daily horoscopes each day by email or pick yours up each day on special password-protected site.
To plan ahead, receive several daily horoscopes in advance!
By subscribing to DailyAstrologyZone you will receive a week of horoscopes inside your cell phone and / or computer. This means if you have a BlackBerry or feature flip phone, you can still get my daily horoscopes as long as your device accepts email. You will also have the option of accessing your daily horoscopes from a website online, from anywhere, any time, through a password-protected site for members only, or receiving all 12 signs my email each day.
For more information: http://www.dailyastrologyzone.com
---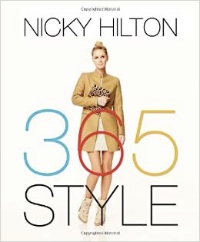 A New and Important Book on Fashion and Style:
"365 Style" by Nicky Hilton
Wow! Amazon tells me you bought SO many copies of Nicky Hilton's book in November!
I love Nicky's book too! Here is my review in case you missed it last month!
There are many books on the market on fashion and style, and I admit, I have bought many of them. In this new book, Nicky Hilton, designer, author, entrepreneur, daughter of Rick and Kathy Hilton, and sister of Paris, has created a completely original, honest, and remarkably wise book on style. It comes complete with many color photographs, and in it Nicky shows you ways you can upgrade your own fashion style from good to style icon level. The goal is to sharpen your personal style by looking within, not by copying someone else's style. Nicky gets you started by showing you some of her favorite style icons, but only to get you thinking. She gives many stories and examples from her own life, and she makes you enthusiastic about going through your own wardrobe to find ways to amp it up. The title of the book refers to Nicky's suggestion that you consider 3 aspects of your lifestyle, and choose 6 staple items of clothing and 5 essential accessories. Doing that will instantly get you a stylish starting point.
Nicky has attended all the fabulous fashion shows in New York, Paris, Milan, and more in her young years, but her advice is down to earth and certainly does not require you have a trust fund. Just the opposite, her tone is one of a best friend going through your closet and handing you advice that is at times funny but always wise. Certainly a lot of what Nicky says makes you think. In one chapter, she advises, "Always dress like you are going to meet your worst enemy" (i.e, bumping into the ex-boyfriend who betrayed you, or the mean girl in high school who made your freshman year a terror.) Nicky gives many examples of her own life and shows how running into that old boyfriend looking like a million because she had taken just a little extra time with her appearance on the way to meet girlfriends for a casual Mexican dinner gave her a happy boost during that unexpected nano-second on-the-street encounter.
With each page, you will rethink your own wardrobe and habits, and occasionally Nicky will casually toss out the very advice you needed most. When it happens, you will feel like you were hit by a thunderbolt. I enjoyed her advice about dressing for a first date, meeting his parents, and more, and all along she gives you many vignettes that allow you to see her own lifestyle. Those peeks into her own life allow you to understand why she has the authority and experience in her early thirties to write this wonderful jewel of a book.
She has advice on such things as:
The $30 wardrobe item you can't live without.

The one closet accessory that keeps everything organized at all times.

Five must-have wardrobe items, all affordable.

How to pack a suitcase like a jet-setter.
I feel you will enjoy this book and get much from it. Just click here to order your copy:
http://amzn.to/1qE6BzC
---
A COMPLETELY NEW WAY TO FIND LOVE ONLINE WITH DREAMCLIQ.COM
I have partnered with a new online dating site Dreamcliq.com, an entirely new way to meet people. We all know how hard it is to write personal descriptions. Dreamcliq is doing something new: users create visual profiles to easily express what they love. Instead of awkward written descriptions of yourself, you can use images to express who you are and what you love in style, art, travel, design, and entertainment. You will click on photographs that express the real you, and the process is fun. If you see someone that interests you when looking at the photographs they chose to express themselves, you can read my previews of your Sun sign's compatibility with the person you are interested in contacting. Just remember, all signs can get along with any other sign, for if love is there, the stars will open a path!
As a special gift to all my readers, you will receive 10 free cliqs to use on Dreamcliq.com when you sign up using this special access link. This promotion will be in place from now through December so that you can increase your chances of starting 2015 with a grand love in your life. This promotion on Dreamcliq is open to all my readers, male and female, straight and gay. Everyone of every sign is invited. Sign up - you have nothing to lose and everything to gain. When CEO of Dreamcliq Melissa Jones came to me with her idea sketched on paper a year ago, I didn't know her yet, but I was so impressed with her originality and intelligence, I knew immediately I wanted to work with Melissa. The media has reviewed her brand new site, and the rave reviews are in. You can see them as you explore the site.
To learn more about love and astrology, read my article on Dreamcliq's blog. I have lots to say in my essay about love and how astrology works to help you find love, so be sure to scroll down to catch all that I wrote. You may find my words helpful as you embark on your new adventure to find love. I love Dreamcliq because by choosing from images for your profile, you reveal your personality in an artistic way that is honest, stylish, and exciting. Give it a try!
---
MY PERSONAL CUSTOM HOROSCOPE BOOKS
WRITTEN BY SUSAN MILLER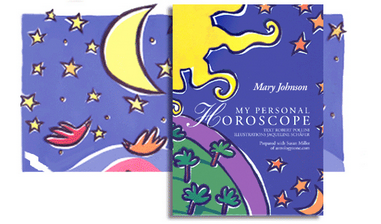 Looking for unique gifts for the coming holidays? - Choose from My Personal Horoscope for Adults or for Babies (Baby Boy light blue cover or Baby Girl pink cover), or for a Relationship, the Two of Us.
Two weeks on average from order receipt to delivery to any US destinations. One week longer elsewhere.
Also PDF option available for destinations overseas where delivery tracking of printed books is prohibitively expensive. The content is same as the print edition with its full-color illustrations by Jacqueline Schafer. The PDF delivers within 7 days on average.
My Personal Horoscope Custom Natal Chart Book $49.99 plus shipping / tax
For more information call Susan's publisher, Arthur Heydendael 914.271.3640 ext 14 or click here:
http://www.americadirectbook.com/Customized_Books
To view a forecast, select a sign from the menu below and click on Go.