Scorpio Horoscope for April 2013
By Susan Miller
Saturn has been orbiting Scorpio since October 5, 2012, so a full six months have gone by now. No doubt you are setting into new and greater life responsibilities. If you were born early in your sign, as an October Scorpio, your life has changed quite dramatically as you have begun to tackle bigger life goals. All Scorpios are about to grow in authority as you learn new life goals. Saturn teaches that nothing is given in life without a genuine commitment to hard work. Because Saturn also teaches the need to be practical, patient, and consistent in effort, you won't likely receive the fullness of your effort now, but in time, about the time Saturn is set to leave September 17.
Saturn is currently retrograde, having turned last February 18 at nearly 12 degrees Scorpio. This means Scorpio with birthdays that fall October 23 to November 3 have had a visit of Saturn to their Sun. Soon, in July, if your birthday has been named, Saturn will move on to visit other members of the Scorpio. As you experience these visits, welcome Saturn. He will ask you to commit to a dream, and then he will show you how to achieve it. He may make you work hard, but you will be proudest of all that you achieve under this gaze.
You will likely experience a rite of passage when Saturn hovers over the degrees of your birthday Sun. You may find you work on goals that were previously beyond your reach, for until now, you were not ready. Whichever goal you choose to take on while Saturn is near, it is a goal that cannot be reversed or "taken back," so don't expect life to return to where it was before. Specifically, some goals that you might be choosing among (to get you thinking) include getting married, having a baby, starting a business, buying a first house, writing a book or screenplay (and selling it), caring for an elderly parent - you get the idea. These are the goals that form the very pillars to the structure of our lives.
Saturn phases come only every 28.5 years, and although he stays in one sign approximately 2.5 years - in this case, until September 2015 - you will not feel Saturn's presence equally throughout his visit. You will only feel the direct rays of Saturn for approximately nine months, as the October through November 3 Scorpios are now experiencing. Once Saturn ends its current retrograde on July 8, Saturn will go deeper into the degrees of Scorpio and leave behind the earlier born Scorpios I'm discussing now.
Saturn periods are some of the most important periods of our lives, so work with him, and learn from him. Saturn deals with the here and now, and his rewards are those we can see and touch. You will be very proud of what you accomplish now when you look back later. While Saturn never sends rewards while he is with you, he heaps gifts upon his departure, so you can expect the spiritual or financial gifts later, shortly after September 2015.
The one caveat is that you watch to keep your health strong, as you will be working longer hours than ever before. Everything you will do will be new, so that takes energy - there will be lots to learn, and friends and professionals will be standing by to help you with advice. If you have a chronic health concern, be careful to follow doctor's orders to the letter, as Saturn will always insist that you go by the book, down to the tiniest detail. This will become especially important this month, a point I get to later. Just keep this in your pocket and I will return to the subject of health.
For now, in early April, let's turn to the extraordinary buildup of planets in Aries as the month begins - Venus, Mars, Uranus, Sun, and new moon in Aries at 21 degrees on April 10. These planets will see to it that a great many - or at least enterprising one - important assignment will come to you soon. You are about to be very busy, with not a moment to spare as you gather all the information you'll need to get the job done. Watch the day April 10, the new moon, and watch for the phone calls that you receive - although you will get clues of what may come up earlier, you will see things move at the speed of light after April 10.
To be clear, a new moon in the sixth house is not a step up to a prestigious new position, but rules the day-to-day work that you do. If you do a fine job, then by August you can aim for the higher position, stating the work you were doing now. If you are self-employed, with Mars in your sixth house, you can generate quite a bit of new business. It appears the work you are about to do will lead you into new, untried territory. Aries brings a sense of adventure, experimentation, and individualization. What you are about to work on with the coming assignment(s) will give you room to experience all these things, and allow you to add your own stamp of uniqueness, too. If you need to hire people to help you get the job(s) done, you will be able to find the right recruits just after April 10.
Mars rules your sign, and with Mars entering as part of the new moon's entourage in Aries on April 10, you will be energized to pitch new business to get the ball rolling. You may not get the actual business this month (or you might), but what matters is that you begin at April 10, and in the ten days that follow. Have meetings early in the month, and just after April 10, but as Mars moves to Taurus later, it will oppose your Sun, making it harder to get that business. Start early, prior to April 19.
As an aside, there is one exception to the rule I just stated, work prior to April 19. You can likely reach accord with a potential buyer or partner on a project on Tuesday, April 23, a day when Mercury, the planet of contracts, speech, travel, and commerce, will link up with good fortune Jupiter. If the meeting is for business, you can count on seeing a lucrative resolve. This day should go well on many fronts, even for consultations with a doctor or other medical staff.
Going back to the discussion of the planets filling your sixth house in early April, occasionally, it is not only work that will be on your mind, but health. This area of your chart does not rule your overall vitality, but rather the steps you take to stay healthy. With so many planets in Aries, ruling your head and face, you might need to watch for a proclivity for a headache. If you know certain foods trigger one, then you would do well to stay away from eating them during the first three weeks of April, a time you would be more prone to them. Watch for any skin irritation on your face and see a dermatologist if anything seems amiss.
Additionally, this would be a good time to check in with your dentist - this is especially important now, with Saturn opposite your Sun, an aspect that warns care of teeth and bones. Like the medical industry, dentistry has evolved by leaps and bounds over recent years, so there is never a need to be frightened of a dental visit. Dentists who are reputable know how to make their patients comfortable, so check with friends. If you think you cannot afford to see a dentist, check in with a dental college in your city, as most have programs for those who need low cost options. The point is, go - your teeth form the look of your face, and you'll wonder why you hesitated later.
Hopefully, no problems will come up, and you will simply be interested in shaking up your routine and trying out new methods of fitness. You may want to investigate sports that are new to you. Aries is a highly competitive sign, so you may be drawn to participating in a team sport, or training seriously with weights (Mars rules iron.) Aries is quick energy, so you begin a running routine of short, but quick sprints.
Watch April 19 and 20 when you might be tempted to go overboard in your workouts as Mercury will conjunct Uranus. Alternatively you may get news you didn't expect to hear about a work project, or be aware that you may need to travel unexpectedly this month, so stay flexible.
On another subject, Pluto, your main ruler, will go retrograde on April 11 until September 20, a time you may find one of your key aims may reach a turning point. You may have to go back to the drawing board and stage a redo to make an agreement, written document, or other project more viable to your client or a family member. When any major planet turns retrograde, it usually "speaks" with clues of what must be done in the days surrounding the retrograde turn, in this case, April 11. Stay alert in the two days before and after this date.
As you get to mid-month, the planets will be moving out of Aries and into your opposite sign of Taurus, and this will put a great emphasis on your partner, or a collaborator. The Sun will be in Taurus from April 19-May 20, and Mars, your ruler, from April 20 to May 31. Next month, in May, a new moon solar eclipse will arrive on May 9 in Taurus, and you will need to decide how you feel about an important relationship.
In the meantime, this month, your most critical moment will be the full moon lunar eclipse in Scorpio, 6 degrees, to arrive April 25, delivering its news within four days, before or after this date.
This eclipse comes with Saturn conjunct the moon, giving it a weighty seriousness. In addition, Saturn will be opposed to the Sun, so make sure you are in the best possible health at month's end, because much may be asked of you at this time. You may feel the drain of too much to do, with very little time, so make sure you don't have an overbooked schedule. Something extremely important to you will come to fullness at month's end, and this will be something so personal to your desires, even I cannot tell you what that might be - but you will know.
This eclipse will help you sort out your own feelings and desires, to make them very clear. Often you put others' feelings before your own, but this time the universe is asking you to think about yourself, and what you want in the future. Eclipses tend to be final, non-negotiable events, so what you choose now will stay in place. With eclipses, like goals we choose with Saturn near, we cannot go backward, only forward. If you decide later that you don't like the decision you made, you can make more changes eventually on the road ahead.
Your career may bring changes too, near April 26 or 29, as your solar chart holds Leo at the mid-heaven, ruled by the Sun. With Saturn opposed to the Sun, you may hear that a male boss or client is leaving, or that you don't get a position you have interviewed for and had hoped to be given. With many planets filling your seventh house, the competition will be very strong, with all candidates jockeying for the spot. If you get the job, it will be because you deserve it and were able to deflect the actions of the other applicants that may not have always been above board. If you should not be awarded the post, do not lose sleep over it. You don't want any position with a company that does not understand your strengths. Move on - a more appropriate spot will open in August.
All eclipses bring a floodlight of truth to a situation and illuminate any facts that have been hidden. This is why we often feel surprised, or even shocked, by what an eclipse will reveal - something that was part of the situation or your partner's character all along, but that you never noticed or that was being kept from you, will now come in full view.
This eclipse may change your lifestyle. Embrace whatever changes may come up and transpire. Ultimately, an eclipse will test the strength of a relationship or a venture by sending gale force winds though your life to see which relationships and ventures remain standing afterward. Be grateful for all that you learn. The universe wants us to enjoy full transparency, and a clean and healthy relationship or situation. The eclipses are there to help you reveal what until now you could not see.
Pluto, your ruler, will be in friendly angle to the Sun and moon, and this will be an enormous help. Pluto will help you negotiate well, and cleverly come up with reasons the other side should listen to your proposals. Pluto will see to it that you remain confident, no matter what happens, and that's a precious gift.
The closer your birthday falls to October 29, plus or minus four days, the more you will feel this eclipse quite directly. If you have your natal chart, check to see if you have a natal planet at 6 degrees Scorpio or Taurus, or that planet will become sensitized, too.
You have a busy month, but a productive one, too. You seem to be on the way to a whole new life, dear Scorpio, and one that will suit you to a "T" in the future. Changes now will benefit you, and Jupiter, the giver of gifts and luck, is on his way to Cancer, a sign that is just perfect for you. He arrives in late June - soon you'll be excited by all the coming surprises and breaks that the universe has prepared for you!
---
Summary
You have a lot on your shoulders these days, and with a bevy of planets in Aries heading to your sixth house of work, an avalanche of assignments appear to head your way. The projects will be new to you in subject matter, and so you may be excited by the idea of getting involved with something that few people have any experience with in life. You can master this area and build a name for yourself.
Alternatively, you might be preparing to be self-employed, as planets in Aries point to entrepreneurial plans, and if so, you'll easily inspire the team with your brand of enthusiasm. If you are already self-employed, quickly set up a self-promotion campaign, say with ads or direct mail pieces, for you are likely to generate quite a bit of business now. Last month had Mercury retrograde, so you found that things were delayed, but no such frustrations will exist this month.
The sixth house, where five out of ten heavenly bodies will be based, also emphasizes the preventative measures you take to stay healthy, including eating right, exercising, and scheduling annual medical and dental exams. Ever since Saturn showed up in October, you may have noticed you are less energetic, for more and more demands are being made of you. This month, guard against headaches and rashes, for these symptoms might point to one sign that you need to more effectively pace yourself. Take breaks, and you'll be more productive.
A major full moon lunar eclipse in Scorpio is heading your way, April 25, and you need to be in top shape as you finish end of the month projects. This eclipse will come along with Saturn, giving it serious overtones, and Saturn will also oppose the Sun, suggesting something will be happening with your career that you won't expect. Perhaps an important boss or client will leave, much to your dismay, or your job description may change in an appreciable way.
In your personal or professional life, a relationship will quickly gain importance too, something you will see in May, but in the meantime, you may see at eclipse time that you will have to make a decision about this alliance's future. Eclipses show truth (all kinds, good and not so good), often in a surprising or sudden way. This time, with Saturn's fingerprints all over this lunar eclipse, the news may hang over you like a heavy wet blanket. It will be necessary to face up to what is going on, although no one of any zodiac sign will find it easy to do at month's end.
If your birthday falls within four days of October 29, or if you have natal planets in Scorpio or Taurus at 6 degrees, you will feel this eclipse much more than other Scorpios you know. If this describes you, wear your armor. Fortunately, with lunar eclipses, they usually deliver news quickly and then they are gone. You will be strengthened by what you hear, for Pluto, planet of transformation and Scorpio's ruler, will be well angled to the Sun, so keep the faith.
---
Dates to note Scorpio:
Most romantic dates: April 6-7, 11, 12, 16, 17, and 20-21.
The new moon April 10 (plus ten days) has the power to bring you lots of business if you have been working toward that goal.
April is a good month to attend to health matters, particularly from April 10 to 23.
Venus will enter your partnership sector on April 15, to stay until May 9. Venus can smooth any differences you have had with your partner in business or romance.
Scorpio likes control, however Mars will oppose your Sun from April 20 to May 30. During this phase you will need to be more cooperative and conciliatory. Later in the year, you can gain the reins and get things "just so" as you like them.
The full moon lunar eclipse of April 25 is a full moon in Scorpio, so something of critical of importance to you will come to culmination that day.
A career matter may be troublesome April 26 or 29, plus or minus one day.
P.S. for April 2013
My New iPhone App is FREE for you!
At long last, I can tell you my secret! I have designed a free iPhone app that you can download today.
If you have an iPhone, just go to iTunes and search for "Susan Miller" and find my new app that I did with mobile app company Phunware of Austin, TX, called:
"Susan Miller's Astrology Zone Daily Horoscope FREE!"
Each day you will get a small, concise forecast on your iPhone for free every day. Think of it as your daily bite of chocolate to keep you informed, motivate you, and keep you progressing toward your goals. You will always know the aspects, for they will be at your fingertips. I have included Astrology Zone in the app, so you can read it (or re-read it) wherever you happen to be.
I worked on the design of this app for over a year, and I am so excited to debut it today! It is Apple-approved to work with all iPhones, including the iPhone 5, so no matter which version phone you have, you can start using it immediately.
If you search "Susan Miller" on iTunes you will see my new app, Susan Miller's Astrology Zone Daily Horoscope Free! as well as my other app, Astrology Zone Premier, that costs $3.99 and that I have had since 2005.
My older app, Astrology Zone Premier, will eventually be retired, as I can no longer afford to give so many words - approximately 1,100 words a day and 430,000 words a year - in daily horoscopes plus evergreen (personality) content in the app, for a one-time cost. That app will be folded into the new app, and if you choose to subscribe at a low subscriber cost, you will have the same daily forecasts, chock full of information, that you've come to know and love since 2005.
We built my Twitter feed into the new app, so that you can easily write to me to ask questions, converse with other followers, or share news quickly and easily from your mobile phone. My name on Twitter is @AstrologyZone. You will also find a link to Facebook, to my page, if you search "SusanMillerAstrologyZone"
If you already own my other app, Astrology Zone Premier, you will have plenty of time to make the switch to my new free app (with the option of getting the subscription). On Astrology Zone Premier, you will get alerts from time to time to let you know when the app will end - but we do not plan to end anytime soon and we will continue to support the app with daily updated content. You can buy my premium Astrology Zone Premier app now for $3.99, and enjoy it for now with no worries that it will disappear suddenly.
Don't have an iPhone?
My Astrology Zone Premier app is available on Android.
Also, no matter what phone you have, you can get the same daily horoscopes that I write for the iPhone, sent directly to your email address. This way you can see your forecast in any cell phone or email box in your computer, every day. This is a perfect solution for readers overseas or for readers who have cell phones other than the iPhone. You will receive all 12 signs every day, for a low cost of $4.95 for one month or $49.95 for a full year at http://www.dailyastrologyzone.com
---
Order Astrology Zone Products For Yourself or a Friend for 2013!
Here are lots of ideas for gifts! We ship to all nations of the world. Hurry! International, please add 7-10 days.
1. The Year Ahead Astrological Calendar $11.99
Now discounted!
To order, call Arthur for more information: 914.271.3640, ext. 11
Never be caught unaware of the upcoming aspects eclipses and retrogrades.
All lovingly described by Susan Miller in her annual calendar. A must-have!
http://www.americadirectbook.com/The_Year_Ahead_2013_Calendar
2. Daily Astrology Zone Horoscopes
Delivered to your email box every day, written by Susan Miller.
All different costs depending on whether you order $4.95 for one month or $49.95 for a year.
Each horoscope is at least 75 words (often longer), and you will get all 12 signs each day to your email box. If you don't have an iPhone, these are the same forecasts. Perfect for readers with feature phones or BlackBerrys, or for readers overseas.
Copyright Susan Miller Omni Media Inc.
http://www.dailyastrologyzone.com
3. MY PERSONAL CUSTOM HOROSCOPE BOOKS
WRITTEN BY SUSAN MILLER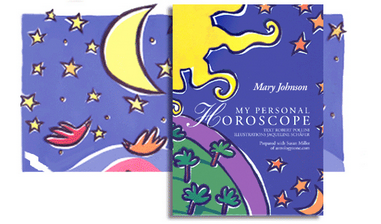 Chose among three editions:
My Personal Horoscope Custom Natal Chart Book, Adult Edition $49.99 plus shipping / tax
Have an entire book written by Susan Miller about your natal horoscope. Get to know your rising sign (also called the ascendant) as well as the placement of each of your planets, and what gifts those planets were to give you. For more information call Arthur 914.271.3640 ext 14 or click here:
https://www.americadirectbook.com/My_Personal_Horoscope_Adult_Edition
My Personal Horoscope - Baby Book - Custom Chart of the Child's Talents $49.99 plus shipping / tax
Learn about your little baby's talents and sweet proclivities with a custom book by Susan Miller. This makes a wonderful book for the parents of a newborn or small child. For more information call Arthur 914.271.3640 ext 14 or click here:
https://www.americadirectbook.com/My_Personal_Horoscope_Baby_Edition
My Personal Horoscope ? The Two of Us Relationship Book $49.99 plus shipping/ tax
Order this custom book to find out about your compatibility with the one you love.
Give us the birth information of both parties in the relationship; your keepsake book will have both charts. For more information call Arthur 914.271.3640 ext 14 or click here:
We have a version of this relationship book for straight couples and another for gay couples. For more information click here:
https://www.americadirectbook.com/My_Personal_Horoscope_Relationship_Edition
4. "Planets and Possibilities" by Susan Miller
Warner Books, 430 pages, $18.32 plus shipping / tax
Digital versions $9.99
The definitive classic astrology book that tells you about you!
Susan Miller's classic book that describes the signs in an original way, with Susan Miller's comprehensive, in-depth, and easy-to-understand style. Learn little known things about your sign that you never knew. The front part of the book includes information to help you understand the structure of astrology and how you can use astrology to help you progress. Mythological stories for each of the signs add spice and fascinating detail. This book is available as a quality paperback or digitally, on the Kindle, iPad, or Nook.
For quality paperback, $18.32 plus any applicable tax and shipping
http://www.amazon.com/gp/product/0446678066?ie=UTF8&tag=astrzone-20&linkCode=as2&camp=1789&creative=9325&creativeASIN=0446678066
For Kindle Edition (digital, Amazon), $9.99
http://www.amazon.com/Planets-Possibilities-Explore-Zodiac-ebook/dp/B000Q9INI6/ref=sr_1_1?s=digital-text&ie=UTF8&qid=1354499713&sr=1-1&keywords=planets+and+possibilities
IPad Edition (digital, Apple), $9.99
Go to iTunes digital bookstore and search for "Planets and Possibilities"
Nook edition (digital, Barnes & Noble), $9.99
http://www.barnesandnoble.com/w/planets-and-possibilities-susan-miller/1018228670?ean=9780759521322&itm=1&usri=planets+and+possiblities
5. Silk Zodiac Scarves by Susan Miller
$155.00 plus tax and shipping
A sumptuous, elegant 100-percent pure silk Jacquard scarf with hand-finished hem. You must see these beautiful scarves, with sophisticated artwork. There are 12 designs, one for each of the 12 signs, all in vibrant colors. You do not have to wear your sign's design - I wear all 12 depending on my outfit!
If you don't know your recipient's astrological sign, choose from three celestial scarves in classic design that will remind you of what chic French women wear in Paris.
See www.AhaLife.com, my distributor for the scarves, and for delivery and return information.
http://www.ahalife.com/store/?sort=relevance&q=silk+zodiac+by+Susan+Miller
---
My Facebook name URL is:
https://www.facebook.com/SusanMillerAstrologyzone
If you enjoy Twitter too, you can find me at @AstrologyZone.
To view a forecast, select a sign from the menu below and click on Go.