Taurus Forecast for June 2014
By Susan Miller
I always marvel at the good nature of my Taurus friends. I never hear a Taurus complain, even when life becomes very challenging. My Taurus friends would shrug and say, "Complaining doesn't help - it makes you feel worse." You instead look at all in a very practical manner, keeping the emotions out of the equation so that you can more easily solve the problem. You are a pillar of strength, and your objectivity causes you not to squander your energy. That allows you to have the energy to offer plenty of compassion and care to give to all those who need you. You can see why all who meet you find you so loveable.
The eclipses of April and the dramas of mid-May are over. Just about everyone noticed tension in the air, for the April 15 lunar eclipse was a monster full moon, and the solar eclipse in Taurus, April 28, was only slightly better. Some people don't notice news for a month to the day later, so that made May a hard month for Taurus, made more difficult by a full moon May 14 in your opposite sign of Scorpio (ruling your close relationship) that arrived conjunct Saturn. Whenever Saturn is involved, we have to face facts, and actually do something to remedy a situation, even if it is not that easy to do or wish the circumstances were different.
If your birthday falls near April 28, you felt (or will still feel) that new moon solar eclipse very much, and your future will look different. While the April 15 eclipse ended a condition, the May 28 new moon began a new trend. If your birthday falls near May 15 (within five days), you felt the following full moon on that day, and something in your life was reaching a crest, and a new path had to be decided upon.
You are also dealing with Saturn in Scorpio, opposite your Sun, which tends to drain health considerably. This is a once-in-three-decade trend, so you are not used to it. Make a conscious effort to keep strong. Protect bones and teeth particularly, but also ligaments, and all having to do with the reproductive organs, for women or men. This is a good month to schedule those annual exams, for all medical procedures, and including tests for teeth, skin, and eyes.
Mercury will be retrograde all month, from June 7 to July 1, so nothing of earth shattering importance will happen this month. You can slip away. I won't let you sign any contracts now anyway, and as you read this, it is already too late to sign - you feel the retrograde much in advance of the date Mercury turns. What you need desperately is a vacation. I travel when Mercury is out of phase all the time, and I have no inconveniences, other than a few delays in the airport. Of course I am a maniac about getting to the airport early - no last minute for me.
As long as you are doing non-stop flights, you are safe to go. (Airport changeovers are when luggage often tends not to make it on the second connecting flight.)
If you go by car, have paper maps in the glove compartment, as electronics often go on the fritz at the most inopportune time. You need a slow month like June is about to offer. You will get a chance to breathe and periscope your head up to see there really is a beautiful world around you. If you didn't travel for your birthday in May (that was possible), you might want to consider doing so now, later in June. There is another reason I am urging you to go later this month.
The new moon on June 27 in Cancer 6 degrees will light your third house of quick getaways. That new moon will be in lovely angle to Neptune, indicating you will be inspired by being away, and if you write (screenplays, poetry, novels - you name it), you may want to bring your laptop with you to the cottage that you lease, as you will be stimulated by many ideas in a new setting. Choose a place near water, as this new moon will be in water sign Cancer. The new moon, despite its flaws (see below) will benefit you if you have a birthday that falls on April 27, plus or minus five days, or have Taurus or Cancer rising at 7 degrees, or a natal planet on or near 7 degrees Taurus, Cancer, Pisces, or Virgo, Capricorn. This new moon will bring a double dip of pleasure.
This new moon will, admittedly, be opposite Pluto, so simultaneous with this new moon, you may have problems with a legal matter as you set off to go. Keep your antenna up and your lawyer close. Pluto can be very domineering and manipulative, and this may describe someone with whom you are in an adversarial position. If you are in divorce proceedings, this may bring up strong demands from your soon-to-be ex who will ask for the world on a silver platter. Be ready.
If you hope to travel, I urge you not to go overseas or a far distance, because Pluto's crankiness in your ninth house of long distance travel that I've been describing here may make you wish you had stayed home - choose a lyrical place closer to home. Or, if going back to graduate school, you may feel pressed on to take the advice of an administrator about your classes. It seems your intuition is telling you to resist. Any and all contractual negotiations you have now will likely bring a need to deflect the pressure and push back.
Pluto won't only be difficult at the new moon, June 27, but also have a tiff with Mars earlier, mid-month, on June 13, which falls the day after full moon, making everything more emotional. Here the topic and difference of opinion will be money. This theme concerning pushy Pluto will be at play most of the month. The third house, which is what I have been discussing here, rules not only travel and siblings, but also contractual deals. Keep listening to your small voice within - you have the right answer in your heart. Sign nothing until mid-July, as cosmic storms at the start of July would not be the right time either.
Let's jump to the start of the month that may bring some excellent news about your ability to earn more income. If you work for others, ask for a raise immediately in the first days of June. This is your best time of 2014 to ask! If you are self-employed, the new moon of May 28 will be your friend in helping you generate new business, even if you are on a trip, out socializing! You were a money magnet from May 28 through the first week of June. Leave no stone unturned, dear Taurus - you will find the golden nuggets.
More financial maneuvering will take place - and culminate - at the full moon, June 12. This full moon has sweet help from Uranus, the planet of surprise, AND Uranus happens to also be the ruler of your house of career. You may be shocked when good news comes in about a check due to you. Mars will be friendly too, so a delicious work project may be approved for you, out of the blue.
Your very best day of the month will be Wednesday, June 18, when Venus and Jupiter will be magnificently aligned. I am very excited about this day - you must use it! Venus will be in Taurus and will signal Jupiter in your third house. This house, so lit up for you, rules all the things you and I have talked about today: nearby travel, negotiation, buying, selling, writing, speaking, editing, and all other types of communication, including digital code. What a day - everything will go right for you, dear Taurus, including romance. Circle it in gold! Were you born within four days of May 13? Again, the force is with you, working for you double time!
You have a tough day coming up, when Mars will oppose Uranus on June 24 - this is a hard day. Co-workers and subordinates will be on edge in the office, and because everyone's nerves will be raw, they will be quick to take offense. Watch what you say, lest an assistant suddenly quit. This is a very separating aspect. Although most of the time this aspect creates an emotional response, it can cause a physical one, so protect your health, and guard against falls by looking where you are walking. Be mindful of how you lift packages - you may bend over the wrong way instead of squatting and hurt your lower back. Keep an eye on bones and teeth too, as ever, as I mentioned earlier.
Venus will be in Taurus all month, from the start of June through June 22. Use that time to improve your looks, browse stores, and generally circulate - your magnetism will be high. If you buy new clothes, keep the receipt, as you may need to make an exchange in size. With Venus watching over you, this month you will drip with charm and charisma. I told you - you will enjoy the slower, more welcome pace of June!
I hope you do choose to go away at month's end, dear Taurus. June 28-29, a weekend, has a lovely aspect from the Sun and Neptune, perfect for romance, fun, enjoyment of music, and art - it will be like a cosmic bouquet sent just to you.
---
Summary
As you begin June, if you feel you are justified to ask for a raise, you must hurry and make your case for it quickly. The new moon that appeared just days prior to June, on May 28, will allow you to strengthen your argument and your presence, but with Mercury about to retrograde from June 7-July 1, it would be best to act quickly. The same is true if you hope to sign a contract - it will not be wise to enact important ventures as you approach Mercury retrograde on June 7, for Mercury rules agreements and negotiations of all kinds. Still, you can continue to talk, for you can get a lot done quickly because Mars will encourage you to become a model of productivity. Plan to sign in mid-July.
All financial matters will be wrapped up within a handful of days of the full moon, June 12, and with surprisingly happy results. Uranus, planet of unpredictable outcomes, will be harmonious to the full moon, so you may get news that a generous check is heading your way. Look into ways to lower your recurring costs as well - call your cell phone and Internet provider for a better plan. It's also the right time to make sure you have all the insurance coverage you need. Generally, it's time to pay bills and receive money owed. Because full moons create great energy, you can get more done now than what would normally take you weeks to accomplish.
A co-worker or an underling is likely to be on edge and quick to snap on June 13 when Pluto will be at odds with Mars, and on June 24 when Mars will directly confront Uranus. Neither day will be ones you'd want to choose to schedule a big talk, for things could quickly escalate into an angry confrontation. If you are a manager, use finesse with any worker you need to criticize, or better yet, put off talks a few days. Many people will be feeling fragile and overwrought.
June 24 will also not be the best day for a medical procedure, but if it is urgent, by all means, schedule it. Also on this day, put off doing extreme sports like bungee jumping and doing tricks on your skateboard. My women readers, it may not be the best time to wear your highest stilettos lest you find you need to walk on cobblestones or broken sidewalks.
Romantically, if you are single, you likely have found your work to be all-consuming lately and not allow you much time to socialize. This trend will only continue one more month, dear Taurus. One of your hardest days, when work will be a main priority, will be at the full moon, June 12, due to the opposition of Venus, your ruler and planet of love, and taskmaster Saturn.
But wait, all is not lost - you do have a terrific day due June 18, when Venus and Jupiter team up, when Venus in Taurus will contact Jupiter, planet of good fortune. This is the day to circulate!
Venus will tour your sign all month, from June 1- 23, making this an ideal month to choose new things for your wardrobe, either for now or for the coming season. This is also an ideal time to get a fresh haircut, so book a hairstylist's consultation. Venus will smile brightly on you, especially on June 18, a great day to do all you can to improve your looks, and then sit back and watch the compliments come in. If buying new things, keep the receipt, as when Mercury is retrograde, you may have to exchange things for another size.
By the time you get to month's end, you will be ready to put away your ledgers and end all financial talks and actions. You'll want to kick back and have fun. The new moon of June 27 will bring up opportunities to travel to a nearby spot, and with Neptune prominent, you may want to choose a particularly beautiful spot on the coastline where the sound of water lapping at the shore can soothe you. Get ready for a four-star weekend.
---
Dates to Note: Taurus
Most important dates for love, meetings or actions Taurus: June 1, 4, 5, 18, 21, 22, 27, 28, and 29.
Mercury will retrograde June 7-July 1 in Cancer / Gemini. After Mercury goes direct, he will be at top speed July 15.
Venus will be in Taurus all month, until June 23, so see about booking an appointment at your favorite salon, and pick up new clothes too. (Keep the receipt in case you need to return something - Mercury is retrograde.)
You can clarify financial plans over the full moon of June 12, but Mercury will be retrograde, so wait until July to set plans in stone. This full moon is in ideal angle to Uranus, so news may be superb - surprisingly so.
Someone may be very forceful with you at work, and it appears to be in an unfair way, June 13.
A four-star, golden day: June 18, when your ruler, Venus, in Taurus and good fortune Jupiter in Cancer align, linking you to divine, short travel. Alternatively, you may receive a wonderful text or email. Use this day for just about anything, dear Taurus. This is YOUR day, and it's a rare one.
On June 24, people around you will be quick to become angry, so use a very light touch. Mars will oppose Uranus, and that's a very hot combo.
The new moon in Cancer on June 27 will open the door for lots of spontaneous and inspirational short travel, and all of it should have a special touch of luxury, thanks to Jupiter's position.
P.S. for June 2014
The Year Ahead 2014 Astrological Calendar
By Susan Miller
My Year Ahead 2014 collectible calendar is now $9.99 (at a 45% discount, from original price $17.99) plus shipping, any applicable tax
Calendars are used to mark time, but have you ever had a calendar that helped you use your time productively? My new Year Ahead 2014 Calendar can do just that. I write every word myself in this stunning calendar with original fine art by socialite, author, and fine artist Gloria Vanderbilt, mother of newsman Anderson Cooper, and great grandchild of railroad entrepreneur Cornelius Vanderbilt. (Grand Central Station was originally her great grandfather's business headquarters.)
Gloria Vanderbilt, now almost 90 years young, licensed the reproduction rights to her critically acclaimed artwork to Susan Miller who self-published her calendar. The inks are rich, the paper heavy, glossy, and snow white, allowing Gloria's paintings to jump off the page. Each month, from January 2014 though the extra bonus month, January 2015, is found an inspirational quote from Gloria, centering on her philosophy of living life fully and creatively. With fourteen of Gloria's paintings, this calendar will soon become a collector's edition and will not be reprinted when stocks are gone.
Aside from having happy, vibrant art to look at all year, The Year Ahead 2014 calendar has many other uses, unlike any you have had in a calendar before. On every important day of each month I list the aspect and what it means, in easy to understand laymen's language. This means the next time you are about to make an important appointment, and the VIP asks you, "Do you want to come in Monday or Thursday?" you can say you will consult your calendar and know immediately the day to choose.
In a year like 2014, where sparkling aspects will stand side by side difficult ones, this calendar will not be a luxury but a necessity.
Also included in the calendar are:
- All the start and end dates of the retrograde planets in 2014,
- Detailed discussion of the new and full moons (new!)
- The date when planets move into new signs (and how long they will be in that sign), all listed on the same day entry
- The planetary aspects of the four eclipses due in 2014, and explanation of what each eclipse will bring.
No more surprises! Be in the know about upcoming events, so that you can plan your biggest initiations. This calendar is a "must" to keep with you all year, and is available here, from Susan's publisher, but not in bookstores or other retailers. Get it now, while you can: $9.99 plus tax and shipping. We ship to all nations of the world: http://bit.ly/186zM0i
---
A New Service: WiFive.us
Don't we all love a bargain?
We all want to know about the deals being offered nearby in our neighborhoods to save money. I found a way when a brilliant entrepreneur, Luis Sanchez, came to see me to show me he had developed a way of seeing all the various deal-of the-day websites that are featuring discounts on food, entertainment, boutiques, and other establishments, all in one click. Traveling? All you need to do is enter the zip code of your new neighborhood as you travel each day and you can see the deals that may be just across the street from your hotel.
The company is called Wifive.us and is ready to use today. It is a New York-based startup with a location-based search engine that gives you access to thousands of local online deals in a single site.
For now, Wifive.us is only available in the United States. It covers most of the deals and services you would see from various sources (Groupon, Amazon, Google deals, and so forth) all at once, so you don't have to go from site to site to find a deal that appeals to you, as Luis would humorously say, "until your head hurts." There is no registration necessary, and no useless emails to stuff your inbox each day.
Just type your address or ZIP code and get the deals you want when you want them. You pull in your information, which is far better than having many emails pushed to you. Try it and like the service on Facebook!
A word about the web address of WiFive.us
You may be wondering, what exactly is .US?
You might have thought the domain ending .us would only be only for government agencies and schools, but since 2002, individuals, businesses, churches, and non-profits have adopted .US web addresses to make their mark on the Internet. The .US is a new domain ending.
Just remember the name of the new service that no doubt you will be using quite a bit: pronounced as "wi-five-dot-us" otherwise seen as: http://www.wifive.us
---
Goodbye to My Former iPhone App on November 12, 2013
Hello to My New One:
"Susan Miller's AstrologyZone Daily Horoscope FREE!"
Download today!
Now that my former app, Astrology Zone Premier, will no longer be supported for iPhone, you might want to download my free version of "Susan Miller's AstrologyZone Daily Horoscope FREE!" for iPhone today. (A search for Susan Miller or Astrology Zone should bring the app up immediately.)
My former app, Astrology Zone Premier will not automatically change over to the new free app, so you will have to download my new app. Once you have it, you can decide if you would like to upgrade to the version you've come to know and love by looking inside the app and signing up for a subscription inside the app. If you should have to reload and reinstall your app, you will not lose your subscription as long at you responded to Apple's dialog box asking you to register your purchase immediately. If you don't register, if you lose your phone or need to reinstall your app, you won't be able to do so. Be sure to register your app!
If you have any questions or need help, you can write to Jennifer@Phunware.com and engineer Jennifer will be happy to help you.
---
ANDROID AND SAMSUNG USERS
Astrology Zone Premier App is Still Available for You
Android and Samsung users have Astrology Zone Premier to enjoy a little longer. We are writing NEW code for your Android and Samsung cell phones, and making an app similar to the one for iPhone, with some cool features just for your phone.
---
Live Overseas? Or, don't have an iPhone, Android, or Samsung Galaxy?
Get all 12 of my daily horoscopes each day by email or pick yours up each day on special password-protected site.
To plan ahead, receive several daily horoscopes in advance!
By subscribing to DailyAstrologyZone you will receive a week of horoscopes inside your cell phone and / or computer. This means if you have a BlackBerry or feature flip phone, you can still get my daily horoscopes as long as your device accepts email. You will also have the option of accessing your daily horoscopes from a website online, from anywhere, any time, through a password-protected site for members only, or receiving all 12 signs my email each day.
For more information: http://www.dailyastrologyzone.com
---
MY PERSONAL CUSTOM HOROSCOPE BOOKS
WRITTEN BY SUSAN MILLER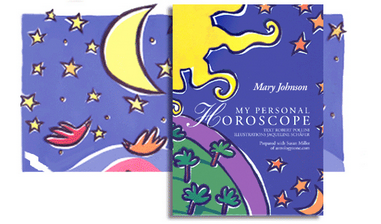 Looking for unique gifts for the summer months? - Choose from My Personal Horoscope for Adults or for Babies, or for a Relationship, the Two of Us.
Have an entire book written by Susan Miller, which runs approximately 65 pages, about your natal horoscope. Get to know your rising sign (also called the ascendant) as well as the placement of each of your planets, and what it all means. Susan's natal chart for babies centers on the talents and gifts of the little child. Order today and you will have your book within two-and-a-half weeks.
Two weeks on average from order receipt to delivery to any US destinations. One week longer elsewhere.
Also PDF option available for destinations overseas where delivery tracking of printed books is prohibitively expensive.
My Personal Horoscope Custom Natal Chart Book $49.99 plus shipping / tax
For more information call Susan's publisher, Arthur Heydendael 914.271.3640 ext 14 or click here:
http://www.americadirectbook.com/Customized_Books
To view a forecast, select a sign from the menu below and click on Go.