Taurus Forecast for August 2014
By Susan Miller
This will be a major month for you, where so much can be accomplished in regard to home, property, and family matters, as well as concerning your career news, that it looks like you may be jumping for joy. Grab your skateboard, dear Taurus. You may have assumed not much happens in August, but if so, think twice! This won't be a sleepy, lazy little month, but one packed with lots of action. You won't have a moment to spare!
As you enter August, your home appears to be a big focus, and you may be busy calling in the painters, making important repairs, or comparing paint chips, fabric swatches, and kitchen top samples (as a few examples) to give your home decor a sleek upgrade. Jupiter is orbiting with the Sun, considered a fantastic aspect, and will continue to be boosted by the new moon of July 26, when Jupiter, giver of gifts and luck, was conjunct that new moon last month.
That new moon of July 26, so perfect for you to improve any domestic, real estate, property, or home-related situation, will still be very strong in early August. You now have a rare opportunity to improve your living space, or to find new house of apartment that you love and will move into very soon. (Many Taurus have moved into their new home already, in July or August, and will now be fixing up their space.)
If you have been trying to sell a house / condo or buy one, you will be luckier than a Leprechaun with Jupiter in Leo at your side, so be sure to take seriously all offers you receive. If you are selling or buying property, follow your broker's advice if you are about to price a property or put in a bid. When buying, do not settle for anything less than a large, sunny space, in the neighborhood of your choice. It looks like your new space will offer a beautiful view too. You may see an array of less than spectacular spaces at first, but keep looking! If you are working with a designer to decorate your space, at times you may not agree with your designer, but allow time to consider his or her ideas, and then come back to meet and talk about them. You have your chance to create a dream of a decor, so find ways to move forward.
If you need furniture, you may find beautiful selections, and because it is July, many pieces will be on sale, and you may be able to pick up quite a bargain for a handsome piece you love. The aspects you are under now are rare, and although Jupiter will remain in your fourth house of home until August 2015, this month will bring together exceptional opportunity. There is no reason to wait!
Taurus, ruled by graceful Venus, has strong links to the land and to flowers, trees, and other greenery, so if you live in the country (or suburbia) and want to landscape the land around your house, do it now. City dwellers can add flowering plants and small trees to their home to give it life and beauty. If money is tight, you can simply add some new accessories or do a thorough cleaning job, tossing out items you no longer need. It would be a shame not to use these golden vibrations in some way, whether you want to take large or small actions for your home other property (such as a vacation home), or to find answers for a family-related question.
Major, exciting career news is due to come up for you on or near the weekend of August 9-10 (minus two days or plus four days), when you will have a full moon in Aquarius at 18 degrees, shining at the very top of your chart (the "mid-heaven"). Many people in your industry will become aware of your good work at this time, and delicious praise, publicity, or a promotion may be showered on you. You may be tasked to judge a contest or make a major appearance, or be given a new position that comes along with much status, power, and responsibility. If you are self-employed, it will be obvious you've made all the right moves and richly deserve the kudos that are coming way. Your confidence will rise, for you will know you are doing well, and everyone around you will know that, too.
One other note - the full moon is in Aquarius, so the topic of career conversation may center on a new app you have developed and just debuted, or have to do with Internet or television media, where you may be interviewed or asked to host a show. Aquarius is about all things new and never developed before, and is closely aligned with electronic media and software, coding and apps, exploration of outer space, as well as scientific discovery of all kinds, including biological and medical breakthroughs. If you work in one of these fields, you should do extra well, and if you represent talent - say, an actor or writer - the work that comes up now may center on a TV, Internet, or social media project. If you work in science or in communications (including PR, publicity, marketing or sales), this full moon will have an extra strong effect.
You may feel this full moon of August 9-10 early, as much as two days before it appears, say, August 7 or 8, or after the full moon reaches fullness, any time from August 11 to August 14. Uranus rules Aquarius, the sign of this full moon, and will be beautifully angled to it, so expect random, out of the blue career news that will have you jumping for joy. For some reason, you won't expect what is coming up! This is significant! Be sure to look your best at all times, even when you visit the post office!
One of my Taurus friends called me last night (I will call her Denise.) She said, "Be sure to talk about money! I need money!" If you feel the same way as Denise, you will have to superb days this month to generate good money (or to find bargains for things you need). Those days include August 1-2, due to Mercury conjunct Jupiter. (Mercury is the planet that rules your solar second house of earned income.) Next, circle August 21, when Mercury will contact Pluto, helping you generate money from overseas markets or from electronic media or apps. And finally, August 25 (this day has more aspects than cars moving along on a Los Angeles highway), when Mercury will reach out to Saturn and stabilize your income over the long term. You might sign a contract or introduce a product or service that turns out to be a great new pipeline to cash.
Mars is now touring your opposite sign of Scorpio, so you may be collaborating closely with your romantic or business partner, or with a person you currently represent (or who represents you). This would include a broker or designer you are working closely with too, as the seventh house represents experts we hire. (That would also include a physical therapist or doctor, for example or your lawyer.) Mars will only remain in your partnership house until September 13.
Sometimes Mars opposed to the Sun can bring too much energy and cause strife, so if you find you are not agreeing with one of your collaborators, or with your close romantic partner, the reason is that Mars' job is to churn up any debris that he may find under the surface. Part of the mission of Mars in any house he visits is to 1) energize that house and 2) cleanse that house.
Because Mars is in your close, committed partnership house, Mars is busy studying the way you get along with those who are closest to you. Be open to discuss any differences of opinion that may come up now. Don't wave off any complaint as trivial, as the topic may not be trivial to your partner. It is always better to know exactly what your partner is thinking and doing than to have to guess. You can't fix something if you don't know about, and so if your partner is important to you, you will want to iron out little wrinkles. Sometimes, however, you are horrified to learn that a partner has betrayed you, and alas, then you may have to leave. That might come up now too, but hopefully it won't.
In terms of health, Mars opposed to the Sun, as Taurus has now, can be strenuous and draining. You also have Saturn opposed to the Sun, too, which can be even more taxing. Taken together, it's important that you take very good care of yourself. On August 25, both Saturn and Mars will conjoin in your close relationship house, and both will oppose your Sun, especially if your birthday falls near May 6 to May 8. August 25 would not be the best day to climb up a mountain, or, on an emotional level, to have a big talk with your business or romantic partner. If you must have a talk, listen and reflect on the words of your partner, but voice what you will do about what you hear a few days later.
Now let's talk about romance! August 25 has many aspects associated with it, including a beautiful one - the new moon!
The new moon on August 25 will work hard to help you find fun and love, for it will appear in a sign that blends perfectly with yours, Virgo, 2 degrees, and it will light your house of true love. This is your once-a-year new moon to help you find new love if you are single, or to draw closer to your present love if you are attached. Pregnancy and the children you may have now is ruled by the same fifth house, so you may decide to have a baby now, or to adopt one, and if so, this month would be a great time to set that plan into motion. Indeed, this will be the best new moon of the year for engendering romance and creativity, and for starting any plan involving a pregnancy or a child, so make it work for you, dear Taurus. Remember, however, you have to DO something to unlock the goodness of this new moon. Leave the house!
This day, August 25, brings Venus, your ruler, in ideal angle to Uranus, so if you are single, you may be surprised by sudden, electric chemistry you feel with someone new and special.
Always remember this rule of thumb: begin your actions at the day of the new moon, or AFTER it appears in the week that follows, but NOT in the days BEFORE it appears. New moons work very differently than full moons.
If you were born on April 21, you will feel the benefits of this new moon in the most exciting way. The same is true if you have a natal planet in Taurus, Virgo, or Capricorn, or have Taurus rising at 2 degrees, or if one of these planets or your rising sign is close to that degree (within five degrees).
There is another day I would like to you to circle on your calendar, August 2, when Mercury, the sign that is on the cusp of your house of true love, will conjoin Jupiter. This day would be fabulous not only for meeting someone new, it would also be special for shopping for home-related things (including closing on a house), travel, shipping, and signing a contract.
On August 25, Mercury will be in fine angle to Saturn, so you might decide to make a promise to the person you care about, or institute a plan, and if so, it's a good time to do it. Saturn will give your action longevity. Mercury rules agreements, so if you do make a plan or promise, or sign papers, your endeavor will stay in place a very long time, possibly forever.
Before I go, there will be a weekend to circle on your calendar in gold, August 16-17 (and add Monday, August 18 too), when Venus, your ruler and planet of happiness, will be conjunct Jupiter, giver of gifts and luck. This may be your best day of the year for romance, or for just about any other action you want to do. When your ruler (Venus) meets with Jupiter, luck is showered on you! A day THIS fortunate comes only once a year. When your ruling planet, Venus, is involved with Jupiter, life shimmers and glows, and just about everything you touch turns to gold. These two planets will meet in your house of home, property, and family, so you may find the perfect house or apartment to lease, rent, or buy, or find design solutions that are perfect in every way.
---
Summary
Thinking of redecorating or making a full renovation? Do you hope to lease or buy your dream house or condo apartment? Have you own real estate you've not able to sell lately? In the magical month of August, you can achieve any home-related dream that you can imagine. Ever since Jupiter moved into Leo last month, in July 16, for a twelve-month stay, your home sector will begin to glitter and glow, and as luck will have it, August appears to be your very best month of all to swing into action.
With Jupiter on your side in your home sector for the first time since August 2002-August 2003, if you are shopping for a new space to live, you need not settle for anything less than a large, sunny space, one that is also likely to come with a sweeping view. Jupiter will always give you more than you asked him to give you, so think big, for Jupiter stands ready to reward you. This is Taurus' best year in twelve for you to be focusing your attention on home and other property.
If your wish centers on helping a beloved parent, this too will be possible, for your family is covered by the same the fourth house that Jupiter is currently showering you with luck. Last month's new moon of July 26 will still be strong and influential as you enter August, so if you have been trying to help your mother or father with any question, such as to find the right doctor to address your mother's health concern, to find the right aide to live with your parent, or a bookkeeper to help your parent reconcile the checkbook and pay bills each month, keep looking for answers. You are likely to have a family-related breakthrough during August's first week. A spectacular day to close on a house, sign a lease, or move in would be August 2, thanks to the meeting of Mercury (contracts) and Jupiter (happiness and profit).
August will be a big career month for you, too, as the full moon in Aquarius, August 10 (plus or minus four days) will bring enormous attention to your career within four days of this date. Look your best, as all eyes will be on you, and you might have to give a statement to the press. You have strong VIP support from hidden quarters - and as you read this, you may be surprised. Competitors will sense you are protected, and may be jealous of your good fortune and try to steal some of your thunder. Worry not. You have a golden shield that will keep you moving forward. They want precisely the quality you have already established for yourself - a fine reputation.
Your close relationship may still bring you difficulties this month, but only if you have not been on the same page with your lover (or a business partner), as Mars will stir the pot in your partnership sector now, to bring differences to the surface. Mars will team up with Saturn on August 25, the planet that gives us our lessons in life. The lesson may be that you gave too much or trusted too much - for each person, the lesson will be different.
Saturn has been in this same commitment / partnership / marriage area of your chart since October 2012, so it is not a new influence, but what will add an additional emphasis now is the arrival of feisty Mars to the same area. Mars will bring any differences you may have with your partner to the surface, but with Saturn there too, the fix for any dilemma might take time. At first you may not know precisely how to react, especially near August 25, when Mars (go!) will conjunct Saturn (stop!) Saturn orbits more slowly than Mars, so Saturn wins.
Keep your health strong, especially if your birthday falls anywhere near May 6-8. Saturn opposed to your Sun is a strenuous aspect, and you will need all your strength to deal with all that life is demanding of you.
If you are single and hoping to find romance, you will turn your thinking to fun and love at the new moon August 25. This will be the finest new moon in the year to help you find new love, or if you are attached, to celebrate the love you have, and also to plan a pregnancy, or take special care of child you have now. The element of surprise will be at play, so give in to life's unexpected pleasures. You will have ten days in which to make full use of this darling new moon, and your ruler, Venus, in perfect angle to Uranus on August 25, will add sparkle to all your romantic plans. Take a trip, give a party, or if alone, venture out to into the world to discover whether the person of your dreams is around the next corner. (Seems so!)
---
Dates to Note: TAURUS
Most important dates for love, meetings, or actions: August 1, 2 (great for signing papers, especially in regard to real estate) 3, 4, 7-10, 11, 12, 16-17, 18 (five stars), 20, 21, 25, 30, and 31.
Home related plans, from buying, selling, or leasing real estate, will get a huge push forward in the first week of August - you have some of the most glittering aspects for home and property plans, the best in ten years. If you need to move, start browsing spaces immediately. You can also call in the landscaper to create a more artistic look for the land surrounding your house.
You may feel pulled between your needs of home and your significant other in love or business, when the Sun is at odds with Saturn on August 9.
Your career will be on fire on the full moon in Aquarius, August 9-10 plus four days, will bring honors, awards, and applause to your career status. It will be the most important moment of 2014 to crystallize a career goal.
Money luck will be high August 1-2, August 21, and August 25.
On August 18, Venus will join with Jupiter, signaling a perfect day to make a real estate or other home-related decision or commitment. Venus is your ruler, so the entire day should go fantastically well, on many fronts.
You may have a difference of opinion with someone close on August 25 when Mars conjoins Saturn. At the same time, Mercury will make a positive connection to both planets, allowing you to find the words to explain your thinking, and at this time you can be persuasive. See how things go. If you feel strongly about your position, you may have to agree to resume talks later in the week or in early August.
If you hope to find someone special to love, the new moon, August 25, will be your friend and will be when you can to start making a concerted effort to finding true love. Attached? A baby may soon be part of the picture.
P.S. for August 2014
SUSAN MILLER'S APPEARANCES for August 2014
Susan Miller Event in Southampton, Long Island
Meet Susan Miller for a fun meet and greet
Bring questions!
Saturday, August 9, 2014 - this weekend
11 AM - 7 PM
No ticket fee
Sequin Southampton
20 Jobs Lane
Southampton, Long Island NY
Store: 631.353.3137
---
FREE Washington Post Worldwide Chat
Wednesday, August 13 at NOON EDT New York with Susan Miller
Use this link to submit your questions: http://wapo.st/1y71o22
When posing your question, please list your first name and sign, and your rising sign too if you know it. Ask your question in a way that would appeal to the widest possible audience of readers of your sign with questions similar to yours. This will increase your chances of having your question chosen.
---
Astrology Zone Coming to TV! More news in weeks to come!
Newsflash: I am very pleased to announce that I am developing the Astrology Zone TV show with Paul Duddridge and TV4, and we plan to be on air from November 2014.
I am being secretive here, but I will say I will be back in Hollywood in September to start work on the show. Viewers in America and in international countries will be able to view it in English. You will get more news as it comes!
---
Android, Samsung Users! IPhone users!
Your new free app will be ready to launch in approximately 10 days. Stay tuned! We have been working on this all year! If you have my old Astrology Zone Premier, it will no longer work soon. You will have to download the brand new app and design - we think you will be dazzled by the look of my new app, as it is completely different. Like the iPhone, you can choose between the free and the subscriber version. On Android and Samsung, you can subscribe for $4.99 for one month if you like, to check out all the new features.
IPhone users will get a completely new interface and beautiful design, too, not only for your iPhone but for all iPad sizes and shapes, including the iPad Mini. If you already downloaded my free version or have a subscription on iPhone, you need do nothing. Just update your app - no extra charge! I made my list of all design corrections today with my dear account person at Phunware who came to New York City to see me in person. The coders are now working their magic! The launch will be approximately one week after the Android and Samsung users get theirs. It will fit most modern Apple formats, including your new iPhone 6 due out in early September. Stay tuned for my announcements on Twitter and FaceBook.
I don't want to divulge the new and improved features of my new app yet, but I will say all versions for all these operating systems will look similar, with no more black background, and a sleek design. In the future, your app will be specially sized to fit the display of the device you are viewing on - this is new, and we know you wanted us to do that for you.
---
"OUTLOOK for the Second Half 2014 by Susan Miller" is now available:
In Print $4.99 plus shipping via USPS with tracking. Total under $10.00. One and two copies same shipping charge. https://www.americadirectbook.com/outlook2014
Digital PDF: $5.00 https://www.americadirectbook.com/outlook2014pdf
Amazon's Kindle: http://amzn.to/1lE7a8t
Barnes & Noble Nook: http://bit.ly/Uec9D3
---
The Year Ahead 2014 Astrological Calendar
By Susan Miller
My Year Ahead 2014 collectible calendar is now $9.99 (at a 45% discount, from original price $17.99) plus shipping, any applicable tax
Calendars are used to mark time, but have you ever had a calendar that helped you use your time productively? My new Year Ahead 2014 Calendar can do just that. I write every word myself in this stunning calendar with original fine art by socialite, author, and fine artist Gloria Vanderbilt, mother of newsman Anderson Cooper, and great grandchild of railroad entrepreneur Cornelius Vanderbilt. (Grand Central Station was originally her great grandfather's business headquarters.)
Gloria Vanderbilt, now almost 90 years young, licensed the reproduction rights to her critically acclaimed artwork to Susan Miller who self-published her calendar. The inks are rich, the paper heavy, glossy, and snow white, allowing Gloria's paintings to jump off the page. Each month, from January 2014 through the extra bonus month, January 2015, is found an inspirational quote from Gloria, centering on her philosophy of living life fully and creatively. With fourteen of Gloria's paintings, this calendar will soon become a collector's edition and will not be reprinted when stocks are gone.
Aside from having happy, vibrant art to look at all year, The Year Ahead 2014 calendar has many other uses, unlike any you have had in a calendar before. On every important day of each month I list the aspect and what it means, in easy to understand laymen's language. This means the next time you are about to make an important appointment, and the VIP asks you, "Do you want to come in Monday or Thursday?" you can say you will consult your calendar and know immediately the day to choose.
In a year like 2014, where sparkling aspects will stand side by side difficult ones, this calendar will not be a luxury but a necessity.
Also included in the calendar are:
- All the start and end dates of the retrograde planets in 2014,
- Detailed discussion of the new and full moons (new!)
- The date when planets move into new signs (and how long they will be in that sign), all listed on the same day entry
- The planetary aspects of the four eclipses due in 2014, and explanation of what each eclipse will bring.
No more surprises! Be in the know about upcoming events, so that you can plan your biggest initiations. This calendar is a "must" to keep with you all year, and is available here, from Susan's publisher, but not in bookstores or other retailers. Get it now, while you can: $9.99 plus tax and shipping. We ship to all nations of the world: http://bit.ly/186zM0i
---
MY PERSONAL CUSTOM HOROSCOPE BOOKS
WRITTEN BY SUSAN MILLER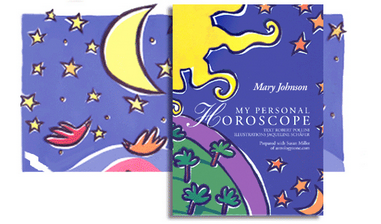 Looking for unique gifts for the summer months? - Choose from My Personal Horoscope for Adults or for Babies, or for a Relationship, the Two of Us.
Have an entire book written by Susan Miller, which runs approximately 65 pages, about your natal horoscope. Get to know your rising sign (also called the ascendant) as well as the placement of each of your planets, and what it all means. Susan's natal chart for babies centers on the talents and gifts of the little child. Order today and you will have your book within two-and-a-half weeks.
Two weeks on average from order receipt to delivery to any US destinations. One week longer elsewhere.
Also PDF option available for destinations overseas where delivery tracking of printed books is prohibitively expensive.
My Personal Horoscope Custom Natal Chart Book $49.99 plus shipping / tax
For more information call Susan's publisher, Arthur Heydendael 914.271.3640 ext 14 or click here:
http://www.americadirectbook.com/Customized_Books
---
A New Service: WiFive.us
Don't we all love a bargain?
We all want to know about the deals being offered nearby in our neighborhoods to save money. I found a way when a brilliant entrepreneur, Luis Sanchez, came to see me to show me he had developed a way of seeing all the various deal-of the-day websites that are featuring discounts on food, entertainment, boutiques, and other establishments, all in one click. Traveling? All you need to do is enter the zip code of your new neighborhood as you travel each day and you can see the deals that may be just across the street from your hotel.
The company is called Wifive.us and is ready to use today. It is a New York-based startup with a location-based search engine that gives you access to thousands of local online deals in a single site.
For now, Wifive.us is only available in the United States. It covers most of the deals and services you would see from various sources (Groupon, Amazon, Google deals, and so forth) all at once, so you don't have to go from site to site to find a deal that appeals to you, as Luis would humorously say, "until your head hurts." There is no registration necessary, and no useless emails to stuff your inbox each day.
Just type your address or ZIP code and get the deals you want when you want them. You pull in your information, which is far better than having many emails pushed to you. Try it and like the service on Facebook!
A word about the web address of WiFive.us
You may be wondering, what exactly is .US?
You might have thought the domain ending .us would only be only for government agencies and schools, but since 2002, individuals, businesses, churches, and non-profits have adopted .US web addresses to make their mark on the Internet. The .US is a new domain ending.
Just remember the name of the new service that no doubt you will be using quite a bit: pronounced as "wi-five-dot-us" otherwise seen as: http://www.wifive.us
---
Live Overseas? Or, don't have an iPhone, Android, or Samsung Galaxy?
Get all 12 of my daily horoscopes each day by email or pick yours up each day on special password-protected site.
To plan ahead, receive several daily horoscopes in advance!
By subscribing to DailyAstrologyZone you will receive a week of horoscopes inside your cell phone and / or computer. This means if you have a BlackBerry or feature flip phone, you can still get my daily horoscopes as long as your device accepts email. You will also have the option of accessing your daily horoscopes from a website online, from anywhere, any time, through a password-protected site for members only, or receiving all 12 signs my email each day.
For more information: http://www.dailyastrologyzone.com
To view a forecast, select a sign from the menu below and click on Go.