My beautiful Year Ahead 2014 Astrological Calendar with Gloria Vanderbilt's fine art will make you more productive and happier! DISCOUNTED NOW AT $12.99 (reduced 27% from $17.99). See all aspects on the day they happen with clear explanation for the layman reader. With my calendar, you have no more surprises - you will know what's coming months ahead of time!
Progress on The Year Ahead 2014 book: I am trying to write the book, and each chapter has become large. I want you to have detail. Please bear with me. It is coming!
Make sure you upgrade to my new iPhone app at the Apple App Store as my previous one for iPhone (Astrology Zone Premier) ended service Nov. 12, 2013. My new one is called: Susan Miller's AstrologyZone Daily Horoscope FREE! You will have the option to subscribe for longer, detailed content INSIDE the app once you download. See prices. One example: $12.99 for three months.
Android and Samsung : Get my app Astrology Zone Premier in your app store.
Do you live overseas or don't have a smart phone? Subscribe to my same daily horoscopes, get all 12 each day, that are the same used for my smart phone apps at http://www.DailyAstrologyzone.com
New! Spanish speaking friends, read my mirror site to Astrology Zone ALL in Spanish: go to: http://www.astrologyzone.com/spanish
Do you want to lose weight in 2014? Order daily gourmet meals, prepared with all farm fresh food. Chefs Diet (www.chefsdiet.com) sets the gold standard. Thanks to new shipping technology, Chefs Diet ships to any city in America. To get a great introductory discount, call secret toll free number just for Astrology Zone readers: # 800.585.1329. You MUST speak to Michael McDonnell. Use code: Susan Miller, to get your discount. For menus, photos: http://www.chefsdiet.com
Virgo Forecast for February 2014
By Susan Miller
As February begins, you will be working on a new assignment that is now coming up as a result of the new moon that occurred last month, on January 30, in your solar sixth house of day-to-day projects. That new moon was in Aquarius, giving you the type of assignment that will intrigue you - it will be something new and different that you can dig into and learn from by being involved.
Aquarius rules the digital age, so it may have to do with digital media or social networking, or with one of the sciences. This assignment might be in the natural sciences such as biology, chemistry, physics, or astronomy, earth sciences such as meteorology, geology, or oceanography, the physical sciences, or social sciences like psychiatry or anthropology. Or, you may be interested in the applied sciences of mathematics, computer science and software, statistics, or engineering, or the development of new medicines and techniques for diagnosis.
Aquarius is also interested in working in humanitarian and community projects, politics, or charities and not-for-profit areas. Finally, Aquarius rules all things not fully understood, and that includes the subject of astrology. One of the areas I have listed appears to interest you this month and will link into the work you are doing. These areas are lucky for you, but you are not limited to these areas. You may, for example, work in a field that has innovated in a big way by harnessing computer science - that would fit, too.
Since last December, you have been subject to high expenses and may have seen that you've done a lot of spending lately, so money may have been tight. The introduction of a new project that you will be called on to do seems to bring you more money, and you will see this to be true when Mars works in sync with the mighty Sun on February 14. A good chunk of money is likely to come in as a one-time payment for the project, or a salary raise. That day, February 14, a Friday, is also the full moon in your house of work assignments, so it seems your work will culminate and be finished - that may be why I see money coming your way then. I feel the project will be directly related to the money, but not until mid-month.
If you have been unemployed, the work that comes up this month would be on the level of the work you did previously - it would not be a step up, but it would teach you things, and it could be a good opportunity that leads you into new realms. I suspect this will be a one-time project, perhaps because you are self-employed, or if you do this job outside your regular work. Nevertheless, you may be able to expand the time you are there if you give it your all. (Of course, as a Virgo, you always give everything your all.
If you are employed and want to change jobs to get a better one, it might be wise to wait. The job you discuss now would not be a step up, even if the interviewer tells you it would be a better one - don't believe it, as my math tells me otherwise. Still, you may not care if your new job is a step up or not. If you are unhappy where you are, and can make a move, his month's new moon may help you make a switch.
For a prestigious step up, I would like you to watch the new moon May 28 for your career, but the problem is, Mercury will go retrograde June 7 to July 1. Often it takes a long time to get a good job, for you will be asked to go through many interviews. That's good, because if you could start a new position in mid-or late-July, I would be thrilled for you - that timing would be ideal.
This month brings Mercury retrograde too, February 6 to 28, and Mercury is your ruler. This may not be too troublesome in that an executive from your past will be the among people you know and admire, and with whom you share a history, and those are the ones who will bring you the most brilliant luck. If you are offered a position, do your best to wait to give your final answer - do so in March. If you accept this month, things may not to play out as you assume they will. You may see your job description change, or the person you assumed you'd be reporting to might leave. Later you may regret not asking more questions about the job you were being offered, but in truth, so many conditions are in flux during a retrograde period that it's nearly impossible to anticipate them all. As I had said, the only way to deal with the retrograde is to deal with those people you know and trust from your past - that could be your best bet. Of course, if you are out of work, then just take the project or new job, for it is always easier to get a new job after you've landed one!
Before I leave this topic, I want to say that you may become forgetful during Mercury retrograde periods. Keep track of your electronics devices - your smart phone, computer, iPad, and so forth - as well as your other treasures, like eyeglasses, sunglasses, ID, keys, and other essentials lest you lose one.
Mercury rules electronics, and also the moving parts in a machine. If anything is wearing out, you will tend to find out about it during a Mercury retrograde period. It's a great time to gather all the items that are on the fritz and drop them off at the repair shop. During Mercury retrograde we get extra time to get things done, for meetings get switched around and postponed, and your schedule will open up. Use that time well.
Now I will turn to another topic. Venus was retrograde throughout January, but turned direct on the very last day of the month, January 31. This will help your love life as well as your financial outlook slightly. I say "slightly" because Mars rules your eighth house of money owed to you (the house of "other people's money") but in March, Mars will go retrograde, and you may be faced with tardy payments due you, and that will likely be frustrating. It might be a good idea to send a reminder notice to anyone who owes you money now, well ahead of the Mars retrograde.
Mid-month, you need to keep your health up to par, as you will be under the influence of a full moon when the project you are doing will need to be wrapped up and delivered. Working hard may lower your resistance to colds and flu if you are not careful. If your doctor thinks a flu shot is a good idea, get yours early in February (it's not too late) as it takes a few weeks for the shot to start to work. On the other hand, this full moon February 14 may bring good news about health. For example, if you have been exercising diligently, you may be surprised to see your personal best - always good news.
I mentioned the full moon was to be on Valentine's Day, February 14, and I know you caught that fact, and of course, you have been waiting to hear more! This year, this day for lovers will bring on sweet feelings. This lovely full moon will be in Leo, so this year you will want that night to be intensely private as it lights your solar twelfth house. You may, for example, want to plan a dinner for two in a beautiful restaurant that you have never tried and that you know you won't want to run into people you know. You are a friendly soul, but this night, you will want to simply devote all your attention to the one you love. Leo is the sign of royalty, and it follows, also sophisticated taste and elegance, so chances are, you will be dining in an establishment that has received great reviews and is a bit expensive. Have fun, dear Virgo - Valentine's Day does call for something special.
Venus is still in Capricorn, and that is the very best sign for Venus to be for you! Yay! Venus won't be leaving Capricorn until March 6. This month, Venus will travel closely with Pluto to bring feelings to great fullness, and both Venus and Pluto will partner with Jupiter, the good fortune planet. This all bodes so very well for your romantic night. If you are not dating, be sure to be out and about on Valentine's Day anyway!
Also, after that, see what happens on Monday, February 24, when Venus will receive a stabilizing, friendly vibration from Saturn, the ruler of your house of new love. This day could bring good news about love, so see what happens!
The month will end on another happy moment - the new moon, in Pisces (11 degrees), February 28, in your solar seventh house of marriage and commitment, including a promise you may make in a business partnership or joint venture. Let's look at this new moon more closely, because it will be outstandingly special for you!
If you are dating seriously, an engagement may happen almost instantly! I hope it is instant, because on this very day, February 28, the Sun, in your house of marriage, will receive a perfect, golden beam from Jupiter, the good fortune planet. This is one of the best cosmic gifts you could ever hope to see, and because Jupiter is in your eleventh house of hopes and wishes, this new moon dazzles even more.
If you are already attached, engaged, or married, you may find other ways to grow in love with your partner. The beautiful part of life is that you will always be able to find ways to create enchanting experiences with the one you love. You can now choose to do more with your relationship, and those plans are likely to come up after that new moon arrives. A short trip away over the weekend of February 15-16 may spin a memory that you long hold in your heart.
If you are not dating or seeing someone you think will become marriage material, you may now use this new moon to further a partnership with a business partner, or you may hire a manager, agent, publicist, lawyer, accountant ,or other professional to help you get ahead.
It is fortunate that this new moon falls at the end of the month, just when your ruler, Mercury, is about to turn direct. This opens the road for you to dream big and to talk about the future with the person whom you are with and who may soon play a big part in your romantic or professional future.
If your birthday falls on September 2, plus or minus five days, you will feel this new moon the most. If you have Virgo rising, partnership matters will form a big theme at this time. Check to see if you have a natal planet in Pisces, Cancer, or Scorpio - those planets will be showered with Jupiter's goodies too, making the end of February through the first two weeks of March very special for you.
---
Summary
Get as many things done as possible during the first week of February, for Mercury will be retrograde from February 6 to 28. Once Mercury retrogrades, your schedule will loosen up as you get a number of cancellations and delays. Considering how busy you've been, you may delight in this month's slower pace. It's time to look back over the past months to see if you can find a project or relationship that you would like to work on to improve.
Although I just advised you to get things done, I still would not want you to sign papers this month. We are simply too close to Mercury retrograde, so move heaven and earth to delay doing that until next month. It's never wise to promise anything, on paper or verbally, when the planet of thinking, reasoning, and communication (Mercury) is out of phase.
The new moon that appeared just two days prior to the start of February will bring many assignments, so if you are self-employed, business will be brisk, especially in the first half. If you work for others, you will be gratified to see that your expertise, skills, and services will be very much in demand. This suggests that you will be able to pick and choose among the most coveted of assignments flowing in. You won't be expecting the type of work you'll be doing - you seem to be heading into a new realm where there will be plenty for you to learn and build upon in the future.
The full moon, Valentine's Day, will bring an intensely private day, tailor made for "just us two." This tender moon will light your sector of secrets - you may have a surprise for your partner, or, conversely, your partner may have one for you! This day it is almost sure to please. If you don't have anyone in your life, plan on taking a short trip to a nearby resort with friends, and choose to stay in a chic hotel that offers pampering - a spa perhaps? You've been working hard, dear Virgo, and being the Spartan little soldier that I know that you are, you rarely allow yourself an indulgence. Schedule some fun now, dear Virgo.
The month will end on a sensational note, for Jupiter will likely bring a long-held wish to fruition, and your partner will be an integral part of delivering this happy experience to you. If your one-and-only does not propose on Valentine's Day, it could be because Mercury has held things up until month's end, for Mercury will regulate its orb on February 28. For you, the day for lovers may well be February 28, a touching, bewitching day that may open up an entirely new path for you.
Additionally, for big things to happen in your life, you almost always need an appropriate new moon to light the path. Remarkably, on February 28, you will have the perfect new moon in your marriage sector to coax commitment along. Over the ensuing weekend, with Jupiter so sweetly angled, you may be completely surprised when you are presented with a stunning gift, possibly a diamond. If you are the man in the relationship, your partner may have a beautiful and valuable gift for you, too. Surely by month's end, it seems your partner will give you news or care for you in a way that may simply take your breath away. I am so happy to report this to you!
If you have no one, do not despair. You have superb aspects, and Jupiter is in the wings to help you find love - so circulate, dear Virgo. In the meantime, you may be able to use this new moon to open talks with a business professional that can help you hit the top of the charts. As you see, you'll be a winner this month, even WITH your ruler Mercury retrograde.
---
Dates to Note for VIRGO
Most romantic dates, and can be used for other purposes too (these are good days for you): February 1, 5, 6, 9, 10, 14, 15, 16, 20, 21, 24, and 28.
Mercury will be retrograde February 6 to February 28.
Your life is busy at the office, with new assignments arriving in abundance. This may help your financial picture if self-employed, for customers will be storming the doors. If you work for others, you will be in demand and may make extra overtime or a bonus for the fine work you do.
Financially, you have spent a lot of money lately, or will do so soon. Next month, Mars will retrograde and make it harder to receive money owed to you. Send out reminder statements in early February while aspects shine, and get all your key financial negotiations done before you get to March 1.
Valentine's Day, February 14, will be private, spent with your one-and-only. A short trip taken this weekend for the two of you in a beautiful hotel or luxury inn in a wooded area would be heavenly.
Things may become even closer after the new moon arrives, February 28, in your marriage and commitment house. If you are ready to wed, this could be the time to set the date.
The Sun and Jupiter will be aligned also on February 28, allowing you to see fulfillment on a long-term dream. This is a four-star day, and a friend appears be integral to your luck.
P.S. for February 2014
SUSAN MILLER'S APPEARANCES for February 2014
NEW YORK CITY
Thursday, February 13, 2014 at 6:00 - 8:00 PM
***
CANCELED

Due To Snow Storm! ***
(Will reschedule in the spring)
La Perla Lingerie
434 West Broadway, between Prince and Spring
New York NY
Please RSVP
Please join me for music, delicious treats!
I will answer your questions.
The Italian company, La Perla, makes the most beautiful lingerie in the world.
You must come see and celebrate Valentine's Day with me.
---
NEW YORK CITY
FRIDAY, FEBRUARY 14, 2014 6:00 to 9:00 PM
THE EMPIRE HOTEL
I will be hosting a "BFF VALENTINE'S DAY PARTY!" at the Empire Hotel Lobby Bar
Don't be alone on Valentine's Day - bring your best friends forever (BFF)
and let's have fun and talk about love. I will get you ready for 2014! Bring questions!
The Empire Hotel
44 West 63rd Street
New York NY 10023
No tickets necessary. Free admission, pay for just the drinks you'd like.
List to be capped at 100 guests, so please, you MUST send a RSVP to be let in. Write to BFFparty@EmpireHotelNYC.com
Want to stay over at the hotel? Go to www.empirehotelNYC.com and type promo code "BFF" for a special promotional offer.
---
The Year Ahead 2014 Astrological Calendar
By Susan Miller
$17.99 plus shipping, any applicable tax
Calendars are used to mark time, but have you ever had a calendar that helped you use your time productively? My new Year Ahead 2014 Calendar can do just that. I write every word myself in this stunning calendar with original fine art by socialite, author, and fine artist Gloria Vanderbilt, mother of newsman Anderson Cooper, and great grandchild of railroad entrepreneur Cornelius Vanderbilt. (Grand Central Station was originally her great grandfather's business headquarters.)
Gloria Vanderbilt, now almost 90 years young, licensed the reproduction rights to her critically acclaimed artwork to Susan Miller who self-published her calendar. The inks are rich, the paper heavy, glossy, and snow white, allowing Gloria's paintings to jump off the page. Each month, from January 2014 though the extra bonus month, January 2015, is found an inspirational quote from Gloria, centering on her philosophy of living life fully and creatively. With fourteen of Gloria's paintings, this calendar will soon become a collector's edition and will not be reprinted when stocks are gone.
Aside from having happy, vibrant art to look at all year, The Year Ahead 2014 calendar has many other uses, unlike any you have had in a calendar before. On every important day of each month I list the aspect and what it means, in easy to understand laymen's language. This means the next time you are about to make an important appointment, and the VIP asks you, "Do you want to come in Monday or Thursday?" you can say you will consult your calendar, and know immediately the day to choose.
In a year like 2014, where sparkling aspects will stand side by side difficult ones, this calendar will not be a luxury but a necessity.
Also included in the calendar are:
- All the start and end dates of the retrograde planets in 2014,
- Detailed discussion of the new and full moons (new!)
- The date when planets move into new signs (and how long they will be in that sign), all listed on the same day entry
- The planetary aspects of the four eclipses due in 2014, and explanation of what each eclipse will bring.
No more surprises! Be in the know about upcoming events, so that you can plan your biggest initiations. This calendar is a "must" to keep with you all year, and is available here, from Susan's publisher, but not in bookstores or other retailers. Get it now, while you can: $17.99 plus tax and shipping. We ship to all nations of the world: http://bit.ly/186zM0i
---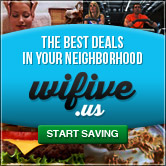 A New Service: WiFive.us
Don't we all love a bargain?
In December, when each of us are busy and shopping for gifts, we all want to know about the deals being offered nearby in our neighborhoods to save money. I found a way when a brilliant entrepreneur, Luis Sanchez, came to see me to show me he had developed a way of seeing all the various deal-of the-day websites that are featuring discounts on food, entertainment, boutiques, and other establishments, all in one click. Traveling? All you need to do is enter the zip code of your new neighborhood as you travel each day and you can see the deals that may be just across the street from your hotel.
The company is called Wifive.us and is ready to use today. It is a New York-based startup with a location-based search engine that gives you access to thousands of local online deals in a single site.
For now, Wifive.us is only available in the United States. It covers most of deals services you would see from various sources, (Groupon, Amazon, Google deals, and so forth), all at once, so you don't have to go from site to site to find a deal that appeals to you, as Luis would humorously say, "until your head hurts." There is no registration necessary, and no useless emails to stuff your inbox each day.
Just type your address or ZIP code and get the deals you want when you want them. You pull in your information, which is far better than having many emails pushed to you. Try it and like the service on Facebook!
A word about the web address of Wifive.us
You may be wondering, what exactly is .US?
You might have thought the domain ending .us would only be only for government agencies and schools, but since 2002, individuals, businesses, churches, and non-profits have adopted .us web addresses to make their mark on the Internet. The .US is a new domain ending.
Just remember the name of the new service that no doubt you will be using quite a bit: pronounced as "wi-five-dot-us" otherwise seen as:
---
Goodbye to My Former iPhone App on November 12,
Hello to My New One:
"Susan Miller's AstrologyZone Daily Horoscope FREE!"
Download today!
To sum up, Astrology Zone Premier will no longer be supported starting November 12, so you might want to download my free version of "Susan Miller's AstrologyZone Daily Horoscope FREE!" today. (Searching simply for Susan Miller or Astrology Zone should bring the app up immediately.)
My former app, Astrology Zone Premier will not automatically change over to the new free app, so you will have to download my new app. Once you have it, you can decide soon if you would like to upgrade to the version you've come to know and love by looking inside the app and buying the subscription inside the app. If you do so soon, you will avoid any disruption in service. If you should have to reload and reinstall your app, you will not lose your subscription as long at you responded to Apple's dialog box asking you to register immediately. If you don't register, if you should lose your phone or need to reinstall your app, you won't be able to do so. Be sure to register your app!
If you have any questions or need help, you can write to Jennifer@Phunware.com and engineer Jennifer will be happy to help you.
---
Live Overseas?
Or, don't have an iPhone, Android or Samsung Galaxy?
Subscribe to DailyAstrologyZone.com
Get all 12 of my daily horoscopes each day by email!
By subscribing, you will receive a week of horoscopes inside your cell phone and / or computer. This means if you have a Blackberry or feature flip phone, you can still get my daily horoscopes as long as your device accepts email. You will also have the option of accessing your daily horoscopes from a website on line, from anywhere, any time, through a password-protected site for members only.
Android and Samsung users have Astrology Zone Premier to enjoy a little longer; we are writing code for your Android and Samsung cell phones, and for you, we are making an app similar to the one for iPhone.
For more information: http://www.dailyastrologyzone.com
---
Welcome Chefs Diet as a Sponsor of Astrology Zone!
Think of Going on a Diet? Try Chefs Diet, Meals to Your Door
Get the Special Introductory Discount Only for Astrology Zone Readers! Call 800.585.1329 ask for Michael McDonnell ONLY and use code word: Susan Miller
If you have been reading my column for a while, you know I am very picky about which companies I endorse. If you want to lose weight, I feel this is the easiest, most fun way to do it. Each day Chefs Diet will deliver farm fresh, healthy foods to your door. In the past it used to be that only those living in New York City and Los Angeles had this option, but now, through new shipping technology, UPS and FedEx have been working with Chefs Diets to find ways to ship and still keep your food as fresh as it was when it left the Chefs Diet kitchens. I simply cannot get over how delicious and carefully prepared these meals are day after day. Meals won't repeat for 90 days so you will love the variety!
You will get three meals a day, with breakfast and dinner a hot meal, and lunch a cold one for convenience. You will also get two satisfying snacks. Best of all, you can change your menu if you see something on the program you'd like to change by very simply logging on to your account and choosing a different meal from the pull down menu. If you have special dietary needs, you can choose the right program for you from the options on the Chefs Diet website. I am NOT diabetic, but I saw that that the diabetic menu had lots of protein to keep me feeling peppy from dawn to the wee hours of the morning. (If you are on social media, you see I often post in the middle of the night - a writer's work is never done.) I love knowing that if I just eat the food given to me each day I will lose weight. There is no thinking, no shopping, no weighing foods or adding points - so easy!
Television producers have told me they rely on Chefs Diets when an actor, male or female, needs to lose weight for a role. It was through that comment of a top producer that I originally found this great company.
Of course, you should always check with your doctor before starting any new dietary program.
For your special discount, call Michael McDonnell (and it MUST be Michael) at 800.585.1329 and you must also mention my name, Susan Miller. You will be given a special introductory discount for a week of meals, so you can see how delicious they are! You will love Chefs Diet! Many famous actors that you see in the movies have these.
I am on the program now because two years ago I broke my femur and had to lie very still until my leg healed. I could not opt to have the femur operated on due to my body's proclivity to bleed excessively in my left leg. (I have already had 40 transfusions in my life.) My leg took a year to recover. During that time it was impossible not to gain a bit of weight (I was bed-bound and could barely move an inch). Now, on the Chefs Diet program, I love being able to fit in my smaller clothes!
Have a look at the Chefs Diet website, http://www.ChefsDiet.com
Call Michael McDonnell at 800.585.1329 to make 2014 your year to look sleek and sexy. Mention me, code word: Susan Miller, and you will be on your way!
To view a forecast, select a sign from the menu below and click on Go.