Virgo Forecast for June 2014
By Susan Miller
Choose your favorite outfits to wear to work, dear Virgo, for in early June, your career will light up the night sky. You will be on fire! The new moon in Gemini, 7 degrees, that appeared just a few days ago last month, on May 28, lit your tenth house of honors, awards, achievement, and fame, and still will be working hard for you. Think about your current projects and also watch the kind of offers you are given and people you meet during the first week in June. Chances are, those are the ones that will bring you enormous acclaim and likely grow into a tall beanstalk that practically touches the sky.
If you represent or manage talent or are a lawyer, you will find the ones that came to you late last month, and will in early June, have great potential. You may find that you go back to the past, to a situation that did not work out before, but will now. Furthermore, a friend, indicated by the new moon's position, may be influential in helping you find the prestigious new job opportunity that you may interview for now, or help you find a new and lucrative client if you are self-employed. This month, your friends are heaven-sent.
Truly, it appears you are due for a major step up in status in your company, industry, or the world at large, and your income will be commensurate with your ascent upward. You've had some dramatic shifts in regard to money in recent months, due to the presence of Uranus, planet of surprise, in your eighth house of financial obligations, which also rules shared financial accounts, credit, taxes, mortgage, debt, and so forth, but sometimes, like now, financial surprises should be welcome ones at long last. Whatever is going on with your career will directly influence your paycheck. Nothing comes without effort - uncover opportunity and go after it.
I should point out that the new moon I have been talking about that arrived May 28 was in hard angle to Neptune, so you may get some flak from your partner, who may be threatened by your rising career status and income, or worry that you won't have any time to devote to the relationship you share in the future. Under these types of circumstances, you may not even know about your partner's feelings, which might explain this month's strange or sullen behavior. Neptune may cloud your partner's feelings, where, like a kitten playing with yarn, your partner will get all tangled up and not even know how to voice his or her feelings. With no discussion, you may not even know you have any problem to address. That's why this month you will have to do some gentle probing to make sure all is copacetic.
Alternatively, your romantic partner may take things well, but you may have a conflict with your manager, agent or other business collaborator, or partner who represents you and wants to shift the strategy in a different direction. The conflict may happen when your intuition says no, we must not do that! Keep your antenna up, dear Virgo, and listen to your own inner voice, which will be sending you loud and clear messages all month.
Before I go on to another topic, I want to underscore that this will be the best time in 2014 for you to aim for an excellent new position. It appears your qualifications will be very intriguing to employers because of your extensive skills in communication - writing, speaking, editing, doing translations, or building apps and software. Also covered are publicity and public relations, social media, transportation, shipping, and all industries related to travel. These are the areas you will shine brightest, but there are others too.
As a Virgo, you are very talented with small motor skills, too, so many Virgos work as artists, fashion designers, pattern makers, and talented musicians. You may do hand smocking, crochet or knit work, or carpentry, or engage in other beautiful arts that you create with your hands. A new moon in Gemini will help you advance your innate talents in this area now, dear Virgo, so if you have a project you want to tackle, work on it!
I do not want you to travel in early June - you will have time enough in late June. You need to be at home base to scoop up all the career goodies that the universe will lay out for you as the month opens. You must do your part by casting a wide net and being eager to uncover (or to propose) as many opportunities and projects as you can, and then choosing among the best. This is your critical career new moon of 2014 for you so go out and make a name for yourself!
Mercury, your guardian planet, will be retrograde from June 7 to July 1, so prepare for a delightful slowdown. When have I ever said that to you, dear Virgo? Can anyone actually enjoy a Mercury retrograde period? Yes! My feeling is that April's monster eclipses, April 15 and April 28, and the fallout that occurred (and that you needed to address) likely took a lot out of you. Rather than be frustrated by your inability to get meetings and final approvals from key people in your life this month, go with the flow. The universe is about to give you a license to sit back and relax. Don't fight Mercury retrograde delays - that's useless.
I will ask you to hold off shopping for any electronic or appliance, whether it's a new computer, smart phone, tablet, Dr. Dre headphones, new refrigerator, vacuum cleaner, dishwasher, car, or flat screen TV. You get the idea. Do not buy any machine with moving parts or anything that is electronic. Do not close on your house in June; wait until mid-July. As you read this in early June, prior to the Mercury retrograde (June 7), you are already too late to buy anything expensive, for you are already feeling the undertow of a debilitated Mercury. Be patient. You may get a better deal, or a newer model, and if you jump the gun now, you may regret your purchase.
Your home will be a major hub of attention at the full moon in Sagittarius, 22 degrees, on June 12, plus or minus five days. You may be seeing the end of a move or renovation, or you may be poised to receive furniture. With Mercury retrograde, if you do get a delivery, make sure you are there to inspect the item before the delivery men leave, and don't hand off this duty to a relative, friend, or assistant. Once the deliverymen leave, if any part of your furniture was indeed damaged, and you didn't say anything, your claim for restitution will be weak. Let's hope nothing goes wrong!
This full moon June 12, plus or minus four days, is a happy one, however, as Uranus will be beautifully oriented to this full moon, so if you've been searching for an answer to home or family-related situation (most likely regarding one of your parents), you may hit on a solution out of the blue, much to your surprise. Be sure to be at home base and not on vacation or a business trip at this time. You can get rare closure now, as this is an important full moon.
The following week, on June 18, you will have a sensational day, when Venus will align with Jupiter. There are many possible happy surprises that will happen on this day. First, you may be invited to a beautiful party or luxury event at this time. If the event is for work, it looks very likely that you will receive a hefty fee for your contribution. Travel is possible too, so you may have to travel quite a distance to attend, and you would be most likely to go by air. June 18 will be your favorite day of the month, so schedule something important to look forward to doing!
In this up and down month, money may become a temporary but pressing concern near June 24, when a surprise bill may show up, or when you get news that an anticipated check will be delayed or not arrive at all - it might be the venture capital or loan you expected. This day brings Mars opposite Uranus, a very hot aspect that tends to cause a nerve jangling response.
However, there is another way this aspect can work out on June 24 (plus or minus one day), and that is if you are ready to walk away from a money pit situation that has been draining you financially for some time. This is a less likely manifestation than the first one I mentioned above, but the unexpected, nontraditional, and somewhat sudden solution is possible. Mars opposed to Uranus can produce impulsive actions, but when it comes to money, it might be wise to stop, look, and think before you do anything rash. After you cut the cord, you won't be able to reverse things to the original state later, but then again, that may be the whole point of leaving!
Although you will have lots to get done early in June, things will change once you get the new moon in Cancer at 6 degrees on June 27. This new moon will be strong and influential for two weeks and heat up your social life. Friends will start to play a much more dominant role in your life, and even for your career - you will be able to form brand new contacts that will help you down the road. It behooves you to buzz around at events as much as possible. You may be attending a birthday party, a graduation dinner, anniversary party, or charity benefit, and for work, an elegant trade show, launch party, or other important professional event that has been beautifully and artistically assembled. You have the option of taking a vacation, or you may stay in town and enjoy all the invitations to A-list events that your friends will send you.
Romantically, Venus will be in Taurus, an earth sign like yours, from the start of the month through June 22. Venus will bring out your charisma and magnetism, so you will find you will more easily draw others to you. With Mercury retrograde part of the time in Cancer in your friendship sector, you are likely to run into friends you've not seen in ages. If you hope to reconcile with a former love, you will have a window to do so this month, so see how you feel.
There will be a light, fun, breezy feeling to June that you haven't felt in March, April, or May - all those were serious heavy months, with many decisions to make, with an emphasis on financial ones. June's not like those pressured months, and while you'll need to refrain from major actions and decisions for a few weeks until July, like signing papers or closing on a house this month, you will get a chance to unwind.
You can resume activities July 16, but not before - a number of cosmic storms will roll in during the first week of July, so wait until mid-month to take hold of big initiations. Problems that you assumed were so stubbornly stuck in a holding pattern all year will suddenly start to show signs of thawing, and a new, brighter, more fluid situation will replace that old environment. The parade of retrograde planets that we continually were subject to in 2014 will officially end July 1. A new day is dawning!
---
Summary
You have just entered a highly exciting month, ideal for furthering your career - the best of 2014. The new moon that occurred just days prior to June, on May 28, started setting events in motion. It behooves you to send out word that you are willing to entertain offers - the one that will surface now will deserve your attention. Rather than hope the call will come, you have to be part of this energy - when you make a career contact, reinforce your qualifications and seriousness about finding a new position. Be mindful of the wardrobe you choose to wear each day - you need to look like you already have that top job and are not applying for it! Venus will be in your house of fame and reputation from June 25 to July 18, ensuring that you will make a charming, engaging impression as you move forward, and being likable is always a plus when coming in to interview.
Mars will be sweetly angled to the new moon, strong in June's first ten days, suggesting that you can raise your salary substantially. Neptune will be active too, and that's good news if you are aiming for a creative job - this position would have the power to inspire you. If you are not in a creative field, if you are working with a headhunter or job broker, your specialist may be on the wrong track about what type of job you want, and may voice opinions you do not share about what is best for you. Clarify communication - you have the right idea, so share it, and when you do, be persuasive and firm.
Mercury, your ruling planet, will retrograde from June 7 to July 1. This may slow down your interview process, but it won't halt it. Don't try to push things forward, but rather, be flexible, and allow the delays to help you. Your schedule will open up, and you will have time to address any flaws in a project that may begin to show up now. If you are interacting with people from your past, either because you are interviewing with those you know, or because you are calling for written references, those people will be especially lucky for you. Fear not, if you start your job search the minute the month begins, you will have planted your seeds at the right time.
Your home will unexpectedly take your attention at the full moon, June 12. If you are hoping to sell a house or condo, or buy one, or lease an apartment or vacation cottage, be ready to turn on a dime when your cell phone rings, and the offer you will get is likely to be surprisingly perfect. The funds you will need should appear too, as Uranus, planet of surprise, in your house of other people's money, ruling mortgage and home improvement, will be in ideal angle to the Sun and full moon. All sorts of home and family-related plans will click into place, so be ready. If you get the right deal, you may have to take it, but with Mercury retrograde, details are likely to go wrong in the eleventh hour, so go over every detail in the paperwork with a fine toothcomb to be sure there will be no errors, omissions, or oversights. Last minute problems that you'll need to fix could rattle your nerves. Of course, it would be best to sign papers in July - you decide.
In terms of money, on June 13, Mars will be at odds with Pluto, presenting a financial obstacle. Your shortfall of cash may be related to money you need for a pregnancy or a child you have now that you'd like to help. Or this aspect may trigger a disagreement with a pushy person over a creative project that will require more time and money.
On an even tougher day for money (and since April, you've had a number of hard financial days - so sorry to have to deliver this news) you may be shocked by another expense, June 24. This event, bringing you a shortfall of cash, will give you added impetus to work on your career, to find ways to take on a new job with greater responsibility, with the aim to earn more money. As you see, a tough aspect can spur you forward and actually help you succeed.
In your personal life, you have been making new friends lately, and most of them highly successful, warm people who want to help you in any way they can. Jupiter, giver of gifts and luck, is in your friendship / acquaintances sector, and will be working on your behalf by having you meet many interesting types. One dazzling day to circle in gold will be June 18 when Venus will reach out to Jupiter. This day surely deserves a big gold star on your calendar for attending an industry or social event that will help you expand your circle.
Your social life will ratchet up another notch - in a big way - at the new moon, June 27, and in the days that follow. This will offer you a still bigger chance to become acquainted with more influential people, so never leave home without business cards. This is also the time to investigate social media too, and to participate more often. Your biggest personal growth will stem from your new associations, so line up your favorite outfits and get ready to step out. If you have been toying with the idea of joining a club, whether it is a social, professional, or charitable organization, do so in early July, after Mercury has turned direct.
Considering how hard you've been working, the social interlude you will enjoy now will do you a world of good. Thanks to Mercury retrograde in Cancer, you now enjoy reconnecting with old friends, and you may find ways to integrate those friends more frequently into your life. One gathering you may be invited to shortly after June 27 is likely to have a bewitching, dream-like quality, and be quite memorable (June 28-27, due to Neptune conjunct the Sun). This party seems to be situated at the seashore or other soothing body of water. Throw your head back, swing your hips to the sound of the music, dear Virgo. The end of June will be just made for you.
---
Dates to Note: Virgo
Most important dates for love, meetings, or actions Virgo: June 1, 4, 5, 14, 17, 18, 21, 22, 27, and 28.
Mercury will retrograde June 7-July 1 in Cancer / Gemini. Mercury is your ruler, and you will feel the delays that Mercury brings. After Mercury goes direct, he will reach top speed again (and be at his best) by July 15.
Neptune will go retrograde on June 9 until November 16, and this may delay wedding and other plans for your closest relationship.
You may be seeing a culmination to a home-related project, such as a residential move, purchase / sale / rental of property, redecorating scheme, or a party you give at home near the full moon June 12. Uranus will be beautifully oriented - expect a surprisingly happy outcome. If you are concerned over a parent, something is ending now - you may see your parent recover.
Social news should be fantastic when Venus interacts with Jupiter on June 18. This is a four-star day, perfect for having dinner with friends or attending a club or charity event. Travel will go well too, and accommodations should be luxurious.
Venus will move through your tenth house of honors, awards, achievement, and fame from June 23 to July 18. You will be extra-popular with VIPs.
Mars will taunt Uranus on June 24, a very difficult day for finances. If you need to purchase or invest, or negotiate a deal, wait a few days to get away from this aspect, which is very hot and inflammatory.
The new moon, June 27, will be sensational for opening up to new friendships and fun. This new moon is in ideal angle to inspirational Neptune. Pluto, however, is in hard angle to the new moon, so a lover or child may be very hard to deal with at the time. Don't lock horns - use finesse.
P.S. for June 2014
The Year Ahead 2014 Astrological Calendar
By Susan Miller
My Year Ahead 2014 collectible calendar is now $9.99 (at a 45% discount, from original price $17.99) plus shipping, any applicable tax
Calendars are used to mark time, but have you ever had a calendar that helped you use your time productively? My new Year Ahead 2014 Calendar can do just that. I write every word myself in this stunning calendar with original fine art by socialite, author, and fine artist Gloria Vanderbilt, mother of newsman Anderson Cooper, and great grandchild of railroad entrepreneur Cornelius Vanderbilt. (Grand Central Station was originally her great grandfather's business headquarters.)
Gloria Vanderbilt, now almost 90 years young, licensed the reproduction rights to her critically acclaimed artwork to Susan Miller who self-published her calendar. The inks are rich, the paper heavy, glossy, and snow white, allowing Gloria's paintings to jump off the page. Each month, from January 2014 though the extra bonus month, January 2015, is found an inspirational quote from Gloria, centering on her philosophy of living life fully and creatively. With fourteen of Gloria's paintings, this calendar will soon become a collector's edition and will not be reprinted when stocks are gone.
Aside from having happy, vibrant art to look at all year, The Year Ahead 2014 calendar has many other uses, unlike any you have had in a calendar before. On every important day of each month I list the aspect and what it means, in easy to understand laymen's language. This means the next time you are about to make an important appointment, and the VIP asks you, "Do you want to come in Monday or Thursday?" you can say you will consult your calendar and know immediately the day to choose.
In a year like 2014, where sparkling aspects will stand side by side difficult ones, this calendar will not be a luxury but a necessity.
Also included in the calendar are:
- All the start and end dates of the retrograde planets in 2014,
- Detailed discussion of the new and full moons (new!)
- The date when planets move into new signs (and how long they will be in that sign), all listed on the same day entry
- The planetary aspects of the four eclipses due in 2014, and explanation of what each eclipse will bring.
No more surprises! Be in the know about upcoming events, so that you can plan your biggest initiations. This calendar is a "must" to keep with you all year, and is available here, from Susan's publisher, but not in bookstores or other retailers. Get it now, while you can: $9.99 plus tax and shipping. We ship to all nations of the world: http://bit.ly/186zM0i
---
A New Service: WiFive.us
Don't we all love a bargain?
We all want to know about the deals being offered nearby in our neighborhoods to save money. I found a way when a brilliant entrepreneur, Luis Sanchez, came to see me to show me he had developed a way of seeing all the various deal-of the-day websites that are featuring discounts on food, entertainment, boutiques, and other establishments, all in one click. Traveling? All you need to do is enter the zip code of your new neighborhood as you travel each day and you can see the deals that may be just across the street from your hotel.
The company is called Wifive.us and is ready to use today. It is a New York-based startup with a location-based search engine that gives you access to thousands of local online deals in a single site.
For now, Wifive.us is only available in the United States. It covers most of the deals and services you would see from various sources (Groupon, Amazon, Google deals, and so forth) all at once, so you don't have to go from site to site to find a deal that appeals to you, as Luis would humorously say, "until your head hurts." There is no registration necessary, and no useless emails to stuff your inbox each day.
Just type your address or ZIP code and get the deals you want when you want them. You pull in your information, which is far better than having many emails pushed to you. Try it and like the service on Facebook!
A word about the web address of WiFive.us
You may be wondering, what exactly is .US?
You might have thought the domain ending .us would only be only for government agencies and schools, but since 2002, individuals, businesses, churches, and non-profits have adopted .US web addresses to make their mark on the Internet. The .US is a new domain ending.
Just remember the name of the new service that no doubt you will be using quite a bit: pronounced as "wi-five-dot-us" otherwise seen as: http://www.wifive.us
---
Goodbye to My Former iPhone App on November 12, 2013
Hello to My New One:
"Susan Miller's AstrologyZone Daily Horoscope FREE!"
Download today!
Now that my former app, Astrology Zone Premier, will no longer be supported for iPhone, you might want to download my free version of "Susan Miller's AstrologyZone Daily Horoscope FREE!" for iPhone today. (A search for Susan Miller or Astrology Zone should bring the app up immediately.)
My former app, Astrology Zone Premier will not automatically change over to the new free app, so you will have to download my new app. Once you have it, you can decide if you would like to upgrade to the version you've come to know and love by looking inside the app and signing up for a subscription inside the app. If you should have to reload and reinstall your app, you will not lose your subscription as long at you responded to Apple's dialog box asking you to register your purchase immediately. If you don't register, if you lose your phone or need to reinstall your app, you won't be able to do so. Be sure to register your app!
If you have any questions or need help, you can write to Jennifer@Phunware.com and engineer Jennifer will be happy to help you.
---
ANDROID AND SAMSUNG USERS
Astrology Zone Premier App is Still Available for You
Android and Samsung users have Astrology Zone Premier to enjoy a little longer. We are writing NEW code for your Android and Samsung cell phones, and making an app similar to the one for iPhone, with some cool features just for your phone.
---
Live Overseas? Or, don't have an iPhone, Android, or Samsung Galaxy?
Get all 12 of my daily horoscopes each day by email or pick yours up each day on special password-protected site.
To plan ahead, receive several daily horoscopes in advance!
By subscribing to DailyAstrologyZone you will receive a week of horoscopes inside your cell phone and / or computer. This means if you have a BlackBerry or feature flip phone, you can still get my daily horoscopes as long as your device accepts email. You will also have the option of accessing your daily horoscopes from a website online, from anywhere, any time, through a password-protected site for members only, or receiving all 12 signs my email each day.
For more information: http://www.dailyastrologyzone.com
---
MY PERSONAL CUSTOM HOROSCOPE BOOKS
WRITTEN BY SUSAN MILLER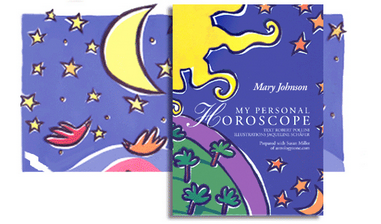 Looking for unique gifts for the summer months? - Choose from My Personal Horoscope for Adults or for Babies, or for a Relationship, the Two of Us.
Have an entire book written by Susan Miller, which runs approximately 65 pages, about your natal horoscope. Get to know your rising sign (also called the ascendant) as well as the placement of each of your planets, and what it all means. Susan's natal chart for babies centers on the talents and gifts of the little child. Order today and you will have your book within two-and-a-half weeks.
Two weeks on average from order receipt to delivery to any US destinations. One week longer elsewhere.
Also PDF option available for destinations overseas where delivery tracking of printed books is prohibitively expensive.
My Personal Horoscope Custom Natal Chart Book $49.99 plus shipping / tax
For more information call Susan's publisher, Arthur Heydendael 914.271.3640 ext 14 or click here:
http://www.americadirectbook.com/Customized_Books
To view a forecast, select a sign from the menu below and click on Go.