SUSAN MILLER'S APPEARANCES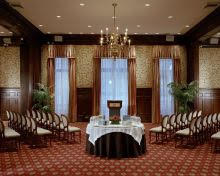 Announcing Susan Miller's All-Day Talk
New York City (Manhattan) at 60th & Fifth Avenue
Saturday, February 20, 2016
The Year Ahead 2016
Time:
10:00 AM to 4:00 PM, with 2 hours for lunch. Check in starts at 9:00 AM.
Where:
The Harmonie Club -- Private Club
The Harmonie Room
4 East 60th Street at Fifth Avenue
New York NY 10022
Front Desk: 212-355-7400
Dress code: Ladies should wear business casual, including elegant trousers or pants with a blouse, pretty sweater, and cardigan or daytime dress. Gentlemen will wear a pressed shirt and trousers, and jacket or cardigan. No tie is required. Please no jeans, for either gender.
Tickets: $99.00 per person
The Harmonie Club is one of New York's oldest and most prestigious private clubs. Sanford White designed the building where the Club is housed -- it was the last structure Mr. White designed before his untimely death. The Club is found one block from the 24/7 Apple Store on Fifth Avenue, The Plaza Hotel, and Bergdorf Goodman. You will be within three blocks of Tiffany, Louis Vuitton, Burberry, and other fine retailers.
The meals at the Club are extraordinary, and the Club's dining room is one of the most beautiful rooms of the Club. New York can be bitter cold in February, and the large skyscrapers create a wind tunnel effect, making the temperature feel colder yet. Last year we had mountains of snow in February. For this reason, we always offer a hot mid-day meal. Susan will dine in, and if you decide to join her at the mid-day meal, she will greet you personally. She plans to visit each table to hear some of experiences you had in 2015. If you dine in, you will feel as though you had transported in time and space and feel almost like you enjoyed a memorable meal at Downton Abbey.
* Doors open at 9:00 AM for check in.
* Please check your winter coats and jackets with the attendant in the cloak room in the lobby.
* The Harmonie Room is reachable via elevator from the lobby. Our welcome table will be on the 5th floor landing foyer and we will be there to greet you and check you in.
* My YEAR AHEAD 2016 talk will take place from 10:00 AM to 4:00 PM.
* Upon your arrival you will be invited to enjoy hot coffee, tea, or cold juices and sodas, with small croissants. These treats will be available throughout the morning at no extra charge.
* There will be two hours for lunch, starting at 12:30 PM. After lunch we have allowed plenty of time for questions that everyone can benefit from hearing. We will have many helpers and two microphones so that everyone can hear the questions that readers of every sign will ask. We ask that you present your question in a way that everyone can benefit from hearing. Every sign will be represented.
* We have room for 200 guests for the event, plus a small number for press. When all tickets are gone, we will not be having a second event. Every year we sell out, so please reserve your tickets early. This will mark the first all-day event Susan will host since 2013.
* If for any reason you discover that you cannot attend, please let us know immediately. We will give you a full refund if you call us by Friday, February 12 at 5:00 PM EST. Dinner tickets will also be refunded if you notify us by the same deadline. We regret we cannot offer refunds after that date. If we are sold out and another reader would like to buy your ticket(s), we will make every effort to put you both together.
* Seating is open, so there are no pre-assigned seats or seat numbers. We will have a long front row for the "Twitterati" (those guests who would like to Tweet or Instagram) and also have a section of preferred seating for the mainstream press.
* If you are a reporter of legitimate print, Internet, or broadcast media with a wide audience and would like to cover this event, please call Arthur Heydendael at 914.271.3640 for a press pass. Please be ready to fax or scan a note about your assignment on your company letterhead including the name of your publication, a short description of the assignment, and the name of your assignment editor.
* You can opt to make a reservation for a three-course plated sit-down mid-day dinner at the Club on the 2nd floor with Susan. We anticipate having tables that seat ten each. Typically 100 guests opt to stay in. We can accommodate more, so do call if you are interested: 914.271.3640.
* The cost for a dinner ticket is $80.00 per person, all inclusive (including tips). After you are seated in the ornate dining room, you will be presented with a la carte menu that will offer you a choice of fish, chicken, or a vegetarian dish.
Are you excited yet? I hope so! I surely am! See you Saturday, February 20, at 9:00 AM at our welcome table!
If you want to come to New York and need help from us finding affordable accommodations in a good neighborhood, please let us know.
Best wishes,
Susan Miller
PS -- Please direct any further inquiries to my event organizer:
Arthur Heydendael
Susan Miller's Publisher of My Personal Horoscope and Year Ahead Book/Calendars
America Direct Book - Custom Publishing
Voice: 914-271-3640 ext.11
Fax: 914-271-3641
Email: arthur@americadirectbook.com
More info: https://www.americadirectbook.com/Susan_Miller_Seminar_New_York_City_2016/a>