Last month I gave the direction to end service on my first app on the iTunes Apple Store, Astrology Zone Premier, which I had started in 2003. We had upgraded that app many times but now, with all the upgrades to Apple's phones, new code was necessary. Many readers wrote to me on Twitter, saying "My app is not working. It seems broken." Those readers missed the posts that I had posted here and in social media, that Astrology Zone Premier ended on November 13, 2013. If you have an iPhone, it's time to download my new app, "Susan Miller's AstrologyZone Daily Horoscope FREE!" It is a free app with the option of subscribing to my longer content for less than a dollar a week. I have explained all in my letter to you, so please see this: http://bit.ly/1bd65B4 and also the FAQ I wrote for you: http://bit.ly/1bd65B4

There was a bug with the new app's subscription for one month, which we found because you were so kind to write and tell me. Phunware instantly jumped on that and was working on that fix last Friday.

Any questions about billing or technical advice, write to my app developer engineer: Jennifer@Phunware.com

Readers on Android or Samsung Galaxy can continue to use their version of Astrology Zone Premier (different code) for the time being. Readers living overseas or with ANY type of phone may subscribe to the same daily horoscopes as on iPhone by getting all 12 'scopes sent to your email in your cell phone and/or computer by going to http://www.DailyAstrologyzone.com. Thank you, readers!
Cancer Horoscope for December 2013
By Susan Miller
Dear Cancer, is getting your body into top condition a priority in the coming year? If so, do not wait until January to start working on your New Year's resolution. The new moon THIS month, December 2 in Sagittarius (11 degrees), is the one that can help you. You are busy at this time of the year, so all you have to do is sign up with a gym now and begin working out a little - 30 minutes will do. I need you to plant the seed now, if only on a small level. In astrology, when you choose to make the first initiation is what matters most.
This new moon, December 2, will open a window of opportunity that will be open for two weeks, but that will be strongest during the first week of December. That's when you will need to make your initiation. The way new moons work is that they allow you to initiate a goal related to the part of the chart in which they fall. (For you this month, your sixth house will be lit up and is considered the house of health and fitness, among other things.)
New moons start out strong and then gradually lose power with each passing day, until, like a balloon losing a little air each day, until it is no longer able to fly. This means you need to start as close as possible to the days that FOLLOW December 2.
Do make an appointment to have your annual medical evaluations done to be sure your body is ready for exercise, and to hear what else your doctor suggests you do to stay in top health. We have many planets entering Capricorn next month, ruling the teeth, so you might want to make your appointment for a dental checkup as well.
The same new moon, December 2, will help bring you more work, and if self-employed, more business. Your goods or services will be in high demand, and this will keep up all month. You might work in a seasonal business, where you get very busy at holiday time as the rest of the world prepares to settle down. If you have been out of work, this new moon, falling in your solar sixth house, can be very effective in helping you get work that is on the same level that you had before you were out of work.
If you want freelance work rather than a full time job, or a side project to supplement your regular income, then this new moon will be ideal for you. These kinds of assignments will come to you now, often like lightning bolts out of the blue, if you begin to search for one.
I am enthusiastic about this particular new moon, December 2, because Uranus, planet of unexpected events, will be so sweetly aligned to it. Because Uranus is touring your career house, your career AND your financial picture may improve very suddenly. You may get a generous commission check or bonus now too.
You will get even more evidence of your mounting professional success in your career in the days that the surround the date when Uranus turns direct on December 17. Uranus has been retrograde since July 17, and when it turns forward this month, Uranus will switch on all the lights in your career, as bright as lights in Times Square. All the work you had put in this year will begin to pay off after December 17. Watch to see clues that you've been on the right track the entire time in days that circle December 17. The clues are often subtle, but if you are paying attention, you will see them.
On the same day that Uranus goes direct, we have a full moon in Gemini (25 degrees) in the most hidden part of your chart, your twelfth house, December 17. This house rules secrets and talks that go on behind closed doors. If VIPs have singled you out to groom for bigger and better things, you may hear about it now. Or, if you or someone else has had a secret, that secret would come out now. Neptune will be friendly to the full moon, allowing you to be quite innovative. Uranus will bring ideas too, so you'll be a virtual fireball of ideas.
Keep your health strong, for on this full moon, December 17 (plus or minus four days), you will have a low level of energy, perhaps because you have been running yourself down. Make sure all that you eat is good for your body and do your best to get enough rest.
Speaking of ideas, I would like to draw your attention to December 12, when Jupiter, giver of gifts and luck, will receive a greeting from Saturn, planet of stability, now in your house of artistic expression and creativity (fifth house). You will find your concepts are applauded not only because they are original but also because they are practical and realistic at the same time, with strong profit potential. You seem to need a partner or collaborator to work closely with to bounce off those new ideas, and so seek one out, dear Cancer.
This same aspect of December 12 will work to stabilize your romantic life if you have been dating a special person. If you are married or seriously attached in an established relationship, and hope to give birth to a baby or adopt one soon, Jupiter and Saturn will help you see your dream come true. This aspect is rare. It occurred once this year in July, occurs now, and will come back for once more on May 24, 2014 before these two planets spin their separate ways, not to return in the same way until August 2026.
Now let's turn to Mars, the planet that has been touring your third house of quick, short travel since October 14. From now on, Mars will focus you on your home and/or one particular family member. Mars won't remain in this private, home and family-oriented part of your chart the typical six weeks but rather, nearly eight months, until July 25, 2014.
This means that you may be either thinking about moving, by leasing, buying, or selling property, or you may plan to stay put but have a home a renovation, repair, or decoration project.
There will be one other reason for you to be thinking about your home so much in coming months. It could be you have the care of an elderly relative and will need to keep a careful eye on that person, most likely a parent, for that person depends on your kind help. (Mother and father come under the same fourth house of home.)
Mars will give you energy and keep your attention razor sharp. However, Mars, being the warrior planet, will not always be kind and gentle. A case in point will be December 24-25 when Mars and Uranus will be at 180-degree odds from one another in a classic tug of war, considered a very inflammatory aspect. Here you will feel pulled very sharply between the pressures of home and career.
I suspect that you may have to roll into action to help a parent who will suddenly need you, or, in a different manifestation of Mars and Uranus, to contain a sudden family disagreement from spinning out of control. The timing of the Uranus opposition to Mars aspect is terrible, for this is a very peaceful, joyous time of the year, so I hope I am wrong and you will not need to step in. Just in case I am not wrong, I have some ideas for you.
First, when you are around family this year, keep away from controversial subjects. If another family member brings one up, come to the rescue of the person being hammered by changing the subject. Keep your schedule light so that you can go in any direction anyone needs you to go if necessary. Do not be out of town. (Read for your rising sign to find out if I see travel in your picture, but if so, travel in the first half of the month and be back no later than December 17.) It is so much harder to control events from a hotel than it would be from home.
The final week of the month brings a string of more very difficult aspects, so it seems it would be best to keep New Year's Eve plans simple.
On December 29, Uranus will be at hard angles to Mercury, and on December 30, Uranus will bring challenges to the Sun in Sagittarius, while at the same time, Mars will taunt Pluto. This all suggests to me that you'll have problems with a work project that may go off the rails at the last minute, and you will have to attend to it.
Tension continues on December 31 when Mercury will conjoin Pluto, and Mercury will be in sharp odds with Mars. Everyone will feel these jarring aspects in differing ways. The point is, it would not be a time when spending a lot of money on travel would pay off - be home. Keep an eye on your relatives at home and on changes that seem to be underway in your career. Assuming your romantic relationship is strong, spend one-on-one time with your partner, watching the snowflakes fall or enjoying a quiet dinner, just for two.
---
Summary
Your sign is considered the sign of home and family, and in coming months you will show this to be true in many ways. The new moon that arrived two months ago, October 4, started you thinking about your home and future housing needs, and about the needs of your family too. Now, with the arrival of Mars in the same quarter of your chart on December 7, to stay an unusually long time, eight months, you will be almost obsessed with home, other property, or a parental matter.
Talks or events pertaining to this part of your life may become a hot button over December 24-25, when warrior Mars will confront unpredictable, explosive Uranus. If provoked by family, you'd be best to remain diplomatic and gracious. Admittedly, there may be no way to control things without inflaming others or yourself, but you can try.
The start of the month will up business activity, and you'll need to be on your game to be sure you don't misplace an important document, piece of information or phone number. Business will be brisk in the weeks after the new moon December 2, so you'll need all hands on deck.
With a friendly beam due from Uranus, you won't expect the high level of activity that will come through your door. You may have to hire new recruits, so if you've kept a file of resumes, those will come in handy now. If you are looking for part-time or temporary work for yourself, this month will bring up lots of options.
Keep your health strong, because you will be susceptible to getting run down by the full moon, December 17. At best, by mid-month, you will need rest and privacy, so beg off social invitations at this time if you don't feel up to leaving the house.
If you are career oriented, the move of Uranus to direct mode on December 17 will become a welcome relief, for you will see your career take off in big ways from now on, in coming weeks. So much of the good work you have been doing will lead you up the ladder of success.
Still, you may feel conflicted in December and caught between the needs of those at home and the mounting demands at office. When Mars opposes Uranus on December 24-25, your two worlds, public and private, may collide. You may feel that you simply cannot take any more pressure from anyone, whether it comes from your family or VIPs. You may be building up resentment toward someone or something, and lashing out at anyone who crosses your path. Take a deep breath - all the signs of the zodiac will feel these aspects.
Choose not to travel in December's last week, for the wild energy at play may bring maddening weather delays or more conflicts with friends and family. Staying put and keeping celebrations on a small scale may be your best bet to ring in 2014. With so many planets in conflict December 29 to 31, having a dinner with the one you love in a beautiful restaurant may hit just the right note.
---
Dates to Note: Cancer
Most romantic dates, and days you can use for other things too: December 1, 2, 5, 8, 9, 12-14, 17, 19, and 22.
You may have a seasonal job, because the new moon in Sagittarius on December 2 may bring one or more substantial projects, quite out of the blue.
Good news is likely to arrive on December 3, thanks to Mercury in fine angle to Mars. It's a good day to travel or shop.
Your family or housing situation is likely to take an unusually large amount of concentration from you, after Mars goes into Libra, December 7 to July 25, 2014.
On December 9, the moon, Jupiter, and Saturn will create a golden triangle, allowing for a magical day for romance - you may make a promise.
More good news comes December 10 when Mercury sends Uranus a cheerful vibration.
When Jupiter sends Saturn a strong, supportive message on December 12, sign papers, or give your love an expensive present - a ring, perhaps?
On the full moon December 17 plus two weeks, you may hear about something that has been happening in secret, off stage.
Uranus goes direct at 9 degrees after being retro since July 17, so watch your career take off in a big way from then on.
After Venus goes retrograde, it is not the time to make any important changes to your looks. Hold off while Venus retrogrades, from December 21 until January 31, 2014.
Sadly, this will be a very hot-button day, when Mars will challenge Uranus. Sparks may fly: December 24-25. You will feel this only if Mars finds something to show you.
The hard days continue December 29, when Mercury will be at direct odds with Uranus. Sign nothing, say nothing, and go nowhere.
This day, December 30, is not much better than the day before. The Sun will be angry with Uranus, and Mars will try to block Pluto. Tension is in the air.
On December 31, Mercury conjunct Pluto and both will be in hard angle to Mars. This is no New Year's Eve to spend a lot of money.
P.S. for December 2013
SUSAN MILLER'S APPEARANCES for 2013 and Early 2014
BOCA RATON, FL
THURSDAY, DECEMBER 5, 2013
Alene Too (Boutique)
3013 Yamato Road #20
Boca Raton FL 33434
Please RSVP 561.394.0899
1:00 PM to 4:00 PM Cocktail party, at no charge
4:00 PM to 6:00 PM - My talk on "The Year Ahead 2014"
Ticket per person for talk is $75.00
---
MONDAY, DECEMBER 9, 2013
6:00 to 8:00 PM
Event done in cooperation with The Coveteur.com and Brika.com
The Free & The Brave Pop Up Shop
Paramount Hotel
235 West 46th Street
New York NY 10036-1409
Free entry - come, and we can talk!
I will sign my 2014 Calendar from 6:00 to 8:00 PM
See my gift guide here I selected from the beautiful gifts stocked by Brika.
Entire shop: http://www.brika.com/gifts/susan-miller-gift-picks
My 2014 Calendar: http://www.brika.com/susan-miller-astrological-calendar
For press inquiries, please contact Jaspre@noise784.com.
---
SUSAN MILLER'S Annual Year Ahead 2014 Talk
NEW YORK CITY, all day!
SATURDAY, JANUARY 11, 2014, 10:00 AM TO 4:00 PM!
The Year Ahead 2014
Susan will give you detailed information about the Year Ahead 2014. You will discover how you can use the coming trends to your advantage and how to prepare for any possible challenges. You will learn details of the eclipses of 2014 and about the dramatic movements of planets into new signs and how this will affect you.
If you have come to other events given by Susan Miller, you know her talks are entertaining, lively, fun, and informative. She always allows lots of time for audience questions and comments, too.
Where:
The Three West Club
3 West 51st Street (Off Fifth Avenue, next to Rockefeller Center)
New York NY 10019
(Please do not send checks or letters here.)
Date:
Saturday, January 11 from 10:00 AM to 4:00 PM, with 2 hours for lunch.
(Doors are open at 9:00 AM. Afterward you will have an opportunity to meet and speak with Susan personally for a few minutes.)
Please be prompt. Susan plans to stay on a vigorous time schedule to give you as much information as possible that day. In the morning, please plan to arrive by 9:00 AM in order to check in and get comfortably seated. Later, if you go out on your own for lunch, please return in a timely manner so we can resume promptly at 2:30 PM.
The setting of Susan's seminar will be the Three West Club in the Grand Ballroom (on the Second Floor), a beautiful space, and yet cozy, too. With traditional, antique furniture and glittering chandeliers, at times you may feel as though you wandered into the White House.
The Club is located one block from Rockefeller Plaza and Saks Fifth Avenue and across the street from St. Patrick's Cathedral. It is a choice location, with many shops and restaurants nearby to sample at lunchtime or after the event. The middle of January is cold in New York, so if you would rather stay inside for lunch, you can opt to enjoy a 2-hour lunch with Susan and some of the other attendees on the Club premises. You must reserve your choices for lunch by January 6 so that the Club chef can prepare your meal for you.
The cost for the lunch will be an extra $65.00 including tax and gratuity. We do not make a profit on the lunch, but we provide this to you as an option because few want to go outside on a cold January day. The club lunch is delicious, and Susan will come from table to table to sit with you.
Menu items:
Entrees - Choice of:

Roasted Chicken Breast

Vegetarian Wellington

Caesar Salad
Cheesecake and Coffee or Tea
Cost of Event:
$ 99.00 per person if purchased on or before January 6, 2014
$110.00 per person if purchased on or before January 9, 2014
$125.00 per person if purchased any time after January 9, 2014 or at the door
Optional: As said above, you may also opt to attend the special catered lunch from 12:30 to 2:30 PM. Cost: $65 extra per person with gratuity and taxes included. Please let us know your menu choices at the time you book your ticket and prior to January 6 as the club chef needs to prepare for your mid-day dinner.
Order your tickets now before we sell out! This makes a lovely holiday gift for someone you love, especially if you come, too.
Please note: We cannot guarantee last minute admittance, for the Grand Ballroom will only hold up to 160 persons. The room was chosen for its acoustics, elegance, intimacy, and warmth.
If you decide spontaneously to come, please call us on Friday, January 10, to be sure we have room. We might, so please call! For information, please email Arthur Heydendael at arthur@americadirectbook.com or call 914-271-3640 ext. 12.
Are you coming from out of town?
New York City is a busy place and there are always other events going on at the same time. We urge you to book your flight and hotel accommodations early. If you have trouble finding affordable accommodations, we will try to help you. The Three West Club does have comfortable rooms at reasonable prices for the location but they go fast. After you have done your travel research, if you need help from us, email Arthur Heydendael at arthur@americadirectbook.com or call 914-271-3640. Ext 12.
Members of the Press:
If you are a member of the legitimate press and plan to cover this event for the media or would like to interview Susan either before or after the day of the event, we will accommodate your request. We will provide you with a ticket to the seminar at no charge. You will be welcome to join us for lunch at the regular cost.
Please fax us a photocopy of your credentials along with a letter, on company letterhead, telling us briefly about the scope of your assignment, co-signed by your editor or producer. Please include any special requirements you may have so we can prepare for your arrival. Please fax your letter to: 914-271-3641.
If you need a biography of Susan, a press kit, or have questions, please call Edward Rubinstein, Internal Press Director for Susan Miller, at 917-783-2131.
You may also email Edward with questions at press@astrologyzone.com.
BLOGGERS, WEB PUBLISHERS, AND TWITTERATI
Bloggers and Web Publishers: If you are a blogger with a website with a healthy following, we will also give you a ticket at half price. Please email Edward Rubinstein at press@astrologyzone.com with your request to cover Susan's event. Please include a correct link(s) to your blog(s). We ask that you send us any article you write about the event afterward, please.
Twitterati: If you are on Twitter and you plan to tweet about Susan's event during the event and afterward, and you also have a following of 15,000 or more, please contact Arthur Heydendael at 914-271-3640, Ext 11 for a half-price ticket.
---
SATURDAY, FEBRUARY 8, 2014, NOON TO 1:45
LOS ANGELES, CA
LAX Hilton Hotel
"The Year Ahead 2014" Keynote Speaker, Susan Miller
Conscious Life Expo
LAX Hilton Hotel
Located at the Los Angeles LAX Airport
5711 Century Boulevard
Los Angeles CA 90045
An illuminating 3-day expo that will feature over 100 transformational lectures, panels, and workshops to promote healthy living from February 7 to 9, 2014. Stay tuned for more details.
For tickets and information: www.consciouslifeexpo.com
Ticket price: $50 each, to enter the Expo on Saturday, February 8 (with access to a full range of events all day) including your seat to hear Susan Miller's keynote address on the Year Ahead 2014.
---
Happy Birthday Astrology Zone!
18 Years on the Internet!
Since December 14, 1995
This is a particularly exciting anniversary for Astrology Zone for this month Astrology Zone comes of age. It is hard to believe how far the Internet has come since the day my site first debuted on Time Warner's Pathfinder website in 1995. The Internet was new, and most sites were in black and white. There were The Onion and The Well websites, AOL.com, Match.com and a few others, but there were not many commercial sites yet. On TV, when I would make an appearance, for years I was not allowed to mention my site's URL because the producers would tell me no one knows what a URL is yet.
It was exciting. None of us knew how things would develop, but each of us who started back then were eager to be part of the caravan of covered wagons heading metaphorically to Silicon Valley. After three years of exclusively licensing Astrology Zone to Time Warner, I had to leave because AOL had purchased Time Warner. I then switched my exclusive license of Astrology Zone to The Walt Disney Company, from March 27, 1999 until September 10, 2001. At that time, I moved Astrology Zone to my own servers and hired my own team. After six years on the Internet, it was time to become independent.
I had learned a lot from the time I had spent with Time Warner and The Walt Disney Company. I have always owned my site 100 percent and preferred to bootstrap rather than go for venture capital. All these years, I have had fun growing my dear Astrology Zone. Now, coming to my 18th anniversary on the Internet, it is time to do something special. I have a big announcement! Here it is!
Astrology Zone now has a separate website in Spanish!
This is a dream come true, as for the past ten years I have sought the right partner to work with me on this dream. I carried that dream in my pocket, hoping I would meet precisely the right investor to help me get my plan underway. I write a lot (that's the good news) and I write a lot (that's the bad news, especially when you have to translate those words). I hoped to find someone who came from South America and who spoke Spanish as a native language. All my dreams came true when, at my annual event at The Three West Club, I met the ideal person to work with me. My Spanish website has been in development for a year, and throughout 2013 I had with many meetings here in New York and conference calls to the team to South America. We are ready to show you all that we have done.
Please let your Spanish speaking friends know about my new Spanish Astrology Zone site because I want to hear their feedback on Twitter @AstrologyZone and on Facebook (Susan Miller).
We will start my new Spanish version Astrology Zone on December 2, the date of the glorious new moon, which will appear in New York City at 7:22 PM. After the new moon appears, we will throw the switch! Here are the URLS:
---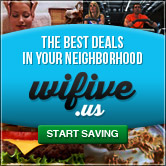 A New Service: WiFive.us
Don't we all love a bargain?
In December, when each of us are busy and shopping for gifts, we all want to know about the deals being offered nearby in our neighborhoods to save money. I found a way when a brilliant entrepreneur, Luis Sanchez, came to see me to show me he had developed a way of seeing all the various deal-of the-day websites that are featuring discounts on food, entertainment, boutiques, and other establishments, all in one click. Traveling? All you need to do is enter the zip code of your new neighborhood as you travel each day and you can see the deals that may be just across the street from your hotel.
The company is called Wifive.us and is ready to use today. It is a New York-based startup with a location-based search engine that gives you access to thousands of local online deals in a single site.
For now, Wifive.us is only available in the United States. It covers most of deals services you would see from various sources, (Groupon, Amazon, Google deals, and so forth), all at once, so you don't have to go from site to site to find a deal that appeals to you, as Luis would humorously say, "until your head hurts." There is no registration necessary, and no useless emails to stuff your inbox each day.
Just type your address or ZIP code and get the deals you want when you want them. You pull in your information, which is far better than having many emails pushed to you. Try it and like the service on Facebook!
A word about the web address of Wifive.us
You may be wondering, what exactly is .US?
You might have thought the domain ending .us would only be only for government agencies and schools, but since 2002, individuals, businesses, churches, and non-profits have adopted .us web addresses to make their mark on the Internet. The .US is a new domain ending.
Just remember the name of the new service that no doubt you will be using quite a bit: pronounced as "wi-five-dot-us" otherwise seen as:
---
Bonus! Best gift for ANY sign, for under than $20!
The Year Ahead 2014 Astrological Calendar By Susan Miller
Calendars are used to mark time, but have you ever had a calendar that helped you use your time productively? Search no more - Susan Miller's The Year Ahead 2014 Calendar can do just that. Susan has built up a buzz on the Web due to her accurate advice for when to launch ventures and when to hold back. She writes every word herself in this stunning calendar with original fine art by socialite, author, and fine artist Gloria Vanderbilt, mother of newsman Anderson Cooper, and great grandchild of railroad entrepreneur Cornelius Vanderbilt. (Grand Central Station was originally her great grandfather's business headquarters.)
Gloria Vanderbilt, now almost 90 years young, licensed the reproduction rights to her critically acclaimed artwork to Susan Miller who self-published her calendar. The inks are rich, the paper heavy, glossy, and snow white, allowing Gloria's paintings to jump off the page. Each month, from January 2014 though the extra bonus month, January 2015, is found an inspirational quote from Gloria, centering on her philosophy of living life fully and creatively. With fourteen of Gloria's paintings, this calendar will soon become a collector's edition and will not be reprinted when stocks are gone.
Aside from having happy, vibrant art to look at all year, The Year Ahead 2014 calendar has many other uses, unlike any you have had in a calendar before. On every important day of each month Susan lists the aspect and what it means, in easy to understand laymen's language. This means the next time you are about to make an important appointment, and the VIP asks you, "Do you want to come in Monday or Thursday?" you can say you will consult your calendar, and know immediately the day to choose.
In a year like 2014, where sparkling aspects will stand side by side difficult ones, this calendar will not be a luxury but a necessity. Susan Miller enthusiasts will treasure this gift, and friends who have never heard of Susan will become fans quickly too.
Also included in the calendar are:
- All the start and end dates of the retrograde planets in 2014,
- Detailed discussion of the new and full moons (new!)
- The date when planets move into new signs (and how long they will be in that sign), all listed on the same day entry.
- You will also have all the planetary aspects of the four eclipses due in 2014, and explanation of what each eclipse will bring.
Be in the know about when to plan your biggest initiations. This is a "must" on any list and is available here, from Susan's publisher, but not in bookstores or other retailers. Get it now, while you can: $17.99 plus tax and shipping.
---
An Important Announcement to iPhone Users from Susan Miller:
Goodbye to My Former iPhone App on November 12, Hello to My New One:
"Susan Miller's AstrologyZone Daily Horoscope FREE!"
This month, I am ending my Astrology Zone Premier App, which was initially developed in 2003 and upgraded in 2005. I am replacing it with my new iPhone app, "Susan Miller's AstrologyZone Daily Horoscope FREE!" now available from the Apple App Store. Many of you have already downloaded it and have given me very positive reviews. Thank you!
We had announced the end of Astrology Zone Premier in September's Astrology Zone, but I realized that may people do not see Twitter and Facebook and may have missed my posts. I asked Phunware to continue to support Astrology Zone Premier through the difficult-for-many month of October, so that I would be with you, offering inspiration to you during that time. This extra time would allow everyone who has an iPhone a chance to download my new app and subscribe so that they would not experience any interruption of service.
If you purchased "Astrology Zone Premier" for your iPhone sometime from 2003 to early 2013, that app will now be retired on November 12. We quietly removed "Astrology Zone Premier" from Apple's App Store months ago, in anticipation of this changeover. My original, older app has not been available for purchase for the iPhone for months, to make sure no one would buy that older app, only to hear it was being discontinued.
The good news is that Astrology Zone Premier is being replaced with my newer and more robust app, "Susan Miller's AstrologyZone Daily Horoscope FREE!" currently available from the Apple App Store. It will work on many versions of the iPhone (including version 7.02) and most versions of the iPad. You can download it for free. Simply search "Susan Miller" in the Apple App Store to find it.
If you have grown fond of my former app with my long daily forecasts and are sorry to see that app go, you can still get the same high quality long, daily forecasts as you always did at a low subscription fee. You will have a choice of what length of time a subscription you would like to buy.
You can choose the yearly option of $49.99, which works out to be less than $1.00 a week - less than the price of a cup of coffee. Some readers may opt for three months for only $12.99. You will find a list of options.
No Advertising, Ever, on Upgraded Subscriber Version of my New App
Many of you asked that I not run advertising on your app, and I agree with your thinking - if you subscribe, you will never see ads. However, advertising will continue to run on the free version of my app, "Susan Miller's AstrologyZone Daily Horoscope FREE!" to help support it.
Menu of Costs to Subscribe - Chose the Subscription Best for YOU.
If you choose to upgrade to my subscription version, which you can do inside the free app as you use it, you will find a list of fees. All fees are stated in US currency.
My New App is Chock Full of Information You Need to Plan
Get 425,000 Words a Year of Daily Horoscopes for All 12 signs!
If you subscribe, you will continue to get my typical 425,000 words a year for your robust daily horoscope, prepared with love, by me, fresh every day. Many readers are surprised that I publish so much text on my cell phone app, but indeed, that's the word count for a year's worth of daily horoscopes for all 12 signs, the equivalent of ten books! You won't be limited to one sign when you get my app - free or by subscription - you can always easily read for your Sun sign, rising sign, and any of the 12 signs of friends and family each day by going to the app's front screen.
Sunday's (Subscribed) Long Forecast is Always for the Week Ahead
In terms of the daily horoscopes I write, when I write each Sunday's forecast, I look at the entire week ahead, not just the day, as has been the custom in published horoscopes in the US. Make sure you read your Sunday horoscope, for those forecasts are extra long and comprise much information to help you plan your week.
Extra Content Like Important Dates You'll Love
That nearly half-million word count does not include the many extras you will get by upgrading as well. You will ALSO get the evergreen content I write (content that describes your personality) on the app - such as the wildly popular Matchmaker Guide that is 65,000 words. Evergreen articles are informational and never go out of date.
See "Important Dates" (far left on the menu bar in the lifestyle section) to check dates for your current month and beyond before you schedule any key appointments, interviews, or presentations. You will know your best days at a glance. That section took me five months to write for you. I feel you will love it.
Little Alerts From Me, Daily
Also, each day you will get a reminder alert from me that appears on the face of your iPhone, saying, among other things, that your daily horoscope is ready for you to read. Many people tell us they love getting that little message from me each morning. If you prefer to turn the alerts off, you can do so in your iPhone settings.
Read My MONTHLY Astrology Zone report that you have come to read on the Internet on both versions of my App:
Free or Upgraded by Subscription
You have told me that you enjoy reading the AstrologyZone.com monthly horoscopes that I post on the Internet at the start of every month. You told us you want to have my long monthly Astrology Zone forecast on your iPhone, too. You will continue to be able to see your report on your app, on both the free and upgraded versions. Every iPhone user will have my monthly Astrology Zone report in his or her pocket to refer to as the month progresses.
If you have my new FREE version of my app and like it, as is, and you don't mind the occasional ads you see, you need do nothing - you will continue to receive my short daily forecasts for all 12 signs each day, seven days a week. They are my bits of chocolate that I prepare for you. As said, paid subscription or not, you will also still be able to read my monthly AstrologyZone.com forecast on your iPhone.
If you want more daily horoscope information, then you will enjoy my advertising-free long daily horoscopes (75 to 80 words per sign per day, and often longer) for the low cost of $12.99 for three months on your iPhone, as one example.
New Social Media Features on My App
We have added new features to my new app that we feel you'll enjoy. On my new iPhone app, you will be able to go directly to my Twitter account from your iPhone, where you will find me posting notes nearly every day @AstrologyZone. You can also go directly to my Facebook page from my app. (To find either social media account, look for the blue star on top of the screen in your app.) We plan to add other new features in the second version of my app - we have lots of ideas!
Android and Samsung Users: A Heads Up On What's Coming
If you are an Android or Samsung user, for the time being you will still be able to use the app you have now, "Astrology Zone Premier," which is completely compliant with your Android or Samsung cell phone. We are currently writing code for the new FREE version for these phones, and that app will be identical to the one that iPhone users have now. That changeover will occur within a few months, so please stay tuned. When it does, my former, older app, "Astrology Zone Premier," for Android and Samsung will eventually be retired, too. You will be informed in advance.
If you DO NOT have an iPhone, Android, or Samsung smart phone, you can still get my daily horoscopes to your E-Mail on Daily Astrology Zone!
You can get the identical horoscopes I write for iPhone, Android, and Samsung Galaxy cell phones - for all 12 signs each day (just as you can on my app) - sent to you by email daily. My forecasts are long - 75 to 100 words each day - and would be readable on your computer, tablet, or any cell phone by subscribing to Daily AstrologyZone. For more information, and a sample, go to www.DailyAstrologyZone.com
Ending My Former App Took Courage, But Allowed Me to Continue to Give You Premium Content
It was a hard decision to end Astrology Zone Premier, but my choices were limited: 1) Close down my former app and do not offer an app anymore, because costs to maintain it were growing; 2) Lower my quality of the forecasts (never an option I ever considered); 3) Continue to give you the very best in premium horoscope content that I write, and for that, charge a reasonable subscription fee. After reading your comments and critical reviews of my new app in Apple's App Store, and seeing that your reviews were so positive, I chose to go the subscription route.
I hope you will continue to support my app, as the funds you send help me to keep my website AstrologyZone.com free for one and all. For those who can't afford to subscribe to my new iPhone app (or for any other reason choose not to get a subscription), you will still get my other, short, free forecast for 365 days a year.
My App Made Top Ten Subscription Apps in ITunes under Lifestyle
My new app, "Susan Miller's AstrologyZone Daily Horoscope FREE!" ranked #1 of most popular app in the Apple App Store under LIFESTYLE on September 9. (These ranks change daily - often hourly!) Your level of enthusiasm gave me the courage to let go of my old app and ask Phunware to write code for an entirely new app.
In Summary
To sum up, Astrology Zone Premier will no longer be supported starting November 12, so you might want to download my free version of "Susan Miller's AstrologyZone Daily Horoscope FREE!" today. (Searching simply for "Susan Miller" should bring it up immediately.)
Your present app, Astrology Zone Premier will not automatically change over to the new free app, so you will have to download it. Once you have it, you can decide soon if you would like to upgrade to the version you've come to know and love by looking inside the app and buying the subscription inside the app. If you do so soon, you will avoid any disruption in service. If you should have to reload and reinstall your app, you will not lose your subscription.
If you have any questions or need help, you can write to Jennifer@Phunware.com and Jennifer will be happy to help you.
To view a forecast, select a sign from the menu below and click on Go.