Your Monthly Forecast
All the latest monthly forecasts, organized by sign.
Age of Aquarius
Susan Miller's astrological predictions for a new century.
Current Trends
Find out the planetary trends that might be influencing you today.
---
Gemini (May 21 - June 20)
Your February Horoscope by Susan Miller
This is such a special month for you that you may find yourself singing in the shower and showing a bounce to your step. Welcome to February, one of the very best months of 2016. The biggest events that occur in any month almost always revolve around the new and full moons. Some months, one or the other - or both - are not friendly. This month both the new and full moon will be filled with goodies. Before you ever get to the new moon, you will have two special days to circle in gold. Let's talk about those first.

February 3 brings a lovely interplay between the Sun and Saturn. This would be a great day to talk with your partner in love or a client or one-on-one partner in business, for you are likely to find accord. This would also be the day to sign a contract that you hope will be in place a very long time. Last month I advised you not to sign contracts, but Mercury is now direct, so you don't have to be concerned about that anymore. Mercury is your ruler, and finances may have brought some surprises, but this month is far better, so you will soon be able to...
To view a forecast, select a sign from the menu below and click on Go.
---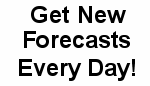 Click here to get your daily forecast
direct to your email or PC.

Hosted by: