Your Monthly Forecast
All the latest monthly forecasts, organized by sign.
Age of Aquarius
Susan Miller's astrological predictions for a new century.
Current Trends
Find out the planetary trends that might be influencing you today.
---
Gemini (May 21 - June 20)
Your July Horoscope by Susan Miller
It is time to ask for a raise. If you are self-employed, gradually raise your rates this month to see the response - chances are your adoring public will be willing to pay. On July 4, you will have the new moon in Cancer, 13 degrees. Filling your house of earned income, along with that new moon, will be the Sun, Venus, and Mercury. That is a great deal of planetary power focused in one part of the chart, and that should give you heart to take a step forward. Do so just after the new moon arrives, July 4, not before - you will have ten days in which to act. I love that Jupiter, giver of gifts and luck, will be in ideal angle to this new moon, suggesting you can get that increase, for when Jupiter is involved, profit and money are usually always around the next corner.

I love that Mars is also in an ideal position, and Mars is located in your workaday sixth house, the place in the chart that covers assignments and projects that you will be asked to do, or that you create yourself. In your case, with Mars so sublimely angled in even tighter mathematical aspect than Jupiter (I am splitting hairs here), it shows that business will be brisk and money will flow, another sign that you will be surrounded with...
To view a forecast, select a sign from the menu below and click on Go.
---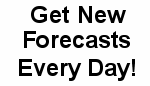 Click here to get your daily forecast
direct to your email or PC.

Hosted by: