Your Monthly Forecast
All the latest monthly forecasts, organized by sign.
Age of Aquarius
Susan Miller's astrological predictions for a new century.
Current Trends
Find out the planetary trends that might be influencing you today.
---
Leo (July 23- August 22)
Your June Horoscope by Susan Miller
All work and no play might make the Lion and Lioness a dull little creature, so it's time to kick up dust. Last month you've had your mind on career, but the universe, in its wisdom, feels it is time for you to have fun. June will start on a shaky footing however, so you may wonder if you can really enjoy life when you experience a few bumps during the first week. You are ruled by the Sun, so when the Sun makes an important aspect to another planet, you notice that conversation. Here is what I am talking about:

On June 2, taskmaster Saturn in Sagittarius in your house of love will directly oppose the Sun in your house of friendship. Saturn is cold and icy, and as a Leo, you are warm and fiery, so this incident may temporarily put a damper on your spirit. A friend or lover may make you upset by being critical of you or the person you are dating, or may do something that interprets as betrayal of you. This is a weighty aspect, and not an easy one. Every one of every sign will be feeling the heavy cloud cover that June 2 will bring, so be aware that it's not a day to present ideas to others - the person you would be talking to may be going through some sort of disappointment in their own lives too. If you launch a product or service on June 2, it is not likely to ever reach the profit potential you are anticipating. It's possible that on June 2 you will feel overworked and overtired by tasks you have to complete at home or for work. You will be super-sensitive to...
To view a forecast, select a sign from the menu below and click on Go.
---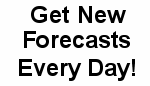 Click here to get your daily forecast
direct to your email or PC.

Hosted by: