Your Monthly Forecast
All the latest monthly forecasts, organized by sign.
Age of Aquarius
Susan Miller's astrological predictions for a new century.
Current Trends
Find out the planetary trends that might be influencing you today.
---
Leo (July 23- August 22)
Your April Horoscope by Susan Miller
You seem to have a lot going on in your chart, and all of it looks exciting. Your ninth house is brilliantly lit, and that covers some very lofty goals and interesting people you may meet this month, or very soon. The first possibility that comes to mind is you may be traveling quite a distance, possibly internationally, perhaps because you are ready to do deals overseas for your career. Leo knows the value of face-to-face meetings, so if it is at all possible this month, you will board a jet to see your clients. You have a crown of stars in your ninth house, including the Sun, conjunct Uranus (surprise), and Mercury (communication, news, contracts), so life won't be boring, that's for sure.

This same ninth house rules the courts and legal actions, so it does suggest you may be looking over certain paperwork this month to get ready to sign. Additionally, the ninth house also covers the taking in of information, such as you do when you go to the university, study, and attain an advanced degree - and also the giving out of information, as you do if you work in publishing or broadcasting on assignment. If you work in the media, no doubt something is happening and you. The distinguished professions of medicine and law are also being accented, and opportunity will open for...
To view a forecast, select a sign from the menu below and click on Go.
---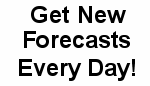 Click here to get your daily forecast
direct to your email or PC.


Fluffy Down Bedding,
Comforters and Pillows
Hosted by: