Your Monthly Forecast
All the latest monthly forecasts, organized by sign.
Age of Aquarius
Susan Miller's astrological predictions for a new century.
Current Trends
Find out the planetary trends that might be influencing you today.
---
Libra (September 23 - October 22)
Your April Horoscope by Susan Miller
As you begin the month, the Sun will fill your seventh house of marriage, a house that also covers close, committed partnerships. This happens once a year, and this year, a gaggle of planets will follow the distinguished Sun. When the Sun is six months away from your birthday, the planets are found on the Western side of your chart, so it's hard to feel the Sun's warmth - it's far away. Many people feel they have little control over events and that they have to try harder to be in agreement with the team. It is true that when several planets, including the mighty Sun, fill the seventh house, you may have to compromise on matters that usually would not require you to do so. As a Libra, however, you are not like other people. One of your greatest assets is to know how to rally others together and to find a way to bring mutual benefit in the unity you create, whether the matter pertains to personal or professional. You are a master negotiator, always looking for the fair path to the future - and you do succeed in your quest, over and over.

The new moon of April 7 in Aries, 18 degrees, will underscore partnership matters and begin on this trend. You may be about to hire someone as a one-on-one collaborator in your business or be represented by someone who can bring much to the table. A new moon in Aries indicates that you would be doing something new - pioneering into new territory, such as high tech, medicine, property development, or another field. No matter what, others seem not to have the background on this area that you do, the reason why you are confident that you should press forward and take hold of this opportunity. You seem to be right. Or, you may get engaged or wed within days of this new moon, and if it happens, it will be unexpected. If you do get engaged or wed, it will be to a self-made partner, someone who...
To view a forecast, select a sign from the menu below and click on Go.
---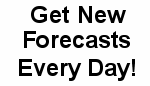 Click here to get your daily forecast
direct to your email or PC.

Hosted by: