Your Monthly Forecast
All the latest monthly forecasts, organized by sign.
Age of Aquarius
Susan Miller's astrological predictions for a new century.
Current Trends
Find out the planetary trends that might be influencing you today.
---
Libra (September 23 - October 22)
Your May Horoscope by Susan Miller
As the month opens, you will be focused on money - not the money you would earn in salary, but rather money you might need to fund a dream, such as the money for college tuition, venture capital for a business, royalties, and an advance you may be able to negotiate on a book you are about to write and publish, or concerning other large one-time payment of funds you seek. You may also be thinking about money other people owe you, such as accounts receivables for your business, or from an ex who had promised more payments but has not yet delivered yet. You may be thinking of taxes you owe or money the government owes you as a refund. Looking back over the past year to examine your financial picture will pay off in a big way this month.

Here's a case in point - May 3 - when you should be thrilled with money that flows to you. Jupiter, the planet of good fortune, now in your behind-the-scenes, confidential area of the chart will reach out to the Sun, in Taurus, in your eighth house of other people's money. This is a very powerful configuration that does not come by often. If you have any financial talks, presentations, or negotiations, or need to make an application for funds, schedule to do so on...
To view a forecast, select a sign from the menu below and click on Go.
---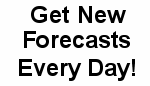 Click here to get your daily forecast
direct to your email or PC.

Hosted by: