Your Monthly Forecast
All the latest monthly forecasts, organized by sign.
Age of Aquarius
Susan Miller's astrological predictions for a new century.
Current Trends
Find out the planetary trends that might be influencing you today.
---
Libra (September 23 - October 22)
Your June Horoscope by Susan Miller
It's time to travel, dear Libra. It looks like you'll want to hop on a jet to see more of the world. With three magical heavenly bodies stacking up in your ninth house, including the new moon in Gemini, 14 degrees, the Sun, and your ruler, Venus, all in signs divinely compatible with your Libra Sun, it will hard to sit still. Your ninth house will be lit - an intellectual, probing, and adventuresome part of your chart - so you'll feel a need to breathe free, to learn new things, and to debate all that you learn with the person near you who has become your favorite sounding board, your significant other or best friend. Don't worry about your career - that will heat up in July, so by leaving town now, you'll be refreshed and relaxed by the time you are needed to make decisions at home or at work. For now, spin your compass and choose a place to go.

Admittedly, this new moon creates a box pattern called a Grand Mutable Cross, where planets will be squaring off. The Sun, new moon and Venus will be at 90 degrees to Neptune, opposing Saturn at 180 degrees, and in 90-degree conflict to Jupiter. (Jupiter, as the Great benefic, never brings affliction so we are not so concerned about Jupiter. Astrologers call this a mutable cross because all the affected planets will be in mutable signs: Gemini (The Sun, new moon, and Venus); Virgo (Jupiter); Sagittarius (Saturn), and Pisces (Neptune). Of the difficult planets involved with this deadlock of planets that all seem to be saying, "Don't ask me to do it - ask him!" Saturn will be...
To view a forecast, select a sign from the menu below and click on Go.
---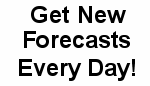 Click here to get your daily forecast
direct to your email or PC.

Hosted by: