Your Monthly Forecast
All the latest monthly forecasts, organized by sign.
Age of Aquarius
Susan Miller's astrological predictions for a new century.
Current Trends
Find out the planetary trends that might be influencing you today.
---
Scorpio (October 23 - November 21)
Your May Horoscope by Susan Miller
As a Scorpio, you guard your privacy intensely, and you also like to do things alone, on your own terms, so that you can be in full control. This month seems to show a different side to you, for with four sweet, heavenly bodies stacking up in your seventh house of partnership, you seem to be poised to make a commitment to someone dearly important to you, in love or business. I will discuss both possibilities - let's take love first. In either manifestation, the new moon will set everything in motion when it appears in Taurus 17 degrees on May 6.

The fifth house rules love, but when love grows deeper, the focus moves to the seventh house that rules promises and contracts. Marriage is, of course, a contract, although sometimes we get so focused on the beautiful, romantic elements of the relationship that we forget that marriage brings with it a legal document. That's the reason that in astrology, marriage is in the contracts sector - when two people unite and promise to stand by each other now and forever in the most...
To view a forecast, select a sign from the menu below and click on Go.
---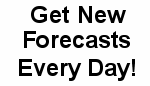 Click here to get your daily forecast
direct to your email or PC.

Hosted by: