Scorpio Horoscope for May 2013
By Susan Miller
As the month opens, a gathering of heavenly bodies in your opposite sign of Taurus is about to take place. The "guests" - the planets to this grand party in Taurus - have already arrived, including the Sun, Mars, and Mercury, and they are all awaiting the new moon solar eclipse in Taurus to set off the festivities on May 9 / May 10 (depending on your time zone). They are all meeting in your partnership sector, where all your attention will be drawn. Scorpio likes to have ultimate control, but this month that won't be possible, not with so much energy in signs opposite yours. This month, it's clear you may have come to realize that one plus one equals more than the sum of the parts - in other words, more than you could ever do staying in solo mode.
You now have Saturn in your sign, so you are taking just about everything seriously, for Saturn is urging you to stabilize you life and to develop a plan for the future. Mars is opposite Saturn, so the buildup of cosmic energy in your opposite sign seems to have you wondering if the idea of collaboration or commitment to a partner is a good one. As the month starts, you seem temporarily stopped in your tracks, because you are thinking deeply about how best to move forward, or even if you should do so. That's because Mars is all about taking action, but when opposed to Saturn, now in Scorpio, you might freeze temporarily. Mars will move on, and that feeling should pass, but there is certainly no harm in going slowly and thinking through all you need to do. From where I sit, forming a partnership seems to be the right idea, dear Scorpio, but you can know for sure.
Eclipses are very important to pay attention to, as they work differently than other aspects. Their job is to get you moving, to shake you out of complacency, and to help you find the weak links in your life, whether that will relate to an important relationship, or to certain conditions or your own assumptions. The May 9/10 eclipse will affect you if you have been dating and you hope to marry - it appears that your partner is ready to commit if you are, and you might be, too. Eclipses mark big life events you long remember and that form the structure of your life.
You just had a lunar (full moon) eclipse last month on April 25 in Scorpio 6 degrees, and if your birthday falls on October 29, you likely felt the effects of that eclipse quite directly. Saturn orbited close to that eclipse, so your mood may have been somber, or the message that came may have been weighty and serious. If your health is not good, you must see a doctor this month to keep you feeling your best, as occasionally an eclipse will show up a latent illness that you had no idea you had, and should go to a doctor for advice (only a small portion of Scorpios will feel that manifestation of the eclipse.)
That eclipse of April 25 also had you seeing yourself in a new light, from your talents and desires, and asked you to think about what would you like to do in the future. Part of the mission of an eclipse is to shift your perspective and see conditions, and your own capabilities, in a new light. Often a puzzle piece comes out of the sky, and once put into your overall puzzle, changes the whole complexion of what you know - and suddenly certain mysteries make sense. Eclipses bring a big floodlight of truth.
If you are in a relationship, you began thinking late last month about your future together, and whether you are ready now to commit. The partner you thought about, and will continue to think about this month, could be a partner from your career, say, a business partner, collaborator, writing partner, agent, or other expert you work closely with to do your job, and hopefully, to get ahead. A solar eclipse brings your career strongly into the conversation because Leo rules the Sun, and Leo is the ruler of your solar tenth house of career. It seems you do need a partner of some sort this month to get ahead professionally - a lawyer, headhunter, or other human resources expert.
You can read what I wrote about the April 25 eclipse last month. I always provide a link to the previous forecast, and you can find it below the Dates to Note and before the PS if you scroll down now.
Eclipses speed up timetables, so no matter what you had planned on previously, you may have to change that now. If you see no future, you may have left last month as a result of the April 25 eclipse, plus or minus five days. If you needed more time to think, you will likely make up your mind before May is finished. Still, if you planned to get engaged, say, next year, something may come up to make that happen much faster. Here is an example: your fiance gets a new job in a foreign country - such as London, England - and wants to marry sooner so that you both can go together. Eclipses make us make up our mind, even when we don't feel particularly ready to do so!
I like this new moon solar eclipse for you. Arriving May 9/10, in Taurus 20 degrees, it will open a door on a new era for a close, committed relationship, whether you hope to join forces for business or for personal reasons, such as marriage. Within the days that follow that eclipse, if the relationship is strong, and you feel there's a future by joining together, talk will come up concerning those serious plans. Mars, of your two rulers, will reach the same degree as the eclipse (20 degrees Taurus) on May 17, so it's a day to watch, for Mars rules action, and things may fall into place rapidly.
Pluto will be friendly to this eclipse too, and Pluto is your other ruler, so that's significant. Marriage and business relationships are serious, contractual deals, and fortunately, Pluto is in your third house of agreements and contacts - another good sign of good things to come. It's so hard to get Mars and Pluto to agree on anything, so now that you have both in sync, you really do have an excellent outlook for forming an alliance.
If you were born on November 12, plus or minus five days, you will benefit from this solar eclipse the most. Also, if you know your natal chart, see if you have a planet at 20 degrees (plus or minus five degrees) of Taurus, Virgo, or Capricorn - that planet will receive many benefits too, depending how it is situated in your chart. (It's good to keep a little diary of how events play out for you listing the planet that you had noticed would be sensitized, and how you benefited.) Next in line in the pecking order (in third place) would be a planet at 20 degrees Pisces or Cancer, for that planet will receive a beam from this eclipse, too.
An eclipse will always fall on a new moon or a full moon - two weeks apart. New moons are always (without exception) a solar eclipse, and similarly, all full moons are lunar eclipses. Full moon lunar eclipses are much more emotional than a new moon eclipse, as they bring things to a conclusion. Lunar (full moon) eclipses end things, while new moon solar eclipses like you have on May 9/10 begin things. I find solar eclipses (like May 9/10) to be exciting, and lunar eclipses, because they finalize things, sometimes make us a little sentimental.
What is the difference between a regular new or full moon and one that is eclipsed? A monthly, regular new moon or full moon would be powerful in their own right, but when eclipsed, they become much more so, with at least three times the power. Whoa! They become super strong! I have found that memorable marker dates tend to come up at eclipse time: engagements and marriage, births, promotions, the start of a new business, major surgeries, publication of an important new book, purchase of a house, the day to defend a thesis - you get the idea. Big life events, ones that become the pillars that form the very structure of your life, come at eclipse time.
As my mother, who taught me astrology, used to say, you may have wonderful aspects, but without a new or full moon to unlock its energy, it will just be lying dormant, but you won't feel it until you have a new or full moon in a significant angle to unlock its treasures. Typically there are only four eclipses in a given year, but this year we will have five - and three are happening within four weeks, now! As said earlier, you have already come through the April 25 eclipse, and now we have May 9 (or May 10) and one more - May 25. This is a month of great change and adjustment!
The May 25 full moon lunar eclipse in Sagittarius 4 degrees will bring a financial matter to a close. The house that is so strongly lit is your eighth house of income and possessions. You may get a large increase in salary or see your income stem from a new source. You may buy something important - like a house or a car you've been saving up to buy.
Jupiter rules your second house of income, and currently, Jupiter is in Gemini and touring your eighth house of other people's money. With that in mind, that other house is drawn into the conversation. If you are changing jobs, the topic of benefits will come up - a signing bonus, perhaps, or health care and vacation days. If you are in a divorce, you may settle the division of property between you and your ex. You may hear that you are getting a mortgage from a bank, or you may get an infusion of venture capital for your new business. You may receive a final payout from an insurance company, or hear the final financial decision in a court settlement.
You may pay out a sum, too, such as for back child support or a large amount of money you owe a relative, or see it come in, such as a large commission or royalty check. An inheritance may be finally settled, and a check may be dispatched to you. Eclipses tend to bring important events, so paying your regular monthly credit card bill would not fit here - it seems bigger and more important than that.
This eclipse comes in hard angle to Neptune, so if you are putting in money, say, as partners would do in a business, or in the way possessions and savings are divided in a divorce, make sure you have been given all the facts, and that all is above board. You may be left out of the loop, because someone hopes you won't find out certain facts. Neptune in this regard could mean that something is unfair, because facts and figures have been altered or hidden. Or it may be that you simply misunderstand what is being said to you.
Scorpio, as a water sign, is very intuitive and in business quite shrewd. If you feel that something is amiss, ask questions and demand to see data backup. If buying a house, you may want to ask a second engineer to check it to make sure the seller is not hiding a large expense that you overlooked and would have to cover once you own the house, as one example. I am not saying that anyone will deliberately deceive you, but with Neptune sending vibrations to your money house, confusion may happen innocently. This is just another reason you need to see all facts and go over them carefully.
On the flip side, Uranus will be very friendly and may bring a source of income to you suddenly, quite out of the blue. This would be wonderful, and seems likely, but it will be up to you to respond quickly, to take full advantage! If you are in your own business, a new client may come in, and if you work for others, you may be asked to do a freelance project on the side (as long as that is OK with your present employer).
Only two days after the eclipse, on May 27, Mercury will join with Jupiter in your house of other people's money, so that is a day you are likely to get superb financial news. That day, May 27, is the Memorial Day holiday, so most people are not working in the US. This day has a little halo around it, however, so you may hear news before the long weekend, on May 24, or just after, on May 28.
Speaking of May 28, Venus will meet with Jupiter on that day, an exceedingly rare aspect, making it divine for making a promise to your one-and-only sweetheart, or for hearing good news about money. You may win a contest, for example, or receive a beautiful, expensive gift. There are many possibilities, but the point is this: when it comes to month's end, Scorpio, you will have the Midas touch!
---
Summary
In May, your best bet will be to collaborate with others to form something bigger than what you could achieve alone, by yourself. This may mean that you are about to get engaged or married in this merry month or that you will form a business collaboration, partnership, or joint venture. In terms of business, you may alternatively hire an expert to advise you in areas that can compliment your goals. All your luck will come through the one person you align with now, so rather than consider going it alone, your planets are being clear - join forces with a person or entity, such as another company (say, if self-employed), and go into a joint venture.
There are other ways you may use this energy. You might hire a new lawyer, accountant, bookkeeper, financial advisor, agent, stylist, or publicist to help you get ahead, as a few examples. Mars will be in Taurus, and among the many planets (Venus, Mercury, and also the Sun) surrounding the new moon solar eclipse on May 9, so in the ten days following that eclipse, it will be a time of action and energy. You won't be faced with delays - both you and the other party will want to move forward. If you need to sign papers, Pluto will be your best buddy, so go ahead - sign. I always feel it is best to leave some space from the date of the eclipse, May 9/10 (depending on your time zone - most will see the eclipse May 10); leaving just a few days will do.
May 17 might be a big day for money, for it marks the date that Mars will move over the degrees of the eclipse (20 degrees Taurus), so you may form your collaboration then - or get engaged or married, plus or minus one day.
Later in the month, Venus, the ruler of your partnership house, will meet with Jupiter on May 28, and Mercury, planet of contracts, will also meet with Jupiter, May 27, giving you other special days to commit your promise by signature.
A major, full moon lunar eclipse will take place May 25, in Sagittarius, and fill your second house of earned income. This suggests the source of your income may now change, either this month or very soon, and chances are, you will earn a better salary than you have now. With Jupiter in your house of benefits, you are likely to negotiate a host of company perks, with such benefits as generous paid vacation, health insurance, a yearly bonus or generous commission rate, and possibly the key to the executive gym - you get the idea. You may change where you work, accepting a better job, or move up in a grand promotion. This is a full moon eclipse, suggesting talks you've had will come to an end now, and a final decision from you - or from the person you are dealing with - is at hand.
This eclipse will be in hard angle to Neptune, so make absolutely sure you understand the terms of the any financial offer you are presented. Neptune can bring a misunderstanding, so ask as many questions as you need to do, and study the summary of the deal points as well as the actual contract. On the plus side, Uranus, planet of surprise and genius, will send his greetings to this eclipse. A surprise assignment or project may come up and bring a sweet lump of cash, or a twist to talks may go in your favor, just when you thought you'd have to give up.
---
Dates to Note for Scorpio
Most Romantic Dates: May 4, 5, 14, 22, 23, 27, 28, 30, and 31. Add the solar eclipse May 9 plus two weeks for those serious about making a commitment.
A crown of stars or "stellium" of planets will fill your partnership sector. Scorpio loves to have full control, but that won't be possible with so many planets orbiting 180 degrees from your Sun. Sit back and enjoy letting others do things for you.
The solar eclipse of May 9/10 will open a door for you to forge an important, serious partnership, in love (for marriage) or for business. A new moon indicates a new start, and it may take weeks, months, or longer to conclude your aim.
Venus in your house of partnership from May 1 to 9 suggests your interaction with your significant other will go especially smoothly at that time.
Most people will feel the eclipse May 10. May 9 is the date the eclipse will appear in the USA, due to time zone differences.
On May 20, Pluto, your ruler, will be in conflict with Uranus. You may feel very pushed by a dominant person, but just listen rather than lose your cool.
The lunar eclipse of May 25, a powerful full moon, may conclude talk about a salary or fee for a new position or a promotion.
Your house of jointly held money will also become increasingly important too, a trend that will grow bigger in June. This house rules bank loans, college financial aid, mortgage, refinancing plans, credit cards, insurance, inheritance, and other areas outside of salary.
P.S. for May 2013
Appearances In May
Susan has two appearances in New York City in May, her first appearances since January! Susan feels so much better! Please come and say hello to Susan at one or both of the following events:
NEW YORK CITY
Thursday, May 9, 2013 - Noon to 6:00 PM
Saks Fifth Avenue
Fifth Avenue & 50th Street
New York NY
For more information, please call 212.753.4000.
Press is welcome
Susan Miller Appearance, Six Hours - Main Floor, Fragrances
On Thursday, May 9, the day of the solar eclipse, please join Susan at Saks Fifth Avenue in honor of Fragrance Week that will run in Saks through the entire week beginning the previous Sunday. Treat yourself to a new summer scent or surprise your mother with her favorite fragrance for Mother's Day.
If you spend $100 or more on fragrance, you will receive a pretty atomizer gift - in coral, blue, or clear (while supplies last) AND you will be brought to Susan to chat. Bring your questions!
---
NEW YORK CITY
An Evening with Susan Miller
Tuesday, May 21, 2013 6:30 PM to 9:30 PM (may go longer).
Meta Center
214 West 29 Street - 16th Floor
New York NY 10001
Tickets $45.00 in advance, $49.00 at the door
To order tickets: Call 914-271-3640 ext 14
http://www.americadirectbook.com/seminar
This event is closed to press to preserve as much space for attendees as possible.
"Planetary Trends and Eclipses of 2013: May through December"
By now it's clear that we are all adjusting to a new normal. The economy is gently improving, but many readers still report that things are not easy. This talk will center on the recent lunar eclipse of April 25 in Scorpio and the solar eclipse of May 9 in Taurus, as well as the three coming eclipses this year: a lunar full moon eclipse on May 25 in Sagittarius, a full moon lunar eclipse on October 18 in Aries, and new moon solar eclipse on November 3, 2013 in Scorpio. Everyone will feel these eclipses in different ways, and eclipses are always important to watch, for they bring fast moving events and often the biggest news of the year. Susan will also discuss the challenging aspects due early July and late December 2013, and the year's bright spots. She will also discuss the impending Venus and Mars retrogrades and what this means for you.
In a year like 2013, brilliant days and difficult ones lies side by side, so it will be important to plan your key initiations on the very best periods of the year. With this lecture, you will leave armed with all the information you need to strike at the right time for you. You will have lots of opportunity to interact with Susan and others in the audience - Susan's lectures are always lively and fun.
Please come to check in at 6 PM and have a little something to eat ahead of time so you won't be hungry.
This event will be in an intimate space that holds only 100 guests. All Susan's events sell out, so please reserve your space early.
If you like, send a message to Susan on her Twitter account @AstrologyZone.
---
PHILADELPHIA, PA
Saturday, August 17, 2013, 2:00 to 3:30 PM
The Doubletree Hotel on South Broad Street, Philadelphia
Susan's 75-minute Lecture: "The Year Ahead 2014"
Get a bird's eye view of the most important features and trends for the Year Ahead 2014, including a preview of the year's major eclipses in Libra (April 15), Taurus (April 29), Aries (October 8), and Scorpio (October 23). Susan is known for her detailed research, clarity of communication, and her lively, entertaining presentation style. This lecture is a "must" to prepare for 2014. Susan's lectures are interactive, so come with questions.
Link: http://www.ncgr2013.com/
Susan will speak for 75 minutes in Session 5: Saturday, August 17, 2013, from 2:00 to 3:15 PM at the NCGR Astrological Conference to take place in Philadelphia.
No previous knowledge of astrology is required to enjoy the conference, for there will be classes that attendees with little experience with astrology can enjoy. Stay for a day or the entire NCGR conference. Entrance for the full day of the conference on Saturday is $125.00
The National Council for Geo-Cosmic Research is a highly respected astrological society in the United Sates of which Susan Miller is a member.
Accommodations:
Doubletree Hotel, A Hilton Hotel
237 South Broad Street
Philadelphia, PA 19107
Hotel reservations: 214.893.1600 hotel, mention "NCGR Conference" and book a room at special NCGR conference rates. Rooms are available as long as reservations are available for the NCGR Conference that will take place from August 10-22, 2013, including pre-conference classes. (Susan speaks Saturday, August 17, 2013).
Bookings have been so heavy that by April, NCGR had to add more rooms for the conference. Don't delay! The special low-cost room rate will be available only until July 21, or until the block of reserved rooms are sold out, whichever comes first. Because Mercury will be retrograde from June 25 to July 20, we suggest you book now, far in advance of June 25, while you still can get a room.
To book, just click here:
http://www.ncgr2013.com/location/accommodations/hotel
Stay for the Saturday night Banquet Dinner, and if you like, you can dine at Susan's table: $65. (All banquet dinners are the same price, wherever you are seated.) Please hurry, as seating is very limited. When you book the dinner, ask for "Susan Miller's Table" (and also mention Joyce Levine, the NCGR official who knows about this special table.)
Questions? Contact Judy Johnson at ncgr13registrar@yahoo.com or call (630) 219-9021
---
Are You Obsessed with Mad Men?
I Analyzed the Horoscope Charts For Three

Mad Men

Characters!
Don Draper (and also Richard "Dick" Whitman)
Peggy Olson
Joan Holloway
To celebrate the debut of Mad Men's sixth season, the editors at indie pop culture magazine PAPER called on me, Susan Miller, to do the natal horoscope charts of three of the show's main characters: Don Draper, Joan Holloway, and Peggy Olson, as show writers had clearly mentioned each of these particular character's birthday in the script during the course of the five seasons of the show. I was also asked to compare two charts for Don Draper - that of his actual biological birthday (when he was born Richard "Dick" Whitman) and that of the birth date he adopted after assuming the name and identity of 'Don Draper.'
I look the information and chose a birth city and time of birth for each of the three fictional characters. I did this based on bits and pieces of information revealed about each character over the show's many seasons. (Note that I did not do the charts of the actors who played the parts in Mad Men - that would have been an entirely different article. I focused only on the three fictional characters.)
In the past, I have been called on by Hollywood to collaborate with writers in character development because astrology, with its firm structure and fascinating layers of complexity, can show clearly the intricate shadings of personality. At the same time, I can help a writer maintain the integrity of the character. Astrology can be a rich source of fascinating information about a person's makeup - this is true whether the person is fictional or real.
To be clear, the Mad Men writers did NOT call on me in advance to help in character development for the show, although as I just mentioned, I have done this for other writers not connected to this show (and whose names will remain private). This was my first time to discuss a character AFTER the character's personality had been strongly developed over time!
This was a lot of fun. I not only looked at the personality of the three Mad Men characters, but when appropriate, I looked to the future to add some of my own ideas of what might come next for each character.
Here is the link to my assessment of three stories on the PAPER Magazine website.
Don Draper/Richard Whitman:
http://www.papermag.com/2013/04/don_draper_natal_chart.php
Joan Holloway Harris:
http://www.papermag.com/2013/04/for_all_mad_men_enthusiasts.php
Peggy Olson:
http://www.papermag.com/2013/04/susan_miller_peggy_olson_natal_chart.php
I welcome your thoughts on my Twitter account @AstrologyZone.
---
My New iPhone App is FREE for you!
At long last, I can tell you my secret! I have designed a free iPhone app that you can download today.
If you have an iPhone, just go to iTunes and search for "Susan Miller" and find my new app that I did with mobile app company Phunware of Austin, TX, called:
"Susan Miller's Astrology Zone Daily Horoscope FREE!"
Each day you will get a small, concise forecast on your iPhone for free every day. Think of it as your daily bite of chocolate to keep you informed, motivate you, and keep you progressing toward your goals. You will always know the aspects, for they will be at your fingertips. I have included Astrology Zone in the app, so you can read it (or re-read it) wherever you happen to be.
I worked on the design of this app for over a year, and I am so excited to debut it today! It is Apple-approved to work with all iPhones, including the iPhone 5, so no matter which version phone you have, you can start using it immediately.
If you search "Susan Miller" on iTunes you will see my new app, Susan Miller's Astrology Zone Daily Horoscope Free! as well as my other app, Astrology Zone Premier, that costs $3.99 and that I have had since 2005.
My older app, Astrology Zone Premier, will eventually be retired, as I can no longer afford to give so many words - approximately 1,100 words a day and 430,000 words a year - in daily horoscopes plus evergreen (personality) content in the app, for a one-time cost. That app will be folded into the new app, and if you choose to subscribe at a low subscriber cost, you will have the same daily forecasts, chock full of information, that you've come to know and love since 2005.
We built my Twitter feed into the new app, so that you can easily write to me to ask questions, converse with other followers, or share news quickly and easily from your mobile phone. My name on Twitter is @AstrologyZone. You will also find a link to Facebook, to my page, if you search "SusanMillerAstrologyZone"
If you already own my other app, Astrology Zone Premier, you will have plenty of time to make the switch to my new free app (with the option of getting the subscription). On Astrology Zone Premier, you will get alerts from time to time to let you know when the app will end - but we do not plan to end anytime soon and we will continue to support the app with daily updated content. You can buy my premium Astrology Zone Premier app now for $3.99, and enjoy it for now with no worries that it will disappear suddenly.
Don't have an iPhone?
My Astrology Zone Premier app is available on Android.
Also, no matter what phone you have, you can get the same daily horoscopes that I write for the iPhone, sent directly to your email address. This way you can see your forecast in any cell phone or email box in your computer, every day. This is a perfect solution for readers overseas or for readers who have cell phones other than the iPhone. You will receive all 12 signs every day, for a low cost of $4.95 for one month or $49.95 for a full year at http://www.dailyastrologyzone.com
---
Order Astrology Zone Products For Yourself or a Friend for 2013!
Here are lots of ideas for gifts! We ship to all nations of the world. Hurry! International, please add 7-10 days.
1. The Year Ahead Astrological Calendar $11.99
Now discounted!
To order, call Arthur for more information: 914.271.3640, ext. 11
Never be caught unaware of the upcoming aspects eclipses and retrogrades.
All lovingly described by Susan Miller in her annual calendar. A must-have!
http://www.americadirectbook.com/The_Year_Ahead_2013_Calendar
2. Daily Astrology Zone Horoscopes
Delivered to your email box every day, written by Susan Miller.
All different costs depending on whether you order $4.95 for one month or $49.95 for a year.
Each horoscope is at least 75 words (often longer), and you will get all 12 signs each day to your email box. If you don't have an iPhone, these are the same forecasts. Perfect for readers with feature phones or BlackBerrys, or for readers overseas.
Copyright Susan Miller Omni Media Inc.
http://www.dailyastrologyzone.com
3. MY PERSONAL CUSTOM HOROSCOPE BOOKS
WRITTEN BY SUSAN MILLER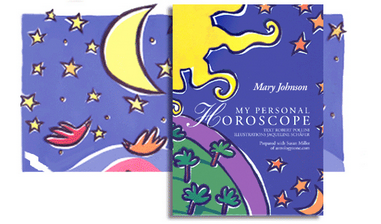 Chose among three editions:
My Personal Horoscope Custom Natal Chart Book, Adult Edition $49.99 plus shipping / tax
Have an entire book written by Susan Miller about your natal horoscope. Get to know your rising sign (also called the ascendant) as well as the placement of each of your planets, and what gifts those planets were to give you. For more information call Arthur 914.271.3640 ext 14 or click here:
https://www.americadirectbook.com/My_Personal_Horoscope_Adult_Edition
My Personal Horoscope - Baby Book - Custom Chart of the Child's Talents $49.99 plus shipping / tax
Learn about your little baby's talents and sweet proclivities with a custom book by Susan Miller. This makes a wonderful book for the parents of a newborn or small child. For more information call Arthur 914.271.3640 ext 14 or click here:
https://www.americadirectbook.com/My_Personal_Horoscope_Baby_Edition
My Personal Horoscope ? The Two of Us Relationship Book $49.99 plus shipping/ tax
Order this custom book to find out about your compatibility with the one you love.
Give us the birth information of both parties in the relationship; your keepsake book will have both charts. For more information call Arthur 914.271.3640 ext 14 or click here:
We have a version of this relationship book for straight couples and another for gay couples. For more information click here:
https://www.americadirectbook.com/My_Personal_Horoscope_Relationship_Edition
4. "Planets and Possibilities" by Susan Miller
Warner Books, 430 pages, $18.32 plus shipping / tax
Digital versions $9.99
The definitive classic astrology book that tells you about you!
Susan Miller's classic book that describes the signs in an original way, with Susan Miller's comprehensive, in-depth, and easy-to-understand style. Learn little known things about your sign that you never knew. The front part of the book includes information to help you understand the structure of astrology and how you can use astrology to help you progress. Mythological stories for each of the signs add spice and fascinating detail. This book is available as a quality paperback or digitally, on the Kindle, iPad, or Nook.
For quality paperback, $18.32 plus any applicable tax and shipping
http://www.amazon.com/gp/product/0446678066?ie=UTF8&tag=astrzone-20&linkCode=as2&camp=1789&creative=9325&creativeASIN=0446678066
For Kindle Edition (digital, Amazon), $9.99
http://www.amazon.com/Planets-Possibilities-Explore-Zodiac-ebook/dp/B000Q9INI6/ref=sr_1_1?s=digital-text&ie=UTF8&qid=1354499713&sr=1-1&keywords=planets+and+possibilities
IPad Edition (digital, Apple), $9.99
Go to iTunes digital bookstore and search for "Planets and Possibilities"
Nook edition (digital, Barnes & Noble), $9.99
http://www.barnesandnoble.com/w/planets-and-possibilities-susan-miller/1018228670?ean=9780759521322&itm=1&usri=planets+and+possiblities
5. Silk Zodiac Scarves by Susan Miller
$155.00 plus tax and shipping
A sumptuous, elegant 100-percent pure silk Jacquard scarf with hand-finished hem. You must see these beautiful scarves, with sophisticated artwork. There are 12 designs, one for each of the 12 signs, all in vibrant colors. You do not have to wear your sign's design - I wear all 12 depending on my outfit!
If you don't know your recipient's astrological sign, choose from three celestial scarves in classic design that will remind you of what chic French women wear in Paris.
See www.AhaLife.com, my distributor for the scarves, and for delivery and return information.
http://www.ahalife.com/store/?sort=relevance&q=silk+zodiac+by+Susan+Miller
---
My Facebook name URL is:
https://www.facebook.com/SusanMillerAstrologyzone
If you enjoy Twitter too, you can find me at @AstrologyZone.
To view a forecast, select a sign from the menu below and click on Go.