Your Monthly Forecast
All the latest monthly forecasts, organized by sign.
Age of Aquarius
Susan Miller's astrological predictions for a new century.
Current Trends
Find out the planetary trends that might be influencing you today.
---
Taurus (April 20- May 20)
Your September Horoscope by Susan Miller
Your romantic life is improving by the hour, and you may have seen evidence of a resurgence of the power of love last month when good fortune planet Jupiter entered Virgo and your solar fifth house of love for a nearly thirteen-month stay. This development is extraordinary because over the past two years, a relationship seems to have given you pause, making you wonder if the two of you were meant to be together. Admittedly, you might not have been thinking of a romantic tie, but a business one. No matter - the situation was volatile and made you wonder if you could ever expect loyalty and support from this person. This episode might have made you more circumspect about entering new relationships. Now, however, Jupiter, the great healer and planet of happiness, will bring your optimism back. Although you will have many months to enjoy Jupiter, those Taurus who have an April birthday will feel the direct rays first from Jupiter, as this generous planet orbits through space. Every member of this sign will benefit between now and September 2016.

To make sure you see that your love life is about to improve dramatically, your ruler, Venus, will make a lovely conjunction with her lover, Mars, in Leo on September 1-2. This will be an ideal date to give a party at home. Small or large, it would...
To view a forecast, select a sign from the menu below and click on Go.
---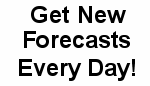 Click here to get your daily forecast
direct to your email or PC.


Fluffy Down Bedding,
Comforters and Pillows
Hosted by: