Your Monthly Forecast
All the latest monthly forecasts, organized by sign.
Age of Aquarius
Susan Miller's astrological predictions for a new century.
Current Trends
Find out the planetary trends that might be influencing you today.
---
Taurus (April 20- May 20)
Your May Horoscope by Susan Miller
A group of happy little heavenly bodies are gathering in your first house, and that house is "you" in every respect: your personality, emotions, appearance, vitality, desires, and determination. With Venus, Mercury, the Sun, and new moon all in Taurus, these loving little planets have a plan to make this month special for you. You will be in the driver's seat in more ways than one, so you should enjoy what transpires now. Let's start at the top.

One of the finest days of the month prior to the important new moon (and I will talk about the new moon in a moment) will be May 3, when the Sun is in ideal harmony with Jupiter, the giver of gifts and luck. The Sun is in Taurus, and Jupiter is in your house of true love, so to say this day would be superb for love is an understatement. Be sure to be socializing on this day if you are single. If you are attached, you can still have fun, just like you did when the two of you first met. This day will also be special for an interview with a fertilization specialist if you have had problems with conception. You can use this day for in vitro procedure. This day sparkles brightly for your emotional life, and is one of the best...
To view a forecast, select a sign from the menu below and click on Go.
---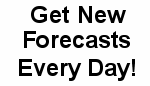 Click here to get your daily forecast
direct to your email or PC.

Hosted by: