Your Monthly Forecast
All the latest monthly forecasts, organized by sign.
Age of Aquarius
Susan Miller's astrological predictions for a new century.
Current Trends
Find out the planetary trends that might be influencing you today.
---
Virgo (August 23 - September 22)
Your April Horoscope by Susan Miller
Life is full of surprises, but we often don't like surprises when they involve money. It is hard to say which way things will go for your finances this month - exceedingly well, or shockingly bad. Let's think good thoughts and stay positive. The first half of April will be almost all about money, thanks to a new moon, April 7 in the entrepreneurial sign of Aries, 18 degrees, lighting your house of other people's money. This is not the month to take big risks, however, even if you feel like doing so. With Uranus and Pluto going rogue, you are best to keep your financial decisions conservative and well researched.

This new moon of April 7 may have you thinking about taxes, credit cards, a student loan, or mortgage, or other funds you may owe others or that others owe you. The matter at hand may have to do with the fair division of property in a divorce, an insurance payout, or a court settlement. Before you freak out at news of all this emphasis on money (you are not a materialistic soul), realize that Saturn will be in beautiful angle to the planets in your eighth house of finances, indicating a nice resolve. Also, Aries (the place of the new moon) is governed by Mars, and so it will be important for me to see what Mars is doing at this new moon. Will he be friendly? Indifferent? In a bad mood? This time, the answer is Mars will be very friendly, in wide mathematical agreement to that new moon, promising a favorable outcome to all this financial talk if...
To view a forecast, select a sign from the menu below and click on Go.
---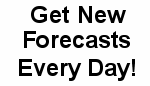 Click here to get your daily forecast
direct to your email or PC.

Hosted by: