Leo Horoscope for April 2013
By Susan Miller
You've been concentrating hard at work, but you seem to be longing to do something new and different to put a little variety in your life. During the friendly first half of April, it may be time to switch up your schedule. If you want to take a vacation, see if you can take a little time to do so in early April, a great time to go, and even a business trip would have you enjoying the change of scene. If you can travel, go anytime from April 1 to 23, and you'll be assured a happy, joyous trip, or, if you do it for business, you'll likely find a prosperous time to see a client based at a distance and to cut the cards.
With Venus, Mars, Uranus, the Sun, and new moon, April 10, all in Aries, and all working together on your behalf, the early part of April should be precisely your cup of tea. Aries is a fire sign like yours, so it would be hard to imagine any sign more supportive than Aries for you now. All these planets will support you from your expansive ninth house of adventure, higher learning, distant travel, and deep thinking. When your internal thermostat is telling you to do something new, listen to that craving - it is there for a reason.
Your mind will crackle with ideas this month, too, and if you offer the best of innovations you come up with now, you will have a good chance to get at least one approved and funded. Aries is highly entrepreneurial, individualistic energy, so your thinking is likely to be highly original and in terms of business, likely have strong profit potential.
Foreign people and places will be lucky for you now, but if you can't travel, you may hear that others will come to you, and in this case, you'll happily play host to visitors to your city. There are other lovely bonuses to the month, and I will get to those.
Let's start with a dazzler of a day, April 1, when the Sun, your ruling star, will receive a very happy beam from Jupiter from your house of friendship. It's a great day to grab a friend for lunch - and eat in a nicer-than-usual restaurant - or to attend a club function that evening. If you happen to be away from home on April 1, better yet!
The first week of April will be quite spectacular for another reason, this time at the end of that week. Venus and her lover, Mars, two little planets that adore being together, will meet on April 6 and 7 for the first time in two years, and even more rare, they will meet for the first time in Aries since 1985. Travel and negotiations with people abroad should go exceptionally well. This also could be a good time to discuss import-export ideas, or translations of a book you may have written that proved very popular. If you have an interview with a university professor or staff, make your appointment meeting for early to mid-April.
The topics I have been discussing - travel and people based at a distance from you - will get a much bigger push at the new moon, April 10 and the ten days that follow. (The closer you stick to the days that quickly follow this new moon, the better, such as April 11, 12, 15 to 17; always act quickly AFTER a new moon appears, when the energy is strongest.) If you have any matters of immigration, green card, visa, or passport/citizenship to attend to, this new moon will be heaven-sent.
This same new moon will help you if you are in the business of dispersing information, collecting or researching it. For example, if you work in publishing, broadcasting, the Internet, or other forms of communication, such as telecommunication or software / app development, this new moon will give you a huge boost. This same new moon will be an ideal time to schedule meetings with officials at universities to decide which institution you'd like to attend in September. If you are a graduate student, you might want to start work on your thesis now, a great time to start. If you are in a court case, the other side may agree to a settlement you propose after April 10, or a verdict could very well go in your favor.
I am very excited that the new moon August 10 will come flanked with Venus and Mars. These are very upbeat planets, and Mars will energize your plans in a very effective way. On April 17, in fact, Mars will conjoin the Sun, a day when you may feel so strong you may feel unstoppable, like Jack the Giant Killer.
After April 10, you may feel that you'd like to take a spiritual retreat to think deeply or to pray quietly in a peaceful setting. The part of your solar horoscope that is lit up is a very philosophical, reflective, and intellectual part of the chart. You may want to ask yourself probing questions, such as to think about how you might make your greatest contribution to others in your life. If you decide you can't go on a retreat, you might opt to read philosophical books by great thinkers, or sign up for college level classes or seminars, or attend book-signing lectures that will get you exposed to other's ideas and viewpoints.
If you do travel, go in the day prior to April 19, because after that, your attention will begin to switch to your career. Many exciting things will be bubbling up in May, so you'll need to start to get ready, with a new resume, the ideal interview outfit, and if creative, an updated portfolio. The most important part will be to think about the position you feel you are ready to take on now, and to decide on how to go after it.
Once Mars heads to Taurus, it will light your tenth house of honors, awards, achievement, and fame from April 19 to May 31. A very wonderful new moon, May 9, will be a powerful solar eclipse, and I have always felt a solar eclipse has the power of three new moons rolled into one. Next month if you are ready to work hard on winning that new position, you stand an excellent chance of getting it in time. Big jobs often take months to win, but what matters is that you begin in May, just after the new moon. In the meantime, ask friends and family for contacts you can call and tips of jobs that may be opening up soon. Line up your references to have if asked, and be ready to make your most important appointments in May.
Going back to April, one of the hardest days for you (quite the opposite from your two great days, April 1 and 17) will be April 28, when your ruler, the Sun, will oppose Saturn. This will be a very draining day, financially, emotionally, or physically, so pace yourself accordingly.
Before you begin to think about your career, your home will be a top priority on the new moon solar eclipse April 25, a time you can bring a home-related plan to fruition.
Indeed, something appears to be culminating at home - you may be moving, or seeing the painters or contractors finally finish a major project. You may be addressing repairs, finding ways to get more space in your closet, or you may be in the process of buying a vacation home, as some examples. If you purchased furniture earlier in the month (a good time to do so now that Mercury is out of retrograde), it will likely arrive within days of this solar eclipse. If you hope to shop for home-related things, do so anytime in early April, but especially over the weekend of April 6-7, for that's when you will be able to uncover great finds.
I like that Mars will be shoulder to shoulder to this new moon, for Mars will act as a booster rocket, and you will be quick to jump on plans and get a lot done as a result.
Saturn will add a heavy note to the solar eclipse, for Saturn will orbit very close to the full moon. You may be worried about news you receive at this full moon eclipse, such as when the landlord suddenly says (as a possible example), "I just sold the building, so sorry - you'll have to move." (There are laws concerning how much time a landlord would have to give you to move, and they vary by state and country. Don't panic; this is only one of a myriad of possible examples.)
Or, the full moon eclipse in the fourth house may point to concern over a parent, most likely your mother, as a lunar eclipse sometimes points to a female relative, such as mother or grandmother, instead of the physical home. You may have to find a medical specialist to handle a concern of your mother, or, if your grandmother is moving, she may appreciate a hand from you to help her pack.
In matters of love, you'll find the time when Venus and Mars tour Leo your best time to find new love, or to enjoy the love you've already found. Venus will stay in Leo from April 1 to 14, and Mars will be in Aries from April 1 to 19 - the best of the best. Circle the weekend of April 6-7 to be your most memorable for fun and love.
This is not only a special time for love, but also for seeing about buying new clothes or improving your appearance with a new haircut or for women, new makeup. Travel, which will be such a dominant theme in the beginning of the month, will greatly boost your chances for rekindling present love or finding new love if you are single.
This is a busy month - I am sure you can't wait to get started!
---
Summary
With no less than FIVE heavenly bodies in fellow fire sign Aries, all crowded into your long-distance travel sector, you are very likely to be spreading your wings and making a journey to an exciting, possibly warm, location. If you can go, do so early in the month, or even better, just after the new moon, April 10, plus ten days. Interests abroad will be bubbling up too, and are likely to be intriguing, and possibly be entrepreneurial or pioneering in nature. If you are hoping to work or study in another country, you may be involved with applying for a passport, green card, visa, or other immigration matter.
Other opportunities may come up too, involving publicity or an exciting project in the media, in broadcasting or publishing. If that does not fit, it's also possible a lot of activity in your life will be centered on academia, perhaps because you are applying to college, preparing to defend a thesis, or getting ready to take an important qualifying exam. Finally, if you are in a legal case, planets in Aries will support you, and, if you are hoping to initiate a case, it's a good time to do so, or at the very least, to consult with a lawyer. This month justice is on your side.
The tenor of the month will change enormously once you get to the first eclipse of 2013, a full moon lunar eclipse in Scorpio, April 25, to light your fourth house of residence, other property, and family. Your career is heating up nicely - something you will see next month - so perhaps you have chosen to move house to take advantage of a career offer that has just started to come up. Mars is still in your sector honors and awards, so clearly, you won't have any trouble getting your foot in the door of highly placed VIPs, and this trend will enlarge even more by May.
For now, you may be making a weighty decision involving your home, as evidenced by the presence of Saturn on the eclipse. Your home may need expensive repairs, or you may be having problems with the bank over a mortgage or loan. Neptune will be well angled to the eclipse, so you may be working with a home designer, with superb results, and if so, you will find the money to complete your plan fairly quickly.
If you are not moving, redecorating, or renovating, nor negotiating with a bank or contractor, you may have concerns over a female relative, most likely your mother, or someone you think of as a mother. If so, your career decisions may need to be strongly colored by what you learn about your beloved woman relative now.
Or, you may hear that a female roommate is about to leave, much to your surprise, and you may have to scramble to find another roommate to help pay the rent. Pluto is the ruler of Scorpio, and will be friendly to Venus, indicating you can find a solid answer, especially to your career, so take time to sit down to think.
By Sunday, the Sun, your ruler, will oppose Saturn, so whatever surfaced near April 25 seems to be in full bloom by Sunday. You may feel sad, or overwhelmed on this day, April 28, so keep this day leisurely and open, as you may be dealing with several questions that need answers instantly. Stay strong as you slide into late April, as it is likely to be a strenuous time for most people but in the end you will prevail.
---
Dates to note Leo:
Most romantic dates: April 1, 2, 5, 6, 9, 13-14, 18, and 19.
One of your favorite days of the month may be April 1, when your ruler, the Sun, will receive golden beams from Jupiter.
See if you can travel over the weekend of April 6-7. Venus will contact Mars in Aries then, making for a perfect holiday retreat.
Much more travel may dot your calendar after the new moon in Aries, April 10 plus ten days. A media project may come up or one involving academia. This area shines for you now, so proceed with vigor. Legal matter will also be blessed.
If you have not done your annual medical and dental check-up yet, you may want to do so now that Pluto will be retrograde April 12 to September 20. It's likely you will find the time now.
Mars is moving into your house of career honors on April 20 to stay until May 30. This marks the best period of 2013 for your career. Build your strategy early so you will be ready for this important career phase.
Your home and family will be a big focus at the lunar full moon eclipse April 25. Decisions you make now will be long lasting. Events could go either way depending on how they have been going all along.
Brace for a tough day on April 28 when Saturn will oppose your ruler, the Sun. Be practical and realistic.
P.S. for April 2013
My New iPhone App is FREE for you!
At long last, I can tell you my secret! I have designed a free iPhone app that you can download today.
If you have an iPhone, just go to iTunes and search for "Susan Miller" and find my new app that I did with mobile app company Phunware of Austin, TX, called:
"Susan Miller's Astrology Zone Daily Horoscope FREE!"
Each day you will get a small, concise forecast on your iPhone for free every day. Think of it as your daily bite of chocolate to keep you informed, motivate you, and keep you progressing toward your goals. You will always know the aspects, for they will be at your fingertips. I have included Astrology Zone in the app, so you can read it (or re-read it) wherever you happen to be.
I worked on the design of this app for over a year, and I am so excited to debut it today! It is Apple-approved to work with all iPhones, including the iPhone 5, so no matter which version phone you have, you can start using it immediately.
If you search "Susan Miller" on iTunes you will see my new app, Susan Miller's Astrology Zone Daily Horoscope Free! as well as my other app, Astrology Zone Premier, that costs $3.99 and that I have had since 2005.
My older app, Astrology Zone Premier, will eventually be retired, as I can no longer afford to give so many words - approximately 1,100 words a day and 430,000 words a year - in daily horoscopes plus evergreen (personality) content in the app, for a one-time cost. That app will be folded into the new app, and if you choose to subscribe at a low subscriber cost, you will have the same daily forecasts, chock full of information, that you've come to know and love since 2005.
We built my Twitter feed into the new app, so that you can easily write to me to ask questions, converse with other followers, or share news quickly and easily from your mobile phone. My name on Twitter is @AstrologyZone. You will also find a link to Facebook, to my page, if you search "SusanMillerAstrologyZone"
If you already own my other app, Astrology Zone Premier, you will have plenty of time to make the switch to my new free app (with the option of getting the subscription). On Astrology Zone Premier, you will get alerts from time to time to let you know when the app will end - but we do not plan to end anytime soon and we will continue to support the app with daily updated content. You can buy my premium Astrology Zone Premier app now for $3.99, and enjoy it for now with no worries that it will disappear suddenly.
Don't have an iPhone?
My Astrology Zone Premier app is available on Android.
Also, no matter what phone you have, you can get the same daily horoscopes that I write for the iPhone, sent directly to your email address. This way you can see your forecast in any cell phone or email box in your computer, every day. This is a perfect solution for readers overseas or for readers who have cell phones other than the iPhone. You will receive all 12 signs every day, for a low cost of $4.95 for one month or $49.95 for a full year at http://www.dailyastrologyzone.com
---
Order Astrology Zone Products For Yourself or a Friend for 2013!
Here are lots of ideas for gifts! We ship to all nations of the world. Hurry! International, please add 7-10 days.
1. The Year Ahead Astrological Calendar $11.99
Now discounted!
To order, call Arthur for more information: 914.271.3640, ext. 11
Never be caught unaware of the upcoming aspects eclipses and retrogrades.
All lovingly described by Susan Miller in her annual calendar. A must-have!
http://www.americadirectbook.com/The_Year_Ahead_2013_Calendar
2. Daily Astrology Zone Horoscopes
Delivered to your email box every day, written by Susan Miller.
All different costs depending on whether you order $4.95 for one month or $49.95 for a year.
Each horoscope is at least 75 words (often longer), and you will get all 12 signs each day to your email box. If you don't have an iPhone, these are the same forecasts. Perfect for readers with feature phones or BlackBerrys, or for readers overseas.
Copyright Susan Miller Omni Media Inc.
http://www.dailyastrologyzone.com
3. MY PERSONAL CUSTOM HOROSCOPE BOOKS
WRITTEN BY SUSAN MILLER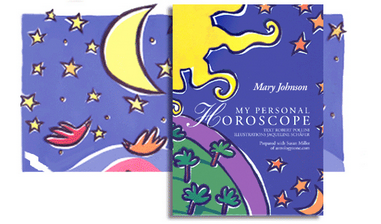 Chose among three editions:
My Personal Horoscope Custom Natal Chart Book, Adult Edition $49.99 plus shipping / tax
Have an entire book written by Susan Miller about your natal horoscope. Get to know your rising sign (also called the ascendant) as well as the placement of each of your planets, and what gifts those planets were to give you. For more information call Arthur 914.271.3640 ext 14 or click here:
https://www.americadirectbook.com/My_Personal_Horoscope_Adult_Edition
My Personal Horoscope - Baby Book - Custom Chart of the Child's Talents $49.99 plus shipping / tax
Learn about your little baby's talents and sweet proclivities with a custom book by Susan Miller. This makes a wonderful book for the parents of a newborn or small child. For more information call Arthur 914.271.3640 ext 14 or click here:
https://www.americadirectbook.com/My_Personal_Horoscope_Baby_Edition
My Personal Horoscope ? The Two of Us Relationship Book $49.99 plus shipping/ tax
Order this custom book to find out about your compatibility with the one you love.
Give us the birth information of both parties in the relationship; your keepsake book will have both charts. For more information call Arthur 914.271.3640 ext 14 or click here:
We have a version of this relationship book for straight couples and another for gay couples. For more information click here:
https://www.americadirectbook.com/My_Personal_Horoscope_Relationship_Edition
4. "Planets and Possibilities" by Susan Miller
Warner Books, 430 pages, $18.32 plus shipping / tax
Digital versions $9.99
The definitive classic astrology book that tells you about you!
Susan Miller's classic book that describes the signs in an original way, with Susan Miller's comprehensive, in-depth, and easy-to-understand style. Learn little known things about your sign that you never knew. The front part of the book includes information to help you understand the structure of astrology and how you can use astrology to help you progress. Mythological stories for each of the signs add spice and fascinating detail. This book is available as a quality paperback or digitally, on the Kindle, iPad, or Nook.
For quality paperback, $18.32 plus any applicable tax and shipping
http://www.amazon.com/gp/product/0446678066?ie=UTF8&tag=astrzone-20&linkCode=as2&camp=1789&creative=9325&creativeASIN=0446678066
For Kindle Edition (digital, Amazon), $9.99
http://www.amazon.com/Planets-Possibilities-Explore-Zodiac-ebook/dp/B000Q9INI6/ref=sr_1_1?s=digital-text&ie=UTF8&qid=1354499713&sr=1-1&keywords=planets+and+possibilities
IPad Edition (digital, Apple), $9.99
Go to iTunes digital bookstore and search for "Planets and Possibilities"
Nook edition (digital, Barnes & Noble), $9.99
http://www.barnesandnoble.com/w/planets-and-possibilities-susan-miller/1018228670?ean=9780759521322&itm=1&usri=planets+and+possiblities
5. Silk Zodiac Scarves by Susan Miller
$155.00 plus tax and shipping
A sumptuous, elegant 100-percent pure silk Jacquard scarf with hand-finished hem. You must see these beautiful scarves, with sophisticated artwork. There are 12 designs, one for each of the 12 signs, all in vibrant colors. You do not have to wear your sign's design - I wear all 12 depending on my outfit!
If you don't know your recipient's astrological sign, choose from three celestial scarves in classic design that will remind you of what chic French women wear in Paris.
See www.AhaLife.com, my distributor for the scarves, and for delivery and return information.
http://www.ahalife.com/store/?sort=relevance&q=silk+zodiac+by+Susan+Miller
---
My Facebook name URL is:
https://www.facebook.com/SusanMillerAstrologyzone
If you enjoy Twitter too, you can find me at @AstrologyZone.
To view a forecast, select a sign from the menu below and click on Go.