Leo Forecast for June 2014
By Susan Miller
You had quite a bit of emphasis on career, home, travel, and maybe on international travel and relationships in April and May - you may enter June feeling a little weary. You've had a lot on your plate, and by the start of June, you may be craving rest. That is precisely what you should do, dear Leo - rest. You are on the cusp of one of the biggest and most brilliant periods of your life, to start in mid-July, for that is when Jupiter, giver of gifts and luck, will enter your sign for the first time since mid-2002 to 2003.
Mercury will be retrograde all month, from June 7 to July 1, but with the delays and postponements that Mercury will almost surely bring, you will get a free pass to enjoy June and to exhale before July dawns, and that will bring you so much opportunity. July will be your golden month of 2014 and open up a full twelve months of good fortune. To get the most of this exciting trend, you need to know precisely what you want to happen, so carefully make your wish list, and check it twice!
Seriously, it will be vital that you think about your list of your ambitions for the coming year, and rank them in order of importance to you. Choose goals that will have long-term potential, for the projects, endeavors, and relationships you begin now will continue to pay you financial and emotional dividends for at least ten years and maybe forever. Having Jupiter in Leo will make it possible to find your one true love, if that is a deeply held wish, and that's a VERY thrilling concept. Astrologers feel that the finest aspect you can have to find your love is Jupiter transiting your own sign, Leo, and you waited twelve years to get this privilege!
As children, many of us are warned to "get your head out of the clouds," but as a Leo, one of the truly creative signs along with Pisces, you know that daydreaming is the prelude to exciting creative endeavors. Early this month, rather than to do LESS daydreaming, I want you to do MORE. Imagine your life like a little movie, and set the scene down to the tiniest details. Scientists say the brain processes the future the same way it processes memories and the past - the more detail you add to your future daydream, the more likely you will achieve it and play that starring role. At month's end, the new moon June 27 in Cancer, 7 degrees, will almost force you to slow down - that's when you must think in earnest of your coming birthday year.
I mentioned earlier that you desperately need fun, and that is precisely what is on your agenda in June. The stage was set by the May 28 new moon, which appeared only a few days prior to the start of June. That new moon lit your eleventh house of friendship and social activities and will be strong in the first week, so you will surely have the time to go. Mercury will retrograde in your friendship sector, June 7 to July 1, and almost guarantee that you will run into at least one friend who you haven't seen in years, lost touch with, and will be excited to see.
Your social life will become highly romantic and exciting at the full moon in Sagittarius 22 degrees, June 12, lighting your solar fifth house of true love. This will be the sole full moon this year to fall in your romantic sector, and it comes with a beautiful beam from surprise-a-minute Uranus. This will give you a delicious opportunity to meet someone new or to see a present dating relationship reach a new and unexpected level of tenderness and closeness. Married and established couples won't be left out - Uranus rules your committed partnership, so your alter ego may come up with a fantastic idea for time together over this period and the ensuing weekend, June 12-15.
Mars, the planet of passion, will also be friendly at the full moon, and there are several indications that over that coming weekend you may decide to take a vacation with your amour (or if you have no one to bring, to go alone / with a friend), and that would be a good idea. With Mercury retrograde, you won't miss out on anything important going on back at the office - they will miss YOU! This full moon may also bring up the topic of having a baby or the care of the child you have now. There is pure joy in this full moon, dear Leo.
This same full moon may also bring closure to a creative project. For example, after months of preparing the treatment for a project such as a screenplay, you may be given the green light to begin a project, or you may now conclude a grand project (because full moons do bring endings with a flourish), and if so, you would have a great feeling of pride a from your work. If you are a producer, director, screenplay writer, or actor, or work in the arts or music, this full moon will especially beneficial to you. The sign the full moon is falling in, Sagittarius, is an international sign, so your work may have application to foreign markets - keep those trade channels open!
If your birthday falls on August 14, plus or minus five days, or if you have Leo rising at 22 degrees, within a five-degree tolerance, you will benefit from this full moon quite a bit.
You have a tough aspect, Mars at odds with Pluto, coming up on June 13, and that could bring some difficulty with an ongoing contractual negotiation. I don't want you to sign any contract this month anyway, but you can keep talking, with the goal of signing in mid-to-end of July. On June 13 someone will try to strong arm you on this day, but if you are feeling positive and energetic, you can fend that pushy person off.
I will just add a little postscript here and remind you not to buy any electronics while Mercury is out of phase, not until July at the earliest (and no, not in the first week of June either - it's too late already). If I had my way, I would prefer you not buy anything until mid-July.
Additionally, I need you to note another day, June 24-25, when I will ask you not travel or conduct important presentations or interviews or make any decisive actions. Mars in Aries will oppose Uranus in Libra, an explosive mix. This aspect tends to separate, not bring people together, so if negotiations become too difficult, you may simply stand up and walk out. When the other side sees you are serious about ending talks, they may soften their stance, but there is no guarantee of that. Sometimes Mars opposite Uranus causes a physical expression, making you rush so that your timing goes off. That's why I feel you should not engage in high-risk sports over these days. Protect your head (Aries) and lower back (Libra) - in the latter case, be sure to lift heavy things properly by squatting, not leaning over. Wear a helmet in the activities that authorities have delineated as requiring one.
The new moon of June 27 in Cancer will end the month, and as I mentioned at the start of your report here, take it easy. Do not schedule a strenuous sightseeing vacation, and don't host guests at your country cottage unless you know they are kind guests that will expect no extra tending from you.
The last weekend of the month, June 28-29 will bring a beautiful interplay between the Sun, your ruler, and Neptune, your muse - Neptune is the planet of creativity, imagery, the arts, and poetry, and more. As you see, this is a day to sit back, put your feet up, and think. It is time for you to dream and paint a future year boldly across your blank canvas.
Before I go, I want to flag one of the sweetest and most sensational days of the month for your career, when you may score a big breakthrough - June 18. That is when Venus and Jupiter will collaborate in an especially beautiful way and bring you opportunity. You must, of course, DO something to trigger your good fortune, but you probably have plenty of ideas of what that may be. Venus is the natural ruler of your solar tenth house of fame and honors, and Jupiter naturally rules your solar fifth your house of creativity. This is a day when you may get surprisingly strong publicity, praise from a top authority figure, or extraordinary, behind-the-scenes help from an authority figure. Your career will be on fire, dear Leo.
There is another, additional way this lovely aspect may assert itself, because Venus also rules your house of quick travel, making it a great day to drive out of town to see an important long-term client.
Remember, though, it's not time to make any final decisions or sign papers, not unless a former client gives you a purchase order or check for a new project. You started your relationship with that person a long ago, well before this Mercury retrograde, so in that sense you are simply continuing a long standing tie. I still want you to be cautious this month, and would prefer you take that vacation I suggested! This is your month for pure fun, dear Leo - eat it up with a spoon!
---
Summary
The past two months may have been a workout for you, as it was for many others, but now you will get time to play. The new moon of May 28 that just appeared late last month will put you in the center of friends and new faces, and amp up your ability to get out and enjoy life. You can now make new friends, for you will be surrounded by people you know and some you don't, and you will find all of this very stimulating.
You may also decide to get involved with a charity or community event, or to help a humanitarian cause. You may become a committee leader, honing skills you can transfer to your professional life. Or, you may decide to get active on a small scale, say, at an event for a cause you believe in, and do a 5K run for the cure to a charity important to you. Should your involvement in the cause be small, it will have impact and importance, and you may be able to rally friends to participate in the same event too.
Love will fill the air on the tender full moon, June 12, and with Mars so friendly, you may decide to take a romantic weekend away over the coming weekend, June 14-15. Uranus, planet of surprise, will support this full moon, showering you with all sorts of unexpected developments, and all so special and positive. This full moon may also elevate your relationship to a new level of closeness.
Of course, if you have been unhappy in your relationship, the full moon, June 12, may bring up a touchy subject up that you will have to address if you want to stay together. If you don't want to continue the relationship, this full moon may give you the courage to leave, due to Mars' harsh angle to Pluto. If things are off, it seems the topic of money will almost sure to come up and be a sensitive point. Let's think positively. Overall, this full moon appears to bring on a happy event - a dot on your calendar that will sparkle brightly. Discussions about a pregnancy or a child you have now may also come up.
You will shine in your career, possibly due to powerful publicity, at the joining of Venus and Jupiter on June 18, and this aspect will have you feeling like you're on top of the world. VIPs behind the scenes will be responsible for putting you on a short list of "stars in the making" in your industry. Because Jupiter is in the twelfth house, a private part of the chart, you may not know which high level person has believed in you so staunchly and spoken up on your behalf. Be happy that you do have guardian angel, and keep up the good work.
Travel may be difficult on Tuesday, June 24, and Wednesday June 25, due to the push-pull of Mars opposite Uranus, so if you have a business trip to take, put it off. If you must go out of town, confirm your appointments, check weather and airline schedules, and if driving, have your car tuned up. If you hope to make a deal with a client, finding accord will be difficult, for the way these polarizing aspects work, the differences you harbor with each other will become more of a focus than any the similarities you may share. Wait for better days. After all, Mercury will be retrograde from June 7 to July 1, not a time to seal final contracts. You won't have long to wait.
The end of the month should provide you with the privilege of privacy and rest. Think about what you'd like to bring into your coming birthday year. Rid yourself of any relationships in any sphere of your life that you feel are dysfunctional. Offloading what has held you back will feel therapeutic. Make a list of all that you hope to have accomplished by August 2015 next year. The better part of action is the thinking that you put into your plan. No worries, the new moon June 27 will help you envision your improved future by getting you to finally slow down. Give in to it and make your list. When the lion makes up his or her mind, just hear the lion roar.
---
Dates to Note: Leo
Most important dates for love, meetings, or actions for Leo June 1, 2, 11, 12, 15, 16, 18 (great day!), 20, 25, 29, and 30.
Mercury will retrograde June 7-July 1 in Cancer / Gemini. After Mercury goes direct, he will reach top speed again (and be at his best) by July 15.
Neptune will retrograde starting June 9 until November 16, and this may affect your investments and financial decisions. Generally, it's best for Leo to make big money-oriented moves when Neptune is direct.
A full moon in your house of true love may bring a thrilling moment within four days of the full moon, June 12. You may hear a confession of love or see your bond grow closer in other ways.
Your career will get a huge boost on the month's golden day, June 18, when Venus and Jupiter collaborate. This a key date this month - use it.
When Mars and Uranus collide, you'll have a tough time traveling. Make sure your car is in good working order, June 24. It will also be a day when people will be quick to get angry, and that's bad if it happens on the highway. If someone cuts you off, let it go.
The new moon of June 27 in Cancer is time for you to think about your future. Offload anything you don't need any longer, and make way for the new. Meditate about what you'd like to accomplish by this time next year, for in July, Jupiter, giver of gifts and luck, will enter Leo and remain at your side for a little over 12 months. You've not had this benefic planet at your side since mid-2002 to mid-2003. This is a major trend.
Venus will tour your leadership and prestige sector until July 24. The weekend of June 28-29 may be wondrous and romantic, when the Sun and Neptune cooperate beautifully. You will be highly creative on this day, too.
P.S. for June 2014
The Year Ahead 2014 Astrological Calendar
By Susan Miller
My Year Ahead 2014 collectible calendar is now $9.99 (at a 45% discount, from original price $17.99) plus shipping, any applicable tax
Calendars are used to mark time, but have you ever had a calendar that helped you use your time productively? My new Year Ahead 2014 Calendar can do just that. I write every word myself in this stunning calendar with original fine art by socialite, author, and fine artist Gloria Vanderbilt, mother of newsman Anderson Cooper, and great grandchild of railroad entrepreneur Cornelius Vanderbilt. (Grand Central Station was originally her great grandfather's business headquarters.)
Gloria Vanderbilt, now almost 90 years young, licensed the reproduction rights to her critically acclaimed artwork to Susan Miller who self-published her calendar. The inks are rich, the paper heavy, glossy, and snow white, allowing Gloria's paintings to jump off the page. Each month, from January 2014 though the extra bonus month, January 2015, is found an inspirational quote from Gloria, centering on her philosophy of living life fully and creatively. With fourteen of Gloria's paintings, this calendar will soon become a collector's edition and will not be reprinted when stocks are gone.
Aside from having happy, vibrant art to look at all year, The Year Ahead 2014 calendar has many other uses, unlike any you have had in a calendar before. On every important day of each month I list the aspect and what it means, in easy to understand laymen's language. This means the next time you are about to make an important appointment, and the VIP asks you, "Do you want to come in Monday or Thursday?" you can say you will consult your calendar and know immediately the day to choose.
In a year like 2014, where sparkling aspects will stand side by side difficult ones, this calendar will not be a luxury but a necessity.
Also included in the calendar are:
- All the start and end dates of the retrograde planets in 2014,
- Detailed discussion of the new and full moons (new!)
- The date when planets move into new signs (and how long they will be in that sign), all listed on the same day entry
- The planetary aspects of the four eclipses due in 2014, and explanation of what each eclipse will bring.
No more surprises! Be in the know about upcoming events, so that you can plan your biggest initiations. This calendar is a "must" to keep with you all year, and is available here, from Susan's publisher, but not in bookstores or other retailers. Get it now, while you can: $9.99 plus tax and shipping. We ship to all nations of the world: http://bit.ly/186zM0i
---
A New Service: WiFive.us
Don't we all love a bargain?
We all want to know about the deals being offered nearby in our neighborhoods to save money. I found a way when a brilliant entrepreneur, Luis Sanchez, came to see me to show me he had developed a way of seeing all the various deal-of the-day websites that are featuring discounts on food, entertainment, boutiques, and other establishments, all in one click. Traveling? All you need to do is enter the zip code of your new neighborhood as you travel each day and you can see the deals that may be just across the street from your hotel.
The company is called Wifive.us and is ready to use today. It is a New York-based startup with a location-based search engine that gives you access to thousands of local online deals in a single site.
For now, Wifive.us is only available in the United States. It covers most of the deals and services you would see from various sources (Groupon, Amazon, Google deals, and so forth) all at once, so you don't have to go from site to site to find a deal that appeals to you, as Luis would humorously say, "until your head hurts." There is no registration necessary, and no useless emails to stuff your inbox each day.
Just type your address or ZIP code and get the deals you want when you want them. You pull in your information, which is far better than having many emails pushed to you. Try it and like the service on Facebook!
A word about the web address of WiFive.us
You may be wondering, what exactly is .US?
You might have thought the domain ending .us would only be only for government agencies and schools, but since 2002, individuals, businesses, churches, and non-profits have adopted .US web addresses to make their mark on the Internet. The .US is a new domain ending.
Just remember the name of the new service that no doubt you will be using quite a bit: pronounced as "wi-five-dot-us" otherwise seen as: http://www.wifive.us
---
Goodbye to My Former iPhone App on November 12, 2013
Hello to My New One:
"Susan Miller's AstrologyZone Daily Horoscope FREE!"
Download today!
Now that my former app, Astrology Zone Premier, will no longer be supported for iPhone, you might want to download my free version of "Susan Miller's AstrologyZone Daily Horoscope FREE!" for iPhone today. (A search for Susan Miller or Astrology Zone should bring the app up immediately.)
My former app, Astrology Zone Premier will not automatically change over to the new free app, so you will have to download my new app. Once you have it, you can decide if you would like to upgrade to the version you've come to know and love by looking inside the app and signing up for a subscription inside the app. If you should have to reload and reinstall your app, you will not lose your subscription as long at you responded to Apple's dialog box asking you to register your purchase immediately. If you don't register, if you lose your phone or need to reinstall your app, you won't be able to do so. Be sure to register your app!
If you have any questions or need help, you can write to Jennifer@Phunware.com and engineer Jennifer will be happy to help you.
---
ANDROID AND SAMSUNG USERS
Astrology Zone Premier App is Still Available for You
Android and Samsung users have Astrology Zone Premier to enjoy a little longer. We are writing NEW code for your Android and Samsung cell phones, and making an app similar to the one for iPhone, with some cool features just for your phone.
---
Live Overseas? Or, don't have an iPhone, Android, or Samsung Galaxy?
Get all 12 of my daily horoscopes each day by email or pick yours up each day on special password-protected site.
To plan ahead, receive several daily horoscopes in advance!
By subscribing to DailyAstrologyZone you will receive a week of horoscopes inside your cell phone and / or computer. This means if you have a BlackBerry or feature flip phone, you can still get my daily horoscopes as long as your device accepts email. You will also have the option of accessing your daily horoscopes from a website online, from anywhere, any time, through a password-protected site for members only, or receiving all 12 signs my email each day.
For more information: http://www.dailyastrologyzone.com
---
MY PERSONAL CUSTOM HOROSCOPE BOOKS
WRITTEN BY SUSAN MILLER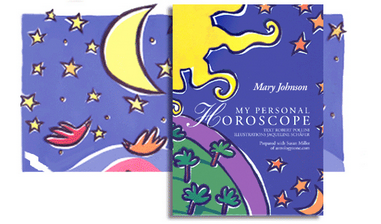 Looking for unique gifts for the summer months? - Choose from My Personal Horoscope for Adults or for Babies, or for a Relationship, the Two of Us.
Have an entire book written by Susan Miller, which runs approximately 65 pages, about your natal horoscope. Get to know your rising sign (also called the ascendant) as well as the placement of each of your planets, and what it all means. Susan's natal chart for babies centers on the talents and gifts of the little child. Order today and you will have your book within two-and-a-half weeks.
Two weeks on average from order receipt to delivery to any US destinations. One week longer elsewhere.
Also PDF option available for destinations overseas where delivery tracking of printed books is prohibitively expensive.
My Personal Horoscope Custom Natal Chart Book $49.99 plus shipping / tax
For more information call Susan's publisher, Arthur Heydendael 914.271.3640 ext 14 or click here:
http://www.americadirectbook.com/Customized_Books
To view a forecast, select a sign from the menu below and click on Go.