See Susan Miller's new Astrology Zone 30-minute streaming TV Show! For now, it will be seen once a month and will not duplicate any information you get on Susan's site - the broadcast will provide fresh, new material. For more info, see Susan's note to you found here, in the PS (post script) directly below your sign's summary and the dates to note. Express your ideas about Susan's new show in social media - we will be reading your comments. The show will not be seen yet on Susan's smart phone apps (stay tuned) but instead here on your computer or tablet. Please tell your friends to have a look!


Astrology Zone with Susan Miller for May 2015 from Television Four on Vimeo.



---

Last month I showed you the surprise I had for you, special animated videos called Glamourscopes that I had done with Conde Nast Entertainment (CNE). Each sign's video runs a little under three minutes. The animators illustrated my words with visuals in a very original and imaginative way, so most people think the videos are especially cute. You told us you loved the videos, but said in a loud and clear way, "We want them longer!"

We listened! Here is the short version of Glamourscopes:

http://bit.ly/1yPzZEF

and the NEW Extended Cut version of Glamourscopes (not duplicating the short forecasts of Glamourscopes above):

http://bit.ly/15nk8m5

Each sign's video has new material, there is no duplication of information that you will get. Don't miss these! Listen for your Sun sign and your rising sign as both are equal in importance.

---
Your long monthly forecast by Susan Miller is found directly below this letter.

An Important Message about My New TV Show from Susan Miller

Dear Reader,

I want to thank you for your kind words for my TV show. Trust that all your comments are read, so please keep sending them. It is early days of my show, but with your feedback, the show can only get bigger and better. We want to make the show more interactive in the coming months so that we will be able to address some of your specific questions that we find coming up as typical of many readers. We do have ideas!

The show will now be available 10 days before the start of every new month. So, for example, we are posting the April show on March 20. If you would like to see that April broadcast, we will charge $1.99 for the show, and you will never see commercials.

If you would rather not pay the $1.99 for the new show as it comes available, you will have an option to see it for free if you are willing to wait a few weeks. If you are willing to wait for the following month, say, April 16, for example, to view April, you will have free access through the end of the month and in all the shows we archive. Then, by April 20, the new show will be posted to give you the option to see May 2015, for $1.99. So you do have the chance to stream from the middle of every month at no cost. As said, April's show will be available free from April 16 onward.

Astrology Zone and my normal long monthly horoscopes will always remain free as they always have every month for the past nineteen years on the Internet. We will not overlap material from my website to my new TV show - viewing the TV show will give you special insight and detail on the coming month and also help you get much more from the information you are already familiar with getting from me on Astrology Zone each month.

I hope to teach you a few handy skills that will give you an ah-ha moment that will allow you to understand how astrology works and how you can harness that information for your own purposes to achieve your goals and enjoy a brighter, happier life!

I am so excited about this project and hope you are too! I am weaving my material with clarity and love - and listening to every suggestion you have had for us! Thank you, dear reader!

Sincerely,

Susan Miller


---
Sagittarius Forecast for April 2015
By Susan Miller
This month, you will turn your attention to your personal life. You've been consumed with work, and with Mars just entering your assignment sector, business will continue to be brisk. If you are self-employed, you won't lack new assignments, but you will also have more time for your private life. Happily, the main emphasis for most of the month will switch to your personal life, centering on love, romance, and fun, and seeing your creativity blossom to new levels.
We have an eclipse on April 4 that will take many by surprise, because Uranus, the planet of unexpected developments, will be found at an almost exact 180-degree opposition to that full moon lunar eclipse, at 14 degrees Libra. This eclipse will put the emphasis on a certain female friendship in your life. (No, this is certainly would not point to a romantic attachment, but a platonic friendship.) The person in question seems to be a woman. Often when a total eclipse of the moon shows up, sometimes the person in question is "eclipsed out" of your daily life in some way. Your friend may move away, perhaps to take a new job or get married, and you may feel sentimental, knowing the friendship may never be quite the same in the future because geographic distance will be in the way.
Alternatively, your friend may make a biting, critical ,unsolicited comment about the partner you are dating or say something about how wrong you parent your children This type of "I know better than you" comment will get you very upset and not in a forgiving mood. In fact, if this happens near April 4, you may have a falling out with your friend that would be very difficult to repair later, as it will cut you to the quick. Money may come up as a topic, because Pluto will be in very hard angle to the eclipse, and because Pluto is in your second house of earned income, I suspect the topic of finances between the two of you may also be a thorny topic, perhaps if she keeps making you spend more than you want to do, say if you are in her destination wedding, as an example.
If you happen to be traveling with this friend during the first week, you may be spending a good deal more than you anticipated, and that may put you on edge too. (There is some indication you may be on a trip.)
There will be another way this could work out, a very opposite type of news, and that is if your friend suddenly runs into a crisis, and you will have to help her in some significant way. You can help her by giving her strong daily emotional support by phone (If you live at a distance), or by going to her house to help take care of her children, driving them to and from school for her; helping her cook for the family at night; or accompanying her to the doctor if she needs medical treatment, as examples.
You may offer to loan her money if she is clearly in dire straits. If she is going through a sudden divorce, you can help to keep her self-esteem intact by reiterating what a prize she is (and how her partner is too dumb to see this truth), and that once she gets over this hump, a better life awaits her later, despite her fears that her life is over - it's not! (After all, you can remind her that what girl wants to be with someone who does not want her?) What you choose to do in this case would depend on how deep this friendship goes and how much you care about her. It seems in this manifestation of the eclipse, you would want her to get through her crisis as smoothly as possible.
The hard part of the month will be during the first ten days, but then gradually get better and better. Let's look at the days that surround this eclipse, and you will see how up and down those days will be. You may want to mark down on your calendar what's coming up on those days.
Before you ever get to the eclipse, you have a heavenly day, April 2, when Jupiter, the great planet of good fortune, now in your ninth house of international travel, people and places, will contact the Sun on your behalf. It will be a day that high-level people will give you special favor and when a breakthrough could come to you when you least expect it to happen. Jupiter is your ruling planet, so while everyone, of every sign, will love this day, you will love it more because your ruler, Jupiter, is the centerpiece here. Travel on this day would be divine.
You can use this day, April 2, for other purposes too, other than travel. You will see immigration matters go well. In truth, as I think about it, you have Jupiter in your ninth house, so this entire month will be special for concentrating on citizenship, green card, visa, and passports. Alternatively, you can shepherd an international matter through its paces and make a lot of progress seeing officials in academia for an interview, apply as a teacher's assistant or professor at a university, or use this day to defend your thesis. A publishing and broadcasting project will get a big boost today if you choose to use this day to discuss it or hand it in. Legal matters can also be discussed and settled to your favor. What a day!
Next comes the April 4 lunar full moon eclipse on Saturday, discussed earlier. Sunday, April 5, brings an angry clash between Pluto and the Sun. This would be no day to ask for a favor of a highly placed authority figure.
The scene switches to your creative life on Monday, April 6, when electrical Uranus meets with the Sun in Aries. What a stunning day to come up with original ideas! With Uranus, you always have to expect the unexpected. Set aside time to brainstorm, alone or with a member of your team. Keep in mind that experts say that creativity hits a breakthrough in 90-minute cycles, but you don't quite know at what time you are entering the cycle. For that reason, you need to stay with the project and keep brainstorming for at least that long so that you can benefit from the blast of original energy Uranus will bring you! Once you hit that 90-minute sweet spot, you will be on your way.
Another day just as stimulating to your right brain will be April 8 when Mercury and Uranus combine forces.
This same day, April 6, will bring all sorts of possibilities for romance and fun - go out tonight. Of course, with Uranus you never quite know what to expect. Your partner may be cranky and out of sorts, and act out of character. Or, you may hear a confession of love from someone who means a lot to you - and this is the first time you are hearing this news. Surprises are necessary in life - I think you will enjoy this day because you are fire-sign Sagittarius, and Uranus and the Sun will tour the progressive, pathfinder sign of Aries. You seem to be working on something that's brand new, and no one has much experience with the arena you have chosen. That's what is making things so exciting!
You may feel impulsive on Tuesday and be tempted to blurt out words that you will later wish you had not said. Be careful if someone pushes your buttons today, for once you say something unpleasant, you won't be able to take it back. Yet at the same time, your mind will be super-sharp, on this day, so it does have its good side, especially if you are charged with writing any kind of important document.
Your ruling planet, Jupiter, has been retrograde since December 8, 2014, so Jupiter in Leo has not been working as hard as he is capable of doing for you. Now, good news! Jupiter will turn direct on April 8. Watch the days that circle this date (plus or minus three days), for the universe will give you a clue of what in your life may become revitalized and start to show exceptional progress soon. A tip for you: Whenever a big planet goes direct or retrograde, it delivers clues, but in these cases the universe often whispers rather than shouts. You will have to be careful to note all clues that come in to you on these days.
Pluto is about to go retrograde on April 16 until September 25, so you may have a financial setback or have problems collecting money owed to you after that date. Knowing this, do all you can to get paid prior to mid-April. You have a full moon coming up July 1 that will help you settle financial matters, but that is some time off. The lunar eclipse of April 4 has a difficult Pluto aspect, so it seems you will be concerned about money at that full moon eclipse. Now that Pluto is weakening, you have time to tweak things and if applicable, to try again in late September, say, for a loan, mortgage, refinancing plan, or infusion of venture capital.
Your next big moment of the month is a lovely one - the new moon in Aries (not an eclipse), April 18, lighting your house of romance, fun, leisure, creativity, and children. There are many ways to use this marvelous energy that will flow for two weeks after it appears. First, if you're single and looking for love, this new moon will help you meet someone new. In fact, it is the best new moon of 2015 for you to find romance, so you must do your part by going out and showing your face to the world.
Aries is an adventurous sign, so you may feel that it's now or never ? and venture out, even if you are a bit shy about meeting others. Perfect! (Sagittarius is not usually shy but you may have planets in your chart that might make you that way that I can't see.
This same new moon will help you rejuvenate a relationship to a more tender, romantic state if you are attached. Do you feel that you and your steady partner or spouse been ships in the night, passing each other, working hard, but making things a bit dull? This new moon can fix all that, so make plans to have what you need the most, some fun! If you have more time for your children, and if you are trying to conceive, try after this new moon arrives.
As you already know, your creativity has been hitting high points all month, especially on or near April 6, but after this new moon, you'll be even more of a rock star as you come up with original concepts! If you are in a creative industry, this is fantastic news! Set aside time to hone your project!
If your birthday falls on December 21, plus or minus five days, you will feel this new moon will double strength. If you are not born at the end of your sign, take a look at your natal horoscope and check to see if you have a natal planet at 29 degrees Sagittarius, Aries, or Leo, plus or minus five degrees. If you do, you will benefit in a big way too. Make plans!
I can cast your natal horoscope chart for you, if you go to www.SusanMillerMyPersonalHoroscope.com. You will need your precise time of birth, day, month, year, and city of birth to order. I will write an entire 65+ page book for you explaining your chart in easy-to-understand language. The book is beautifully illustrated, as I am able to do this with print-on-demand technology.
My custom-for-you book costs $55 plus shipping and any applicable taxes, and your book will arrive in a little over two weeks. Readers love it! You need do this only once, as your natal chart never changes, so it's your map for life. You will get so much more out of Astrology Zone each month if you know your planetary placements! You'll also discover all your special talents and gifts - so good to know!
Back to looking at April, here is gold-star day for you to note on your calendar for your career: April 21. This will be your best financial day of the month, when Pluto and Mars will work flawlessly together, linking your house of assignments with salary and other compensation. On this day, you either will have a smooth negotiation about what you will be paid for a certain project - or actually receive the check. Well done!
The next day, April 22, is a sparkly day too. Venus and Uranus will be flirtatious and fun, a day when you might want to meet that intriguing person you met on a dating site for the first time in a coffee shop. Or, if you have been in an established relationship for a long time, you might want to plan a surprise for your mate or steady sweetheart with a fun dinner out for no special reason other than to fan the fires of love. If your relationship has become too predictable, this day will fix that and bring back those loving feelings.
Venus will enter your relationship sector early this month when it moves into Gemini on April 11 and remain there until May 7. This means your relationship interactions may become smooth as silk. Even if you have to bring up a touchy subject, you can do so confident the conversation will stay smooth. ALL relationships will go well for you during this trend, including close business relationships. This also means the day I just gave you, April 22, would be a great day for a business meeting, presentation, sales call, or special collaboration.
The month will end on a sweet note. Over the weekend of April 25-26, Venus in Gemini will be playing tag with Uranus, planet of surprise, and Uranus is based in your fifth house of true love. The transiting moon will be in Leo, the moon sign perfect for you. What a romantic weekend! You might want to kidnap your partner for a night away - you need not spend a lot of money to enjoy this to the fullest. Find a pretty bed and breakfast inn to stay, and book dinner, candlelight, and flowers in a small nearby restaurant known for exquisite food, and Cupid will do the rest for you.
---
Summary
In astrology, the most dramatic tool the universe uses to create change is to send an eclipse. We have one, a full moon lunar eclipse on April 4, to light your house of friendship. Lunar eclipses bring endings, so you may see a friend move away, or in a more dramatic manifestation, you may have a bad falling out with a friend, and it may be due to her comments or actions pertaining to money she owes you (or you owe her), or her negative comments about the person you are dating or how you care for your children.
This could be a touchy situation, so before you react, make sure you have all the facts. If the problem centers on money, that issue can be solved easily, due to a beam from Venus to Pluto - suggest remedies. An alternative way this full moon eclipse may work out is that you discover your friend is dealing with a serious set of life reversals and needs your support. Any full moon eclipse can be draining, so don't have an overloaded schedule in April's first week - you will need flexibility, for you will want to help her. (Your friend appears to be female, as a lunar eclipse points to a woman.)
If you want to connect better with the person you are dating, the new moon of April 18 will give you that opportunity in the week that follows it. If you are single and not dating, this same new moon will sound the bell for you to make a concerted effort to leave the office at a reasonable hour and circulate. This will be one of the best moments of the year for you to find love, and with Jupiter, planet of good fortune, in beautiful angle to your Sun, rarely have you had such a perfect time to find your "true north." You may travel spontaneously this month, and the trip may bring a fateful meeting of a new romantic interest, perhaps on the plane that either takes you to your destination or while heading back home.
Your best days to find love will be April 21 and 22, when Mars, the ruler of your house of true love, will receive a beam from transformative Pluto. (This will also be a day when you may hear good news about money.) The following day, April 22, will be equally special, for Venus and your ruler, Jupiter, will stir up a day of fun, luxury, and happiness.
The weekend of April 25-26 would be ideal for a romantic overnight trip in the country for fresh air, sports, and private time together. Venus in Gemini will help to send soothing vibrations to your relationship house over that weekend, so attached or dating Sagittarius will have a slight edge on this weekend at month's end.
In your career, you are putting in an outstanding performance, so by late August or September, you may be up for an important promotion or juicy offer from a competitive company. This month your creativity will be especially strong, so if you work in a creative field, or even if you don't, you should show your ideas to the most powerful and influential people you know or can get to know, for your ideas have legs and can take you precisely where you want to be.
---
Dates to Note: Sagittarius
Your favorite day: April 2, when the Sun and your ruler, Jupiter, work together in a grand way.
The lunar eclipse, a full moon, April 4, may bring tensions with a friend or less likely, a lover. Money may be a bone of contention.
Your ruling planet, Jupiter, will move forward on April 8. Jupiter has been retrograde since early December. From now on, you will see big, fast progress. The timetable will be set!
The new moon in your love sector April 18 will open the door for new love, a pregnancy, or a plan for a child you have now. You may also start a new chapter in a creative project.
Pluto will begin to retrograde April 16 to September 25. You may make a few changes in your financial strategy during this time.
April 21 will bring good news about a work assignment, and generate profits too.
April 22 brings a lovely interplay between Venus and your ruling planet Jupiter. Travel would be divine - bring your partner.
The weekend of April 25-26 will bring spontaneous love and fun. Consider travel and go. Exciting!
P.S. for April 2015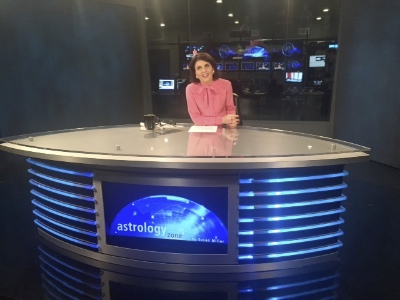 Proudly Announcing the Debut of my NEW TV Show!
For many years, I have had the dream of having my own TV show - that dream came true February 1, when my show debuted. It runs 30 minutes and will stream internationally on Vimeo.com, our host provider.
Each month, I will explain points about astrology in an easy to understand way. All the material on the broadcast will be fresh and new and not be anything duplicated on my site. My aim is to help you understand how astrology works, and how you can harness this ancient art yourself to make your dreams come true.
Tell us how you feel on my social media accounts, on Twitter @AstrologyZone, and on Facebook "Susan Miller." Also, Vimeo.com, our server host for the show, provides a place for comments too, and so do post a note there too - all of us will be reading your comments.
Link:
---
Announcing the NEW, Extended Cut Glamourscopes Videos!
Last month I showed you the surprise I had for you, special animated videos called Glamourscopes that I had done with Conde Nast Entertainment (CNE) on a forecast for The Year Ahead 2015. Each sign's video runs a little under three minutes. The animators illustrated my words with visuals in a very original and imaginative way, so most people think the videos are especially cute. You told us you loved the videos, but said in a loud and clear way, "We want them longer!"
To CNE's credit, they immediately went back into the film I had already done for the original videos to see if they could create longer ones. I had originally taped for three hours per sign in various ways to help the animators do their work, so there was plenty of material for CNE to sort through. CNE designed new, longer, seven-minute videos that did not duplicate any of the material I had given you on the first, shorter, three-minute versions.
Called the NEW Extended Cut Glamourscopes, you are telling us that you love these even more. Don't miss them! In these Glamourscopes, I give you plenty of dates, so you will want to click on the links below to hear all the advice I have for you, dear reader! Remember to listen to your Sun sign and rising sign - both!
Shorter Glamourscopes: http://bit.ly/1yPzZEF
Extended Cut Glamourscope (not duplicating the short forecasts of Glamourscopes above): http://bit.ly/15nk8m5
---
How to Deal with Eclipses Completely Revised!
Just in time for the possibly difficult April 4 total eclipse of the moon in Libra (an emotional full moon), I spent a lot of time completely revising my older manuscript on eclipses. It is written in easy to understand style, with bullet points, so you can easily grasp all the tips I give you. Let me know on Twitter (@astrologyzone) how you like it. I finished it this week, so it's hot off the press.
Here is the link
---
Fashion Trends in 2015 to Consider By Sign
If you didn't catch the very long article I wrote for The Coveteur, a dazzling Canadian fashion website, you may want to read it today. I take all the runway looks and match them by sign. Be sure to read for your rising sign too, if you know it. Over 150,000 women clicked on this article according to my bitly link, so it seems popular!
Click here: http://bit.ly/1zaxu1j
---
Happy Birthday, Aries
Each month I write a Happy Birthday forecast for Neiman Marcus' Blog, and then post the URL on Twitter and Facebook for my readers to see. If you are not on social media, you are not seeing it. Here is Happy Birthday, Aries! Click here: http://bit.ly/1EM05et
Neiman Marcus archives some of the past ones, so if you go to this fine retailer's website, scroll to the bottom of their homepage, find The Blog, and go in to Lifestyle, Horoscopes. (I am a bit buried there.) You can still get some of the past signs that you may enjoy reading.
If you want to read my Twitter feed, I am on @AstrologyZone
And on Facebook I am simply "Susan Miller".
---
See Childhood Photos of Me on Fresh.com
I am proud to be the new brand ambassador of Fresh, the LVMH brand that specializes in beautiful natural skin care. Last year, I collaborated with Fresh to come up with oval soaps by sign sold on their website and in their stores. The scent of these soaps is simply divine, and the soaps are of the highest quality. When you purchase one or more soaps, you get a little booklet I wrote for Fresh about the qualities of your sign and peek ahead for 2015.The oval Zodiac soap Collection makes an elegant birthday gift for a friend or relative, or a treat for yourself.
Have a look at these links to see what we've been up to!
SOAP COLLECTION
Link to Collection: http://bit.ly/166wPSX
- Drawing inspiration from the field of astrology and the four elements, Fresh's Oval Soap have been reimagined to represent each of the 12 Zodiac signs.
- As a special bonus with purchase at any Fresh Retail Store, each Zodiac Oval Soap comes with an exclusive booklet featuring a look at the year ahead by Susan Miller
FRESH MOMENTS:
Link to Fresh Moments: http://bit.ly/18EBbBJ
- Featured on Fresh.com as part of Fresh's Ambassador Program Fresh Moments
- Personal photos from Susan's childhood, her inspirations and her favorite Fresh products included in the feature
FRESH FORECAST VIDEOS
Link to Videos: http://bit.ly/1Fqy7pJ
- 13 part video series featured on Fresh's YouTube channel and Fresh.com.
- One video per astrological sign featuring Susan giving a synopsis about the sign, predictions for the year ahead, and curated product pick by sign
EVENTS
- Stay tuned for special events in the spring at Fresh Retail Stores with Susan Miller
Events to be highlighted on Fresh Facebook (www.facebook.com/fresh)
---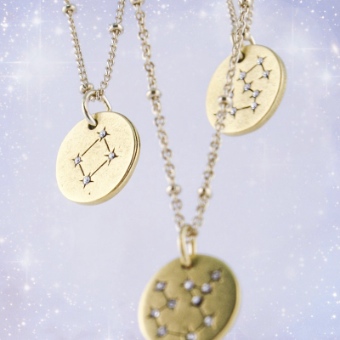 You Love The Zodiac Jewelry Collaboration I Did With Sequin!
Thank you for your Overwhelming Response!
Now A NEW, IMPROVED WEBSITE!
http://www.sequin-nyc.com/star-maps
Last March, when I was still well, I was invited by Sequin executive women to look at an idea their talented New York City Sequin Design Studio had for a collection of pendants with an astrological theme. I immediately fell in love with the various astrological pendants, and they asked me to check to make sure all the designs and keyword descriptions of the signs to be used on their site were astrologically correct. (Everyone, it seems, at Sequin reads Astrology Zone!) I love the quality of these beautiful pieces. Many girls layer several of these necklaces, using various lengths, and that's a great look too.
The pendants are all made in America and handcrafted by artisans using material components from around the world, and are so well priced that I feel they will fly out of their inventory. These necklaces are gorgeous. They are made of 22K gold-plated brass with antique finish and crystal details. I was impressed with the lovely chain that the pendants come with too, as it is tangle-proof and delicately made to look beautiful when worn. Whenever I wear my necklaces, I get so many compliments.
These necklaces make great gifts or a treat for yourself. I quickly chose those necklaces as part of my favorite things to give for a friend's birthdays. Imagine how surprised I was that Oprah had chosen this Sequin Collection as a part of her "favorite things" in her December issue! I was so happy for my new friends at Sequin and the incredible success of this new line of jewelry. It seems Oprah and I think alike!
Click through to see the entire range of jewelry, using this link:
http://www.sequin-nyc.com/star-maps
---
Book Recommendation: "Style Stalking"
by the Co-Founders of Refinery 29.com
Review by Susan Miller
When I am writing a long document that takes more than a week to write, like I just did for you when I write your monthly horoscope, I occasionally need to take a break, but only for 20 minutes. I don't want to lose my train of thought, and any longer would unravel the details I have memorized for your report. In those instances, I will often go to one of my favorite websites like Refinery29.com. I'll spy a must-read article such as "How to Look Awesome on the Rainiest Days" or "Sleek, Straight Hair - The Safe Way."
But wait, I have noticed something else on the site lately - Refinery29 founding editors, Editor in Chief Christene Barberich and Creative Director Piera Gelardi have teamed up to write a book called "Style Stalking." (Potter Style, Penguin Random House $19.99.) Clearly, this is a must-read for me. Credit card in hand, I ordered it on Amazon and was holding the book the next day.
Everyone knows that top designers look to street style for inspiration for their newest collections. How many times have I been in New York's SoHo and spotted a girl who got every fashion detail right, and it took all of my restraint not to take out my iPhone and click that outfit so I could study it later? Now imagine an entire book of full-page color photographs of cool girls in their outfits that will poke you and prod you to look at fashion differently, from inside out. Instead of being told what to wear, your instinct and personality will choose what to put together. This book encourages experimentation, whimsy, and just plain fun.
The chapters are wide ranging, from Layering (considering especially tricky for most of us, say the editors), to Denim, and lots of other chapters, including one called Ugly Pretty. Your fashion sense will be challenged and brightened as you read. I was happy to see one chapter on mastering the Ladylike Look in a new way, as that's a favorite of mine - I never expected to see that topic here. You will not copy any of the looks you see, but after you close the covers of this book, having been exposed to so much interesting photography, the gears of your mind will still be moving at top speed.
I highly recommend you get this unusual book, and then watch to see which pieces you reach for in your closet in weeks to come. I've never seen a book like this one, nor a magazine article that approached chic street fashion in the same way - it may push your creative energy sky high, and for that alone, it's worth the price of this fun book.
Click here to order: http://amzn.to/1FggjNg
---
My New Apps for Android, Samsung Galaxy, and iPhone are Ready to Download!
Last January, Phunware met with me and we set out to design a completely new app for AstrologyZone readers. We have a free version and an optional paid subscription version for Google's Android and Samsung Galaxy, just like the iPhone readers experienced approximately a year ago.
My new app has a completely new, sleeker design and many new features. You will still have a free daily horoscope, or if you prefer to subscribe, a much longer daily horoscope. The long version is the one most readers prefer. The new applications work with iOS 7.0+ and Android OS 4.0+. If you are already a subscriber to my app on your iPhone, the new design will just slide in to replace the old design when you updated your app. If you have a Samsung Galaxy smart phone, you use the Android operating system, so you will get the new design too. The bugs in the iPhone are all fixed, no more signing in each time you check your forecast, and the tools section for subscribers, the prettiest section, is working flawlessly now. Android/ Samsung Galaxy were bug-free from day one, so go get my app in either one of our retailers, Google Play or Apple App Store, depending on your smart phone type. Search: "Susan Miller."
A feature of my new apps is that each app will automatically expand or shrink to fit your other devices, whether iPad or tablet, or any size smart phone you choose, large screen or small. These newly designed applications have kept screen real estate in mind, allowing users with phones or tablets to get a fully optimized experience for their device screen size. The iPhone 6 is now out, and my app will beautifully translate to that new screen size as well. Keep in mind that you are purchasing a subscription to my app from Apple or Google as retailers, not from us at Astrology Zone. I get a commission on the purchase price of the subscription you buy.
Whether you choose the free version of my app or choose to subscribe to the premium version, either way you will still always have your monthly Astrology Zone report on your phone, and my previous month's report as well. You can check all twelve signs of the daily or monthly horoscopes too by simply going to the home screen and choosing a different sign. The new apps will list my appearances too, but so far, I have no appearances on my schedule, but that might change in time, and if it does, you will be able to see where I will be immediately. Until now, only readers who went to their computers online would know in what city I would have new events. You can also see my Twitter feed on your mobile device too. The designs for Android and iOS are consistent; you get the same visual design and features for either application.
I would appreciate you taking the time to review my app, for I will read all your comments. I am grateful that sales of the premium subscription are so strong, for this allows me to keep Astrology Zone free. Thank you for your support and understanding while I recover from my illness.
---
Live Overseas? Or, don't have an iPhone, Android, or Samsung Galaxy?
Get all 12 of my daily horoscopes each day by email or pick yours up each day on special password-protected site.
To plan ahead, receive several daily horoscopes in advance!
By subscribing to DailyAstrologyZone you will receive a week of horoscopes inside your cell phone and / or computer. This means if you have a BlackBerry or feature flip phone, you can still get my daily horoscopes as long as your device accepts email. You will also have the option of accessing your daily horoscopes from a website online, from anywhere, any time, through a password-protected site for members only, or receiving all 12 signs my email each day.
For more information: http://www.dailyastrologyzone.com
---
MY PERSONAL CUSTOM HOROSCOPE BOOKS
WRITTEN BY SUSAN MILLER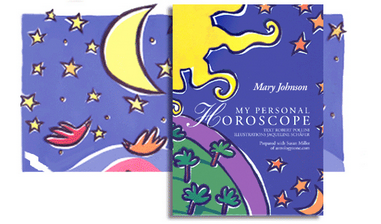 Choose from 'My Personal Horoscope' for Adult, for Babies, or for a Relationship, the Two of Us either in Print or in PDF format.
For the Print version count on two weeks on average from Order receipt to Delivery for any US destinations. One week longer elsewhere.
For the digital PDF version count on one-week turnaround to receive the emailed download-link of the file with the same full-color illustrations by Jacqueline Schafer.
Adult Edition

Baby Edition

Relationship Edition

Annual Birthday Solar Return
My Personal Horoscope Custom Natal Chart Book $54.99 plus shipping / tax
For more information call Susan's publisher, Arthur Heydendael 914.271.3640 ext 14 or click here:
http://www.americadirectbook.com/Customized_Books
---
Susan's Interview with Paul McKenna
---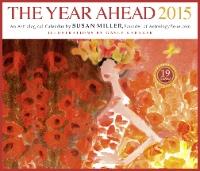 The Year Ahead 2015 Astrological Calendar
By Susan Miller
The calendar is reduced to half price! Don't miss this opportunity to plan ahead for the rest of the year.
PRICE: $9.99 plus shipping and handling (50% discount from the original price of $19.99) via Priority Mail to any US destination. Depending on your shipping address outside the US, we offer First Class Mail or Express Mail. More options for shipping with tracking are also available.
To order: http://bit.ly/17dpW2k
More calendar news: The artwork of the esteemed fine art painter Gayle Kabaker, used in the Astrology Zone calendar, are available as prints in three sizes. If you'd like to see them, check Gayle's Etsy site at this link:
https://www.etsy.com/shop/gaylekabaker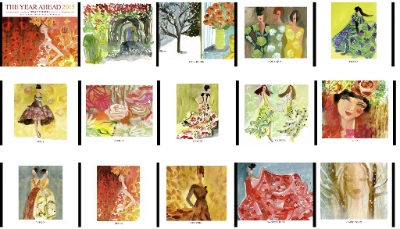 To view a forecast, select a sign from the menu below and click on Go.