If you follow me on Twitter @AstrologyZone, you already know what I will share with you now.

Last April I was suddenly affected by a debilitating auto-immune condition that my specialist doctors have been treating. However, on a routine visit to my doctor on October 14, my doctor saw that the new medicine I was being given over the past six weeks was causing me to have enormous nausea (to the extent that I lost 8 pounds in one week), and that I was catching increasingly virulent infections. (To do their job, biologics lower your immunity.) To my surprise, he ordered me to go to the hospital directly where he was reserving a room for me that day. I was not to go home, even to pack a little bag. He said I was struggling too much since last April, and he wanted his team at the New York City teaching hospital to study me in detail. Tests and procedures were being done, but before any new medicine could be given to me, I had to be infection-free, which was harder to do with the one I had than I had anticipated - it took ten days to get rid of the infection with a change of antibiotics mid-course. I was in the hospital 13 days in all.

My doctor told me it was critical that they find another medicine that worked better for me quickly to end the steady suffering I was going through, and to do that he had to closely study my reactions. My computer and iPhone were locked away safely in a locker - I was to have a complete rest. He put me in the acute care wing, where I could only see very few visitors - my daughter came twice and my assistant on two other days. I was on only juice and saline drips, along with nutrients also given to me intravenously too, such as iron. Needless to say, I worried about the time I was losing, but I was so weak, all I could do is sleep as the world whizzed around me in a blur. I am home now, and very happy to see sunlight (my room had no windows). I go for little walks, but feel safer to go with a friend. This month's forecast is short, but will give you all you need. I expect to be back to my old self by December. Next month I will give you the long report you are used to seeing, and that I so enjoy writing.

In New York we say, you can have "good, fast, or cheap" - and to pick any two. Since my monthly column is my gift to you, I had to choose between fast or very lengthy, which would take many days. I know you like to get your forecast quickly (the chorus on Twitter made that clear), so I decided to give you a short but timely forecast rather than make you wait. I am still getting my strength back, but since I can eat gentle but very nutritious foods now, I am rebounding my energy quicker than I thought possible. I am not out of the woods yet by any means, and I so appreciate your support during this tough time for me. I am happy that my doctor and I got closer to a solid answer for me, and that I was able to give up the biologic medicine that was making me so sick that I couldn't eat or even think. I have a new biologic, and we are holding our breath - it seems great, but we need a bit more time to see if I will build up antibodies against it. I am steroid-free too, for it has done its job, and I no longer need it. Everything seems better. If you pray, please do say a prayer for me. My doctor says the aim is to keep me out of the hospital operating room - and so far, I think I have a very good chance of meeting that goal! Thank you, dear reader!


---
Sagittarius Forecast for October 2014
By Susan Miller
This will be a very active month, full of news, contrast, high drama, and bursts of luck and good fortune. It's a month that has everything, including two eclipses, the first, a total eclipse of the moon in Aries, October 8. The second one will be a new moon solar eclipse in Scorpio, October 23. The one to keep your eye on will be the first one, October 8. In case you are remembering, the last two eclipses occurred this year, April 15 and April 28.
Mercury will be retrograde all month, from October 4 to October 25. This will slow down October's pace a bit and heighten the possibility of a miscommunication. Going slow will be wise, because a lot of information will be pushed to you from the eclipses, but some of it will arrive in a scrambled way. Every eclipse has a second act, so wait until more news is forthcoming before you react, as you may misread a situation. Let's look at the month in detail, starting with the top.
The first eclipse will fall in fire sign Aries 15 degrees, on October 8, and light your fifth house of true love, romance, pregnancy, children, and creativity. One of these areas is likely to come up. The eclipse will come conjunct Uranus, making news completely unexpected, and the lunar eclipse will oppose the Sun and Venus. This suggests you will initially be shocked by what you see or hear. Your domestic situation appears to be drawn into the situation too, and suddenly will feel unstable, and money may also be a concern. A friend also seems intertwined in what occurs, whether by tipping you off on the situation, or being the cause of the problem. You may learn something about your lover or friend that upsets you, and news is likely to reach you in a very unexpected, offhand way. Or, it may be that your lover is given tough news, and will need you for emotional support.
If you have a child that needs special teachers or care, you may have to fight and be quite an advocate for your child, but your efforts will likely pay off tenfold. It is possible that a surprise pregnancy may come up, and depending on your plans, you may become excited by the news or tense. Give yourself time to think about what you want to do. If you don't want to get pregnant, be very careful.
This is a full moon eclipse, so something is about to end or culminate in a finish. Just when you think all is lost (due to jarring news), a golden triangle will appear in the sky, linking your ruler, good fortune Jupiter, in your ninth house (international travel and relationships abroad / higher education / the media and legal issues) to action hero Mars in Sagittarius and surprise-a-minute Uranus in Aries. Wow!
A golden triangle links three planets, each at 120 degrees apart, so getting these types of conditions are hard to find. The fact that you are a fire sign, and that this triangle of supreme harmony is appearing at virtually the same time as the eclipse (peaking October 9 and 10), suggests that no matter what, you will be supremely protected and will benefit from this October 8 eclipse. My goodness, even your ruler, good fortune Jupiter, will play an important role, and this is the planet designated to take good care of you. The fact that this eclipse will work strongly in your favor may become obvious immediately or later, but sooner or later, you will see this to be true.
This same eclipse October 8 may finally greenlight a highly creative project for you, and because this will be arriving on a powerful eclipse (a full moon on steroids), this project will play a large part in your future. Alternatively, a major project may be finishing up on or near October 8. You may have a few last minute glitches, due to Mercury retrograde, or a philosophical difference with the EVP (executive producer) or the director, but it seems that if you talk it out, thanks to the appearance of the golden triangle, the dynamic tension of discussing, and defending, your position will only help the project rise to award-winning standards.
I once had a situation like that. I was asked to write inspirations about mind-body-spirit for the American woman that would be printed on beautiful, small, ivory cards that were to be slipped into high-end pantyhose packages. The idea was the card would flutter down as the woman dressed, hopefully be charmed by what I wrote, and give her something to think about. The creative director wanted one sentence, and I wanted three. I said didn't want the cards to read like fortune cookies. I was going to put a great deal of energy into the project, and it had to be right. (That's my perfectionist side talking, as usual.)
I came home distressed, and told my boyfriend about my frustration. He looked at me, and said, "You and the creative director don't agree? That's great! Dynamic tension can only make a project better!" I was too depressed to be convinced, but by morning I started to come around to his way of thinking. I began to write, and when, after two weeks, I handed in the work, the creative director began to see my point, and we settled on two sentences. I edited down my three sentence pieces to two, and then my work went into market research. We were getting high enthusiasm stats for 80 percent of my inspirations. (Hey, I asked, why am I not getting 100 percent? The creative director rolled her eyes and said I was doing just fine - actually better than fine.) We wound up printing five million cards for America and later went into a second printing to extend the project to Mexico. Dynamic tension does produce better work - have faith!
Mars will continue to be in Sagittarius, a rare privilege, until October 25. You have more control over the situations you encounter than you might assume that you do. Mars will give you energy, courage, drive, and determination. You won't take "no" for an answer when discussing budgets, and others, impressed with your passion, will be inclined to go along with you.
On October 9, Mars will signal Jupiter in a perfect trine, a fantastic day to be dealing with people abroad, in academia, or to be involved in a broadcasting or publishing project.
The following day, October 10, will be one of your very best day of the month and possibly of the whole season, when the mighty Sun will signal Jupiter in a "trine" position (considered the most harmonious aspect). In this case all the areas listed for October 9 will come into play, but this time, a friend may step up and help you. On Monday, October 13, when Venus meets with Jupiter, again a friend comes up in your chart as worth his/her weight in gold.
Your very best day for your career will be October 20, when Mercury, the ruler of your career, will meet with Jupiter too. (This is extraordinary, to see so many planets lining up to have an audience with good fortune Jupiter. I can't remember seeing anything quite like this in years.) The fact that Mercury is retrograde only suggests someone from your past who believes in you will give you a tip or a reference. No matter what, this friend will be heaven-sent.
We come to the friendly solar eclipse next, October 23. This will be a new moon, setting off a new chapter. Because this will fall in your twelfth house and signal Mars, planet of energy, by then STILL in Sagittarius, your imagination and intuition will be very strong. You may feel a need to retreat inward, for rest, but also to think in solitude. You will do your best work when alone, so at month's end you may want to choose a log cabin or other type of cottage and go into the countryside where no one can disturb your thinking. Creatively you will be turning out great work.
The twelfth house rules not only creativity but also hospitals and areas of confinement. You may hear that a male member of your family is not feeling well and may appreciate your kind assistance. In that respect, you should not be completely out of touch if you go out of town.
Because the twelfth house also rules the subconscious mind, it would be a superb time to quit a bad habit, and you need not do it alone. There are many qualified coaches, support groups online, and medical therapist to help you. This is no normal new moon but an eclipse - eclipses have the strength of three new moons rolled into one. If you want to end a habit, whether it be a little one (like eating too much junk food) or a big one, like substance abuse, you can get help now and see results. If you want to go into rehab and are earnest about quitting for good, this could be the first step toward a glorious result. The process could take time, but your effort would be rewarded.
Mars will move out of Sagittarius on October 25, so have all your key meetings prior to that date. I know Mercury will be retrograde until then, so do your very best not to sign any contracts until next month. Also, do not buy any important electronics until November - no new smart phone, flat screen TV, car, or kitchen appliances. If you wait, you will be so glad you did, as Mercury rules the moving pieces in all machines. Besides, your judgment may be off if you act now, and you may choose the wrong model. There are many reasons you should wait.
Once Mars goes into Capricorn, your expenses will rise, and you will find you are spending more than usual. You will also be motivated to make more money (funny how that works, but it is true that necessity is often the mother of invention). Mars will remain in Capricorn until December 4, so perhaps you will be doing your holiday shopping early. If you have no idea why your expenses might rise in November, put off buying an important big-ticket item until December, until you can see the lay of the land.
If you need something to beautify your home, after Mercury goes direct, you will have two great days to shop: October 27 and October 28. On both days, Neptune will be very prominent in the loveliest way. Venus will contact Neptune first, on Monday.
In terms of love and fun, your strongest period will be when Mars tours Sagittarius, for you will have magnetism that others will not fail to see. Venus in Libra from the start of October to October 23 will be working hard for you too. The fact that Venus and her lover Mars will be so compatible - and reach an epic embrace on October 18-19 - only shows how popular you will be. If single, circulate, and if attached, steal time with your mate for some private "just us" time together. Delicious!
---
Summary
This will be a big month, even though Mercury will act like a gremlin to slow you down at every turn. Mercury retrograde, October 4 to 25, is notorious for bringing delays, changes of mind, and reversed client directions. Everyone will be feeling the same influence, so accept it all with a shrug and a smile. Mars will continue to be in your sign until October 25, so you will have more clout than you might assume. Despite the effects of Mercury, you can make a powerful dent on others' thinking, so barrel forward. Once Mercury turns direct on October 25, you will have done all the important spadework to build a firm foundation for your future and can finally institute your carefully crafted plans.
Having Mars in Sagittarius is an important advantage that lasts six weeks and that only comes by rarely. You are beginning a new cycle, so the actions you are about to take soon will be in place for at least two years, if not more. Choose carefully, and think through all your assumptions. Mercury retrograde will give you the time to reflect.
In the meantime, two eclipses are due this month, and the first one, a full moon lunar eclipse, October 8, will fall in Aries and cut across the most social and emotional part of your chart. A friendship and/or a love relationship if single will move to the top of your thinking, and the initial brunt of this eclipse might shock you. Nothing about the news that will come up will be something you'd expect, so the point of this eclipse is to teach resourcefulness, flexibility, and adaptability.
Mars rules Aries, so you are fortunate that Mars is in Sagittarius now - this will give you enviable control over the situation. Even if you are not aware that you hold the reins of this episode, you do. Furthermore, Jupiter, your ruler, will also be in ideal position to help you, and because Jupiter is the giver of gifts and luck, this is no small advantage. Occasionally, the universe will speak in riddles, so don't be too quick to pronounce this eclipse as "good" or "bad" - it is clear this eclipse will work in your favor, even if you can't see that fact immediately.
A romantic relationship may show the true colors of your partner, much to your horror, or a friend may make a play for the person you are dating in an act of betrayal. Still, this may not be the way this manifests. Your friend or lover, or in some cases, one of your children, may have been under stress, and you may need to move quickly to help out. Some sort of change and adjustment seems necessary, but once done, you and your friend / lover / child will move to a better place. Eclipses are famous for setting things right after things have come off the rails, so trust in the wisdom of the universe.
The month's second eclipse will only have a mild effect on you when it arrives in Scorpio October 23. It will light your privacy sector, indicating a need in you to pull away from the patter of our life and stop to get rest. A lot will be going on this month, so it would be understandable if you had a yen to find a secluded spot in the country to withdraw to over that ensuing weekend. Don't unplug completely, however, as eclipses push forward a whirlwind of news quite suddenly, and always unexpectedly. Someone you care about at home may need your help, particularly a male family member who may need medical attention. Hopefully this won't happen, but just in case, don't plan to be completely out of touch.
In terms of love, with Mars in your sign, you will be catnip to new romantic interests, and if attached, to your sweetheart / spouse. Venus will do her part too, and raise your charisma even more, if that's possible. Circle the weekend of 18-19 as very special for tender love - plan something!
---
Dates to note: SAGITTARIUS
Most important dates for love, meetings or actions: October 4, 9, 10, 12, 13, 14, 16, 17, 18-19, 20, 26, 27, 28, and 31.
Mercury will be retrograde in Scorpio / Libra from October 4 to 26. Expect delays and to have to backtrack a bit this month.
The lunar eclipse on October 8 in Aries will mark an important change in a romantic relationship. Emotions will run in the extreme - you will either be upset by what occurs, or concerned about your lover's welfare. If you are attached, the focus may be a pregnancy or care for a child you have now.
Mars is still in Sagittarius, putting you front and center until October 25. You continue to be energetic and courageous, ready to passionately defend any cause. Present your ideas in October's first three weeks, while the tide will run in your favor. Make binding commitments in mid-November, well after Mercury turns direct orbit.
The new moon solar eclipse October 23 may put in you in touch with medical personnel, either for yourself, or someone in your family or that you love. Alternatively, a secret you were not privy to will come out, and when it does, it will change everything.
When Venus signals Jupiter on October 13-14, you may have a confidential meeting about your career, and all will go well. It appears a VIP will want to help you.
An even better day for your career will be October 20, when Mercury, which rules your solar tenth house of prestigious career advancement, converses with Jupiter, your ruler. The new work you do may put in you in the international arena, or have to do with academia. Publishing and broadcasting also do well.
When Mars enters Capricorn on October 25, to stay until December 5, you will likely see your expenses rise. If you already know you are about to buy something expensive, like a car, you have planned for this extra spending. If you have no idea why this may happen, put off big spending until you can see the lay of the land.
Do you feel like sprucing up your home? You'll get plenty of inspiration from Neptune on October 27 and 28.
P.S. for October 2014
SUSAN MILLER'S APPEARANCES for August 2014
FREE Washington Post Worldwide Chat
Thursday, October 16 at NOON EDT New York with Susan Miller
Use this link to submit your question, and you can post today: http://live.washingtonpost.com/astrology-131016.html
This will be the same link you will use to enter the chat season on October 16.
As said, my chat is Noon EDT in New York City. To find out how that time translates into your local time, go to the world clock on http://www.timeanddate.com
When posing your question, please list your first name and your Sun sign, and add your rising sign too, if you know it. If you can ask your question in a way that would appeal to the widest possible audience of readers, you will increase your chances of my choosing your question. I hope everyone reading this will come, and through the generosity of The Washington Post, there is no fee to participate. It's free.
If you want to see what the chats are like, go to the Washington Post link above and scroll down to the archives for the August and September chats.
Susan also will post on Twitter and Facebook on her accounts: @AstrologyZone (Twitter) and "Susan Miller" (Facebook).
---
My New Apps for Android, Samsung Galaxy, and iPhone are Ready to Download!
Last January, Phunware met with me and we set out to design a completely new app for AstrologyZone readers. We have a free version and an optional paid subscription version for Google's Android and Samsung Galaxy, just like the iPhone readers experienced approximately a year ago. The apps are now on the Google Play App store, and Apple will debut my new app design this week in the Apple App Store as well.
My new app has a completely new, sleeker design and many new features. You will still have a free daily horoscope, or if you prefer to subscribe, a much longer daily horoscope. The long version is the one most readers prefer. You will purchase your subscription directly from Apple App Store or Google Play, depending on your smart phone type. The new applications work with iOS 7.0+ and Android OS 4.0+. If you are already a subscriber to my app on your iPhone, the new design will just slide in to replace the old design when you updated your app. If you have a Samsung Galaxy smart phone, you use the Android operating system, so you will get the new design too.
A feature of my new apps is that each app will automatically expand or shrink to fit your other devices, whether iPad or tablet, or any size smart phone you choose, large screen or small. These newly designed applications have kept screen real estate in mind, allowing users with phones or tablets to get a fully optimized experience for their device screen size. The iPhone 6 is now out, and my app will beautifully translate to that new screen size as well. Keep in mind that you are purchasing a subscription to my app from Apple or Google as retailers, not from us at Astrology Zone. I get a commission on the purchase price of the subscription you buy.
Whether you choose the free version of my app or choose to subscribe to the premium version, either way you will still always have your monthly Astrology Zone report on your phone, and my previous month's report as well. You can check all twelve signs of the daily or monthly horoscopes too by simply going to the home screen and choosing a different sign. The new apps will list my appearances too, but so far, I have no appearances on my schedule, but that might change in time, and if it does, you will be able to see where I will be immediately. Until now, only readers who went to their computers online would know in what city I would have new events. You can also see my Twitter feed on your mobile device too. The designs for Android and iOS are consistent; you get the same visual design and features for either application.
When we were ready to send the app to Apple and Google for approval, Phunware flew to New York in May and asked me if I had any last minute changes. I went through the app with my account person, and I had a few - 89 in all! They were tiny changes that were important to me, and she agreed they were good suggestions. I was a bit worried they would think I was a bad client for tweaking my app so much, but my account person assured me the team liked my suggestions and were happy to make the tweaks. My point in telling you about this is that a lot of thinking goes into the development of an app, and I am very excited to finally be able to show it to you. I feel as though I am having twins - two apps, and I love each one equally.
I would appreciate you taking the time to review my app, for I will read all your comments. I am grateful that sales of the premium subscription are so strong, for this allows me to keep Astrology Zone free. Thank you for your support and understanding while I recover from my illness. In case you were wondering, I write the daily horoscopes three months in advance, so although my long, 48,000-word monthly may have been a little late, my dailies are never late. I am getting better every day as the doctors tweak my medicine. I am very optimistic and excited about getting my old life and original strength back!
Note: I know there was a bug on my app on some of the phones, asking you to sign in every time you read your forecast. That happened to me too! We have been working on that problem, and that bug should be gone at the start of October. I will keep you posted on Twitter (@AstrologyZone) and Facebook ("Susan Miller").
We are also making the type darker so that you can read my app in all lighting situations. You will see that change soon. I read all your suggestions, and I listen!
---
Live Overseas? Or, don't have an iPhone, Android, or Samsung Galaxy?
Get all 12 of my daily horoscopes each day by email or pick yours up each day on special password-protected site.
To plan ahead, receive several daily horoscopes in advance!
By subscribing to DailyAstrologyZone you will receive a week of horoscopes inside your cell phone and / or computer. This means if you have a BlackBerry or feature flip phone, you can still get my daily horoscopes as long as your device accepts email. You will also have the option of accessing your daily horoscopes from a website online, from anywhere, any time, through a password-protected site for members only, or receiving all 12 signs my email each day.
For more information: http://www.dailyastrologyzone.com
---
A COMPLETELY NEW WAY TO FIND LOVE ONLINE WITH DREAMCLIQ.COM
I have partnered with a new online dating site Dreamcliq.com, an entirely new way to meet people. We all know how hard it is to write personal descriptions. Dreamcliq is doing something new: users create visual profiles to easily express what they love. Instead of awkward written descriptions of yourself, you can use images to express who you are and what you love in style, art, travel, design, and entertainment. You will click on photographs that express the real you, and the process is fun. If you see someone that interests you when looking at the photographs they chose to express themselves, you can read my previews of your Sun sign's compatibility with the person you are interested in contacting. Just remember, all signs can get along with any other sign, for if love is there, the stars will open a path!
As a special gift to all my readers, you will receive 10 free cliqs to use on Dreamcliq.com when you sign up using this special access link. This promotion will be in place from now through December so that you can increase your chances of starting 2015 with a grand love in your life. This promotion on Dreamcliq is open to all my readers, male and female, straight and gay. Everyone of every sign is invited. Sign up - you have nothing to lose and everything to gain. When CEO of Dreamcliq Melissa Jones came to me with her idea sketched on paper a year ago, I didn't know her yet, but I was so impressed with her originality and intelligence, I knew immediately I wanted to work with Melissa. The media has reviewed her brand new site, and the rave reviews are in. You can see them as you explore the site.
To learn more about love and astrology, read my article on Dreamcliq's blog. I have lots to say in my essay about love and how astrology works to help you find love, so be sure to scroll down to catch all that I wrote. You may find my words helpful as you embark on your new adventure to find love. I love Dreamcliq because by choosing from images for your profile, you reveal your personality in an artistic way that is honest, stylish, and exciting. Give it a try!
---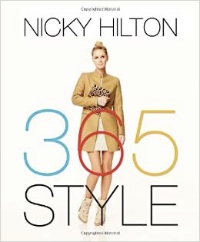 A New and Important Book on Fashion and Style:
"365 Style" by Nicky Hilton
http://amzn.to/1qE6BzC
Wow! Amazon tells me you bought SO many copies of Nicky Hilton's book in September!
I love Nicky's book too! Here is my review in case you missed it last month!
There are many books on the market on fashion and style, and I admit, I have bought many of them. In this new book being published September 15, Nicky Hilton, designer, author, entrepreneur, daughter of Rick and Kathy Hilton, and sister of Paris, has created a completely original, honest, and remarkably wise book on style. It comes complete with many color photographs, and in it Nicky shows you ways you can upgrade your own fashion style from good to style icon level. The goal is to sharpen your personal style by looking within, not by copying someone else's style. Nicky gets you started by showing you some of her favorite style icons, but only to get you thinking. She gives many stories and examples from her own life, and she makes you enthusiastic about going through your own wardrobe to find ways to amp it up. The title of the book refers to Nicky's suggestion that you consider 3 aspects of your lifestyle, and choose 6 staple items of clothing and 5 essential accessories. Doing that will instantly get you a stylish starting point.
Nicky has attended all the fabulous fashion shows in New York, Paris, Milan, and more in her young years, but her advice is down to earth and certainly does not require you have a trust fund. Just the opposite, her tone is one of a best friend going through your closet and handing you advice that is at times funny but always wise. Certainly a lot of what Nicky says makes you think. In one chapter, she advises, "Always dress like you are going to meet your worst enemy" (i.e, bumping into the ex-boyfriend who betrayed you, or the mean girl in high school who made your freshman year a terror.) Nicky gives many examples of her own life and shows how running into that old boyfriend looking like a million because she had taken just a little extra time with her appearance on the way to meet girlfriends for a casual Mexican dinner gave her a happy boost during that unexpected nano-second on-the-street encounter.
With each page, you will rethink your own wardrobe and habits, and occasionally Nicky will casually toss out the very advice you needed most. When it happens, you will feel like you were hit by a thunderbolt. I enjoyed her advice about dressing for a first date, meeting his parents, and more, and all along she gives you many vignettes that allow you to see her own lifestyle. Those peeks into her own life allow you to understand why she has the authority and experience in her early thirties to write this wonderful jewel of a book.
She has advice on such things as:
The $30 wardrobe item you can't live without.

The one closet accessory that keeps everything organized at all times.

Five must-have wardrobe items, all affordable.

How to pack a suitcase like a jet-setter.
I feel you will enjoy this book and get much from it. Just click here to order your copy:
http://amzn.to/1qE6BzC
---
My Book
If you ordered my book, you can get you money back in full. Please email Arthur at Arthur@AmericaDirectBook.com with your full address and phone number, or call Arthur at 914.271.2640.
I had asked my publisher not to advertise the book until it was written as a policy, but Arthur, being the optimist that he is, did anyway. I am very sorry. You can get all your money back.
---
Astrology Zone Coming to TV! More news in weeks to come!
Newsflash: I am very pleased to announce that I am developing the Astrology Zone TV show with Paul Duddridge and TV4, and we plan to be on air from November 2014.
I am being secretive here, but I will say I will be back in Hollywood in September to start work on the show. Viewers in America and in international countries will be able to view it in English. You will get more news as it comes!
---
"OUTLOOK for the Second Half 2014 by Susan Miller" is now available:
In Print $4.99 plus shipping via USPS with tracking. Total under $10.00. One and two copies same shipping charge. https://www.americadirectbook.com/outlook2014
Digital PDF: $5.00 https://www.americadirectbook.com/outlook2014pdf
Amazon's Kindle: http://amzn.to/1lE7a8t
Barnes & Noble Nook: http://bit.ly/Uec9D3
---
MY PERSONAL CUSTOM HOROSCOPE BOOKS
WRITTEN BY SUSAN MILLER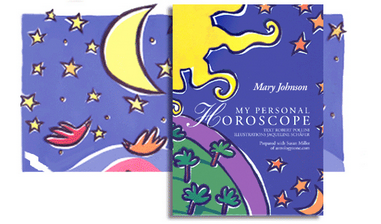 Looking for unique gifts for the summer months? - Choose from My Personal Horoscope for Adults or for Babies, or for a Relationship, the Two of Us.
Have an entire book written by Susan Miller, which runs approximately 65 pages, about your natal horoscope. Get to know your rising sign (also called the ascendant) as well as the placement of each of your planets, and what it all means. Susan's natal chart for babies centers on the talents and gifts of the little child. Order today and you will have your book within two-and-a-half weeks.
Two weeks on average from order receipt to delivery to any US destinations. One week longer elsewhere.
Also PDF option available for destinations overseas where delivery tracking of printed books is prohibitively expensive.
My Personal Horoscope Custom Natal Chart Book $49.99 plus shipping / tax
For more information call Susan's publisher, Arthur Heydendael 914.271.3640 ext 14 or click here:
http://www.americadirectbook.com/Customized_Books
To view a forecast, select a sign from the menu below and click on Go.