Sagittarius Forecast for November 2014
By Susan Miller
You've done admirable work on a major project, and on the full moon November 6, everyone will get to see it. Not all full moons are sweet, but this one will be, and give you a feeling of satisfaction in seeing its completion. Mars and Pluto will be supportive, suggesting you will likely see a bonus or increase in salary from the fine work you displayed at the time of the full moon.
Talking about money, you seem to be spending quite a bit this month, perhaps because you are being very generous in your holiday gift giving this year. Keep in mind that friends will love you just as much if you find a way to spend a little less on your presents. Mars is coaxing you to spend quite a bit, but fortunately this somewhat expensive outgo will end by December 4. Keep your credit card under lock and key on November 12, when Mars and Uranus will be at odds. If you don't, later you may have buyer's remorse and wonder what you were thinking.
Venus will enter Sagittarius for the first time this year on November 16, to stay until December 10. Venus will allow you to twirl your new romantic interests around your little finger if you want - your sense of humor is so enticing, you won't have to try too hard to get admirers to follow you wherever you go. You will see the power of Venus when Uranus sends a gold beam to Venus on November 26, a day that will transform you into a golden goddess that will have you turning heads and make you an object of affection.
You have a sterling new moon in Sagittarius 0 degrees on November 22, allowing you to take an initiative on a project or a relationship that is very dear to you. This will be your annual birthday new moon, meant to help you get closer to a dream so personal to you, and almost no one, not even your astrologer, will be able to guess what it might be. Nevertheless, it will be important to take a step forward on that important goal, as the benefits of this new moon will be strongest on or just a few days after it arrives. Each day the new moon loses a little strength until completely depleted ten days later. It's important to plant the seed, even if you feel you are not entirely ready, for astrologically, it's when you take that first step that counts. Know what you want, then go after it! It's time! The closer your birthday falls to November 22, the more you will feel the energies of this new moon.
I will add that this new moon is conjunct Saturn, suggesting anything you choose to do will have all your power and resolve to complete. Let's say you decide to get more exercise or to delete a habit that you know is bad for you, such as smoking. This new moon's proximity to Saturn shows that your resolve will be exceptionally strong, a good time to tackle something hard to do. Be very realistic all month, as Neptune, which rules fog and confusion, could make you fall back on idealistic, but unrealistic, thinking. The more objective you remain, the more certain your goals will reach fruition. Neptune happens to rules your fourth house of home, so again I will urge you to protect yourself against water damage, or promises concerning rights to water, that won't be fulfilled. Get your lawyer and broker on the phone to be sure the clauses in your favor are clear.
Saturn rules your second house of earned income, so there may be financial elements at this new moon that you will be working on too. It may be that you have a deal you need to complete - with Saturn that deal may be a bit harder to resolve than you may have anticipated - but stick to your plan and by next month you should be able to resolve any sticking points that you have with the other party.
---
Dates to Note for SAGITTARIUS
Luckiest days for luck but also for other purposes in your life: November 1, 3, 4, 8, 22, 23, 26, and 27.
Mercury in lovely angle to Jupiter makes November 1 a standout day to write, speak, persuade, negotiate, or travel.
On November 3, you may be able to have a talk with a VIP and find ways to move into a new department to get more experience in an effort to become more valuable to the company and make more money.
A job may be coming to conclusion at the full moon, November 6. Protect your health. Alternatively, you may be coming to the end of a medical protocol.
On November 10, you will have both Mars and Pluto in your earned income sector. If you are in sales, or need to sell something, no one can ignore you on this day. Just don't come on too strong!
November 17-18 brings Saturn conjunct the Sun, a day when you may take on too much work and feel overwhelmed. Someone may criticize you - try to take the good of what is said to help your future performance, but don't be crushed by it.
You may be ready to give up a habit or substance you know is not good for you on the new moon, November 22. See a coach or therapist - you need not do this by yourself.
Neptune will go direct on November 16 and speed progress on your home-related plans to move, renovate, or redecorate - you name it.
Venus will enter into Sagittarius on November 17 to stay until December 10, just in time for holiday fun. You can take this time to shop for wonderfully flattering new things - Venus will make sure you get many compliments. It's also a time for you to have sky-high magnetism.
P.S. for November 2014
My New Apps for Android, Samsung Galaxy, and iPhone are Ready to Download!
Last January, Phunware met with me and we set out to design a completely new app for AstrologyZone readers. We have a free version and an optional paid subscription version for Google's Android and Samsung Galaxy, just like the iPhone readers experienced approximately a year ago.
My new app has a completely new, sleeker design and many new features. You will still have a free daily horoscope, or if you prefer to subscribe, a much longer daily horoscope. The long version is the one most readers prefer. The new applications work with iOS 7.0+ and Android OS 4.0+. If you are already a subscriber to my app on your iPhone, the new design will just slide in to replace the old design when you updated your app. If you have a Samsung Galaxy smart phone, you use the Android operating system, so you will get the new design too. The bugs in the iPhone are all fixed, no more signing in each time you check your forecast, and the tools section for subscribers, the prettiest section, is working flawlessly now. Android/ Samsung Galaxy were bug-free from day one, so go get my app in either one of our retailers, Google Play or Apple App Store, depending on your smart phone type. Search: "Susan Miller."
A feature of my new apps is that each app will automatically expand or shrink to fit your other devices, whether iPad or tablet, or any size smart phone you choose, large screen or small. These newly designed applications have kept screen real estate in mind, allowing users with phones or tablets to get a fully optimized experience for their device screen size. The iPhone 6 is now out, and my app will beautifully translate to that new screen size as well. Keep in mind that you are purchasing a subscription to my app from Apple or Google as retailers, not from us at Astrology Zone. I get a commission on the purchase price of the subscription you buy.
Whether you choose the free version of my app or choose to subscribe to the premium version, either way you will still always have your monthly Astrology Zone report on your phone, and my previous month's report as well. You can check all twelve signs of the daily or monthly horoscopes too by simply going to the home screen and choosing a different sign. The new apps will list my appearances too, but so far, I have no appearances on my schedule, but that might change in time, and if it does, you will be able to see where I will be immediately. Until now, only readers who went to their computers online would know in what city I would have new events. You can also see my Twitter feed on your mobile device too. The designs for Android and iOS are consistent; you get the same visual design and features for either application.
I would appreciate you taking the time to review my app, for I will read all your comments. I am grateful that sales of the premium subscription are so strong, for this allows me to keep Astrology Zone free. Thank you for your support and understanding while I recover from my illness.
---
Live Overseas? Or, don't have an iPhone, Android, or Samsung Galaxy?
Get all 12 of my daily horoscopes each day by email or pick yours up each day on special password-protected site.
To plan ahead, receive several daily horoscopes in advance!
By subscribing to DailyAstrologyZone you will receive a week of horoscopes inside your cell phone and / or computer. This means if you have a BlackBerry or feature flip phone, you can still get my daily horoscopes as long as your device accepts email. You will also have the option of accessing your daily horoscopes from a website online, from anywhere, any time, through a password-protected site for members only, or receiving all 12 signs my email each day.
For more information: http://www.dailyastrologyzone.com
---
SUSAN MILLER'S APPEARANCES for November 2014
Washington Post Worldwide Chat, FREE!
Thursday, November 6, 2014 at NOON EDT New York with Susan Miller
Use this link to submit your question, and you can post today:
http://live.washingtonpost.com/astrology-131106.html
This will be the same link you will use to enter the chat session on Thursday, November 6.
As said, my chat is Noon EDT in New York City. To find out how that time translates into your local time, go to the world clock on www.timeanddate.com
When posing your question, please list your first name and your Sun sign, and add your rising sign too, if you know it. If you can ask your question in a way that would appeal to the widest possible audience of readers, you will increase your chances of my choosing your question. I strive to answer questions of every sign of the zodiac! I hope everyone reading this will come, and through the generosity of The Washington Post, there is no fee to participate. It's free.
While you are on the Washington Post site this week, look at the news stories - it's an award winning newspaper and you are sure to be fascinated by many of the stories.
---
A COMPLETELY NEW WAY TO FIND LOVE ONLINE WITH DREAMCLIQ.COM
I have partnered with a new online dating site Dreamcliq.com, an entirely new way to meet people. We all know how hard it is to write personal descriptions. Dreamcliq is doing something new: users create visual profiles to easily express what they love. Instead of awkward written descriptions of yourself, you can use images to express who you are and what you love in style, art, travel, design, and entertainment. You will click on photographs that express the real you, and the process is fun. If you see someone that interests you when looking at the photographs they chose to express themselves, you can read my previews of your Sun sign's compatibility with the person you are interested in contacting. Just remember, all signs can get along with any other sign, for if love is there, the stars will open a path!
As a special gift to all my readers, you will receive 10 free cliqs to use on Dreamcliq.com when you sign up using this special access link. This promotion will be in place from now through December so that you can increase your chances of starting 2015 with a grand love in your life. This promotion on Dreamcliq is open to all my readers, male and female, straight and gay. Everyone of every sign is invited. Sign up - you have nothing to lose and everything to gain. When CEO of Dreamcliq Melissa Jones came to me with her idea sketched on paper a year ago, I didn't know her yet, but I was so impressed with her originality and intelligence, I knew immediately I wanted to work with Melissa. The media has reviewed her brand new site, and the rave reviews are in. You can see them as you explore the site.
To learn more about love and astrology, read my article on Dreamcliq's blog. I have lots to say in my essay about love and how astrology works to help you find love, so be sure to scroll down to catch all that I wrote. You may find my words helpful as you embark on your new adventure to find love. I love Dreamcliq because by choosing from images for your profile, you reveal your personality in an artistic way that is honest, stylish, and exciting. Give it a try!
---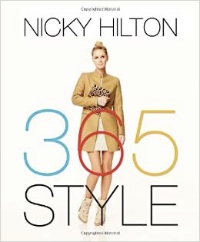 A New and Important Book on Fashion and Style:
"365 Style" by Nicky Hilton
http://amzn.to/1qE6BzC
Wow! Amazon tells me you bought SO many copies of Nicky Hilton's book in October!
I love Nicky's book too! Here is my review in case you missed it last month!
There are many books on the market on fashion and style, and I admit, I have bought many of them. In this new book being published September 15, Nicky Hilton, designer, author, entrepreneur, daughter of Rick and Kathy Hilton, and sister of Paris, has created a completely original, honest, and remarkably wise book on style. It comes complete with many color photographs, and in it Nicky shows you ways you can upgrade your own fashion style from good to style icon level. The goal is to sharpen your personal style by looking within, not by copying someone else's style. Nicky gets you started by showing you some of her favorite style icons, but only to get you thinking. She gives many stories and examples from her own life, and she makes you enthusiastic about going through your own wardrobe to find ways to amp it up. The title of the book refers to Nicky's suggestion that you consider 3 aspects of your lifestyle, and choose 6 staple items of clothing and 5 essential accessories. Doing that will instantly get you a stylish starting point.
Nicky has attended all the fabulous fashion shows in New York, Paris, Milan, and more in her young years, but her advice is down to earth and certainly does not require you have a trust fund. Just the opposite, her tone is one of a best friend going through your closet and handing you advice that is at times funny but always wise. Certainly a lot of what Nicky says makes you think. In one chapter, she advises, "Always dress like you are going to meet your worst enemy" (i.e, bumping into the ex-boyfriend who betrayed you, or the mean girl in high school who made your freshman year a terror.) Nicky gives many examples of her own life and shows how running into that old boyfriend looking like a million because she had taken just a little extra time with her appearance on the way to meet girlfriends for a casual Mexican dinner gave her a happy boost during that unexpected nano-second on-the-street encounter.
With each page, you will rethink your own wardrobe and habits, and occasionally Nicky will casually toss out the very advice you needed most. When it happens, you will feel like you were hit by a thunderbolt. I enjoyed her advice about dressing for a first date, meeting his parents, and more, and all along she gives you many vignettes that allow you to see her own lifestyle. Those peeks into her own life allow you to understand why she has the authority and experience in her early thirties to write this wonderful jewel of a book.
She has advice on such things as:
The $30 wardrobe item you can't live without.

The one closet accessory that keeps everything organized at all times.

Five must-have wardrobe items, all affordable.

How to pack a suitcase like a jet-setter.
I feel you will enjoy this book and get much from it. Just click here to order your copy:
http://amzn.to/1qE6BzC
---
My Book
If you ordered my book, you can get you money back in full. Please email Arthur at Arthur@AmericaDirectBook.com with your full address and phone number, or call Arthur at 914.271.2640.
I had asked my publisher not to advertise the book until it was written as a policy, but Arthur, being the optimist that he is, did anyway. I am very sorry. You can get all your money back.
---
OUTLOOK for the Second Half 2014 by Susan Miller available for the last month.
In Print: $2.99 plus shipping ($2.00 discount) via USPS with tracking. One and two copies same shipping charge.
Link: https://www.americadirectbook.com/outlook2014
Digital PDF: $3.00 ($2.00 discount) click: https://www.americadirectbook.com/outlook2014pdf
Amazon's Kindle: http://amzn.to/1lE7a8t
Barnes & Noble Nook: http://bit.ly/Uec9D3
---
MY PERSONAL CUSTOM HOROSCOPE BOOKS
WRITTEN BY SUSAN MILLER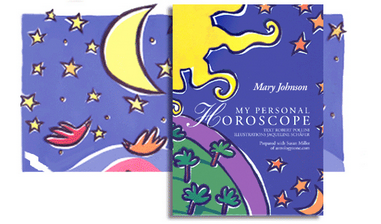 Looking for unique gifts for the coming holidays? - Choose from My Personal Horoscope for Adults or for Babies (Baby Boy light blue cover or Baby Girl pink cover), or for a Relationship, the Two of Us.
Two weeks on average from order receipt to delivery to any US destinations. One week longer elsewhere.
Also PDF option available for destinations overseas where delivery tracking of printed books is prohibitively expensive. The content is same as the print edition with its full-color illustrations by Jacqueline Schaefer. The PDF delivers within 7 days on average.
My Personal Horoscope Custom Natal Chart Book $49.99 plus shipping / tax
For more information call Susan's publisher, Arthur Heydendael 914.271.3640 ext 14 or click here:
http://www.americadirectbook.com/Customized_Books
To view a forecast, select a sign from the menu below and click on Go.