Sagittarius Forecast for June 2014
By Susan Miller
After a very busy March, April, and May, you will welcome a quiet June. You know you need peace from the high activity of recent months. Those months were quite demanding and emotionally draining, due to the eclipses that came by April 15 and April 28. Even if you were not the target of those eclipses and did not receive jarring news, change was all around you. The April 15 full moon lunar eclipse targeted your social life, and it seems very likely that a friend, most likely a female that you are close to, was in dire distress and in need of your emotional support.
Even before that April 15 monster eclipse arrived, you had a very difficult new moon on March 30, which may have caused ripples in a love relationship, or concerning a pregnancy, care for a child you have now, or a creative project that seems to have gone off the rails in the first half of April. The end of April brought another new moon a solar eclipse, April 28, and all eclipses carry the weight of three full or new moons in one. At that time, your attention had to switch to work. If all your clients seemed to have escaped their cages and began complaining loudly and aggressively, asking to be treated with more privilege, you were feeling that eclipse too. It may have seemed like clients were five years old and all jealous of the others in the playground.
In May you were still sorting out the pieces of the puzzle that were flying in every direction. You needed time to mull over your options. The full moon of May 15 was stressful too, as it arrived arm-in-arm with somber Saturn. The message was clear: face facts, be realistic, and devise a practical response, even if the news or the events that were transpiring were not what you had hoped would ever happen.
Alternatively, you may have seen a restructuring at work where personnel were being shifted, as some people were newly hired and others were leaving. At home, you may need to interview help too, say, in terms of a nanny, housekeeper or landscaper. All this change was exhausting, which is why you will like June, which brings the decibel noise level way down to near zero.
Mercury will be retrograde from June 7 to July 1, ensuring your schedule will open up as meetings get switched and cancelled. While nine times out of ten, you would be upset to hear that Mercury will cause your pace of life to slow down, this time you may be happy. The amount of attention that was being demanded of you over the past weeks was unusually heavy. With Mercury retrograde, you will have a free "get out of jail" card (from the Monopoly board game) and do what you wish. Nothing of great importance will happen if you slack off a little - everyone else in the world will be doing the same thing.
Mercury will retrograde in your relationship sector for part of the time, so if you are dating and not sure about the future of this particular alliance, you can put the brakes on to think about what you'd like to do. As I said earlier in this report, if you are sure about the person you are dating, then the new moon of late last month, May 28, in your partnership sign of Gemini (7 degrees), will still exert a powerful flow in early June and will accelerate your plans to wed. If you are choosing a date and need to send deposits, do your research, but send checks in July - preferably, in the middle to end of July.
The full moon this month on June 12 will be a very important one for you - it falls in Sagittarius, 22 degrees, and will be in delicious angle to Uranus, the planet of surprise. Mars will also be supportive, and because Mars is now stronger, having changed from retrograde for months to direct, May 19, Mars will likely stir up a fine social life for you. You may be honored by a party your friends may give you, be active in a charity, club, or community event, or be asked to give a speech. There are many possible outcomes, and it will be clear that something dearly important to you is coming to culmination - you seem to be thrilled about what is coming to closure within four days of June 12.
If you were born on December 14, plus or minus five days, this full moon will be doubly important for you. The will also be true if you have Sagittarius rising 22 degrees, plus or minus five degrees, or have a natal planet in Sagittarius, Leo, or Aries with the same 22 degrees and the same plus or minus mathematical tolerance of plus or minus five degrees.
June 18 is due to be a fantastic day for you, when Venus in Taurus will reach out to Jupiter in Cancer. This day deserves a gold star on your calendar, for I feel this aspect will allow you to pick up a hefty fee for a new assignment or make a very big sale that will yield a fine commission later. Or, you may sell something, say, on an auction site, and make quite a handsome profit. Certainly, with Venus in your house of workaday projects and linked directly to Jupiter in your house of money, you seem in prime position to make money. This is such a good day because your ruling planet, Jupiter, will be involved, and you will be given special favor. You may have luck on many fronts, including health and fitness too. This is no ordinary day, so hopefully you will find a way to use it to your full advantage.
In the following week, on June 24, we have a hard day - everyone will feel Mars opposed to Uranus, a tough day. Mars will be in your friendship sector (eleventh house), and Uranus in your romance / children / pregnancy / creativity sector (fifth house). No doubt about it, this day will be tense, as Mars is a planet of aggression and at times brings strife or mishaps, while Uranus is the planet of out-of-the-blue unexpected events. In your case, your social life will be the subject of the day. Your lover may say something out of character that gets you upset, or you may have to make a decision about what to do to help one of your children.
I could give you many other examples, but it would be futile, as with Uranus, you cannot ever predict what will come up - it always is something else that you are not looking at and would never think would come up. Here's a clue: we had an identical aspect on December 23-24 last Christmas. Do you recall any event that happened back then, perhaps regarding a relationship almost six months ago? If you did have an episode, but did not resolve the issue at hand, you may have to revisit that same topic now.
Money will again be your focus at month's end, June 27, this time joyfully, when the new moon in Cancer, 6 degrees, will light your eighth house of other people's money. You may be able to negotiate a mortgage or refinance plan, or be approved a loan or line of credit. If you are looking for investment capital, present your business plan after this new moon arrives and continue talks - you have a good chance of getting the money you need.
Neptune will be beautifully oriented to the new moon, so the more creative and original your business idea happens to be, the greater your chances for an approval. All new moons bring nearly two weeks of energy, so you should use this one to not only raise money but also to negotiate new arrangements or changes to your retirement or investment portfolio that you might deem necessary after a consultation with your trusted advisor. Inheritance comes under this domain, as do scholarships, student financial aid, and prize winnings, so you may be thinking of these areas too. See how you can use this new moon to your advantage.
I should mention that Pluto, now transiting your second house of personal savings, salary, and money you earn in other ways, will oppose this new moon. The degrees are not tight, but within six degrees, so still significant. This tells me that someone may want you to accept certain terms or take a certain strategy that you seem to be resisting. Knowing that this tug-of-war may arise, you will be prepared.
The month ends with the Sun and Neptune in sync, June 28-29, a weekend made for travel, poetry, romance, flowers, beautiful food, and music. Neptune is considered the higher octave of Venus, taking the fun-loving, beauty-seeking qualities of Venus to a whole new level of love and beauty. Neptune teaches us to refine our vision of love, and to love so deeply that we are willing to sacrifice for the one we love. See if you can take a weekend at the seashore, or rent a cottage at another sumptuous spot near a body of water, for Neptune, which rules the seas and all water, will inspire you.
Also at month's end, Venus will move into your marriage and commitment sector from June 24 to July 18. Venus will sweeten your relationship with your partner - you have lots to look forward to, and you can now plan some super romantic evenings together. Venus will favor those who are attached, not those single, but soon you will get your turn, so don't be blue, dear single Sagittarius.
---
Summary
As you begin June, you may be thinking deeply about your partner and may want to decide if you want to create a life together. If you know you are in love, and you are already engaged, this may be a joyous time, for you will draw closer. If you've been dating seriously, but not too long, the new moon of late last month, May 28, must have started you thinking about what you really want in a partner, and whether the person you've been dating is marriage material. It may be time to decide. If you are already wed, that new moon may bring developments from your partner - surprising, positive news- and life will remain lively together.
If you are not dating, you may use this "couple up" energy in a business sense, and may be ready to hire a business partner, agent, manager, publicist, lawyer, or accountant if you are convinced you can collaborate effectively. If you want to move ahead, begin talks but agree to sign papers in July, because Mercury will retrograde June 7 to July 1.
Whenever Mercury is out of phase, it is never a time to sign important papers or launch new plans, and as you read this, you are already too close to the retrograde to try to quickly sign and go. Mercury rules judgment, perception, analysis, translation, communication, contracts, and negotiation, but when retrograde, makes us forgetful, or makes us rush, adding to the proclivity for error. Later, you may wonder, "What was I thinking??" Mercury also rules your tenth house of fame, slowing your career progress this month, so be patient. Things will normalize in July and August, your best months to make excellent career progress.
The good work you do is likely to bring praise on June 18 when Venus contacts Jupiter. A generous bonus or commission is likely to follow too. Jupiter is your ruling planet, so on this day money is likely to find a way to your door.
The full moon this month, June 12, will appear in Sagittarius, so an endeavor or relationship that is dearly important to you will come to culmination within four days of this date. That full moon might accent a close relationship, your health and fitness, or something else that's a big priority to you. On this day, plus or minus one day, things should go surprisingly well! That full moon will be in ideal angle to Uranus, planet of surprise. Because Uranus is in your romantic sector (fifth house), you may meet someone new or go to the next level of closeness with someone you are dating. If you are married or have a child, the good news may center on a pregnancy or bring a happy development in a child you have now.
Still, your personal life seems to be unstable at times. On Tuesday, June 24, be on alert for a touchy confrontation with a lover, older child, or close friend, due to the angry opposition of Mars to Uranus. This will be a hard day for just about everyone, so know that you must treat any relationship as if it were made of nitroglycerine. Don't rock the boat. This aspect is nearly identical in sign and degree that occurred last December 23-24. Do you remember anything that may have come up? If so, the theme expressed may need further discussion to get to closure.
You will see financial opportunity and possible gain from the new moon, June 27, plus ten days. While you will have emphasis on salary in July, this new moon will allow you to focus on commissions, royalties, licensing fees, inheritance, insurance payouts, settlements, division of property in a divorce, child support, and other such matters. This new moon will be well angled to Neptune, so matters involving the buying, selling, or leasing real estate should go well. If you need a new mortgage or want to refinance the one you have, use this new moon to make application, but because Mercury will be retrograde, wait until early July to send in your paperwork or to meet with your banker.
Romantically, with Mars, the ruler of your house of new love, circulating in your house of friendship, if you are single, most of your friends will be angels, willing to make introductions for you. If you are attached, Venus, planet of love, will enter your house of your close, committed relationship from June 23 to July 17, a wonderful time to bond closer to your partner and to plan to get more of what you both need most - a little fun.
---
Dates to Note: Sagittarius
Most important dates for love, meetings, or actions: June 1, 2, 7, 8, 12, 15, 16, 20, 25, 29, and 30.
Mercury will retrograde June 7-July 1 in Cancer / Gemini. After Mercury goes direct, he will reach top speed again (and be at his best) by July 15.
June 12 plus or minus five days may bring a big moment for you, for the full moon will be in Sagittarius. You may see an important development involving a close relationship, or have an epiphany about what you need to do to be happy in the future. Things should go well, as Uranus is in your house of true love and is very friendly to this full moon.
Excellent news about money is due on the month's most joyous day, June 18, when Venus in Taurus will reach out to your ruler, Jupiter, in your eighth house of other people's money. You may get a commission or other fee you had not expected.
June 24 will be a highly volatile day, when Mars will oppose Uranus, making your love and friendship life highly unstable. If you have an ex, you may disagree fervently about the care of a child.
More good news about money will come up at the new moon, June 27. This is your green light to begin negotiations about perks and benefits you'd like to be given. All kinds of financial topics may come up - inheritance, signing bonus, prize winnings - you get the idea. Pluto will oppose the moon, so have strong arguments in your favor. This new moon will give you a longer opportunity to get your due - a full week or a little more.
Venus will tour your relationship sector from June 23 until July 18, easing your interactions with the person who means the most to you, in love or business.
P.S. for June 2014
The Year Ahead 2014 Astrological Calendar
By Susan Miller
My Year Ahead 2014 collectible calendar is now $9.99 (at a 45% discount, from original price $17.99) plus shipping, any applicable tax
Calendars are used to mark time, but have you ever had a calendar that helped you use your time productively? My new Year Ahead 2014 Calendar can do just that. I write every word myself in this stunning calendar with original fine art by socialite, author, and fine artist Gloria Vanderbilt, mother of newsman Anderson Cooper, and great grandchild of railroad entrepreneur Cornelius Vanderbilt. (Grand Central Station was originally her great grandfather's business headquarters.)
Gloria Vanderbilt, now almost 90 years young, licensed the reproduction rights to her critically acclaimed artwork to Susan Miller who self-published her calendar. The inks are rich, the paper heavy, glossy, and snow white, allowing Gloria's paintings to jump off the page. Each month, from January 2014 though the extra bonus month, January 2015, is found an inspirational quote from Gloria, centering on her philosophy of living life fully and creatively. With fourteen of Gloria's paintings, this calendar will soon become a collector's edition and will not be reprinted when stocks are gone.
Aside from having happy, vibrant art to look at all year, The Year Ahead 2014 calendar has many other uses, unlike any you have had in a calendar before. On every important day of each month I list the aspect and what it means, in easy to understand laymen's language. This means the next time you are about to make an important appointment, and the VIP asks you, "Do you want to come in Monday or Thursday?" you can say you will consult your calendar and know immediately the day to choose.
In a year like 2014, where sparkling aspects will stand side by side difficult ones, this calendar will not be a luxury but a necessity.
Also included in the calendar are:
- All the start and end dates of the retrograde planets in 2014,
- Detailed discussion of the new and full moons (new!)
- The date when planets move into new signs (and how long they will be in that sign), all listed on the same day entry
- The planetary aspects of the four eclipses due in 2014, and explanation of what each eclipse will bring.
No more surprises! Be in the know about upcoming events, so that you can plan your biggest initiations. This calendar is a "must" to keep with you all year, and is available here, from Susan's publisher, but not in bookstores or other retailers. Get it now, while you can: $9.99 plus tax and shipping. We ship to all nations of the world: http://bit.ly/186zM0i
---
A New Service: WiFive.us
Don't we all love a bargain?
We all want to know about the deals being offered nearby in our neighborhoods to save money. I found a way when a brilliant entrepreneur, Luis Sanchez, came to see me to show me he had developed a way of seeing all the various deal-of the-day websites that are featuring discounts on food, entertainment, boutiques, and other establishments, all in one click. Traveling? All you need to do is enter the zip code of your new neighborhood as you travel each day and you can see the deals that may be just across the street from your hotel.
The company is called Wifive.us and is ready to use today. It is a New York-based startup with a location-based search engine that gives you access to thousands of local online deals in a single site.
For now, Wifive.us is only available in the United States. It covers most of the deals and services you would see from various sources (Groupon, Amazon, Google deals, and so forth) all at once, so you don't have to go from site to site to find a deal that appeals to you, as Luis would humorously say, "until your head hurts." There is no registration necessary, and no useless emails to stuff your inbox each day.
Just type your address or ZIP code and get the deals you want when you want them. You pull in your information, which is far better than having many emails pushed to you. Try it and like the service on Facebook!
A word about the web address of WiFive.us
You may be wondering, what exactly is .US?
You might have thought the domain ending .us would only be only for government agencies and schools, but since 2002, individuals, businesses, churches, and non-profits have adopted .US web addresses to make their mark on the Internet. The .US is a new domain ending.
Just remember the name of the new service that no doubt you will be using quite a bit: pronounced as "wi-five-dot-us" otherwise seen as: http://www.wifive.us
---
Goodbye to My Former iPhone App on November 12, 2013
Hello to My New One:
"Susan Miller's AstrologyZone Daily Horoscope FREE!"
Download today!
Now that my former app, Astrology Zone Premier, will no longer be supported for iPhone, you might want to download my free version of "Susan Miller's AstrologyZone Daily Horoscope FREE!" for iPhone today. (A search for Susan Miller or Astrology Zone should bring the app up immediately.)
My former app, Astrology Zone Premier will not automatically change over to the new free app, so you will have to download my new app. Once you have it, you can decide if you would like to upgrade to the version you've come to know and love by looking inside the app and signing up for a subscription inside the app. If you should have to reload and reinstall your app, you will not lose your subscription as long at you responded to Apple's dialog box asking you to register your purchase immediately. If you don't register, if you lose your phone or need to reinstall your app, you won't be able to do so. Be sure to register your app!
If you have any questions or need help, you can write to Jennifer@Phunware.com and engineer Jennifer will be happy to help you.
---
ANDROID AND SAMSUNG USERS
Astrology Zone Premier App is Still Available for You
Android and Samsung users have Astrology Zone Premier to enjoy a little longer. We are writing NEW code for your Android and Samsung cell phones, and making an app similar to the one for iPhone, with some cool features just for your phone.
---
Live Overseas? Or, don't have an iPhone, Android, or Samsung Galaxy?
Get all 12 of my daily horoscopes each day by email or pick yours up each day on special password-protected site.
To plan ahead, receive several daily horoscopes in advance!
By subscribing to DailyAstrologyZone you will receive a week of horoscopes inside your cell phone and / or computer. This means if you have a BlackBerry or feature flip phone, you can still get my daily horoscopes as long as your device accepts email. You will also have the option of accessing your daily horoscopes from a website online, from anywhere, any time, through a password-protected site for members only, or receiving all 12 signs my email each day.
For more information: http://www.dailyastrologyzone.com
---
MY PERSONAL CUSTOM HOROSCOPE BOOKS
WRITTEN BY SUSAN MILLER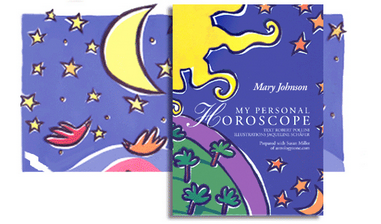 Looking for unique gifts for the summer months? - Choose from My Personal Horoscope for Adults or for Babies, or for a Relationship, the Two of Us.
Have an entire book written by Susan Miller, which runs approximately 65 pages, about your natal horoscope. Get to know your rising sign (also called the ascendant) as well as the placement of each of your planets, and what it all means. Susan's natal chart for babies centers on the talents and gifts of the little child. Order today and you will have your book within two-and-a-half weeks.
Two weeks on average from order receipt to delivery to any US destinations. One week longer elsewhere.
Also PDF option available for destinations overseas where delivery tracking of printed books is prohibitively expensive.
My Personal Horoscope Custom Natal Chart Book $49.99 plus shipping / tax
For more information call Susan's publisher, Arthur Heydendael 914.271.3640 ext 14 or click here:
http://www.americadirectbook.com/Customized_Books
To view a forecast, select a sign from the menu below and click on Go.