My beautiful Year Ahead 2014 Astrological Calendar with Gloria Vanderbilt's fine art will make you more productive and happier! DISCOUNTED NOW AT $12.99 (reduced 27% from $17.99). See all aspects on the day they happen with clear explanation for the layman reader. With my calendar, you have no more surprises - you will know what's coming months ahead of time!
Progress on The Year Ahead 2014 book: I am trying to write the book, and each chapter has become large. I want you to have detail. Please bear with me. It is coming!
Make sure you upgrade to my new iPhone app at the Apple App Store as my previous one for iPhone (Astrology Zone Premier) ended service Nov. 12, 2013. My new one is called: Susan Miller's AstrologyZone Daily Horoscope FREE! You will have the option to subscribe for longer, detailed content INSIDE the app once you download. See prices. One example: $12.99 for three months.
Android and Samsung : Get my app Astrology Zone Premier in your app store.
Do you live overseas or don't have a smart phone? Subscribe to my same daily horoscopes, get all 12 each day, that are the same used for my smart phone apps at http://www.DailyAstrologyzone.com
New! Spanish speaking friends, read my mirror site to Astrology Zone ALL in Spanish: go to: http://www.astrologyzone.com/spanish
Do you want to lose weight in 2014? Order daily gourmet meals, prepared with all farm fresh food. Chefs Diet (www.chefsdiet.com) sets the gold standard. Thanks to new shipping technology, Chefs Diet ships to any city in America. To get a great introductory discount, call secret toll free number just for Astrology Zone readers: # 800.585.1329. You MUST speak to Michael McDonnell. Use code: Susan Miller, to get your discount. For menus, photos: http://www.chefsdiet.com
Sagittarius Forecast for February 2014
By Susan Miller
Have you had too many days stuck inside? You are about to spread your wings this month and fly away, dear Sagittarius, thanks to a new moon that will seem like a fairy godmother, who will make sure you go and have plenty of fun while there. A very sweet new moon quietly appeared at the end of January to put all the pieces of this plan in motion, and by the time you get to early February, you'll be in the mood to be lighthearted and spontaneous when it comes to getting your ticket and getting ready to go. If you have children, see if your mother, sister, or mother of your children's best friends will help you get rest for a few days.
Aquarius is a sign associated with cities, so you may be in the mood to go to one that offers sophisticated culture that you can indulge in while you are there. Find out about the new museum exhibits or theatre openings that are getting rave reviews. Being away for a few days will do you a world of good, dear Sagittarius. It appears you will have the option of traveling to see a friend, or to travel with one, if you don't want to head out alone. (Sometimes being alone can be heavenly, and of all signs, super independent Sagittarius, you certainly know that!)
If your birthday falls on December 3, plus or minus five degrees, the new moon of January 30, still strong in early February, will help you in an outstanding way. If you have a natal planet at 10 degrees Gemini, Aquarius, Libra, Aries, Leo, or Sagittarius, or Sagittarius rising at the same degree (and all get the tolerance of plus or minus five degrees) you will feel happy as you go through early February. Chances are, you can be spontaneous these days, a lovely thought to a Sagittarius.
Uranus was involved with that January 30 new moon, and it is still strong in early February. Considering that Uranus naturally RULES your house of short travel and is currently MOVING IN your house of true love, you may find a direct link between romance and travel. You may decide it's the perfect time to quickly book a weekend trip in the country for two, perhaps in a snowy, awe-inspiring setting, or to a luscious green isle with a cottage that faces glittering turquoise waters.
This sweet new moon in Aquarius (11 degrees) that occurred just two days prior to the start of February on January 30 will bring in an influx of a great many messages to you, so you'll have to be sure not to accidentally delete an important email. You may be poised to stage a new publicity or advertising campaign, or you may be starting to work on a manuscript as a few examples. This month you'll have to be very deliberate in the way you communicate, for you may make an error. To reduce the chance of having typos and errors in your manuscript, you may want to show your work to a friend with eagle eyes if you don't have an editor.
Mercury will be retrograde from February 6 to 28, and when this planet of thinking, logic, perception, research, communication, negotiation, commerce, translation, and contracts is retrograde, we all feel it. We become distracted and make errors, and we find that many around us are indecisive, making it hard to make progress. Knowing that it will be easy to make mistakes, we all have to make a concerted effort to concentrate more fully. If you sign a contract this month, you may feel you were too hasty, that you didn't think of all the clauses you should have added, and that something about the agreement was "off." Delay signing agreements until March.
Also during the retrograde, you will have to be careful in other ways. You might send a sensitive email to the wrong person through smart email (which is not always so smart after all) or leave sensitive, private financial information on the glass in the office copier for the next, very wrong person to see. Keep track of all your valuables, such as your eyeglasses, sunglasses, keys, smart phone, iPad, and other treasures, for you will be moving around a lot, and with many things on your mind, and you may leave something behind. Check, double check, and check again.
Mercury rules Virgo, the sign found on the cusp of your solar tenth house of career, so you may find that plans slow down, and it is hard to get approvals. Sit tight, and don't try to rush the process, for delays will benefit you.
Mercury retrograde is actually a great time to go back over what you've already done. The creative process always requires going over work a second, third, and even fourth time to polish the project, and this is true even if you don't work in a traditionally "creative" field. All work needs many reviews, but it is human to want to keep looking forward and not take the time to do the detail work necessary on previous work. If you listen to Mercury retrograde, you will be very happy about how well your work is received. Remember your competitors will be under the same vibrations, so in February, here is your chance to pull away from the pack. This month, success belongs to the one who is willing to focus and to do all things that Mercury demands, and to get a clue, look to words that begin with the prefix "re" - redo, redesign, reexamine, reconsider, readdress - you get the idea!
Valentine's Day, February 14, falls right on a spectacular full moon in Leo, a fellow fire sign that blends so beautifully with your sign! It appears you and your romantic partner may travel for a whirlwind trip to celebrate your love. A weekend in Paris or New York? Anything is possible on this tender full moon, in Leo 26 degrees.
If you have a birthday that falls on December 17, plus or minus five days, you will do best under this full moon of February 14. If you have Sagittarius rising at 26 degrees, or a natal planet in Aries, Leo, or Sagittarius at 26 degrees (all have the normal tolerance of plus or minus five degrees), then you will also benefit from the February 14 full moon and be very happy over the weekend of February 15-16.
On February 28, you will bring your focus back to your home, or to your parents, who are also under the domain of your solar fourth house, due to be so lit up for you. The new moon is simply sensational. No matter what your home-related plans happen to be, you seem to be able to move ahead with them with confidence. You can move, fix up, do massive repairs, paint, and start buying furniture next month.
I say to make your most expensive purchases in March because of Mercury retrograde this month. It would be best to buy furniture, electronics, and appliances next month. Mercury rules the moving parts in machines, and so when retrograde, the chances of buying a defective product rises. However, a bigger risk is that with your judgment off when Mercury retrogrades, you will choose the wrong model, or a newer one will come out shortly after you buy it that you like better. For one reason or another, we are never happy with our biggest purchases when done when Mercury is retrograde. It's also best not to close on a house in February, as the chances that an error may take place.
Jupiter, giver of gifts and luck, is standing by in your house ruling home and property, so if you need large funds to pay for your home-related plan or to put the down payment on a house, the bank - or a kind relative - will likely soon write a check for the money you need, and that will help you get started. You should be able to get an attractive mortgage too, assuming you get news just AFTER the new moon appears February 28. If you will renovate, you can get a bid you will like from the contactor. (Always get three bids, and choose the one that seems most accurate and fair, not necessarily the lowest bid.) February 28 will bring the most important new moon of the year for domestic and property matters, so if you need to make changes to your home, map out your strategy this month, do research, and plan to put your most expensive plans into action in March.
You will have three heavenly bodies in the watery sign of Pisces in your fourth house of home this month - Neptune, the Sun, and new moon - so as a Sagittarius, you will be under danger of water damage this month (flooding, mold, contaminated water, and so forth). This is partly due to the presence of Father Neptune in your house of home, who will want to bring the sea with him into your house from now until 2026. This month, with the Sun, new moon, and Neptune traveling together, your chances of problems rise. It would be wise to get flood insurance, which often is not included in a regular homeowner's or renter's insurance policy. To be safe, check your policy.
Concurrent to this new moon, on February 28 you will ALSO have a beautiful communication between the Sun and Jupiter - you can't get much better than that! This could well turn out to be one of the most romantic of the season.
There are other benefits to February 28, too. Your ruler is Jupiter, so while everyone will love this last day of the month, you will love it even more. Jupiter's job is to take care of you - more than any other planet can do, for he is your ruler. The Sun in your chart governs your solar ninth house of academia, long-distance travel, immigration matters, publishing, broadcasting, and Internet media, and all of these areas will shine for you.
If one area seems particularly important to you, take full advantage! For example, if you need to find the most favorable day to defend your thesis, hand in a manuscript, see immigration officials for a green card, or to ask your lawyer to offer a possible settlement to the other party in a court case - use February 28.
---
Summary
Pack your bags, for you are about to hit the road! The new moon and full moon will be intent on opening vistas for you. If you take a trip in the first half, it's likely to be a short trip to a town nearby, done quite spontaneously, but nevertheless, it could turn out to be a trip that proves to be a highly romantic getaway for you with your sweetheart or spouse. If you have no one, a friend would be very willing to go with you. In your case, make it an adventure where you can do sports or hike in a beautiful setting. You may find a travel package that is simply too good to pass up, so go!
The full moon, February 14, will be perfect for you because it will appear in compatible fire sign Leo, lighting your ninth house of distant cities. This time, you won't want an active time away, but rather, something slower paced that brings a large measure of pampering. If your hotel offers a fine spa, so much the better - choose that hotel. With a full moon in the sign of royalty - Leo - you'll want to feel treated like a queen, and this month, you can! If you were hoping for a super-romantic weekend in honor of Valentine's Day, you'll have it.
Be back home when all sorts of matters related to your home, family, and other property will be attracting your attention. The new moon February 28 will bring wonderful options to improve your living conditions. With Jupiter, in your house of other people's money, beaming the new moon dazzling vibrations, you may receive a mortgage or home improvement loan with very attractive terms in the ten days that follow it. You are luckier than a Leprechaun when it comes to real estate matters now, so you may even get a cash gift or loan from your parents to put a deposit down on your first new house or condo.
If you need to sign papers, do so early in the month, February 1 to 5, or, wait until March to do so. Mercury rules your career, so you may find that your career progress slows in February, but if so, it's only temporary - have patience.
Protect your home investment by being sure to have flood and other type of water damage insurance - with Father Neptune moving through your house of home, the chances of having difficulties with water will remain high from now until January 2026, through all twelve years. With a new moon in the sign of water and the fish, Pisces, your chances of water difficulties go up. If you are protected (ask your broker to be sure), you can rest easy, for chances are, you will be fine.
Mercury will go retrograde February 6 to 28, so if you have to sign a key contract, put off the signing until early March.
At the same time this new moon appears, February 28, you may also get good news about an educational goal related to your efforts to get an advanced university degree. If you have to take a major qualifying exam or defend your thesis within a day of February 28, you are likely to do exceedingly well. Publishing and broadcasting ventures done under Jupiter's gaze near February 28 can bring considerable profits. If you have a legal matter that you need to attend to, whether it is a court case or the fling of a trademark or patent - get things moving on February 28, and your actions should bring pleasing results.
---
Dates to Note for SAGITTARIUS
Most romantic dates, and can be used for other purposes too (these are good days for you): February 3, 4, 12, 13, 14, 17, 18, 22, 23, 26, 27, and 28.
Mercury will be retrograde February 6 to February 28.
Venus is now moving direct, and that will help you get paid from those who have been tardy with checks they owe you.
Travel can come up now in the first half of February, and the trips you take are likely to be close to home, within a day's drive, or a short 2-to-3 hour plane ride. At least one is likely to be done at the spur of the moment!
A much longer trip is indicated for you over the Valentine's Day weekend, Friday, February 14, plus four days!
Your pals will begin to play a much larger role in your life as a result of Mars' long stay in your friendship quarter, now through July 25. You will make new friends, and they will be helpful to you in many ways. Charity work and volunteerism may be on your list to do now, too.
Home related matters would receive a big boost as a result of the new moon, February 28. You may now find the right house or apartment to move into, or sell a house you have now. You may renovate, change roommates, order repairs, clean out clutter, or do any number of actions that will improve life there.
No matter what you do, remember to get flood insurance, for Neptune, planet of the seas, will reside in your home, now through 2016.
P.S. for February 2014
SUSAN MILLER'S APPEARANCES for February 2014
NEW YORK CITY
Thursday, February 13, 2014 at 6:00 - 8:00 PM
***
CANCELED

Due To Snow Storm! ***
(Will reschedule in the spring)
La Perla Lingerie
434 West Broadway, between Prince and Spring
New York NY
Please RSVP
Please join me for music, delicious treats!
I will answer your questions.
The Italian company, La Perla, makes the most beautiful lingerie in the world.
You must come see and celebrate Valentine's Day with me.
---
NEW YORK CITY
FRIDAY, FEBRUARY 14, 2014 6:00 to 9:00 PM
THE EMPIRE HOTEL
I will be hosting a "BFF VALENTINE'S DAY PARTY!" at the Empire Hotel Lobby Bar
Don't be alone on Valentine's Day - bring your best friends forever (BFF)
and let's have fun and talk about love. I will get you ready for 2014! Bring questions!
The Empire Hotel
44 West 63rd Street
New York NY 10023
No tickets necessary. Free admission, pay for just the drinks you'd like.
List to be capped at 100 guests, so please, you MUST send a RSVP to be let in. Write to BFFparty@EmpireHotelNYC.com
Want to stay over at the hotel? Go to www.empirehotelNYC.com and type promo code "BFF" for a special promotional offer.
---
The Year Ahead 2014 Astrological Calendar
By Susan Miller
$17.99 plus shipping, any applicable tax
Calendars are used to mark time, but have you ever had a calendar that helped you use your time productively? My new Year Ahead 2014 Calendar can do just that. I write every word myself in this stunning calendar with original fine art by socialite, author, and fine artist Gloria Vanderbilt, mother of newsman Anderson Cooper, and great grandchild of railroad entrepreneur Cornelius Vanderbilt. (Grand Central Station was originally her great grandfather's business headquarters.)
Gloria Vanderbilt, now almost 90 years young, licensed the reproduction rights to her critically acclaimed artwork to Susan Miller who self-published her calendar. The inks are rich, the paper heavy, glossy, and snow white, allowing Gloria's paintings to jump off the page. Each month, from January 2014 though the extra bonus month, January 2015, is found an inspirational quote from Gloria, centering on her philosophy of living life fully and creatively. With fourteen of Gloria's paintings, this calendar will soon become a collector's edition and will not be reprinted when stocks are gone.
Aside from having happy, vibrant art to look at all year, The Year Ahead 2014 calendar has many other uses, unlike any you have had in a calendar before. On every important day of each month I list the aspect and what it means, in easy to understand laymen's language. This means the next time you are about to make an important appointment, and the VIP asks you, "Do you want to come in Monday or Thursday?" you can say you will consult your calendar, and know immediately the day to choose.
In a year like 2014, where sparkling aspects will stand side by side difficult ones, this calendar will not be a luxury but a necessity.
Also included in the calendar are:
- All the start and end dates of the retrograde planets in 2014,
- Detailed discussion of the new and full moons (new!)
- The date when planets move into new signs (and how long they will be in that sign), all listed on the same day entry
- The planetary aspects of the four eclipses due in 2014, and explanation of what each eclipse will bring.
No more surprises! Be in the know about upcoming events, so that you can plan your biggest initiations. This calendar is a "must" to keep with you all year, and is available here, from Susan's publisher, but not in bookstores or other retailers. Get it now, while you can: $17.99 plus tax and shipping. We ship to all nations of the world: http://bit.ly/186zM0i
---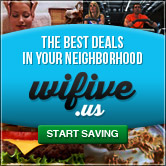 A New Service: WiFive.us
Don't we all love a bargain?
In December, when each of us are busy and shopping for gifts, we all want to know about the deals being offered nearby in our neighborhoods to save money. I found a way when a brilliant entrepreneur, Luis Sanchez, came to see me to show me he had developed a way of seeing all the various deal-of the-day websites that are featuring discounts on food, entertainment, boutiques, and other establishments, all in one click. Traveling? All you need to do is enter the zip code of your new neighborhood as you travel each day and you can see the deals that may be just across the street from your hotel.
The company is called Wifive.us and is ready to use today. It is a New York-based startup with a location-based search engine that gives you access to thousands of local online deals in a single site.
For now, Wifive.us is only available in the United States. It covers most of deals services you would see from various sources, (Groupon, Amazon, Google deals, and so forth), all at once, so you don't have to go from site to site to find a deal that appeals to you, as Luis would humorously say, "until your head hurts." There is no registration necessary, and no useless emails to stuff your inbox each day.
Just type your address or ZIP code and get the deals you want when you want them. You pull in your information, which is far better than having many emails pushed to you. Try it and like the service on Facebook!
A word about the web address of Wifive.us
You may be wondering, what exactly is .US?
You might have thought the domain ending .us would only be only for government agencies and schools, but since 2002, individuals, businesses, churches, and non-profits have adopted .us web addresses to make their mark on the Internet. The .US is a new domain ending.
Just remember the name of the new service that no doubt you will be using quite a bit: pronounced as "wi-five-dot-us" otherwise seen as:
---
Goodbye to My Former iPhone App on November 12,
Hello to My New One:
"Susan Miller's AstrologyZone Daily Horoscope FREE!"
Download today!
To sum up, Astrology Zone Premier will no longer be supported starting November 12, so you might want to download my free version of "Susan Miller's AstrologyZone Daily Horoscope FREE!" today. (Searching simply for Susan Miller or Astrology Zone should bring the app up immediately.)
My former app, Astrology Zone Premier will not automatically change over to the new free app, so you will have to download my new app. Once you have it, you can decide soon if you would like to upgrade to the version you've come to know and love by looking inside the app and buying the subscription inside the app. If you do so soon, you will avoid any disruption in service. If you should have to reload and reinstall your app, you will not lose your subscription as long at you responded to Apple's dialog box asking you to register immediately. If you don't register, if you should lose your phone or need to reinstall your app, you won't be able to do so. Be sure to register your app!
If you have any questions or need help, you can write to Jennifer@Phunware.com and engineer Jennifer will be happy to help you.
---
Live Overseas?
Or, don't have an iPhone, Android or Samsung Galaxy?
Subscribe to DailyAstrologyZone.com
Get all 12 of my daily horoscopes each day by email!
By subscribing, you will receive a week of horoscopes inside your cell phone and / or computer. This means if you have a Blackberry or feature flip phone, you can still get my daily horoscopes as long as your device accepts email. You will also have the option of accessing your daily horoscopes from a website on line, from anywhere, any time, through a password-protected site for members only.
Android and Samsung users have Astrology Zone Premier to enjoy a little longer; we are writing code for your Android and Samsung cell phones, and for you, we are making an app similar to the one for iPhone.
For more information: http://www.dailyastrologyzone.com
---
Welcome Chefs Diet as a Sponsor of Astrology Zone!
Think of Going on a Diet? Try Chefs Diet, Meals to Your Door
Get the Special Introductory Discount Only for Astrology Zone Readers! Call 800.585.1329 ask for Michael McDonnell ONLY and use code word: Susan Miller
If you have been reading my column for a while, you know I am very picky about which companies I endorse. If you want to lose weight, I feel this is the easiest, most fun way to do it. Each day Chefs Diet will deliver farm fresh, healthy foods to your door. In the past it used to be that only those living in New York City and Los Angeles had this option, but now, through new shipping technology, UPS and FedEx have been working with Chefs Diets to find ways to ship and still keep your food as fresh as it was when it left the Chefs Diet kitchens. I simply cannot get over how delicious and carefully prepared these meals are day after day. Meals won't repeat for 90 days so you will love the variety!
You will get three meals a day, with breakfast and dinner a hot meal, and lunch a cold one for convenience. You will also get two satisfying snacks. Best of all, you can change your menu if you see something on the program you'd like to change by very simply logging on to your account and choosing a different meal from the pull down menu. If you have special dietary needs, you can choose the right program for you from the options on the Chefs Diet website. I am NOT diabetic, but I saw that that the diabetic menu had lots of protein to keep me feeling peppy from dawn to the wee hours of the morning. (If you are on social media, you see I often post in the middle of the night - a writer's work is never done.) I love knowing that if I just eat the food given to me each day I will lose weight. There is no thinking, no shopping, no weighing foods or adding points - so easy!
Television producers have told me they rely on Chefs Diets when an actor, male or female, needs to lose weight for a role. It was through that comment of a top producer that I originally found this great company.
Of course, you should always check with your doctor before starting any new dietary program.
For your special discount, call Michael McDonnell (and it MUST be Michael) at 800.585.1329 and you must also mention my name, Susan Miller. You will be given a special introductory discount for a week of meals, so you can see how delicious they are! You will love Chefs Diet! Many famous actors that you see in the movies have these.
I am on the program now because two years ago I broke my femur and had to lie very still until my leg healed. I could not opt to have the femur operated on due to my body's proclivity to bleed excessively in my left leg. (I have already had 40 transfusions in my life.) My leg took a year to recover. During that time it was impossible not to gain a bit of weight (I was bed-bound and could barely move an inch). Now, on the Chefs Diet program, I love being able to fit in my smaller clothes!
Have a look at the Chefs Diet website, http://www.ChefsDiet.com
Call Michael McDonnell at 800.585.1329 to make 2014 your year to look sleek and sexy. Mention me, code word: Susan Miller, and you will be on your way!
To view a forecast, select a sign from the menu below and click on Go.